Inbox: Ozuna return, Freeman extension?
Beat reporter Mark Bowman answers fans' questions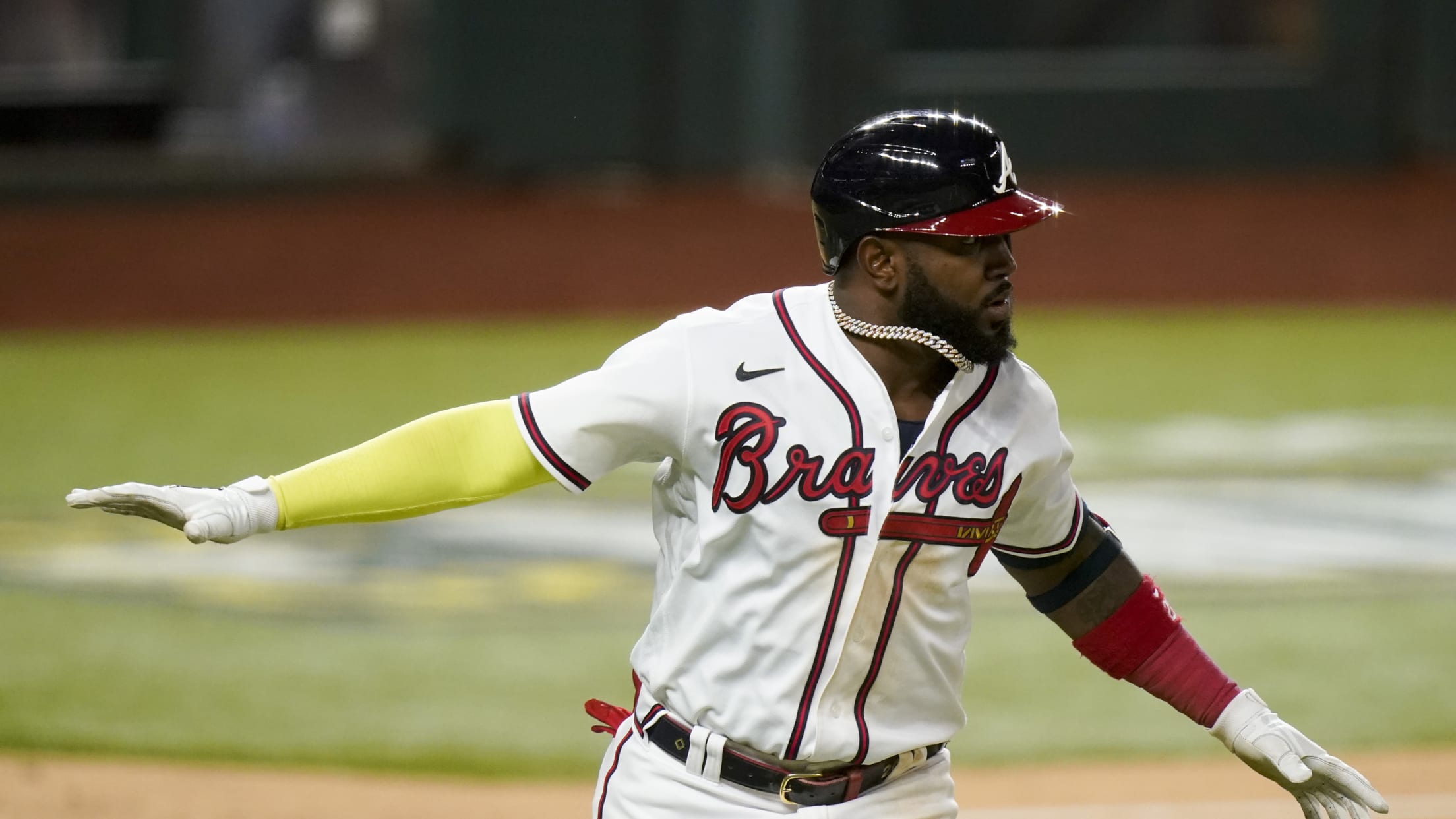 With free agency set to pick up steam in the weeks ahead, MLB.com will address some of the biggest questions currently facing the Braves in this Inbox. What is the likelihood of re-signing Marcell Ozuna **in both the scenario where the designated hitter comes back, and where there is no
With free agency set to pick up steam in the weeks ahead, MLB.com will address some of the biggest questions currently facing the Braves in this Inbox.
What is the likelihood of re-signing Marcell Ozuna in both the scenario where the designated hitter comes back, and where there is no DH for the National League?
-- @bravesdaniel
After experiencing some decline over the 2018-19 seasons in St. Louis, Ozuna spent a little more than two months with the Braves and suddenly found himself more marketable than he was last winter, when he had to settle for a one-year, $18 million deal.
• Hot Stove Tracker | 8 potential suitors for Marcell Ozuna
Ozuna's impressive production this season might have been a product of being another year removed from right shoulder surgery. Or maybe he just happened to have two good months at the right time while on a 48-homer pace. This is what all potential suitors will debate while faced with the challenge of evaluating 2020's small sample size.
But from a defensive perspective, the sample size is obviously large enough to indicate you don't want Ozuna serving as an everyday outfielder. So from the perspective of the Braves and probably most every NL club, the willingness to pursue him, at least as aggressively as American League clubs would, depends on whether the universal DH remains.
With that being said, I get the sense the growing assumption is NL teams will indeed be using the DH again next year. So like with Josh Donaldson last winter, the Braves will see whether Ozuna's cost stays within their comfort zone.
One issue with Donaldson last offseason was the fact the Braves' trainers had been with the Blue Jays when the third baseman began dealing with calf issues. They also knew how much it took him to prepare to play games in 2019. That played a part in not gambling as significantly as the Twins, who saw Donaldson play just 28 games this year.
Ozuna's arm will likely never be what it was before he underwent shoulder surgery after the 2018 season. But as long as the DH is around, the Braves would just focus on exit velocity, barrel rate and hard-hit rate, all of which were higher than they were in '17, when Ozuna hit 37 homers.
Any movement on Freddie Freeman's extension?
-- @EricJJorgensen
There hasn't been any tangible movement, but the mutual interest to extend the relationship remains strong for both sides. Braves president of baseball operations Alex Anthopoulos has repeatedly said he is interested in getting something done.
The financial realities of this year have obviously delayed many long-term decisions across many industries. But with that being said, I think once there is a better feel for next year's revenue projections, then both sides can come together and have a better idea of what would be deemed a fair deal.
We've all seen enough in the sports world to understand you should never take anything for granted. Given this year's landscape, the fact an agreement has not yet been reached should not cause any alarm.
Do you think we trade away some prospects/young guys for controllable players instead of spending money on free agents?
-- @AtlEnthusiast
When you account for the limited amount of elite talent in this year's free-agent market and the fact some teams will be looking to cut costs, there is reason to think the trade market might be quite interesting this offseason.
Teams will truly have a feel for what will be available once players are non-tendered on Dec. 2. This process will enhance the free-agent market and also provide a clearer picture of both the needs and directions teams are planning to take.
The Braves might not have as much elite prospect depth as they have had in past years. But with Drew Waters, Kyle Wright, Bryse Wilson, Kyle Muller and others, they still have the pieces to make a significant deal if necessary.
What is the likelihood that Ender Inciarte gets traded during the offseason? If he goes, what kind of price does he have on the trade market?
-- @JakeLlew9
Once Inciarte was left off the roster for every round this postseason, it was easy to assume his days with the Braves had come to an end. The 30-year-old outfielder is no longer a Gold Glove Award-caliber defender, and his former center-field role might now be filled by top prospect Cristian Pache.
But Inciarte is still owed $8 million next year. This is not a price anybody wants to pay somebody who has produced a .688 OPS over the past three seasons. So to move him, you'd likely need to find a swap of bad contracts or use to financially appease a multiplayer deal.
Given the number of teams that might be looking to save money this winter, this might actually be a decent time to at least try to move Inciarte. Some creativity will likely be necessary to get a deal done.
Looking back at the international signings we lost due to the penalties levied in 2017, where are the top five prospects now and how much did that actually cost the Braves?
-- @jffknight
When the penalties were levied, it appeared the biggest loss might be Kevin Maitan, who ranked as MLB Pipeline's No. 38 prospect at the time. Maitan produced a .601 OPS at the Class A level last year, and he now ranks as the Angels' No. 24 prospect.
The only other ranked prospect lost was catcher Abrahan Gutierrez, who was the Braves' No. 30 prospect. He is not ranked as one of the top 30 prospects within the Phillies' system.
The Braves announced Ji-Hwan Bae had been signed September 2017, but because investigations were already underway, the contract was never approved. Bae later signed with the Pirates. He received a 30-game suspension last year for assaulting his then-girlfriend on New Year's Eve 2017 in South Korea.
In terms of talent, the biggest loss may have been Robert Puason, whose agreement with Atlanta was voided when it was learned he would receive money that had been officially assigned to some of his agent's other clients. Puason is the No. 2 prospect in the A's system.
Mark Bowman has covered the Braves for MLB.com since 2001.