Pipeline Preview: Allard cruising for Mississippi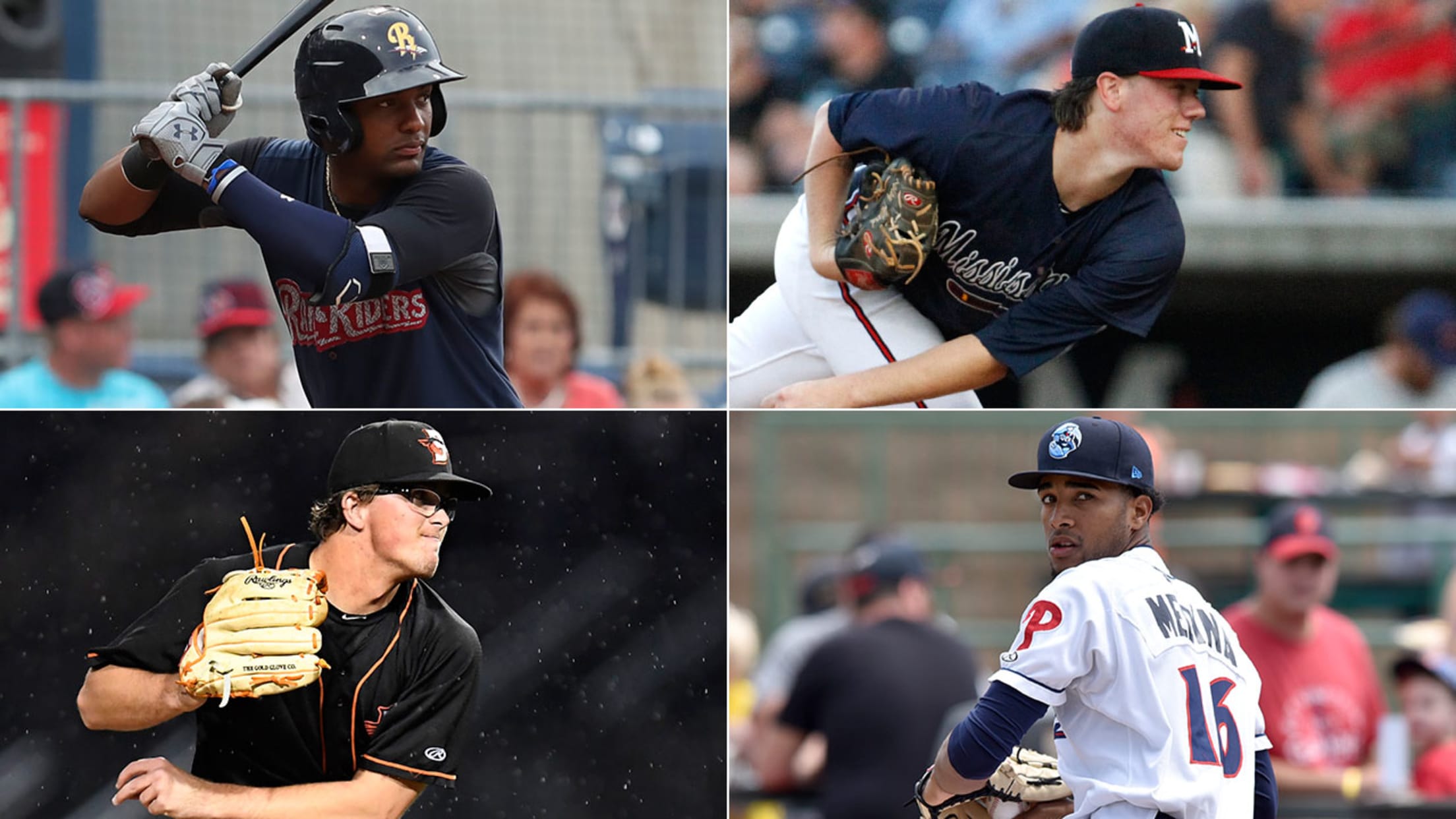 Here's a look at top prospects to watch in today's Minor League action:Hitter to watch:Miguel Andujar (Yankees' No. 6), Scranton/Wilkes-Barre vs. Rochester (7:05 p.m. ET on MiLB.TV)Andujar hit his 15th homer of the season as part of a 3-for-4 effort on Sunday. The 22-year-old has multiple hits in three of
Here's a look at top prospects to watch in today's Minor League action:
Hitter to watch:Miguel Andujar (Yankees' No. 6), Scranton/Wilkes-Barre vs. Rochester (7:05 p.m. ET on MiLB.TV)
Andujar hit his 15th homer of the season as part of a 3-for-4 effort on Sunday. The 22-year-old has multiple hits in three of his past six games and is batting .326 through his first 45 games at the Triple-A level.
Pitcher to watch: Kolby Allard (Braves' No. 3), Mississippi vs. Chattanooga (7:15 p.m. ET)
Allard, the No. 25 overall prospect, has thrown the ball well lately, allowing three or fewer earned runs in each of his past four starts. The 20-year-old lefty has also generated plenty of swings and misses lately as he's notched 19 strikeouts over his past two starts.
Duel of the Day: Alex Wells (Orioles' No. 16) vs. Adonis Medina (Phillies' No. 9), Delmarva vs. Lakewood (7:05 p.m. ET)
Wells' impressive scoreless streak came to a close after five starts, but the lefty has continued to put up good numbers for the Shorebirds. Wells has surrendered one earned run or fewer in seven of his past eight starts and boasts a 2.42 ERA through 23 outings this season.
Medina has also been impressive lately, giving up three earned runs or fewer in each of his past seven turns. Medina, 20, lasted just three innings in his last start, but has a 3.22 ERA through 19 outings this season.
Monday's Top 100 prospect probables
No. 53 overall Jack Flaherty (Cardinals' No. 3), Memphis vs. New Orleans (12:52 p.m. ET on MiLB.TV)
No. 60 overall Chance Adams (Yankees' No. 3), Scranton/Wilkes-Barre vs. Rochester (7:05 p.m. ET on MiLB.TV)
No. 86 overall Tyler Mahle (Reds' No. 4), Louisville vs. Indianapolis (7:05 p.m. ET on MiLB.TV)
More top prospect probables
Nick Kingham (Pirates' No. 9), Indianapolis vs. Louisville (Triple-A)
Erick Fedde (Nationals' No. 3), Syracuse vs. Lehigh Valley (Triple-A)
Sam Howard (Rockies' No. 12), Albuquerque vs. Sacramento (Triple-A)
Anthony Banda (D-backs' No. 4), Reno vs. Fresno (Triple-A)
Corey Oswalt (Mets' No. 28), Binghamton vs. New Hampshire (Double-A)
Jon Harris (Blue Jays' No. 20), New Hampshire vs. Binghamton (Double-A)
Brandon Waddell (Pirates' No. 24), Altoona vs. Hartford (Double-A)
John Means (Orioles' No. 30), Bowie vs. Reading (Double-A)
Franklyn Kilome (Phillies' No. 8), Reading vs. Bowie (Double-A)
Spencer Turnbull (Tigers' No. 27), Erie vs. Richmond (Double-A)
Jesus Castillo (Angels' No. 15), Mobile vs. Biloxi (Double-A)
Corbin Burnes (Brewers' No. 7), Biloxi vs. Mobile (Double-A)
Erling Moreno (Cubs' No. 27), South Bend vs. Lansing (Class A)
Yennsy Diaz (Blue Jays' No. 27), Lansing vs. South Bend (Class A)
Carlos Herrera (Brewers' No. 30), Wisconsin vs. Quad Cities (Class A)
Joey Wentz (Braves' No. 9), Rome vs. Columbia (Class A)
Luis Escobar (Pirates' No. 17), West Virginia vs. Greenville (Class A)
Darwinzon Hernandez (Red Sox's No. 17), Greenville vs. West Virginia (Class A)
Stephen Woods (Giants' No. 29), Augusta vs. Charleston (Class A)
Scott Moss (Reds' No. 30), Dayton vs. Lake County (Class A)
Juan Hillman (Indians' No. 18), Lake County vs. Dayton (Class A)
Jose Suarez (Angels' No. 25), Burlington vs. Kane County (Class A)
Jorge Guzman (Yankees' No. 10), Staten Island vs. Lowell (Class A Short Season)
Johan Oviedo (Cardinals' No. 22), State College vs. Auburn (Class A Short Season)
Colton Hock (Marlins' No. 12), Batavia vs. Williamsport (Class A Short Season)