Braves welcome RBI teams for Play Ball Weekend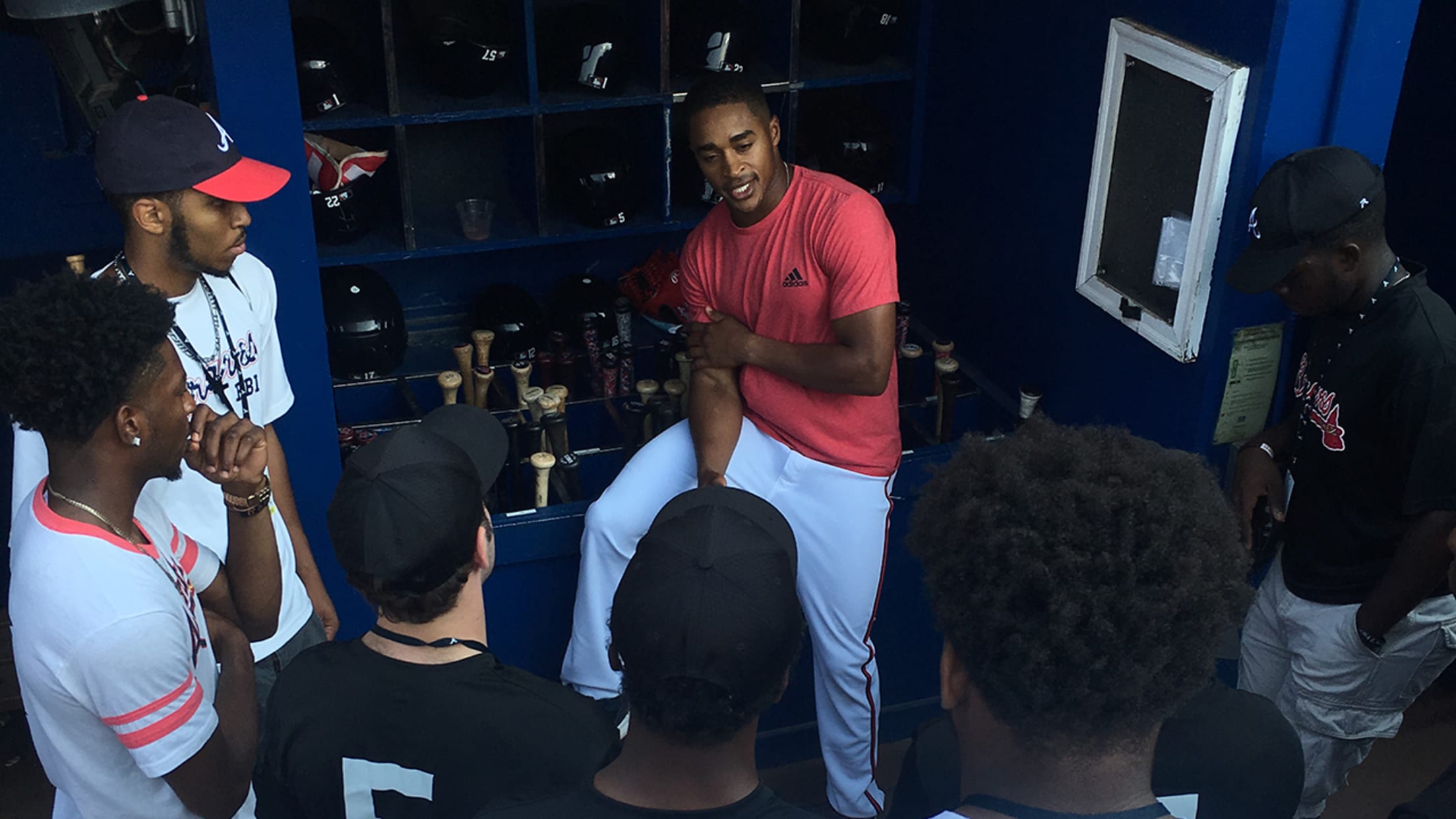 Mallex Smith talks to some youth baseball players on Friday. (Braves)
ATLANTA -- As Kyle Lewis prepares to possibly become the top overall selection in this year's MLB Draft, he has reason to give thanks to John Hollins, an influential baseball coach who has enriched the lives of many young athletes through MLB's Reviving Baseball in Inner Cities (RBI) program.The Braves
ATLANTA -- As Kyle Lewis prepares to possibly become the top overall selection in this year's MLB Draft, he has reason to give thanks to John Hollins, an influential baseball coach who has enriched the lives of many young athletes through MLB's Reviving Baseball in Inner Cities (RBI) program.
The Braves opened their Play Ball weekend on Friday by bringing Hollins and some of the members of his RBI teams to stand on the field for batting practice before the series opener against the Marlins. Hollins expressed his appreciation for the invitation and all that that Braves have provided to enrich what his players can experience.
• Complete Youth Baseball coverage
"It's not always about money," Hollins said. "It's about the active involvement to actually see what's going on and find a way to make it better for the kids. When the Braves pick up the phone, people tend to listen a lot better than when you pick up the phone and say, 'I'm doing this inner-city thing,' because, let's face it, everybody has a foundation or a charity. So at some point, they don't know who to believe. With this partnership, it allows me to give the kids affordable baseball. That's what the Braves want to do, and that's what Major League Baseball wants to do."
Before recently becoming one of the nation's top amateur players, Lewis was sharing some of the same experiences as the players who joined Hollins at Turner Field on Friday. Lewis began playing for teams coached by Hollins when he was 13.
"This is great because these kids get to get this close to the action and what's going on," Hollins said as he watched batting practice. "That in itself makes them fall in love with the game even more. So, I appreciate what the Braves are doing, and I appreciate the opportunity."
Mark Bowman has covered the Braves for MLB.com since 2001.