Flowers placed on DL, Freitas summoned
Primary catching duties to fall to Suzuki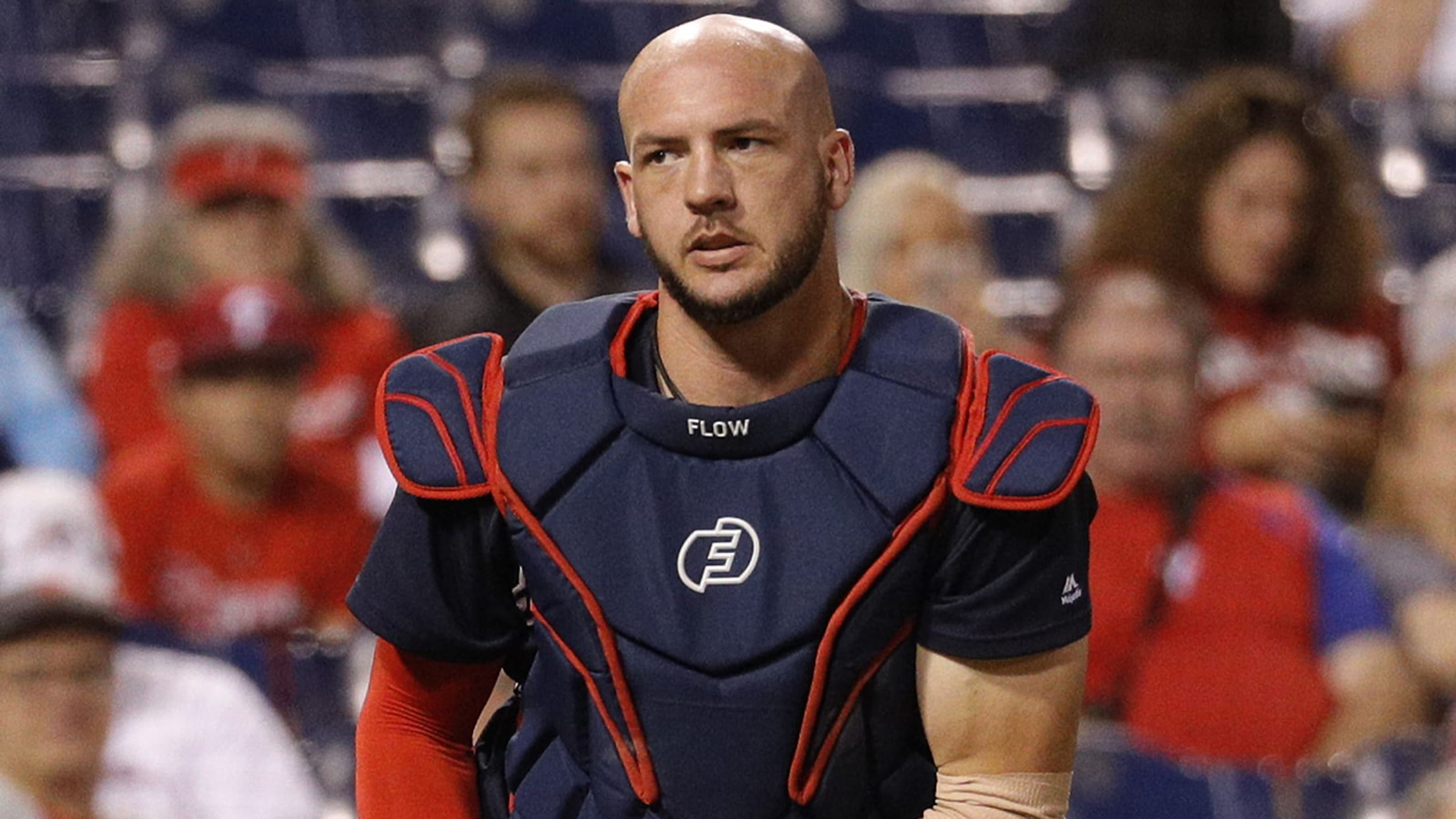 Braves catcher Tyler Flowers remained in the game on Monday after being hit on the left wrist with a foul ball. (AP) (Chris Szagola/AP)
PHILADELPHIA -- Prior to Wednesday's doubleheader, the Braves placed catcher Tyler Flowers on the 10-day disabled list with a left wrist contusion suffered when a foul ball struck him behind the dish in Monday night's series opener against the Phillies.Kurt Suzuki is expected to take on primary catching duties in
PHILADELPHIA -- Prior to Wednesday's doubleheader, the Braves placed catcher Tyler Flowers on the 10-day disabled list with a left wrist contusion suffered when a foul ball struck him behind the dish in Monday night's series opener against the Phillies.
Kurt Suzuki is expected to take on primary catching duties in Flowers' absence
Flowers stayed in the game -- manager Brian Snitker couldn't remember when the foul ball hit Flowers -- and took his at-bats. The injury did not occur when Flowers was hit by a pitch in the fifth inning.
A CT scan of Flowers' wrist done by Phillies doctors turned up nothing initially, but the Braves are sending him back to Atlanta to have Dr. Gary M. Lourie perform another scan and examine Flowers.
"It's going to be I don't know how long before he can [swing] a bat or catch or anything like that," Snitker said. "Hopefully it's 10 days."
The Braves brought up catcher David Freitas to replace Flowers, and added Jason Hursh as the 26th man for the second game of the doubleheader Wednesday. Freitas made his Major League debut starting Game 2. Atlanta had already planned to bring up Freitas, who is hitting .263 with 21 RBIs in 72 games with Triple-A Gwinnett this season, on Friday when rosters expand.
Freitas is in his first season in the Braves' organization, his fifth since he was drafted in the 15th round in 2010 from the University of Hawaii. Freitas has been on the other end of trades for two current Braves in his Minor League career. While in the Nationals' organization, Freitas was traded to Oakland for Suzuki in August 2012. In December 2013, Freitas was acquired by the Orioles as a player to be named from the A's in exchange for current Braves reliever Jim Johnson.
Ben Harris is a reporter for MLB.com based in Philadelphia.