How potential Braves playoff roster may look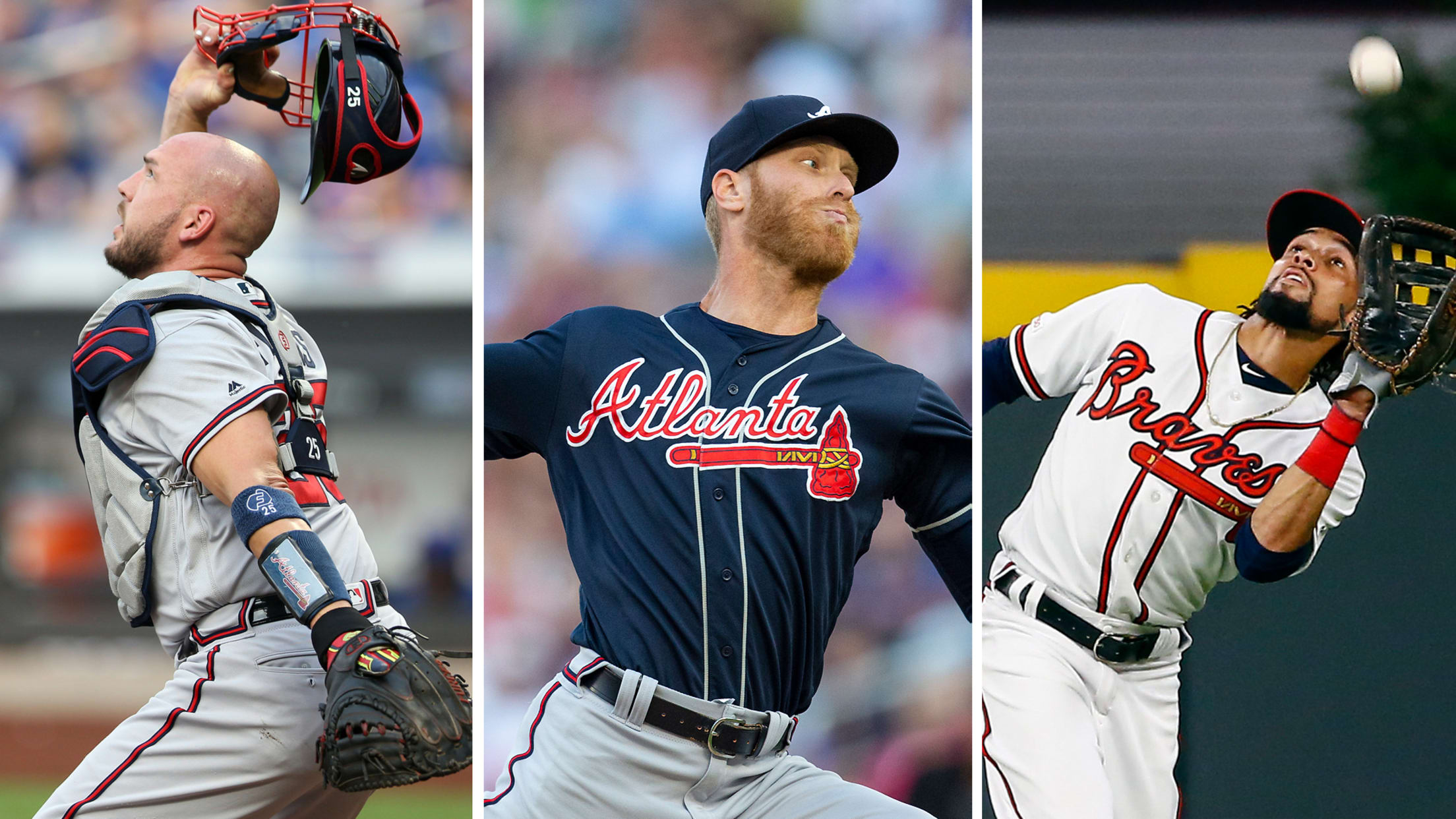 WASHINGTON -- As the Braves moved closer to securing a second straight National League East title and ensured an October run, their postseason roster plans were altered by two significant injuries and Mike Foltynewicz's latest impressive start. Nick Markakis returned from a six-week absence this past weekend. But the Braves
WASHINGTON -- As the Braves moved closer to securing a second straight National League East title and ensured an October run, their postseason roster plans were altered by two significant injuries and Mike Foltynewicz's latest impressive start.
Nick Markakis returned from a six-week absence this past weekend. But the Braves lost Johan Camargo to a fractured shin on Wednesday and Charlie Culberson suffered multiple facial fractures on Saturday. These two injuries depleted the infield depth and created reason to believe the structure of the postseason roster will look different than last week's projection.
• Here's how the playoff rosters might look
Here is the third of my weekly projections of the Braves' postseason roster:
Catchers (2): Brian McCann, Tyler Flowers
Quite honestly, to account for the loss of two bench bats -- Culberson and Camargo -- I thought about going back to the first projection, which included three catchers. But Francisco Cervelli doesn't provide enough offensive potential to warrant this arrangement. Cervelli returned to Atlanta this week after lacerating his finger. He's expected to be available to play later this week. But carrying an extra reliever, infielder or outfielder would seemingly be more valuable than carrying a third catcher.
Infielders (6): Freddie Freeman, Ozzie Albies, Dansby Swanson, Josh Donaldson, Adeiny Hechavarria, Austin Riley
With Culberson and Camargo sidelined, Hechavarria is the only remaining backup middle infielder. Riley could draw outfield starts against left-handed starters. But he could also spend some time during the regular season's final weeks preparing for the possibility he might be needed at either corner-infield spot.
Outfielders (6): Ronald Acuña Jr., Nick Markakis, Matt Joyce, Billy Hamilton, Adam Duvall, Rafael Ortega
Though Ender Inciarte has made progress, there's still a sense he'll be sidelined through the remainder of the regular season and unavailable for the postseason's first round. Ortega hit a big grand slam against the Dodgers on Aug. 18, but he has provided below-average offensive production. Still, with the switch-hitting Camargo out of the mix, there's seemingly a need to carry another left-handed bat on the bench. Ortega's candidacy would be voided if Inciarte is surprisingly ready within the next two weeks.
Rotation (4): Mike Soroka, Dallas Keuchel, Mike Foltynewicz, Julio Teheran
Foltynewicz was listed as a reliever last week, but the sustained success he's had while producing a 1.52 ERA over his past five starts has moved him back into the projected rotation. The 6.39 ERA Max Fried has produced over his past five starts has weakened a candidacy that appeared quite strong just two weeks ago. Teheran struggled during his most recent start in Philadelphia, but you can't discount the 2.94 ERA he has over his past 24 starts.
The rotation makeup will be influenced by the strengths of the opponent. An NL Division Series matchup against the Cubs might favor using a left-hander (Fried). The Brewers and Cardinals have been slightly more productive against lefties than righties over the past six weeks.
Bullpen (7): Mark Melancon, Shane Greene, Chris Martin, Sean Newcomb, Luke Jackson, Jerry Blevins, Max Fried
We still haven't seen enough from Darren O'Day to give him a spot as a right-handed specialist. While there will be some who will fight against Teheran making a playoff start, his stuff wouldn't necessarily play out of the bullpen as well as Fried's or Foltynewicz's. There will be a need for one of these three starters to serve as a multi-inning option who can piggyback with a starter or bridge the gap to the seventh inning when necessary.
Mark Bowman has covered the Braves for MLB.com since 2001.