Who has edge? STL-ATL position by position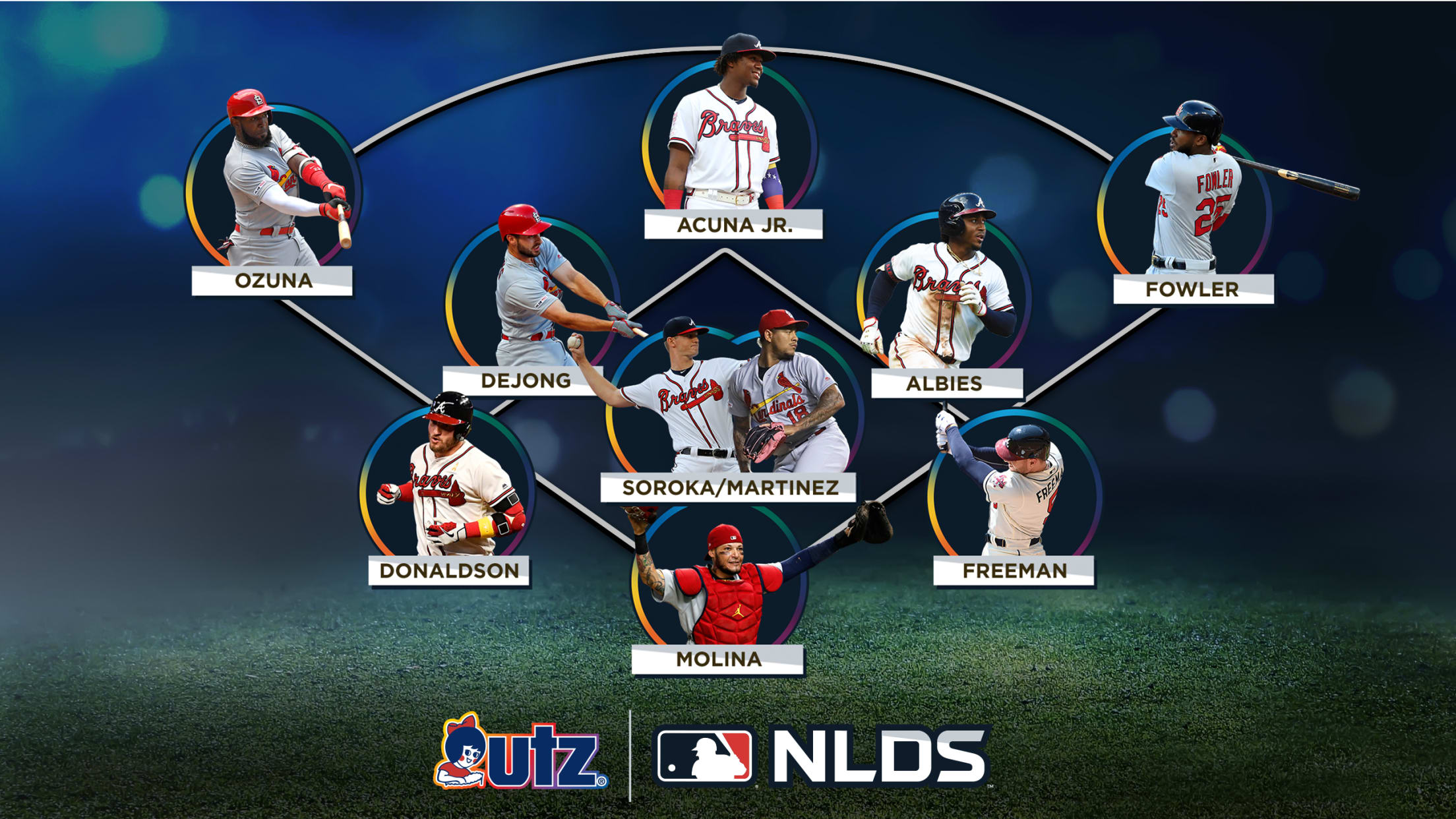 For those who plan on watching any games of the Cardinals-Braves National League Division Series, you should probably go ahead and get this out of the way right now. There isn't a Braves fan who hasn't brought up this play -- which may (or may not) have cost the Braves
For those who plan on watching any games of the Cardinals-Braves National League Division Series, you should probably go ahead and get this out of the way right now.
There isn't a Braves fan who hasn't brought up this play -- which may (or may not) have cost the Braves a win in the first NL Wild Card Game in 2012 in what ended up being Chipper Jones' last game -- every single time the Cardinals have come to town since:
And now the two teams are playing with their seasons on the line. This is the fifth time the Braves and Cardinals have met in the postseason, with the Cards winning the NL Championship Series in 1982, the NLDS in 2000 and that '12 game, and the Braves winning the NLCS in '96. But the two teams' postseason history couldn't be more different. The Cardinals have been to four World Series since '01 and won two. The Braves, since '01, have lost eight postseason series in a row.
This Braves team, with Ronald Acuña Jr. and the gang, seems set up for success for years to come. In this season's NL Central division race, the Cardinals outlasted the Cubs and Brewers after a few years in the wilderness. Both teams have proud, vast fan bases. But only one gets to move on.
Where is each team stronger on the field? Let's find out with a position-by-position breakdown.
Catcher
No Braves fan will complain about the combo of framing genius Tyler Flowers and beloved Braves vet Brian McCann, even if neither has had the most outstanding offensive season. But the Cardinals have Yadier Molina. Yadi had a dreadful offensive start to the year but has come on as the team has risen in the standings, posting an .802 OPS in 42 games after coming off the injured list in mid-August; his teammates keep saying he "smells October." The Cards will go as far as Yadi takes them, which has essentially been the case for 14 seasons now.
Advantage: Cardinals
First Base
Paul Goldschmidt was the NL Player of the Month for July, but on the whole this has probably been his weakest offensive season. He has still been an overwhelming positive for the Cardinals, not just because of his offensive contributions but because of how he has settled the first base position defensively, one of the primary reasons the team is so much better in the field than in years past. But Freddie Freeman has just gone out and put together another top 10 NL MVP Award season, another notch on a resume that already has him as one of the five or six best position players in franchise history.
Advantage: Braves
Second Base
Ozzie Albies took a small step backwards last year but a big leap forward this year, putting up career-high numbers in almost every offensive category (and, somehow, he is still only 22). If healthy, Kolten Wong is Albies' superior defensively and only a little bit short of his competition offensively, but it's not yet known how his partially torn hamstring (suffered at the beginning of that epic Cubs series two weekends ago) is going to hold up in the postseason. If he's not 100 percent, breakthrough utilityman Tommy Edman will fill in. He's been very good this year, but not as good as Albies.
Advantage: Braves
Shortstop
Dansby Swanson may never live up to his overall top pick status -- fellow SEC alum Alex Bregman was drafted one spot behind him -- but he has been perfectly fine both offensively and defensively. Not a star, but exactly the sort of player you can win with. Paul DeJong, the Cardinals' lone All-Star this year, hit a wall offensively late in the year but still ended up with 30 homers, and is better defensively than he's probably given credit for.
Slight advantage: Cardinals
Third Base
Matt Carpenter, a year after a top 10 finish in NL MVP Award voting, has had a disappointing season at the plate (including a career-low .726 OPS), to the point that the Cardinals finally gave up and benched him for Edman late in the year. Edman provided a serious spark, but Wong's injury put Carpenter back in the lineup. He has improved over the last month, and his home run off Craig Kimbrel to begin that Cubs series might be the biggest homer of the Cards' season. Not that it matters in this matchup: Josh Donaldson has been everything the Braves could have possibly hoped for and more in his one-year deal, and he might be the most important player in this entire series.
Big advantage: Braves
Left Field
A right fielder for most of his career, Nick Markakis is now manning left in Atlanta with Austin Riley unable to establish himself after a hot start to his career. The only difference between this and almost any other Markakis season is that he was injured a bit more often this year, but was his usual self when in the lineup, providing OBP and not much power. (If Ender Inciarte was healthy, he might have played center and moved Acuña to left.) Marcell Ozuna, who has been inconsistent (particularly down the stretch) but has the sort of power bat that the Cardinals desperately need (and who can carry a team if he gets hot), has the edge here.
Advantage: Cardinals
Center Field
Harrison Bader is one of the best defensive center fielders in the game, and an aggressive, smart baserunner. But his opponent here is Acuña, who is the best player in this entire series and already showed in last year's NLDS that he can rise to the biggest moments in the postseason. The only question here is if the hip injury that kept Acuña out the final week of the season will linger.
Big advantage: Braves
Right Field
Of all the reasons given for the Cardinals' improvement in 2019 over '18, Dexter Fowler is very much overlooked: He's having his best season in St. Louis, and the Cards' second-half resurgence happened almost exactly when he was installed at the top of the lineup. (He's a better fit in right field as well.) The Matt Joyce-Adam Duvall platoon will handle things for Atlanta, and it's a solid -- yet unspectacular -- combo. Neither team will lose this series because of what they have going on in right field.
Slight advantage: Cardinals
• Here's how Cards' arms could stack up in NLDS
Rotation
Perhaps the biggest turnaround for the Cardinals after the All-Star break was the explosion of Jack Flaherty, who went from a talented but inconsistent starter to one of the best pitchers in baseball and was named the NL Pitcher of the Month for September. Adam Wainwright, a Georgia native, was terrific down the stretch but had maybe the worst start of his career the final weekend of the season against the Cubs. Dakota Hudson has been solid (though might be running out of gas late) and Miles Mikolas has come along stronger lately after what had been a disappointing year.
The Braves have a Flaherty counterpart in rookie Mike Soroka, and he appears likely to go in Game 3 in St. Louis given that he had a 1.55 road ERA this year compared to 4.14 at home. Dallas Keuchel is the Game 1 starter, likely followed by Mike Foltynewicz. Lefty Max Fried is the most likely Game 4 option for Atlanta, and he could come out of the bullpen in Games 1 or 2.
A Soroka-Flaherty showdown would have been awesome, but given that Flaherty is set for Game 2 after pitching on Sunday to help the Cards clinch the NL Central, it's unlikely we will see it this October.
Slight advantage: Braves
Bullpen
The Cardinals lost flame-throwing closer Jordan Hicks in July, but Carlos Martínez filled in capably in his stead, and Giovanny Gallegos has been even better. Andrew Miller, however, does not look anything like the guy who dominated the postseason for Cleveland in 2016. The Braves have been trying to figure out their bullpen all year and have relied largely on midseason trades to get them through, with Trade Deadline acquisition Mark Melancon leading the charge as closer. The question is whether they have enough arms to throw at the problem.
Advantage: Cardinals
The Braves won more regular-season games, but the Cards were a little better in the second half. This feels like the tightest of all the Division Series. When they're this close, we'll go with the team that has home-field advantage (in this case, Atlanta). But be wary of any and all popups with runners on base. Braves fans never forget.