Counsell believes Thames will break out again
Brewers manager isn't planning on giving first baseman planned off-days when healthy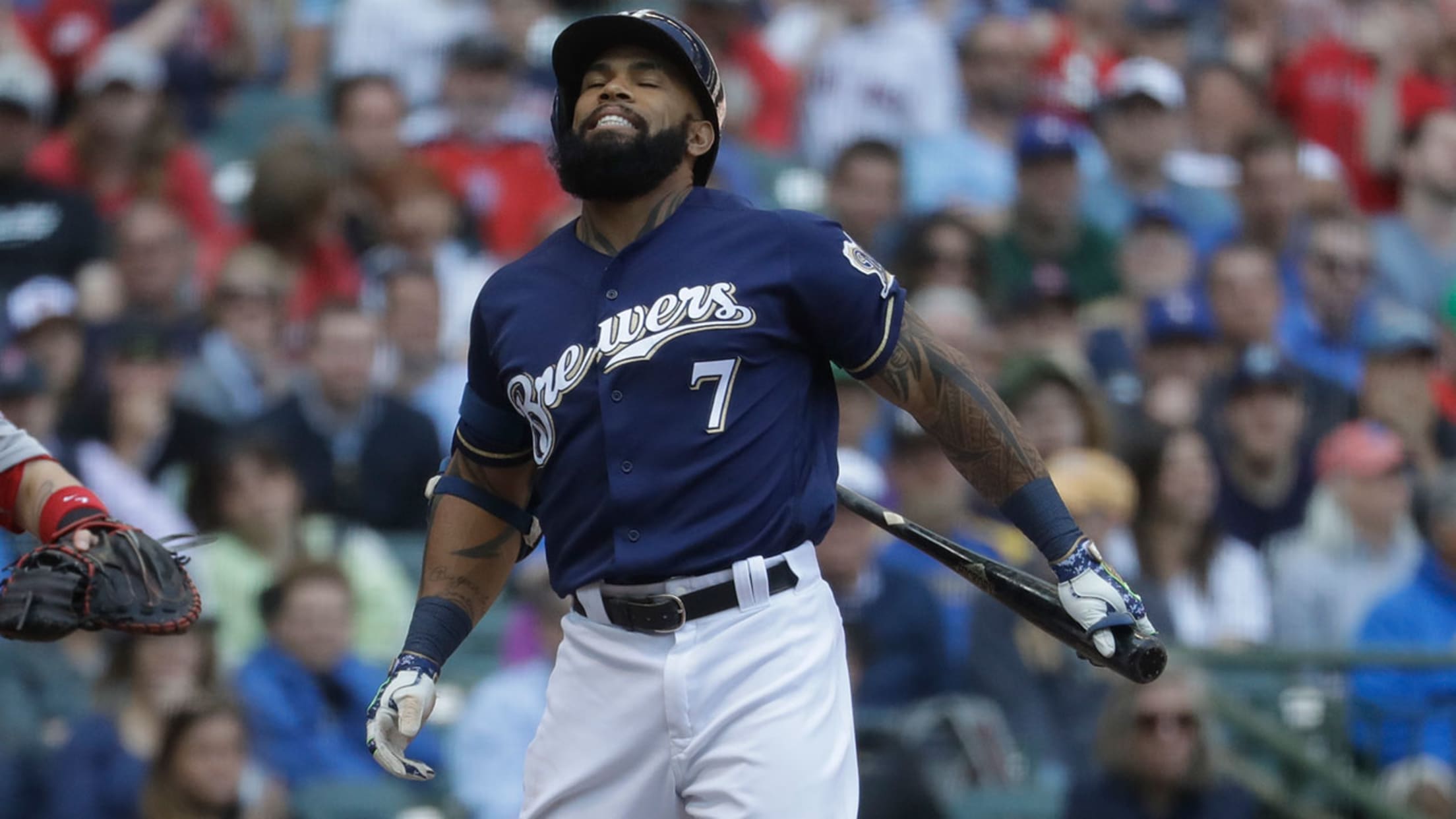 After a spectacular April, Brewers first baseman Eric Thames has been slowed in May by strep throat and leg soreness. (AP)
MILWAUKEE -- The Brewers will closely monitor Eric Thames for lingering left leg soreness but don't plan to significantly alter his pattern of playing time, according to manager Craig Counsell, who believes the best way to break Thames' recent funk is to let him swing through it.Thames' season has been
MILWAUKEE -- The Brewers will closely monitor Eric Thames for lingering left leg soreness but don't plan to significantly alter his pattern of playing time, according to manager Craig Counsell, who believes the best way to break Thames' recent funk is to let him swing through it.
Thames' season has been split almost precisely in half. In his first 90 plate appearances before exiting an April 26 game against the Reds with a tight hamstring, Thames hit .370/.489/.904 with a Major League-leading 11 home runs and became one of the best stories in baseball. In the first 94 plate appearances since, while battling sore legs and strep throat -- and with the hitter behind him, Ryan Braun, mostly out of the lineup with injuries -- Thames slashed .192/.330/.308 with two home runs.
Counsell and the Brewers had success last season scheduling regular off-days for Braun to protect his surgically-repaired back and maximize his production in the games he plays. Might they consider a similar pattern for Thames?
"I'm not thinking about it like that," said Counsell, who did rest Thames on Sunday against D-backs left-hander Patrick Corbin. "I'm just thinking it's a stretch of games in a row and just having a day off. He's played a bunch already. The sickness kind of zapped him in San Diego, but other than that, he's been in there a lot.
"As far as his legs go, we're going to keep an eye on it, for sure, but he's doing alright with that right now."
Does Counsell sense frustration in Thames?
"Well, yeah, I think everybody gets frustrated when they don't swing the bat the way they want to," Counsell said. "But nothing out of the ordinary for every player that's ever played the game. He's had a rough stretch here, but he'll get back on it. You look at his numbers for the year, and we'll take it."
Entering Sunday's game, Thames was hitting .278/.408/.596. His 29 walks were tied for 10th in the Major Leagues and his on-base percentage was 11th.
"He's definitely still taking his walks," Counsell said. "That's always a positive sign. I think it's a little bit of fun with numbers. He had this great stretch, then this other month. He'll get back on it."
A break for Lara
The Brewers dropped prospect Gilbert Lara from Class A Wisconsin to the rookie-level Helena roster Saturday and will take some time to decide the best next step for the struggling infielder, farm director Tom Flanagan said.
Helena doesn't begin play until June 19, so the transfer may simply be a mechanism to give Lara a physical and mental break. He had some minor soreness in one of his hands during pregame batting practice Saturday, Flanagan said, and has been working on some adjustments on his set-up and swing to give Lara a wider base.
Lara, ranked 17th on MLBPipeline.com's list of the top Brewers prospects, signed a club-record $3.1 million bonus in 2014 but has yet to find sustained success at the plate as a professional. He has fared especially poorly this season in his first stint at Wisconsin, hitting .154/.187/.248 in his first 117 at-bats this season.
Burnes readies for Double-A debut
Right-hander Corbin Burnes, one of two pitching prospects promoted in the Minors in recent days, is expected to tandem for the time being with Taylor Williams when Burnes makes his Double-A Biloxi debut, which will be Thursday against Mobile. Williams is up to 60 pitches, Flanagan said, in his return from two seasons lost to Tommy John surgery, and has a sparkling 1.16 ERA in nine games (eight starts).
Burnes is the Brewers' No. 20 prospect. He earned his promotion by going 5-0 with a 1.05 ERA in 10 starts for Class A Advanced Carolina. Taking his spot with the Mudcats was 29th-ranked Trey Supak, who was 2-2 with a 1.76 ERA in eight games (seven starts) at Wisconsin.