Counsell, Crew consider having pitcher hit 8th
Former Brewer Gennett returns to Miller Park with Reds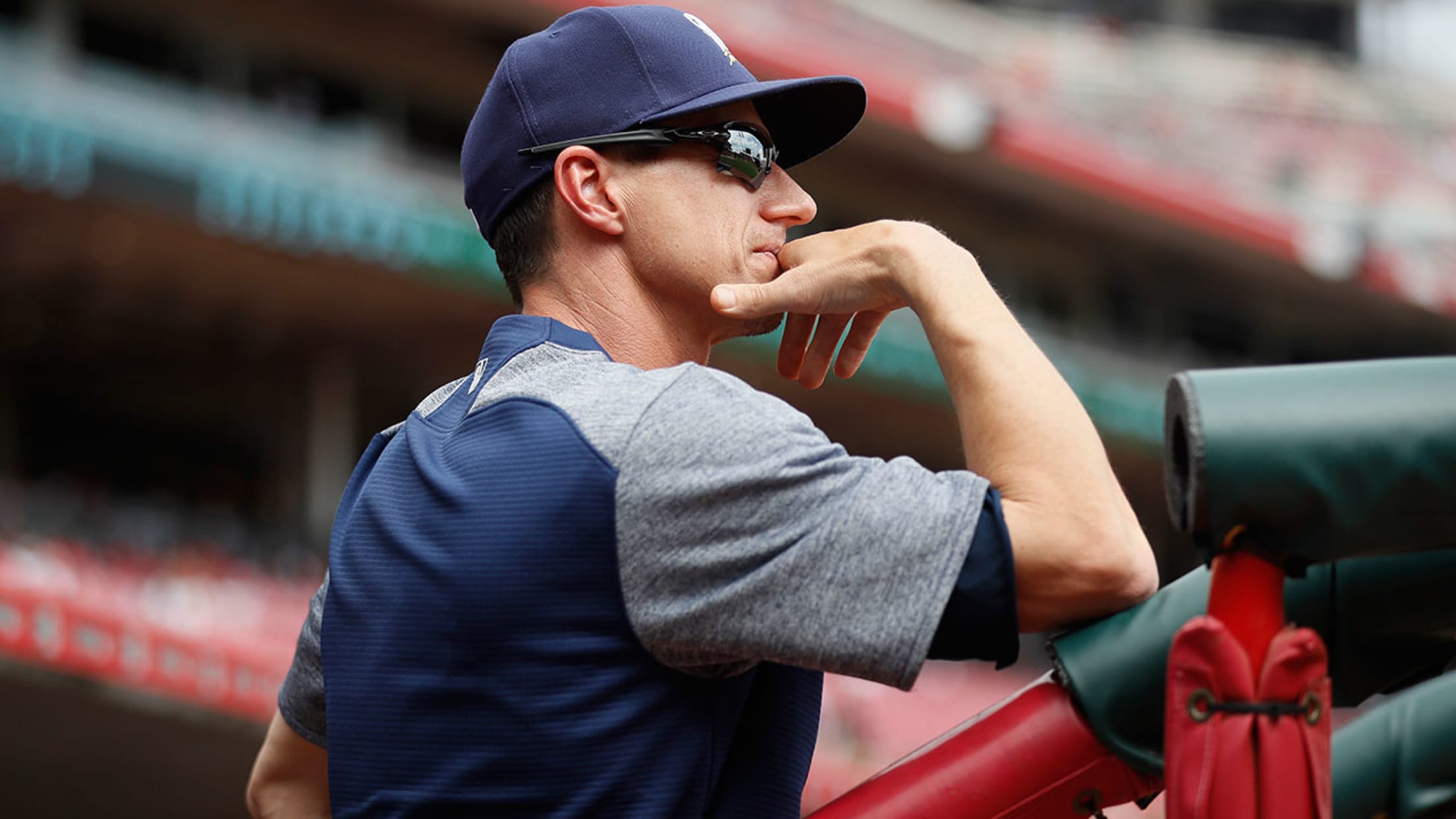 Brewers manager Craig Counsell last hit the pitcher eighth in the lineup on May 12, 2016, vs. the Padres. (AP)
MILWAUKEE -- With leadoff man Jonathan Villar emerging from a slow start and two-hole hitter Eric Thames still swinging a hot bat, Brewers manager Craig Counsell said the team has "talked quite a bit, actually," about batting the pitcher eighth, an alignment he has not employed since last May.The personnel
MILWAUKEE -- With leadoff man Jonathan Villar emerging from a slow start and two-hole hitter Eric Thames still swinging a hot bat, Brewers manager Craig Counsell said the team has "talked quite a bit, actually," about batting the pitcher eighth, an alignment he has not employed since last May.
The personnel must be right for it to make sense, Counsell said. When it works well, teams maximize the number of times their top-of-the-order hitters step to the plate with men on base -- but there is sometimes a tradeoff.
"It's a situation where you are going to get second and third with the pitcher up, and you're not going to like it," Counsell said. "You're doing it knowing you're going to get that, but hoping you're going to get more guys on base for your first, second and third hitters. How it works out, you can't plan how it works out."
In parts of three seasons as manager, Counsell has submitted 24 starting lineups with his pitcher hitting eighth, last on May 12, 2016, against the Padres. Jimmy Nelson pitched that day, and Villar hit ninth.
If Counsell does it, his options to bat ninth include center fielder Keon Broxton and shortstop Orlando Arcia.
"It's a possibility, yeah," Counsell said.
Welcome home
Reds utility man Scooter Gennett already saw his former teammates earlier this month in Cincinnati, but it still felt strange to walk past the Brewers' clubhouse on Monday afternoon and continue to the visitors' locker room at Miller Park. It felt even stranger once he started bumping into familiar stadium employees and fans.
After the Reds claimed Gennett off waivers in March, Gennett heard from some Brewers fans on social media.
"A few of them were upset," he said. "It's hard to understand how things work in this game. A lot of them were confused and didn't know why. There were some people who sent pictures of them crying. It was kind of bad, I didn't really expect that."
Gennett was not in the starting lineup for Monday's series opener.
Last call
• Double-A Biloxi placed its Opening Day starter, Aaron Wilkerson, on the temporary inactive list Monday because he is about to become a dad, general manager David Stearns said. With Wilkerson away, Wisconsin native Josh Uhen was promoted to Biloxi from extended spring training.