Crew features top prospects vs. Padres
Four of club's top 10 were in starting lineup on Thursday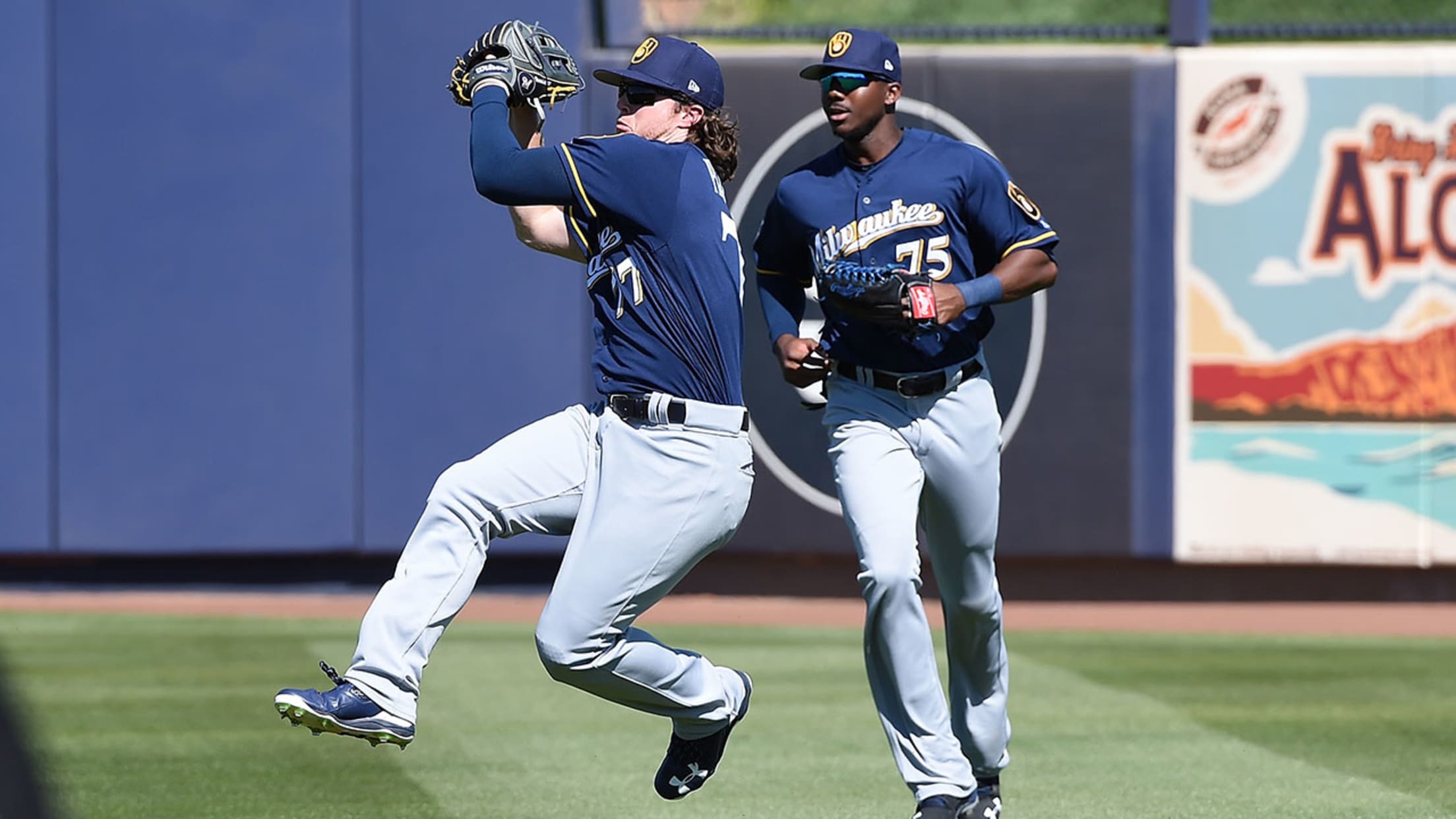 Brett Phillips, left, and Lewis Brinson are two of the Brewers' prospects making an impact during Spring Training. (Getty)
PEORIA, Ariz. -- The Brewers sent a prospect-packed team to Peoria Stadium for Thursday's 8-2 win over the Padres, featuring four of MLBPipeline.com's top 10 club prospects in the starting lineup. There would have been a fifth, manager Craig Counsell said, had second baseman Isan Diaz not been on loan
PEORIA, Ariz. -- The Brewers sent a prospect-packed team to Peoria Stadium for Thursday's 8-2 win over the Padres, featuring four of MLBPipeline.com's top 10 club prospects in the starting lineup. There would have been a fifth, manager Craig Counsell said, had second baseman Isan Diaz not been on loan to Team Puerto Rico for a World Baseball Classic warmup in Scottsdale.
The youth movement offers a glimpse into the rebuilding Brewers' future.
"It's cool to see when guys come up and they're not afraid, they're not nervous," said Thursday's starting pitcher, Zach Davies, who is just 24 himself. "They're here to play."
• Pipeline report: Prospects in Brewers' camp
The position players who started behind Davies included the club's No. 1 prospect Lewis Brinson in center field, No. 7 Lucas Erceg at third base, No. 9 Mauricio Dubon at shortstop and No. 10 Brett Phillips in left field. Dubon found his way onto the highlight reel when he ranged to his backhand side and made a leaping throw to first base for the final out of the first inning, stranding a pair of runners on base. Brinson, who homered on Wednesday, hit a two-run single. Outfielder Michael Reed, Milwaukee's No. 28 prospect, hit a long solo home run, as well.
This play for the #CactusCrew by @Mauriciodubon10 is too good to miss! 😲 #Brewers pic.twitter.com/hMDtBh5e6F

— Milwaukee Brewers (@Brewers) March 9, 2017
Diaz will get his chance to start Friday, when the Brewers play split-squad games at home against the White Sox and on the road vs. the D-backs.
"I look back at last year, we weren't in that spot where we were putting guys on the field like this," Counsell said. "That's a positive step forward, for sure."
In the coming weeks, Major League players will start working deeper into games and the prospects will find fewer opportunities. When that happens, Brewers player development officials will have to begin the difficult process of assigning them to Minor League affiliates to open the regular season.
The task will be particularly tricky at the upper levels of Milwaukee's system in the outfield. Barring injuries to big leaguers, there are at least five players vying for the Triple-A Colorado Springs outfield: Top 30 prospects Brinson, Phillips, Reed and Ryan Cordell, plus Kyle Wren, a productive and versatile player who has seen action for the SkySox in each of the past two seasons.
It is too early to worry about how the Brewers will solve that problem, though, according to Counsell.
"At this point, what needs to happen is those guys need to go play," Counsell said. "They need to get better through experience and facing Triple-A pitching. Cordell and Brinson, they have very limited experience at Triple-A, so let's not get too far ahead of ourselves here in where they're at. There is still some development that needs to happen, from my perspective.
"Having too many guys, that's something like we are in a lot of spots right now. We have three-and-a-half weeks, so there is time to make those decisions. Then we have to make some harder decisions."
Counsell noted that Colorado Springs often uses the designated hitter, offering additional at-bats for players.