Consistency key as Rondon seeks roster spot
Reliever has right attitude for bullpen, mentor in Rodriguez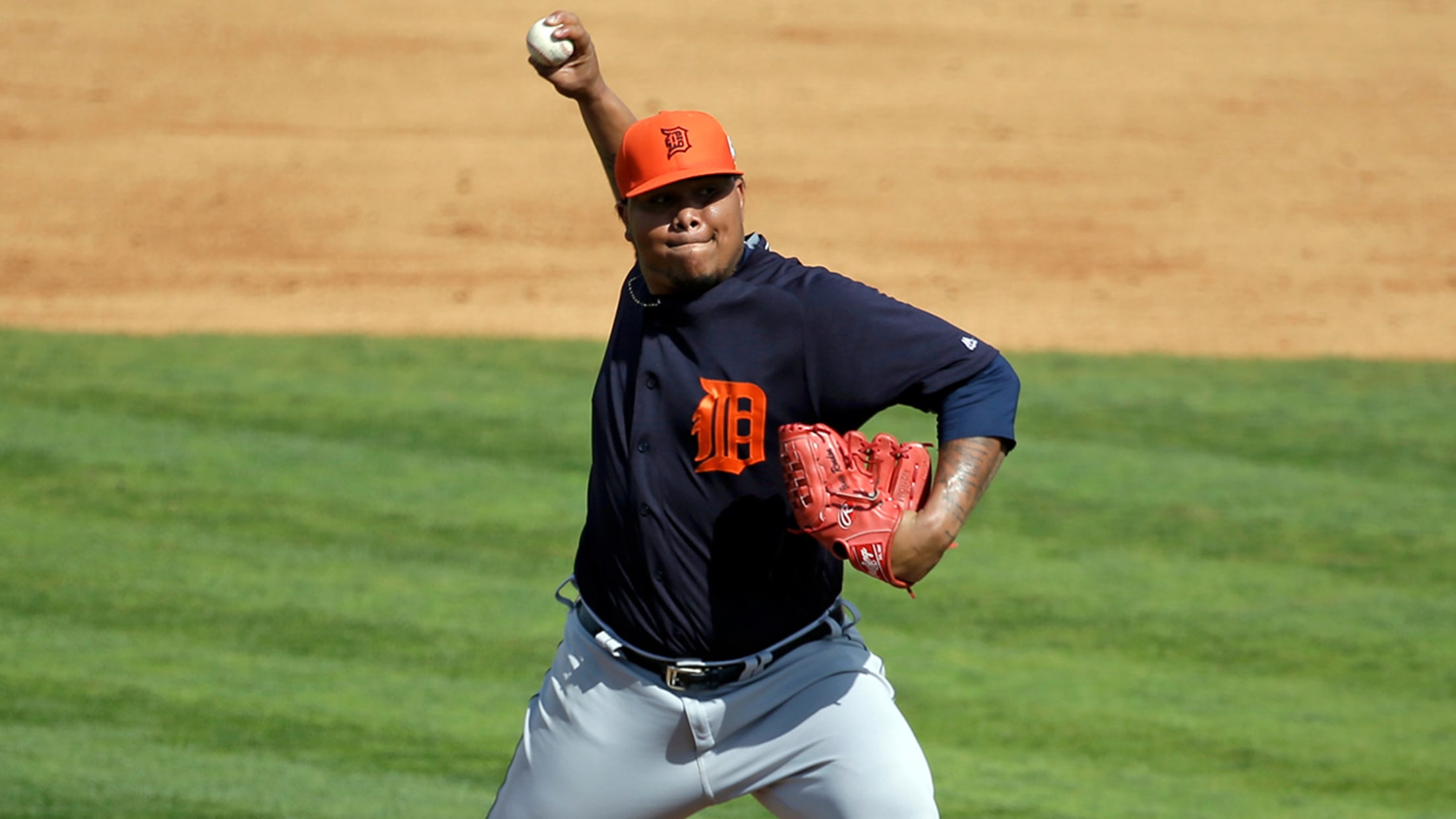 Bruce Rondon has had an up-and-down 10 innings this spring, giving up 13 hits and 10 runs while striking out 13. (AP)
LAKELAND, Fla. -- Bruce Rondon has the right attitude in Tigers camp, by all accounts. He has the right support group, by the account of new closer Francisco Rodriguez."He's coming along, working hard," Rodriguez said.• Spring Training: Tickets | Schedule | MoreNow he needs the right pitch.If Rondon does not open the season in a
LAKELAND, Fla. -- Bruce Rondon has the right attitude in Tigers camp, by all accounts. He has the right support group, by the account of new closer Francisco Rodriguez.
"He's coming along, working hard," Rodriguez said.
• Spring Training: Tickets | Schedule | More
Now he needs the right pitch.
If Rondon does not open the season in a Tigers bullpen that could use his arm -- and other healthy arms, for that matter -- it's the pitching that could be the deciding factor.
"There's no magic formula," manager Brad Ausmus said after Sunday's 8-3 loss to the Astros, which featured two Houston homers off of Rondon. "He needs to pitch well."
To use Sunday's outing as a snapshot of Rondon's spring wouldn't be fair. To use any of his outings this spring as a snapshot wouldn't be fair. That's part of the issue: His outings have been so up-and-down that it's difficult to know what to expect.
At times, he looks dominant, such as his perfect inning against the Rays March 8 with two strikeouts and a fastball that registered at 100 mph on the Joker Marchant Stadium radar gun. At times, like on Sunday, when A.J. Reed and Jon Singleton both took mid-90s fastballs deep in a four-run, three-hit inning, Rondon looks like he's searching.
It's not for lack of effort, but lack of consistency.
"Just bad spots," said one scout who has watched him multiple times this spring.
The effort level, Rodriguez said, is consistent.
"The main thing I can say is that he learned his lesson," Rodriguez said, referring to when Rondon was sent home in mid-September. "We're trying to put that behind us and get a new chapter now, make sure to have him on the right path and keep him strong all year long. Because he's going to be a big part of our bullpen if he makes it."
Rondon has given up 10 runs on 13 hits over 10 innings, but struck out 13 batters against four walks. Nine of those runs have come in three outings. Sunday was the first time he didn't complete an inning, halting any momentum that might have built from four consecutive scoreless innings with a walk and six strikeouts.
"He's been a little bit up and down," Ausmus said. "He's been real good on days and scuffled on days."
That might be enough to be sent down in some camps. With so many injuries and so few spring standouts so far in Tigers camp, though, it's difficult to rule out Rondon -- or anybody. Even with Drew VerHagen all but assured of a spot, if Alex Wilson and Blaine Hardy both begin the season on the disabled list, Detroit could have three spots to fill from a group that includes spring standouts Kyle Ryan and Buck Farmer, plus a steadily stronger Bobby Parnell.
If Rondon makes it, he'll have a mentor in Rodriguez. That was part of the benefit of the Tigers trading for him last November.
"I'm going to make it clear: He needs somebody to help him," Rodriguez said. "He needs somebody to be on top of him, to teach him to do things the right way -- how to prepare himself, when to mess around, when not. He's a young guy. He just needs a little more attention. He needs somebody to guide him, and that guy is me. That's what I'm going to do."