#VegasStrong: City on minds of Harper, Bryant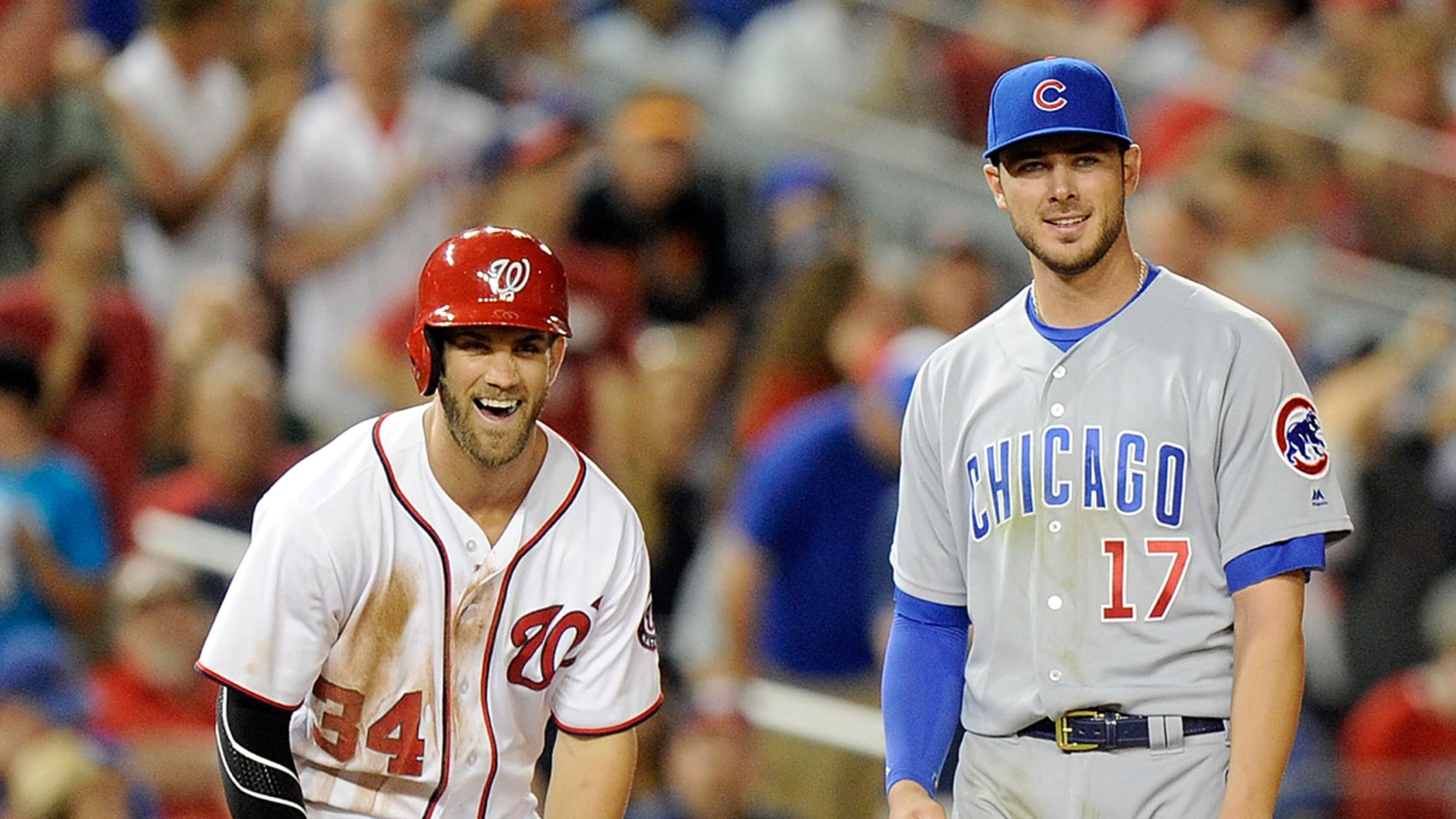 Nine months separate Bryce Harper and Kris Bryant. Both were born in Las Vegas, and both have won the NL MVP Award. (Getty Images) (Greg Fiume/Getty Images)
WASHINGTON -- Bryce Harper and Kristopher Bryant sat in the seats behind home plate at Nationals Park on Thursday afternoon, but the postseason may have been the furthest thing from either of their minds.Tonight, they'll suit up on opposing sides of the field, opening the National League Division Series presented
WASHINGTON -- Bryce Harper and Kristopher Bryant sat in the seats behind home plate at Nationals Park on Thursday afternoon, but the postseason may have been the furthest thing from either of their minds.
Tonight, they'll suit up on opposing sides of the field, opening the National League Division Series presented by T-Mobile between the Nationals and Cubs. But on Thursday, they were just two Las Vegas kids catching up and wondering how their hometown was turned upside down in the blink of an eye.
The past two NL Most Valuable Player Award winners recorded a public service announcement to help the efforts in Las Vegas, where 58 people were killed and hundreds more injured in Sunday night's mass shooting during a country music concert at the Las Vegas Village.
:: NLDS schedule and coverage ::
"We play baseball for a living, but there are way more important things," said Bryant, whose future sister-in-law made it out of the concert safely. "We're definitely doing all we can to help. This offseason, I'll be doing all I can. I was born and raised in Vegas. It's been touching to see the community come together."
Harper tweeted a photo Thursday of himself holding a pair of spikes depicting the city's skyline on one and the "Welcome to Las Vegas" sign on the other, writing, "Vegas, this is for you! #VegasStrong."
"It's been pretty surreal," Harper said of the days since the shooting. "Just talking to friends, talking to family that were at the concert, seeing the things that have happened and transpired from that, it just goes to show how strong our community is in Vegas, how much of a small community it can be."
The friendship between Harper and Bryant has been well-chronicled since the latter broke into the big leagues in 2015, and while they've shared the same field several times, they haven't done so under the brightness of October lights.
"This is what you live for, to compete against your buddies on a stage like this," Bryant said. "In club ball, it's fun to play against each other, but we never really dreamed of this. It's definitely special for us. I'm so happy for him and all his success -- but hopefully we kick his butt on the field."
Vegas this is for you!💯 #VegasStrong pic.twitter.com/QujvvVOMc6

— Bryce Harper (@Bharper3407) October 5, 2017
Bryant sounded like a wide-eyed little kid as he recalled watching Harper play for the first time, marveling at the power he possessed as far back as the age of 7 or 8.
"He was a freak of nature," Bryant said. "I can't even explain how intimidated I was to watch him just hit in the batting cage. The sound coming off his bat was something you never heard."
Truth be told, it was Harper's presence on the mound a few years later that caused the most anxiety in a young Bryant.
"He would be throwing way harder than anybody I'd ever seen," Bryant said. "It was more of the fear factor of, 'If he hits me, I'm going to be crying for a week.' He was a larger-than-life 12-year-old out there that was just so good at baseball, you knew he was bound for where he's at now."
Despite their proximity in age -- Bryant is nine months older than Harper -- the pair didn't play for rival high schools, creating what Bryant has called a "friendly competition" more than a rivalry.

While Bryant speaks reverently about Harper, he's got something his pal hasn't yet earned: a World Series championship. Bryant and the Cubs were the darlings of the sports world last fall, ending Chicago's 108-year drought, while Harper's Nationals were bounced in the first round for the third time in five years.
"I was excited for him," Harper said. "Of course we wanted to be in that situation, that spot. Being able to go back-to-back seasons with MVPs for the state of Nevada and the city of Las Vegas, that was pretty cool. Then him bringing back a World Series to Vegas as well, that was a pretty cool experience for him. I'm so happy for him and his family."
You might think bragging rights would be on the line in a series such as this, but Bryant believes the mutual respect and admiration they have for one another will prevent any post-series ribbing.
"If I was playing my brother or something, there would be bragging rights," Bryant said. "But Bryce is such a good guy, he wouldn't do that to me and I wouldn't do that to him."
Heartbroken to see what has happened in my hometown. Grateful that my family & friends are safe. Thoughts and prayers to all those affected.

— Kris Bryant (@KrisBryant_23) October 2, 2017
The two already shared a bond that stretches all the way back to Las Vegas. Following the events in their hometown this week, that connection seems to be even stronger.
"You never think it's going to happen to anywhere where you're from or where you live," Bryant said. "When it does, it broke my heart."
Baseball will take center stage for the pair tonight. Thursday was about something much bigger.
Mark Feinsand, executive reporter for MLB.com, has covered the Yankees and MLB since 2001 for the New York Daily News and MLB.com.