The latest Bryce Harper free-agent rumors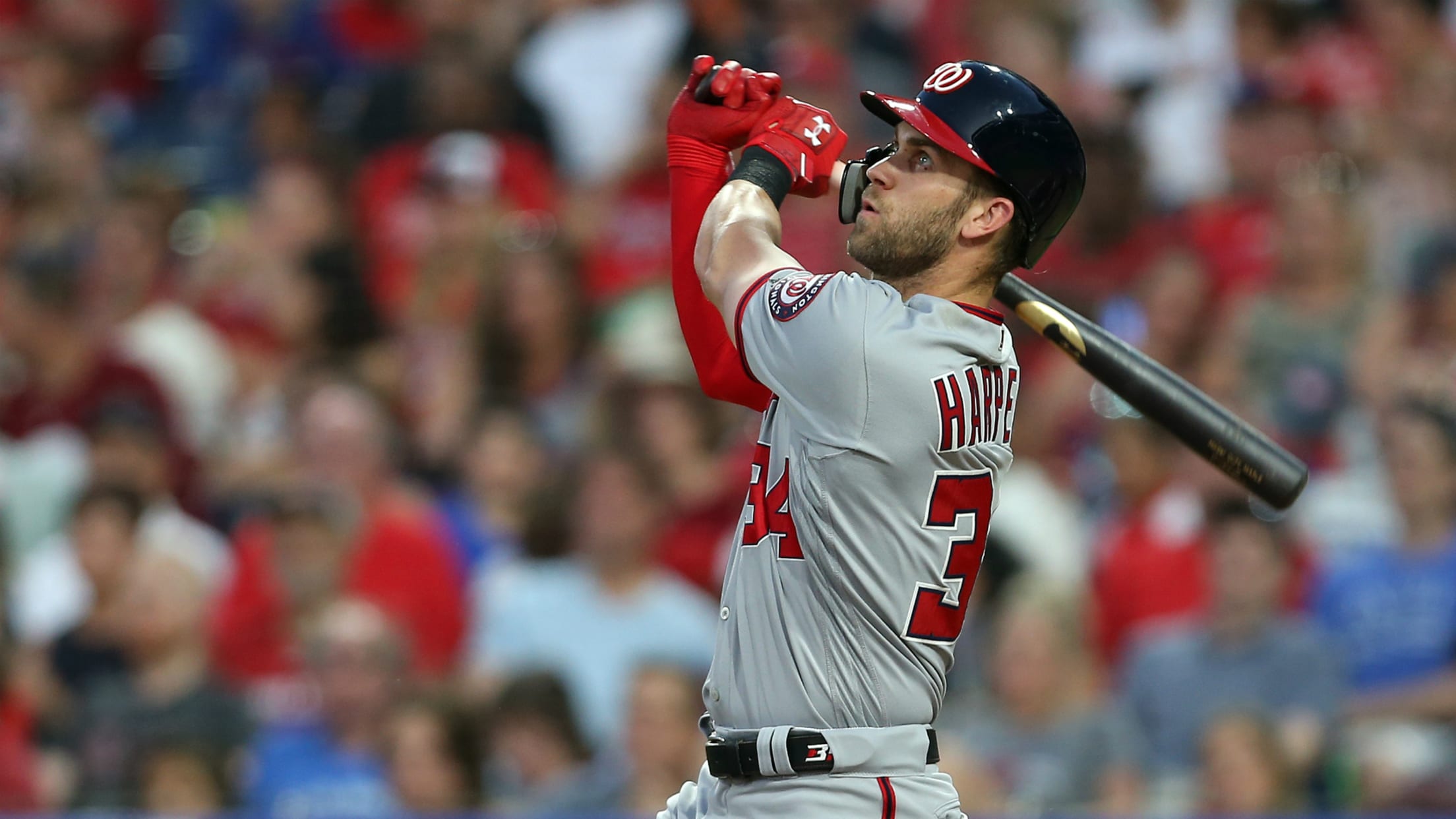 After a seven-season tenure with the Nationals that included a National League Rookie of the Year Award in 2012, an NL MVP Award in 2015 and six All-Star nods, Bryce Harper is a free agent for the first time. Below you will find a list of the latest news and
After a seven-season tenure with the Nationals that included a National League Rookie of the Year Award in 2012, an NL MVP Award in 2015 and six All-Star nods, Bryce Harper is a free agent for the first time.
Below you will find a list of the latest news and rumors surrounding the outfielder.
Harper reportedly has deal with Phillies
Feb. 28: Bryce Harper has agreed to a contract with the Phillies, sources confirmed to MLB.com's Mark Feinsand. MLB.com's Todd Zolecki reports that the deal is for 13 years and $330 million. According to Feinsand, Harper's contract has no opt-out clause and a full no-trade clause.
ESPN's Jeff Passan reports Harper will receive $10 million in 2019, plus a $20 million signing bonus. In the years following, he will receive $26 million per year from '20-'28, and $22 million per season from '29-'31.
Read more here.
Bryce race appears to be down to 3: Giants, Dodgers, Phillies
Feb. 28: And then there were three? The finish line in the race for Bryce Harper appears to be approaching, and three teams are jockeying for position: the Giants, Dodgers and Phillies.
Three people with direct knowledge of negotiations told USA Today that all three clubs have vowed to provide Harper with a record-breaking deal -- either in overall value or average annual value.
According to USA Today's Bob Nightengale, the Phillies still have the high offer on the table but may be fading in the competition after previously being considered the heavy favorites.
"They are beginning to wonder whether Harper would sign ever there, no matter how much money they keep offering," Nightengale writes.
It's unclear just how high the Phillies are willing to go with their offer, though. SNY's Andy Martino reports that, as of Wednesday night, the two sides were still "significantly" apart on dollars.
The Giants met with Harper and agent Scott Boras in Las Vegas for a second time Tuesday, sources told MLB.com's Mark Feinsand. According to multiple reports, San Francisco has discussed a 10-year deal with Harper, and Nightengale reports that the club is offering at least $300 million.
The Dodgers, meanwhile, are "adamant about not giving Harper a 10-year deal, but realize that if they offer the highest annual salary for at least five years, they now have his attention," Nightengale adds.
Even if Los Angeles is offering a lesser deal in total value, there are a variety of reasons why Harper might prefer to sign with the Dodgers. Los Angeles is one of the biggest media markets in sports, the city is close to his hometown of Las Vegas, and the Dodgers made the World Series in each of the past two seasons.
With negotiations in the final stages, Nightengale notes that Boras "has begun circling back with other teams in recent days … seeing if they are in or out in the final hand of this high-stakes poker game."
Boras will likely check in with the Nationals again to see if they are interested in getting back in the mix after owner Mark Lerner said last week that the team had "moved on" from Harper.
Reports: Giants met with Harper again, discussing 10-year deal
Feb. 27: Another day, another turn in the Bryce Harper sweepstakes.
Sources told MLB.com's Mark Feinsand that Giants CEO Larry Baer and president of baseball operations Farhan Zaidi met with Harper and his agent, Scott Boras, on Tuesday in Harper's hometown of Las Vegas. The Mercury News' Kerry Crowley was the first to shed light on the meeting. It marks the second time San Francisco has met with Harper face to face; Baer, Zaidi and manager Bruce Bochy met with Harper in Las Vegas earlier this month as well.
It makes sense that the Giants would take advantage of Harper's lingering indecision to book another in-person conversation. While the Phillies have been seen as the frontrunners for the six-time All-Star for several weeks and were generally thought to have the biggest offer in terms of years and total dollars, the fact that he remains unsigned could signal that he's not altogether convinced to play in Philadelphia.
The Giants were believed to be more comfortable with a short-term deal for Harper -- alongside the rival Dodgers, who met with Harper last weekend -- but sources told Alex Pavlovic of NBC Sports Bay Area that the two sides have discussed a 10-year contract. Meanwhile, Henry Schulman of the San Francisco Chronicle reports that all of the teams still talking to Harper in the late stages, including the Giants, have discussed deals of at least 10 years with the outfielder. ESPN's Buster Olney adds that the Giants are "in heavy, [but] unsure of [their] chances."
All teams talking to Bryce Harper in these late stages, including the #SFGIants, have discussed deals of at least 10 years, I've learned.

— Henry Schulman (@hankschulman) February 27, 2019
Only Boras knows exactly who's offered what for Harper; officials involved are left to guess. Among latest shards of info:
1. PHI believed by some execs to still have highest $ offer.
2. LAD interest still predicated on shorter-team deal.
3. Giants in heavy, unsure of chances.

— Buster Olney (@Buster_ESPN) February 28, 2019
MLB Network insider Jon Heyman tweets that the Phillies, Giants and Dodgers "all appear to remain strongly in the Harper mix, and barring something unforeseen, it appears Harper will pick one of those three teams."
Phillies, #SFGiants and Dodgers all appear to remain strongly in Harper mix, and barring something unforeseen, it appears Harper will pick one of those 3 teams. Philly is in for 10 years, SF is too (via @PavlovicNBCS), LA is viewed as desirable locale tho term offered unknown.

— Jon Heyman (@JonHeyman) February 27, 2019
Growing concern in Philly?
Feb. 27: The Phillies have been seen as the frontrunners for Bryce Harper for several weeks now. But is that status growing less certain?
Sources within the Phillies' organization tell MLB.com's Jon Morosi that some members of the club "have grown concerned" that Harper will sign with the Dodgers, who met with the superstar over the weekend -- even if Los Angeles' offer includes less guaranteed money. The Dodgers have been widely speculated to prefer a shorter-term contract with a high average annual salary for Harper, though a deal like that would almost certainly bump them over the competitive balance tax threshold in 2019 and possibly beyond.
Bryce Harper update: Some #Phillies officials have grown concerned Harper will sign with the #Dodgers if they make an offer that comes close to Philly's. The ability to play close to home and train in Arizona both appeal to Harper, who is a @Lakers fan. @MLB @MLBNetwork

— Jon Morosi (@jonmorosi) February 26, 2019
Los Angeles' proximity to Harper's hometown of Las Vegas appeals to the six-time All-Star, according to Morosi, as does the ability to spend Spring Training in nearby Arizona before the season begins. Harper is also a noted Lakers fan and seems to soak up the spotlight, and so playing with the Dodgers would net him the same sort of visibility LeBron James sought when he moved from the NBA's Cavaliers to the Lakers.
Former Mets general manager and MLB Network Radio analyst Steve Phillips echoed Morosi's report, even going so far as to say that the Phillies view their chances as "remote."
A source indicates that the #Phillies believe their chances of landing Bryce Harper are remote. The obvious question is whether they would pivot to Keuchel and/or Kimbrel. My sense from our interview with Matt Klentak is that they won't play on Keuchel and only maybe on Kimbrel.

— Steve Phillips (@StevePhillipsGM) February 27, 2019
"I don't know the timing," Phillies general manager Matt Klentak told MLB Network Radio on Wednesday. "Markets always develop for their own reasons. Last year we saw a number of free agents sign late in Spring Training -- including one with us. Jake Arrieta signed with us on March 11."
🌴 @MLBNetworkRadio at #Phillies camp 🌴

GM Matt Klentak updates the timetable for his team's pursuit of Bryce Harper (and possibly others?), while rocking out to "Immigrant Song":

🎵 We come from the land of the ice and snow/for the midnight sun where the hot springs flow 🎵 pic.twitter.com/4jLcc5h3yr

— MLB Network Radio on SiriusXM (@MLBNetworkRadio) February 27, 2019
MLB Network insider Jon Heyman reported Tuesday morning that there are now multiple $300 million offers on the table for Harper, further intensifying the pressure on the front-runner Phillies to sew things up sooner rather than later. According to ESPN's Buster Olney, some executives think Philadelphia's offer remains the highest.
What Arenado's deal means for Harper
Feb. 26: Rockies superstar Nolan Arenado has made history by finalizing an eight-year contract worth $260 million.
Source confirms: #Rockies, Arenado in final stages of negotiating eight-year, $260M extension with opt-out after three years. First to report deal as close: @JeffPassan.

— Ken Rosenthal (@Ken_Rosenthal) February 26, 2019
The deal nets Arenado an average annual salary of $32.5 million, surpassing the $31 million benchmark for position players set by Miguel Cabrera's extension with the Tigers in 2014. It also sets a very precise goal for Bryce Harper and his agent Scott Boras, as MLB.com's Todd Zolecki writes: A 10-year, $326 million contract that would both surpass Giancarlo Stanton's $325 million extension with the Marlins for total dollars and edge Arenado for the AAV record.
Arenado's deal also includes an opt-out after Year 3, which USA Today's Bob Nightengale speculates could be helpful in Harper's negotiations.
Certainly, Nolan Arenado's opt-out clause after three years may pave the way for the #Phillies to provide opt-out after 2021 to Bryce Harper, which has been one of the sticking points in negotiations.

— Bob Nightengale (@BNightengale) February 26, 2019
Assuming that $326 million figure becomes the floor for Harper's request -- if it wasn't already -- the onus falls on his potential suitors. The Phillies' offer reportedly has hovered around $300 million in the wake of the contract Manny Machado signed with the Padres for that amount last week, but MLB Network insider Jon Heyman reported that there are now multiple clubs with offers in that neighborhood. If that is true, the next few days could become a race to see who his willing to go all the way to $326 million.
Do Phillies have high-dollar competition for Harper?
Feb. 26: As of Monday, all indications pointed toward the Phillies being the only team that had offered Harper a long-term contract of at least $300 million. But in the ongoing Harper saga, nothing stays the same for long.
Sources tell MLB Network insider Jon Heyman that other teams have also offered Harper at least $300 million, which would match the record free-agent contract Manny Machado signed with the Padres last week. If that is indeed the case, the pressure on the Phillies to get a deal done has ramped up even further.
Phillies have offered Bryce Harper over $300M but word is others are over $300M, too. they believe they may have high bid but their confidence to win was dented a tad by emergence of LA (a desired Harper spot). Philly has to decide whether to keep faith or dip into the stupid $

— Jon Heyman (@JonHeyman) February 26, 2019
The Dodgers' re-entry via their weekend meeting with Harper and his agent, Scott Boras, in Las Vegas seems to have lit a flame under a sweepstakes that now appears to be reaching its climax. The Giants were thought to be occupying the same short-term deal space as the Dodgers, but even a two-to-four year offer with a sky-high average annual salary would bring up luxury tax implications for the California rivals.
The Padres, meanwhile, would figure to be a longshot after already maxing out for Machado, and the White Sox are thought by many to have abandoned their superstar pursuits (though Heyman reported Monday that the South Siders "remain in touch"). Nationals owner Mark Lerner told reporters last weekend that his club had "moved on" from Harper. Heyman maintains that Harper and Boras are "only considering long-term deals," which raises the question: Who else would conjure up a mega-offer to rival Philadelphia?
As Opening Day draws closer and closer, industry insiders have begun wondering whether Phillies owner John Middleton should send a deadline to Harper and Boras to get a deal done. Philadelphia's commitment to a long-term deal -- one possibly even rivaling Giancarlo Stanton's $325 million extension with the Marlins -- has been evident for several weeks, and yet Harper's team continues to keep lines of communication open for other clubs. But the delay in his decision would make more sense if there is indeed another $300 million-plus offer on the table.
Dodgers still in the mix for Harper
Feb. 25: It seems the Dodgers are back in play for Bryce Harper. On Monday, Dodgers manager Dave Roberts confirmed to reporters that he, CEO Stan Kasten and president of baseball operations Andrew Friedman met with Harper in Las Vegas on Sunday night, though Roberts remained vague about the particulars of the conversation.
Dylan Hernandez of the Los Angeles Times still considers it unlikely that Harper will end up with the club, however, as "there's nothing to indicate the Dodgers are suddenly open to offering a contract of a decade or more." Sources told ESPN's Jeff Passan, meanwhile, that Harper also remains steadfast in insisting on a deal of 10 years or more.
Nevertheless, the development throws another twist into the chase for the superstar slugger.
A source tells MLB.com's Mark Feinsand that the Phillies are the only team discussing a long-term deal with Harper, though the Dodgers' interest could help drive up the rival Giants' offer in the short-term end of the pool.
The Dodgers' reported entry into the Harper mix is interesting as it relates to the Giants' pursuit, though both teams are believed to be interested only in shorter-term deals. According to a source, the Phillies remain the only team talking to Harper about a true long-term deal.

— Mark Feinsand (@Feinsand) February 25, 2019
Phillies owner John Middleton reportedly flew to Las Vegas on Friday night and met with Harper before heading back east on Saturday. Internally, the Phillies believe Harper will ultimately accept the largest offer and remain confident he'll choose Philadelphia, reports MLB.com's Todd Zolecki.
Of the teams still reportedly pursuing Harper, the Dodgers join the Giants as the two closest to his home in Las Vegas. Los Angeles also represents the team in that group that has had the most success recently; the Phillies finished third in the NL East last year, while the Giants finished fourth in the NL West, the White Sox finished fourth in the AL Central, and the Nationals finished second in the NL East.
The Dodgers made a blockbuster trade in December that sent outfielders Yasiel Puig and Matt Kemp, along with left-hander Alex Wood and catcher Kyle Farmer, to the Reds. That transaction cleared some outfield space, sparking speculation that Los Angeles might make a move to sign Harper. But the Dodgers signed free-agent center fielder A.J. Pollock last month, and it appeared that the club was done adding to the outfield at that point.
The Dodgers reached the World Series in 2017 and '18, losing to the Astros and Red Sox, respectively. The franchise's World Series drought has reached 31 years, and if club officials are, indeed, trying to ink the 26-year-old Harper to add another left-handed power bat to the middle of an already formidable lineup, it may indicate Los Angeles is trying to further solidify its status as the favorite in the National League West, and as a serious contender to reach its third consecutive Fall Classic.