Attention to detail is what makes Showalter tick
We celebrate the Orioles skipper's 60th birthday by honoring his work ethic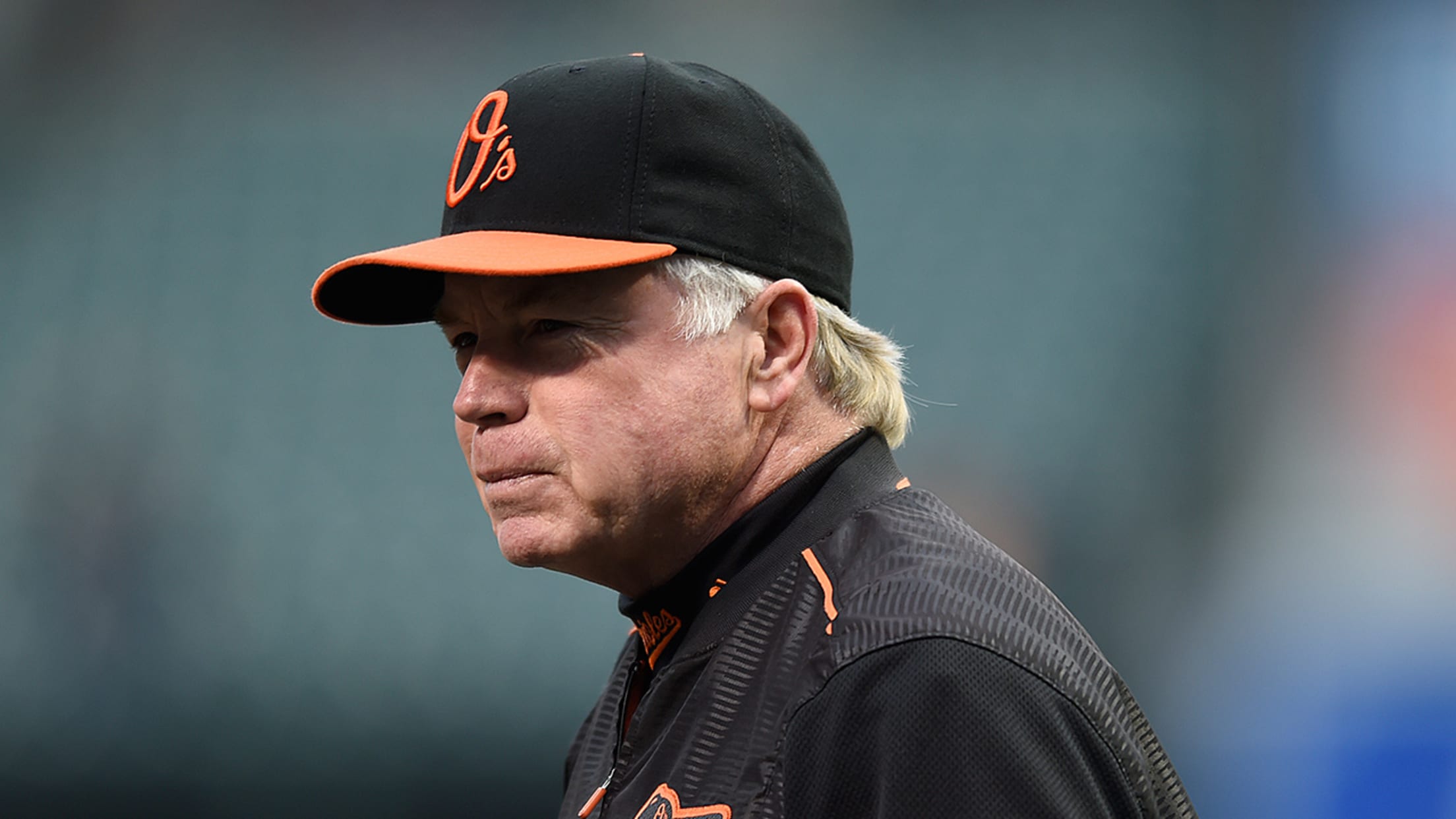 Buck Showalter's legacy in Baltimore will be that he has rekindled the fire in one of the country's great baseball cities. (AP) (AP Photo/Gail Burton)
One of the best ways to appreciate Buck Showalter's genius is to show up early one morning in Spring Training and watch him run a couple of drills with his Baltimore Orioles.On Showalter's 60th birthday, this is a path to understanding one of baseball's most respected, creative and successful managers.Sixty?
One of the best ways to appreciate Buck Showalter's genius is to show up early one morning in Spring Training and watch him run a couple of drills with his Baltimore Orioles.
On Showalter's 60th birthday, this is a path to understanding one of baseball's most respected, creative and successful managers.
Sixty? That's just a number. After 2,625 games in charge of the Yankees, D-backs, Rangers and, for the past seven years, the Orioles, Showalter is as obsessive and competitive as ever.
In fact, this 18th season as a Major League manager might just be the most fun Showalter has ever had. His Baltimore legacy will be that he has rekindled the fire in one of the country's great baseball cities. In the past five seasons, the O's have won more games in the regular season than any other American League team.
And in 2012, Showalter's second full season on the job, the Orioles made their first postseason appearance in 15 seasons Along the way, he pushed almost every right button.
Showalter made sure every current Oriole understood the franchise's history. He lined the hallways at Camden Yards with photos of O's legends, introduced his players to Brooks Robinson, Earl Weaver, etc., and attempted to get his players to feel the same pride that other generations of Baltimore baseball players -- and fans -- had felt.
Showalter hadn't managed a game in four years when Orioles owner Peter Angelos took a chance on him. His reputation was that he wore people out with his hands-on personality, so his hiring was a gamble.
Angelos followed up 18 months later by hiring excutive vice president of baseball operations Dan Duquette, who'd been out of the game for 10 years, as general manager. In five seasons together, Showalter and Duquette have crafted a successful professional marriage.
Way back in Spring Training, the O's were penciled in for fourth or fifth place in the AL East. Their starting rotation was a mess, their lineup lacking depth.
Showalter loved the doubt. He fed off it, was motivated by it. He made sure his players knew about it, too.
Two months later, the Orioles (26-16) have the best record in the AL -- percentage points better than the Red Sox (27-17) -- and have spent all but three days in first place.
They've done this despite a starting rotation that has been shaky at times and with two of their most important players -- shortstop J.J. Hardy and right-hander Yovani Gallardo -- on the disabled list.
They're winning anyway with an offense, bullpen and defense that have been solid. That rotation may end up being good enough, too, especially after Gallardo returns. The Red Sox may still be a popular choice to win the AL East, but only a fool would doubt the O's.
OK, back to a morning in Spring Training.
Showalter may begin the day by hitting fly balls to his outfielders, a drill baseball teams have been doing since before Babe Ruth stepped on a diamond.
Only maybe not the way Showalter does them. Before almost every fly ball, he's yelling instructions.
"OK!" he will shout. "Runners on first and second, none out. Where are you going with the throw?"
And then…
"Runners on first and third, one out," he'll announce. "Where are we going?"
Showalter will do this for awhile, going through situation after situation, until everyone is exhausted. Now comes the good stuff. This is when the drill ends, and he gathers his guys behind second base for a chat.
Some mornings, it's about serious stuff. It's a reminder to pay attention to detail, to make the right play, the right pitch, etc. Small stuff, Showalter will tell his guys, is not small stuff at all.
Other times, there are laughs. Some of these talks are X-rated. Some are just guys sitting around shooting the breeze.
These mini-team meetings have a purpose. In Showalter's world, almost nothing happens by accident. In talking to his players this way, in making them laugh and listening to what they have to say, he's doing two things.
One is that Showalter is learning things about his players. He's an insatiable observer of people and of trying to understand what motivates them and makes them tick.
Also, Showalter is letting his players know that his door is open, that he's there for them in good times and bad.
Baseball seasons are long, tough grinds. Along the way, there are energizing victories and gut-wrenching defeats.
The best teams are the ones that maintain a certain amount of poise, that give the same consistent, professional effort through the high times and the low.
And in understanding his players, in understanding if they're the kind of people he wants to manage, Showalter leaves pretty much no stone unturned. Before games -- regular season and Spring Training -- he will stroll through the outfield during batting practice to chat up his players.
Showalter makes a point of knowing the names of spouses and of children. He wants to know the things going on in their lives, the good times and bad.
To play for Showalter is to come to understand that he has your back, that he will be your most loyal defender. All he asks is that you try to walk a mile in his shoes, that is, to try and understand that every decision he makes is one he believes is in the best interests of the Orioles.
The past two springs, Showalter has proudly showed off a new row of pitching mounds that make it easier for every pitcher to get his work in. But the best mounds -- the ones he had constructed in 2015 -- are for the players who've pitched well enough to earn a spot on one of them. Get it? Everything -- even the smallest things -- is earned.
The O's have had this success despite a payroll that has not cracked the top 10 the past five seasons.
While they've done a nice job retaining their top players -- Hardy, Chris Davis, Adam Jones -- they have seldom been bidders for big-ticket free agents. Before Jones signed his new deal in 2012, he wanted assurances that Showalter would be around.
The Orioles have gotten yearly contributions from a few free agents on almost no one's radar screen. One of the ways Showalter does this is by assuring them they will get every chance to make his club.
In the O's spring clubhouse, Showalter prominently posts a board with everyone's playing time. And if a player is sent to the Minor League, he can remind the guy to look at recent seasons. If they perform well, they will get another shot.
Showalter would be the first to tell you that his success begins with having great players. It's true that in Jones, Davis, Matt Wieters and others, the Orioles had tremendously talented players.
But having talent is just a start. The man who has crafted a winning environment and made his players believe in themselves and put them in position to succeed is Showalter.
As Showalter methodically assembles a Hall of Fame resume -- 1,366 victories, .521 winning percentage, 108 games over .500 -- he shows exactly none of his 60 years. He may not be forever young, but in terms of managing baseball teams, there's almost no one better.
Here's to a happy 60th, Buck.
Richard Justice is a columnist for MLB.com. Read his blog, Justice4U.