Pair of cancer survivors credit Bucs for support
2018 Honorary Bat Girls Gorajewski & Blystone recognized in pregame ceremony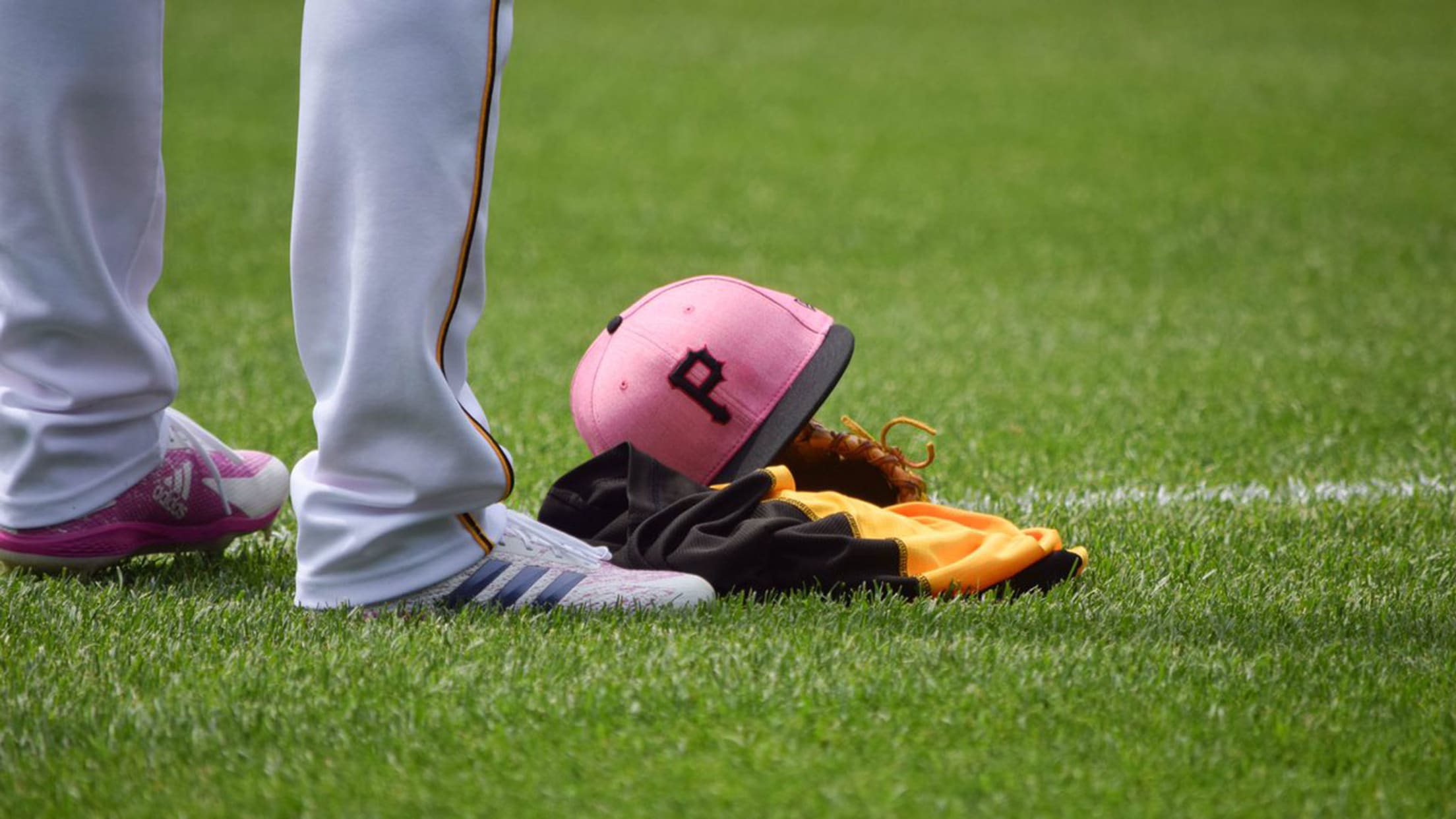 PITTSBURGH -- The Pirates participated in the Honorary Bat Girl program along with the rest of Major League Baseball on Sunday by honoring national candidate Dana Gorajewski and local candidate Jocelyn Blystone in a pregame on-field ceremony.The program was created in 2009 in order to provide additional support and awareness
PITTSBURGH -- The Pirates participated in the Honorary Bat Girl program along with the rest of Major League Baseball on Sunday by honoring national candidate Dana Gorajewski and local candidate Jocelyn Blystone in a pregame on-field ceremony.
The program was created in 2009 in order to provide additional support and awareness for the annual "Going to Bat Against Breast Cancer" initiative commemorated every Mother's Day. It recognizes baseball fans who have been impacted by breast cancer and have displayed their commitment to defeating the disease.
• 2018 Honorary Bat Girls
After being cleared with a mammogram three months earlier, Gorajewski was diagnosed with Triple Negative Breast Cancer on Apr. 17th, 2017. Seven months of chemotherapy and three surgeries later, the 44-year-old mother of two from Wexford is now a proud cancer survivor.
"I got that diagnosis the day after Easter," Gorajewski said. "Immediately, I just thought of my boys; at that time they were 4 and 6 years old. I knew I was going to be OK, but I was just very scared about them because I knew the impact that it would have on them."
Our moms are at the game today.

Win or lose, we hope there's ice cream after. #MothersDay pic.twitter.com/aacdsAYagu

— Pirates (@Pirates) May 13, 2018
She says she and her family received ample support from local cancer organizations in Pittsburgh that helped them all get through the fight together. She also credited the Pirates' organization and MLB as a whole for their part in supporting breast cancer research.
"I couldn't be more happy to be celebrating Mother's Day and celebrating me being cancer free with my entire family, Major League Baseball, and the Pirates' organization," Gorajewski added. "I just can't believe what they do for cancer charities, and it's really a blessing."
• Shop Bucs Mother's Day gear
Blystone is a 31-year-old teacher and Zumba instructor from Pittsburgh who was diagnosed with breast cancer on Jan. 18, 2018. She began chemotherapy two weeks later and continues to receive treatment as she's scheduled for 16 rounds of chemotherapy followed by a bilateral mastectomy.
"I have to say this is quite an honor," Blystone said. "I was truly touched when I was nominated for this. The support of Major League Baseball, the Pirates, and my family and friends has been paramount in getting me through this battle. I'm so thankful to everyone for their support and love."
Since 2006, players across Major League Baseball have been wielding pink bats through the "Going to Bat Against Breast Cancer" initiative. The Pirates had 10 players using pink bats on Sunday: Francisco Cervelli, Colin Moran, David Freese, Jordy Mercer, Corey Dickerson, Josh Bell, Gregory Polanco, Sean Rodriguez, Starling Marte and Elias Diaz.
Louisville Slugger's pink bats were stamped with the MLB breast cancer awareness logo. The company has announced it will donate all proceeds from the sale of their bats to Susan G. Komen and Stand Up 2 Cancer, which is celebrating its 10th season.
Additionally, Pittsburgh wore pink caps and special hoodies with pink lettering. Both will be available for purchase and all profits will go to the Susan B. Komen Foundation and Stand Up 2 Cancer.
Mason Wittner is a reporter for MLB.com based in Pittsburgh.