Black wants Rox to have basestealing mindset
Rockies led NL in runs scored last year despite lagging in swipes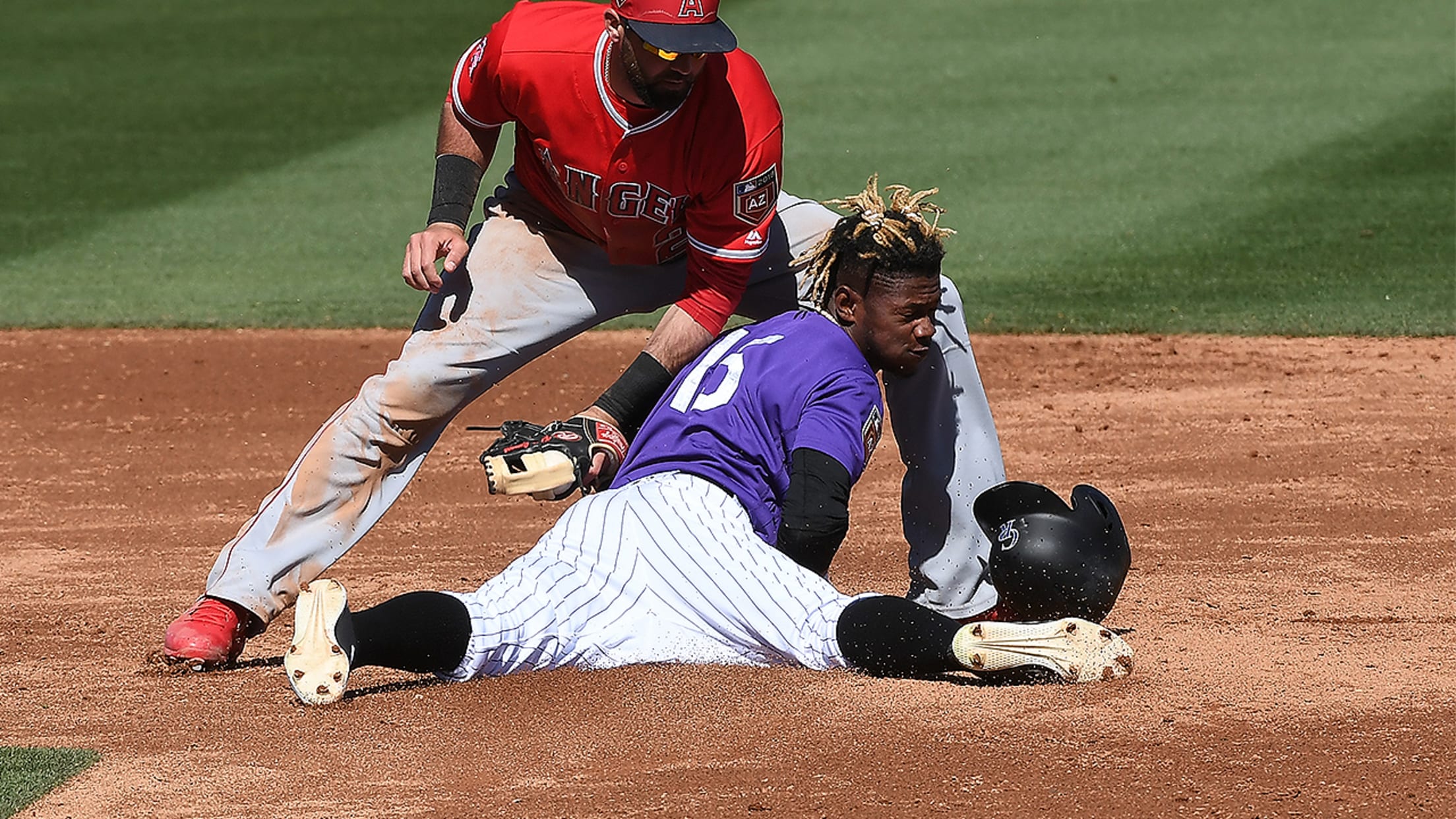 MESA, Ariz. -- The Rockies got off to a fast start in 2017, holding first place most of the way from Opening Day until the summer solstice in late June. They posted their first winning record since 2010 and played their first postseason game since '09.Their turnaround had little to
MESA, Ariz. -- The Rockies got off to a fast start in 2017, holding first place most of the way from Opening Day until the summer solstice in late June. They posted their first winning record since 2010 and played their first postseason game since '09.
Their turnaround had little to do with speed. Only the Mets stole fewer bases in the National League last season, but picking up speed has not been an urgent need for a Rockies lineup that isn't broken.
"Didn't we lead the league in runs scored?" manager Bud Black asked Thursday.
:: Spring Training coverage presented by Camping World ::
They did, with 824 runs, trailing only the Astros (896) and Yankees (858) in the Majors.
"Do we want to run? Yes." Black said. "Are we going to have the makeup of our 12-man position player group to run? Yeah.
"I hope to see [Trevor Story] run more. One of his goals is to steal more bases. [Ian Desmond] had a rough year physically, with the broken hand, then he came back and had two calf pulls. That sort of took the running element out of the game. But if he's healthy, he's a basestealer. And then we'll see who else makes the team."
• Rockies Spring Training info
Desmond led the Rockies with 15 steals, followed by Charlie Blackmon (14) and Story (7). Blackmon got his steals out of the leadoff slot, but he is likely moving to third in the order, where his productive bat can do even more damage.
A big part of Blackmon moving to third is finding someone to fill his shoes in the leadoff spot. Raimel Tapia has the potential to fit the role, but he's primarily competing for a fourth outfielder spot behind a penciled-in starting trio of Blackmon in center, Desmond in left and Gerardo Parra in right. Tapia hit .288 with five steals in seven attempts in 70 games for the Rockies last season and has the raw speed to be a constant threat on the basepaths.
"There's a number of factors," Black said of the elements a player needs to turn speed into steals. "Lead comes into play. Jump, probably the biggest area to successful basestealers. Guys with speed get good jumps."
But more than anything, Black identified the mental makeup -- the instinct for base thievery -- as the critical component.
"You have to have the mindset that, 'I am a basestealer -- I want to steal,'" Black said. "All the good basestealers want to run. They're not hesitant. They're not tentative. They have no fear of either being picked off or thrown out or looking bad. You can't care about that. That should never enter a basestealer's mind. That's what Raimel has to possess. You've got to have that mindset."
The Rockies have plenty of ability to steal bases on their roster, but they didn't look like a club set on stealing in 2017. The 59 steals were the second lowest in the team's 25-year history and far from their high of 201 in 1996.
Just their prospective starting lineup has career highs that would dwarf the team's total from 2017, led by Blackmon's 43 steals in '15, Desmond's 25 in '11, DJ LeMahieu's 23 in '15 and Parra's 15 in '12.
"Ideally what you like is, the guys that have that desire to run," Black said, noting the element of surprise can be as valuable a weapon as speed. "Trevor's foot speed surprised me. The guy hits 27 homers and has some power. He can run. And he can steal. And he wants to steal."
Owen Perkins is a contributor to MLB.com.