Selig given Lifetime Achievement Award
Former Commissioner says game is in good hands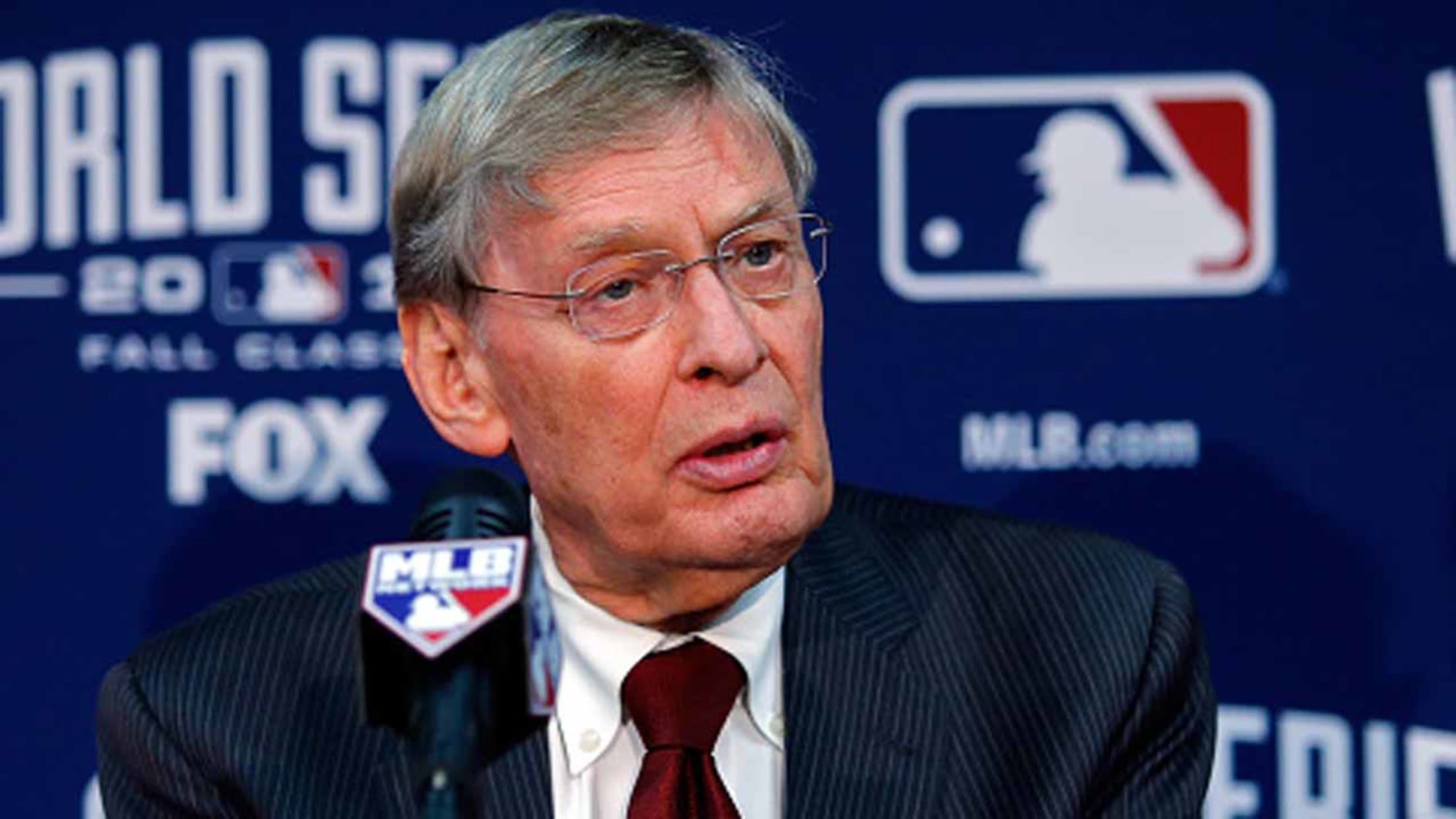 Former MLB Commissioner Bud Selig on Wednesday night was presented with the Lifetime Achievement Award at the Ninth Annual Sports Business Awards Dinner in New York City. (Getty Images) (Ed Zurga/Getty Images)
NEW YORK -- Introduced by legendary Hall of Famer Hank Aaron, his close friend, former Commissioner Bud Selig accepted the Lifetime Achievement Award at the Ninth Annual Sports Business Awards Dinner on Wednesday night at the Marriott Marquis.The signature honor of the entire evening -- on a night in which
NEW YORK -- Introduced by legendary Hall of Famer Hank Aaron, his close friend, former Commissioner Bud Selig accepted the Lifetime Achievement Award at the Ninth Annual Sports Business Awards Dinner on Wednesday night at the Marriott Marquis.
The signature honor of the entire evening -- on a night in which MLB Advanced Media also was recognized (for Best in Digital Sports Media) -- seemed to belong to Selig, who received two standing ovations and was congratulated by numerous other winners.
His speech quoted historical figures ranging from George Bernard Shaw to Eleanor Roosevelt to Bart Giamatti and touched on many of the themes that were a hallmark of his groundbreaking tenure, which included revenue sharing, Interleague Play, expanded playoffs, instant replay, stadium construction, exploding revenue, labor peace and the internationalization of the game through the World Baseball Classic and other initiatives.
He and Aaron received standing ovations from the crowd of about 900, and both commented on their friendship, which has now lasted 58 years.
Selig, who holds the title of Commissioner Emeritus, recalled that when he got into baseball as owner of the Milwaukee Brewers, late Tigers owner John Fetzer advised him early on to always vote for the best interests of baseball above what might be best for his own club.
He told the story of being in the stands at County Stadium for the last game before the Braves moved to Atlanta and being asked by a woman in a wheelchair with tears in her eyes if he understood how important baseball was to people like her. That, he said, only made him more determined to secure another team for his hometown.
For a boy who had grown up dreaming of being the next Joe DiMaggio but quickly realized that wasn't going to happen, it was his entry into the game that he would ultimately lead for more than 20 impactful years.
In his speech, he credited his success to two guiding principles that were formed during his early years as an owner.
"One, baseball is a social institution with very important social responsibilities," he said. "Two, it is important that as many fans as possible at the beginning of the season have -- two key words -- hope and faith that his or her team can compete and possibly win the World Series."
Selig has won countless awards but, earlier in the evening, he talked about what made this one special. "This has meant a great deal to me," he said.
"When you're in a sport for 50 years, you develop a lot of relationships. And I've heard from a lot of people, gotten so many messages."
One of Selig's most obvious traits is that he has always been a huge fan of the game, and he still follows it closely. He expressed confidence that ongoing negotiations for a new Collective Bargaining Agreement with the Major League Baseball Players Association can be concluded amicably.
"I'm a worrier, but let me just say that I have enormous faith in [Commissioner] Rob [Manfred] and [Chief Legal Officer] Dan Halem," he said. "They're real pros. So I'm confident. The sport is in great shape in every way."
Selig concluded his speech by remembering his last day as Commissioner a year-and-a-half ago, which he spent at the New York Baseball Writers Association of America dinner.
"I said, looking back, that what you see here is the result of a little boy's dreams that did come true," he said.