Maybin's unique 15-year journey with Tigers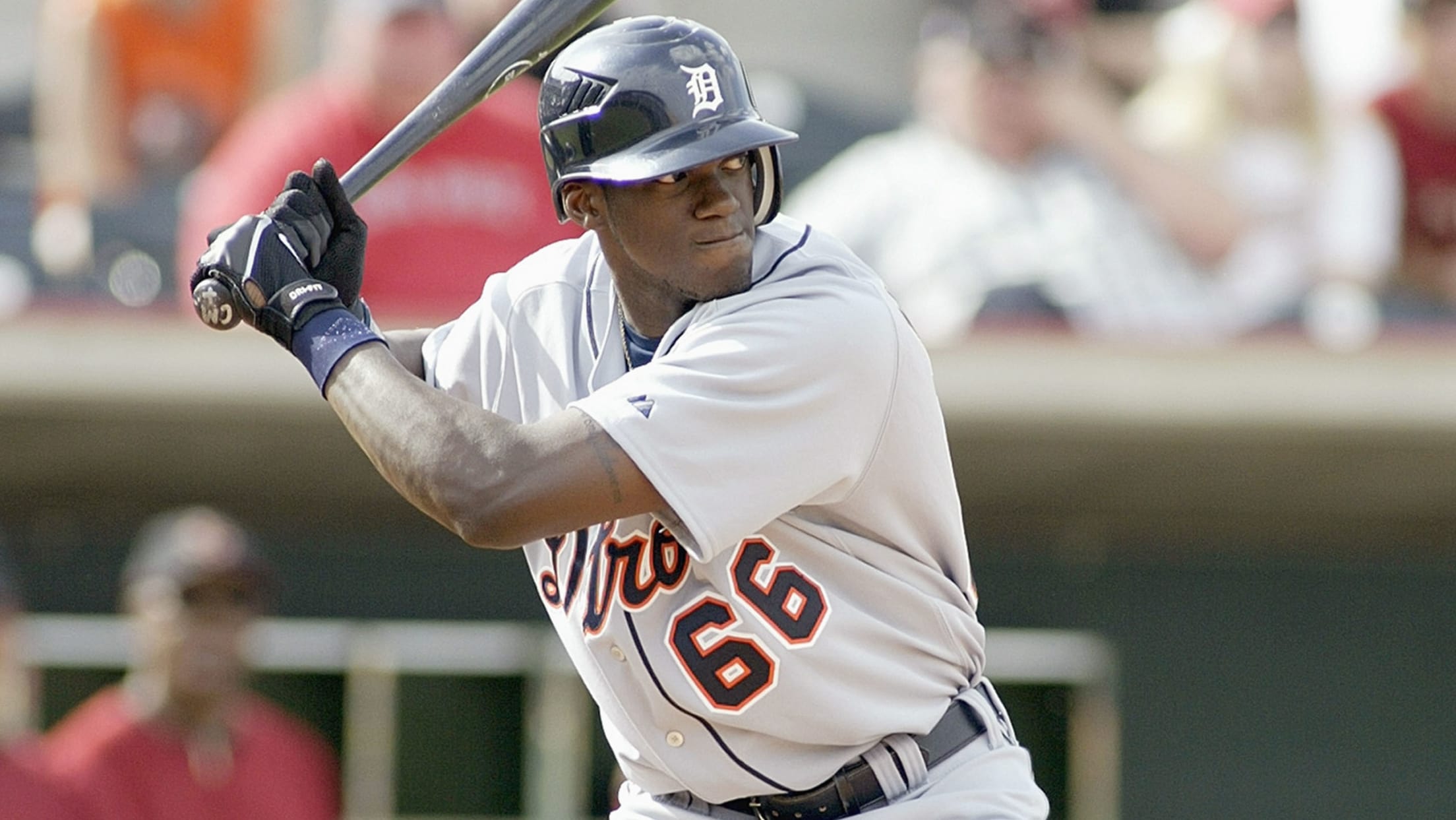 The question came up almost as soon as Cameron Maybin stepped into the Tigers Spring Training clubhouse in February: Has any Tiger ever been acquired by the club three times? "I don't know, but it's something I've thought about," Maybin said a couple months ago. "I asked guys, 'Have you
The question came up almost as soon as Cameron Maybin stepped into the Tigers Spring Training clubhouse in February: Has any Tiger ever been acquired by the club three times?
"I don't know, but it's something I've thought about," Maybin said a couple months ago. "I asked guys, 'Have you seen that before?'"
The answer, though nuanced, is no. Like Maybin, the Tigers acquired Omar Infante three times, signing him as an amateur in 1999, trading for him in 2012 and then signing him to a Minor League contract before the '17 season. However, he didn't appear in the Majors in that '17 season, nor did he appear in big league camp.
Brad Ausmus spent three stints in a Tiger uniform, but one of those was as a manager. Same goes for Ramon Santiago, who returned as a coach in 2017.
Maybin also has the unique feat of being acquired by the Tigers in three different ways -- by Draft in 2005, by trade in '16 and by free agency this past offseason. The first two have an indirect tie to relievers.
Here is a 15-year timeline of the relationship between the Tigers, Maybin and the players Detroit acquired for him:
June 7, 2005: Tigers select Maybin with the 10th overall pick in the MLB Draft
The Tigers improved by 29 games from 2003 to '04, but still ended up with a Top 10 pick. They flirted with .500 for much of the summer, but went 12-27 in one-run games and suffered nine walk-off defeats with a bullpen that posted a 4.91 ERA and suffered 28 losses. That bullpen did not have Fernando Rodney, who missed the 2004 season due to Tommy John surgery after showing flashes of promise in '03. Detroit lost nine of its final 13 games, four decided in the seventh inning or later, including a 7-2 blown lead against Cleveland. The Tigers finished 72-90, a half-game worse than the Pirates and a game better than the Mets. Once the Mets drafted Mike Pelfrey -- a player the Tigers scouted well -- Detroit selected Maybin, an athletic high school outfielder from Asheville, N.C.
Dec. 4, 2007: Tigers trade Maybin, Andrew Miller, Mike Rabelo, Frankie De La Cruz, Burke Badenhop and Dallas Trahern to the Marlins for Miguel Cabrera and Dontrelle Willis
Four months after a 20-year-old Maybin debuted with the Tigers, he became a key prospect in Detroit's acquisition of Cabrera. The Tigers had been trying to align Maybin and Curtis Granderson in the same outfield, but couldn't pass up the deal.
"Believe me, I didn't want to give up Andrew Miller. I didn't want to give up Cameron Maybin," Tigers president and general manager Dave Dombrowski said at the time. "The other guys, we liked a lot, too. But you've got to give something to get something."
Dec. 23, 2009: Tigers receive a compensatory Draft pick (48th overall) when Rodney signs with Angels
The 2008 Tigers had a disappointing season despite the addition of Cabrera and Willis, but Rodney had a solid audition at closer after a shoulder injury ended Todd Jones' career. Rodney beat Brandon Lyon for the closer job in Spring Training in '09, saved 37 games in 38 chances, then leveraged that into a two-year, $11 million contract with the Angels.
June 7, 2010: Tigers select Chance Ruffin with the 48th pick in the MLB Draft
The Tigers used the pick they received from a closer's departure to draft another closer from the University of Texas, the son of Bruce Ruffin -- a former big league closer. Ruffin had a dominant season for the Longhorns, made his pro debut in the Arizona Fall League and then made his Major League debut the following summer after 39 appearances in the Tigers system.
Nov. 13, 2010: Marlins trade Maybin to Padres for Edward Mujica and Ryan Webb
This was a much-needed change of scenery for the 23-year-old Maybin. Though dominant in the Marlins system, Maybin carried the burden of being traded for the beloved Cabrera. Given a full season in the Majors, Maybin made a big impression with the Padres, who signed him to a five-year, $25 million extension before the 2012 season.
Aug. 17, 2011: Tigers send Ruffin to Mariners to complete trade for Doug Fister
The Tigers and Mariners agreed upon Ruffin when the trade was announced on July 30, five days after Ruffin made his Major League debut in Detroit. However, Ruffin couldn't officially be traded until one year after his first pro contract, which he signed on Aug. 16, 2010. Thus, unlike fellow trade pieces Francisco Martinez, Casper Wells and Charlie Furbush, Ruffin was optioned to Triple-A Toledo. By the time he went to Seattle, Fister had made three starts for Detroit on his way to a dominant stretch run.
Dec. 2, 2013: Tigers trade Fister to Nationals for Ian Krol, Steve Lombardozzi and Robbie Ray
Fister had a 32-20 record, 3.29 ERA, 9.9 bWAR and three postseason wins in two and a half seasons with the Tigers, making this an unpopular trade in Detroit. Dombrowski traded Fister at peak value for a top prospect in Ray, but he didn't approach his potential until he was traded to Arizona a year later. Krol was a good-looking lefty whom the Tigers hoped could stabilize their bullpen but proved a bad fit.
April 5, 2015: Padres trade Maybin with Carlos Quentin, Matt Wisler, Jordan Paroubeck and Competitive Balance Round A pick to Braves for Craig Kimbrel and Melvin Upton Jr.
For the second time in his career, Maybin is part of a blockbuster trade as a team goes all-in. Instead of being a prospect, however, he's a contract swap, helping the Padres absorb the salaries of Upton and Kimbrel. He turned 28 years old the day before the deal, but had two guaranteed seasons and $16 million left on his contract.
Nov. 20, 2015: Tigers acquire Maybin from Braves for Krol and Gabe Speier
Maybin enjoyed a renaissance in Atlanta, making him a Trade Deadline target. The Braves held onto him, but he struggled down the stretch and Atlanta looked to shed payroll that offseason. By contrast, the Tigers sold at the Trade Deadline, saw hope down the stretch and built back up in the offseason. Krol was a change-of-scenery project after posting a 5.34 ERA over two seasons. The Braves covered $2.5 million of Maybin's $8 million salary to make the deal work.
Maybin posted career bests with a .315 average and an .801 OPS in 2016, helping the Tigers make a run at the American League Wild Card spot. Krol made 63 appearances out of Atlanta's bullpen with a 3.18 ERA and 56 strikeouts over 51 innings.
Nov. 3, 2016: Tigers trade Maybin to Angels for Victor Alcantara
For the second time in nine years, the Tigers traded Maybin. This time, he was a veteran going for a prospect. The Tigers weren't exactly selling -- not yet, anyway -- but with team payroll in luxury tax territory, general manager Al Avila wasn't taking on Maybin's $9 million option for 2017 while waiting for prospect JaCoby Jones to take over in center field.
"Al said that it was hard for him trading me the last time, when I had a pretty good year here," Maybin said this spring.
Thus, the day after the World Series ended, and two days before the club had to accept or decline Maybin's option, Detroit dealt him, fittingly, for a reliever. Alcantara pitched parts of three seasons with Detroit before the Tigers released him last fall.
The Angels picked up Maybin's option. But when Maybin and the Angels struggled in 2017, the Angels let the Astros select Maybin off waivers at the Aug. 31 postseason roster deadline on Houston's drive to a World Series title. Maybin bounced between seven organizations from '17-19 before reinvigorating his career with the Yankees last season.
Feb. 12, 2020: Tigers sign Maybin to one-year contract
The Tigers aren't going all-in just yet, but they wanted a veteran presence for their roster. Maybin, meanwhile, was having a hard time finding a home despite his strong bounceback season with the Yankees. As Spring Training camps opened, they found a match once again.
"That means a lot to me," Maybin said. "I feel like that speaks for me personally. For me, I took it as a compliment that they would want me back for a third time."