Rupp to keep tabs on Texas during tourney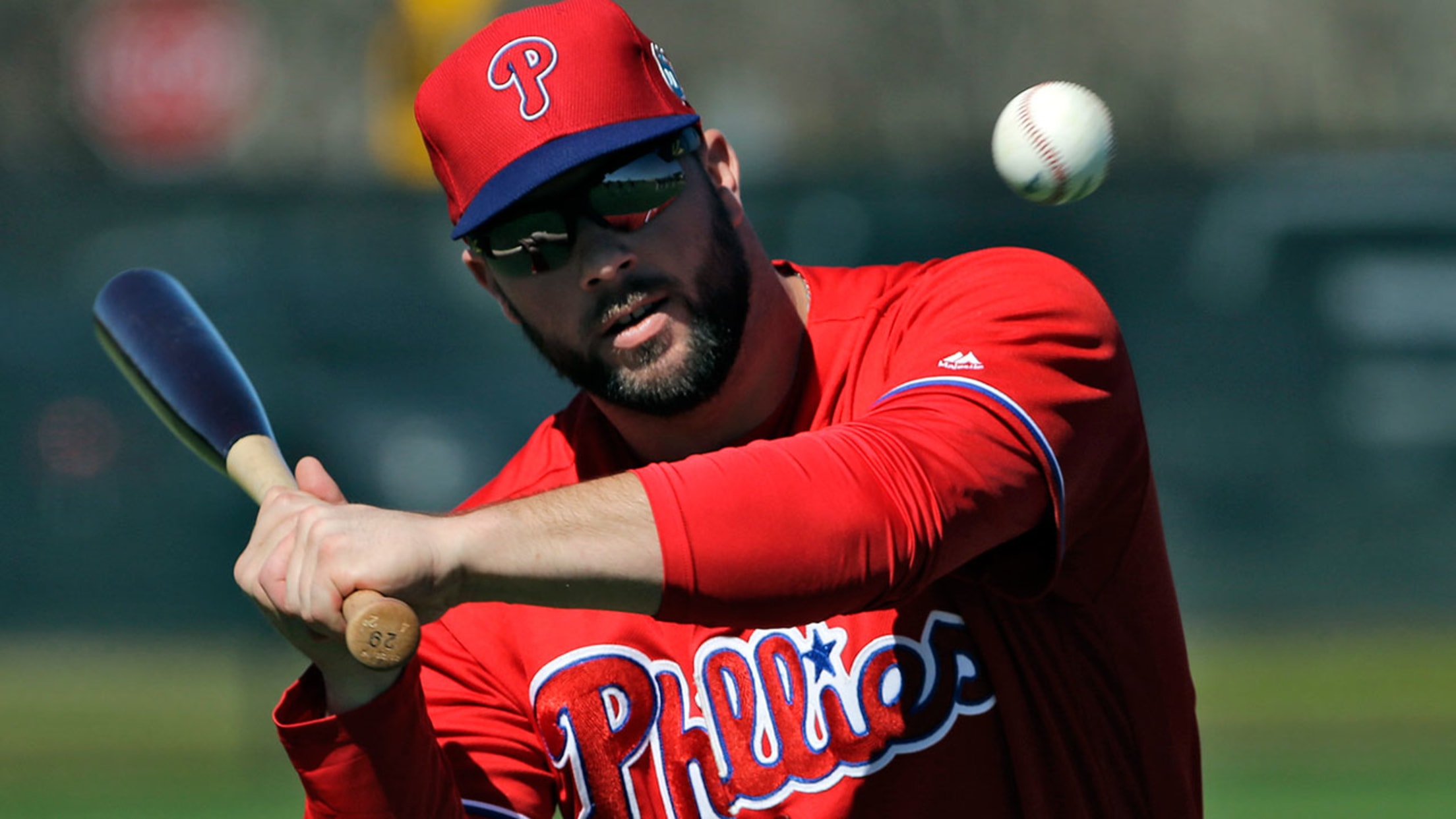 Cameron Rupp thinks the University of Texas will surprise people during the tournament. (AP)
TAMPA, Fla. -- Phillies catcher Cameron Rupp played three years for the University of Texas. He's a proud alum, ready to say nice things about the school at the drop of a cowboy hat. Still, he admits he started paying close attention to the Longhorns basketball team this year only
TAMPA, Fla. -- Phillies catcher Cameron Rupp played three years for the University of Texas. He's a proud alum, ready to say nice things about the school at the drop of a cowboy hat. Still, he admits he started paying close attention to the Longhorns basketball team this year only after it became clear they had a pretty good team.
Now that the NCAA Tournament is about to begin, though, the Horns team won't have a bigger fan.
"I'm not a big basketball guy," Rupp said Sunday. "But once March Madness starts, it's time to turn it up. Because it seems like every night there's a buzzer-beater. You don't see that during the regular season. So I'm excited. I think they're going to surprise a lot of people. [Coach Shaka Smart] has done a really good job."
He's optimistic Texas will fare better than many experts expect.
"I think they have a good chance," he said. "They're inconsistent, but they've had a lot of big wins. So I think that's going to play in their favor. And they play in the Big 12, which had an unbelievable season with West Virginia, Kansas, Texas. Oklahoma, Iowa State, Baylor. All those teams were Top 25 all year. Having played in those environments I think is going to help them a lot."
While at UT, Rupp never attended a game at the Frank Erwin Center. But he plans to watch every game of the tournament that the Phillies schedule allows.
"I don't know where we'll be or if I'll even have a chance to watch it. Some games are in the afternoon when we're playing," he noted. "But, absolutely, I'll sit down and watch when I can. I watched quite a few games during the regular season. Earlier in the year I didn't pay much attention to it. But as the season went on and they started playing well, I started watching it more."
Rupp makes his living playing baseball in front of fans. But he enjoys rooting for his college, too.
"It's always fun to have a passion for something," he said. "It's kind of like football. I'll go hog wild when I'm sitting on the couch and watching a game. It means something, especially playing there. You want to see them be successful because when you were there, everybody else wanted to see you be successful. So I think it's a lot of fun."
Paul Hagen is a reporter for MLB.com.