Despite elimination, Cards optimistic for future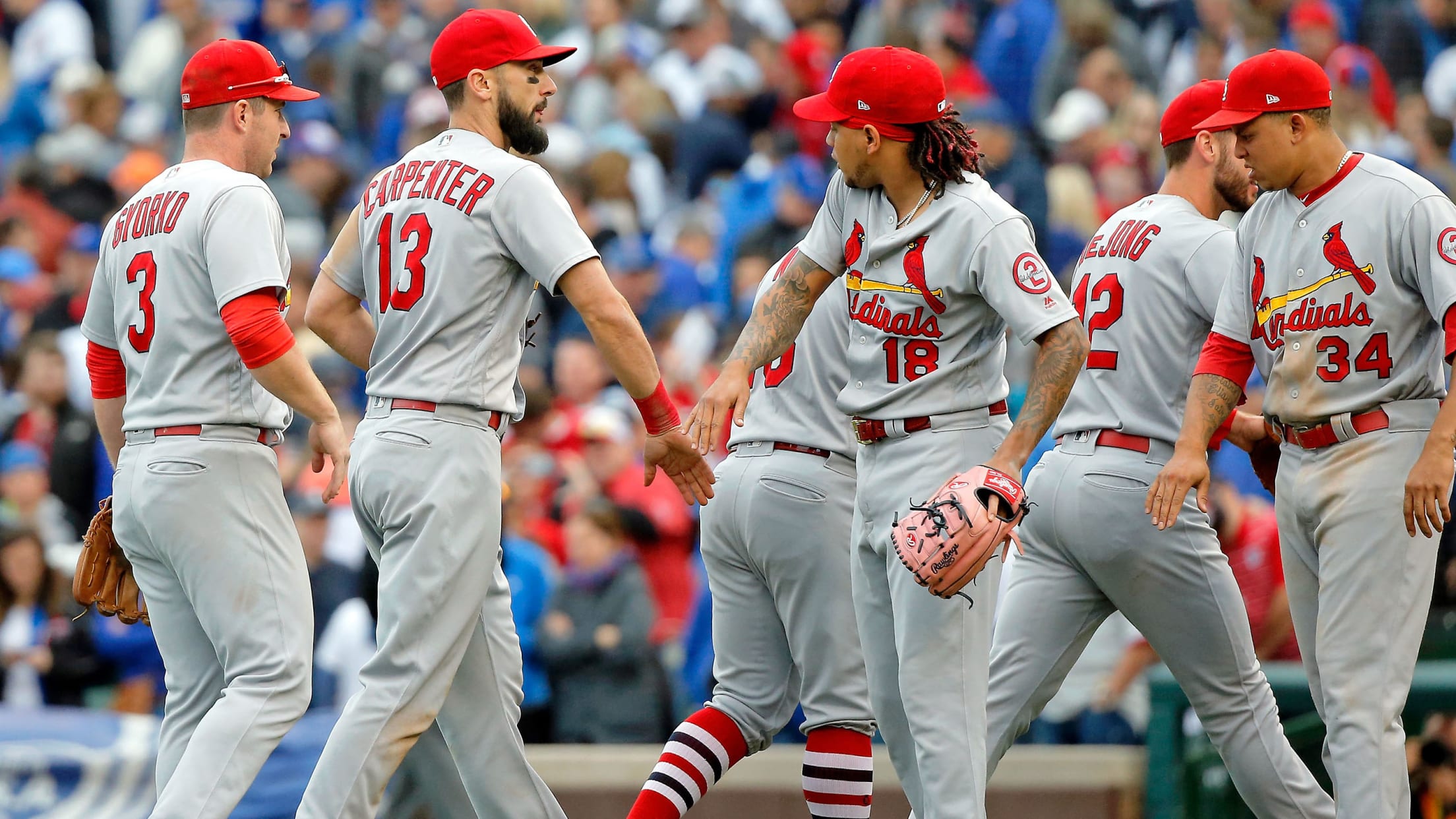 CHICAGO, IL - SEPTEMBER 29: Matt Carpenter #13 of the St. Louis Cardinals high fives Carlos Martinez #18 after their win oer the Chicago Cubs at Wrigley Field on September 29, 2018 in Chicago, Illinois. The St. Louis Cardinals won 2-1. (Photo by Jon Durr/Getty Images) (Jon Durr/Getty Images)
CHICAGO -- Sitting in postseason position at the start of the season's final week, the Cardinals will go into the last game of the regular season on Sunday reluctantly redirecting their attention to 2019.Despite rebounding for a 2-1 win over the Cubs on Saturday, the Cardinals couldn't overcome the four-game
CHICAGO -- Sitting in postseason position at the start of the season's final week, the Cardinals will go into the last game of the regular season on Sunday reluctantly redirecting their attention to 2019.
Despite rebounding for a 2-1 win over the Cubs on Saturday, the Cardinals couldn't overcome the four-game skid that preceded it. That season-long losing streak took the team's postseason aspirations out of their control and opened the door for the Rockies, Dodgers, Brewers and Cubs to all secure October invitations in the last four days.
The Cardinals were left as the odd team out, and, for the first time since 1997-99, they have missed the postseason in three consecutive years. In 2016, the Cards were eliminated on the season's final day. Last year, the knockout punch was delivered by the Cubs in Game 159.
"These last four days we didn't execute as well," manager Mike Shildt said, referring to the string of losses that dropped the club's probability of making the postseason from 80 percent on Monday to one percent by Saturday. "We can't make an excuse for [that]. But the reality is we've done pretty well all year. If we hadn't played the best two and a half months of baseball in this league, we wouldn't be standing here in a room full of [media]."
Indeed, it was an arduous journey simply to shove their way back into the postseason picture. The Cardinals were a .500 team as late as July 26. That was shortly after the organization made its first in-season managerial change in more than two decades and just before initiating a drastic roster shakeup.
No National League team won more games than the Cardinals did under Shildt, who replaced Mike Matheny on July 14. Two weeks later, president of baseball operations John Mozeliak dramatically retooled the bullpen and summoned a wave of young players, all of whom helped propel the Cardinals to one of their best stretches in history.
They reeled off a franchise-record 10 straight series wins and went 22-6 in August. That momentum, though, was fleeting. A 12-14 month of September that included two of the club's three four-game losing streaks handcuffed the club.
"It's a very young team," said veteran right-hander Adam Wainwright. "Shoot, three-fourths of our team would have been done playing last year, it feels like. The first time all the way to the end can be a lot sometimes. When you had an August like we had coming back from a .500 record, when you battle like we did and get yourself in a good spot, sometimes that takes a lot out of you."
The Cardinals, rejuvenated by that youthful presence in August, did seem hindered by it in September. Rookie starters Jack Flaherty and Austin Gomber faded. The bullpen became largely unreliable, especially from the left side. The Cardinals scrambled for a new closer and tried to cover enough innings without Carlos Martinez, Michael Wacha or Alex Reyes as rotation options.
Defensively, while strong up the middle, the Cardinals committed more errors this season (132) than any team in the Majors. And they lacked enough production from the third and fourth spots in their lineup. Tommy Pham was traded midseason. William Fowler endured the worst year of his career.
Not to be overshadowed, though, were surprise emergences and steady contributors. Miles Mikolas, an 18-game winner, may have been the best signing of any team last offseason. Matt Carpenter thrust himself into the MVP conversation while pacing the National League in home runs. And a plethora of rookies showcased special potential while helping extend the Cardinals' run of consecutive winning seasons to 11.
"You look up and this has been a group that has laid it over there every night," Shildt said. "You'd have a short list of teams to argue with to say that anybody has played more consistent brand of baseball than we have. So you can't beat that."