First experience: Holliday debuts at new spot
Although uneventful, Cards' veteran comfortable playing 3 innings at 1B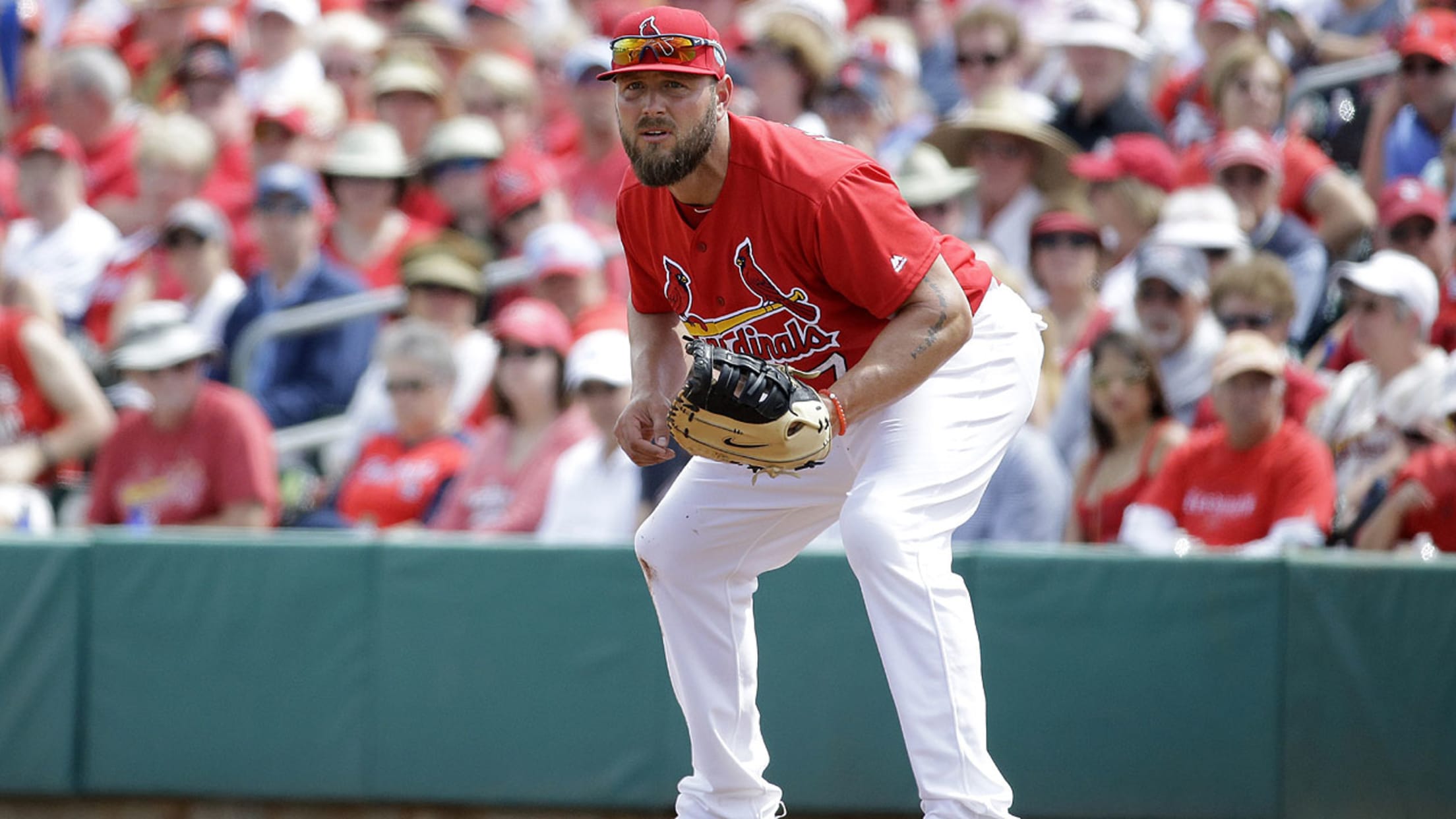 Matt Holliday: "It's not left field, but I've been practicing quite a bit, so I feel comfortable." (AP)
JUPITER, Fla. -- For the first time in his life, Matt Holliday was introduced as a first baseman on Monday.What began as a winter experiment took a spring stage in the Cardinals' 9-4 win over the Mets when Holliday made his spring debut at a position he had never before
JUPITER, Fla. -- For the first time in his life, Matt Holliday was introduced as a first baseman on Monday.
What began as a winter experiment took a spring stage in the Cardinals' 9-4 win over the Mets when Holliday made his spring debut at a position he had never before played -- not even as a youth baseball player.
• Spring Training information
His three innings in the field were, as Holliday described it afterward, "really pretty uneventful," but it was notable nonetheless that a 12-year veteran who has played 13,838 2/3 career innings in left field is now trying out another glove. Holliday asked the Cardinals if he could learn the position this winter as a way to become more versatile, and the Cardinals are interested now in seeing whether he'd be a viable option there during the season.
"It's different," Holliday said. "It's not left field, but I've been practicing quite a bit, so I feel comfortable."
The biggest challenge thus far?
"I think just getting comfortable, not having to think about it as far as positioning and relays and bunt plays, things like that," Holliday said. "[I want to get] to where you can just play instinctually and not have to think about where you have to be."
Cardinals manager Mike Matheny would not speculate about how Holliday's Grapefruit League exposure would be split up between first base, left field and serving as a designated hitter. Holliday said that he would like to get a lot of game repetition at first if the club thinks it's a position he could play regularly during the season.
The Cardinals don't have an obvious need for Holliday to slide to first base given that the club has two Major League first basemen in Matt Adams and Brandon Moss. Both, however, are left-handed hitters, and perhaps that could lead to periodic interest in having Holliday start games at first base against left-handed pitchers. Doing so would open up an outfield spot for another right-handed hitter, Tommy Pham.
As for Monday's introduction, it went rather innocuously. Holliday blocked a pickoff throw in the dirt from Adam Wainwright and positioned himself correctly on a cutoff. Holliday did not have any balls hit his way during his three innings on the field.
Worth noting
• The Cardinals announced on Monday that they have reached an agreement to sell a majority interest in the organization's Triple-A affiliate to Peter B. Freund, the principal owner of Trinity Baseball Holdings. The agreement, which must receive full approval from the Pacific Coast League, is expected to be closed by April 1. The Cardinals acquired the Redbirds two years ago.
• Rule 5 pick Matthew Bowman was cleared by an eye specialist on Monday morning to resume throwing. Bowman had been held out of baseball activities since taking a ball off his right eye during a reaction drill last Wednesday. Matheny said that Bowman will need to throw at least one more session of live batting practice before being cleared to appear in his first Grapefruit League game.
• Lefty Tim Cooney, who was slowed early in camp because of shoulder soreness, returned to the mound on Monday and threw a side session.
• The Cardinals had a modified morning schedule on Monday to account for a visit from the Major League Baseball Players Association. Executive director Tony Clark led the meeting and confirmed that among the topics discussed were schedule length, the new second base sliding rule and the qualifying offer system.