Carrasco to face Minor League hitters on Friday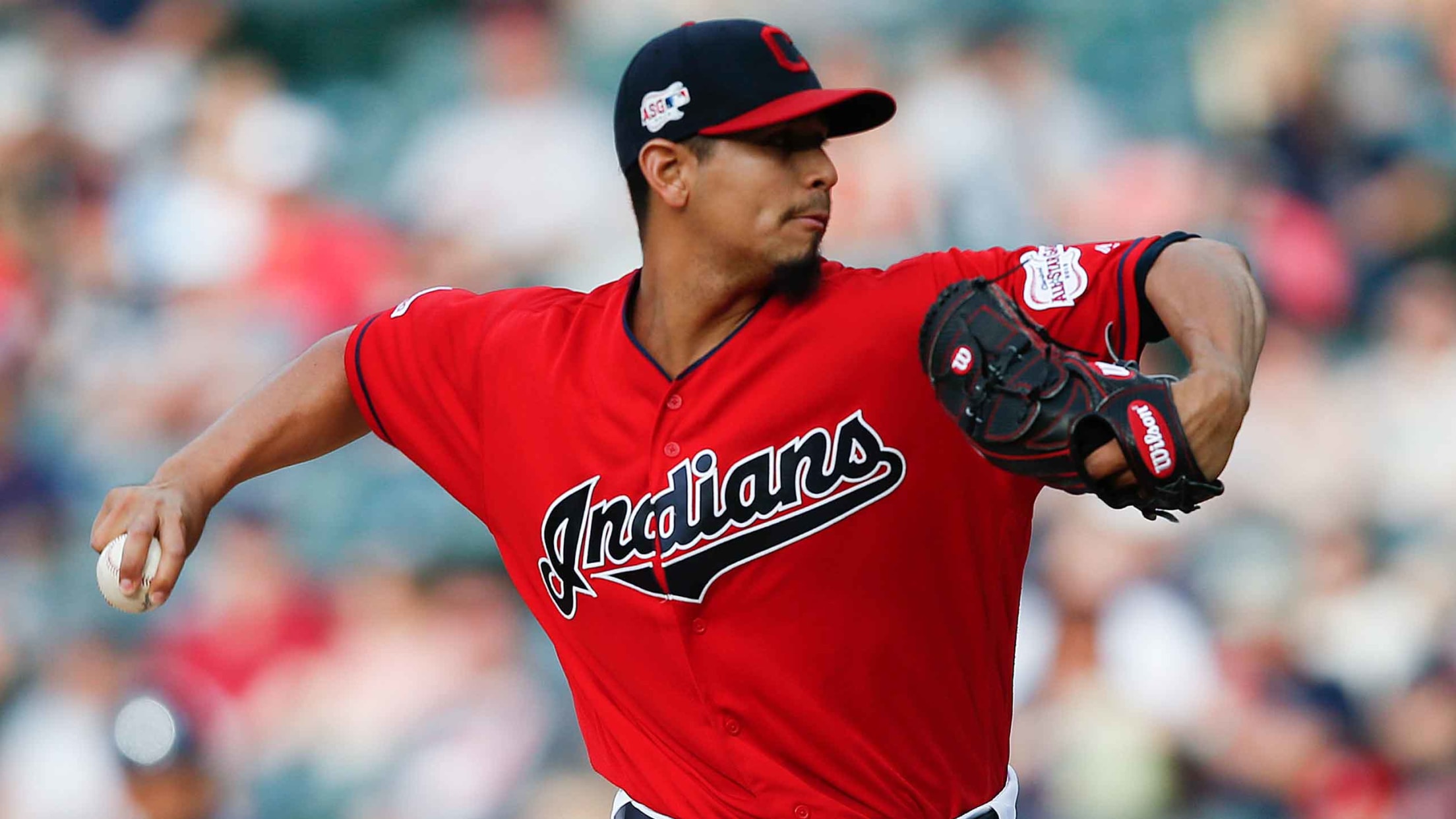 CLEVELAND -- At the beginning of the season, the Indians were heavily dependent on a starting rotation consisting of Corey Kluber, Trevor Bauer, Carlos Carrasco, Mike Clevinger and Shane Bieber to do the heavy lifting until guys like Francisco Lindor and Jason Kipnis could get healthy enough to join the
CLEVELAND -- At the beginning of the season, the Indians were heavily dependent on a starting rotation consisting of Corey Kluber, Trevor Bauer, Carlos Carrasco, Mike Clevinger and Shane Bieber to do the heavy lifting until guys like Francisco Lindor and Jason Kipnis could get healthy enough to join the lineup.
Little did they know that Bieber would be the only original starter to make every one of his starts for the club through Wednesday. But the Tribe received encouraging news on Wednesday about both Kluber and Carrasco that has inched them closer to getting back to full strength.
Prior to the Indians series finale against the Red Sox, Indians manager Terry Francona said that Carrasco has been cleared to throw to hitters on Friday.
"Kind of like a sim game," Francona said. "It's either Lake County or Mahoning [Valley], whichever one's home. I don't know which one it is. And then after that we'll do a [re-evaluation] and see where he's at."
The Indians will not put any timeline on Carrasco's return, given the fact that fighting back from a leukemia diagnosis is way more tedious than other injuries. He's been throwing bullpen sessions regularly since the end of June, but the team is listening to the hurler and the doctors, making sure that he's not wearing himself out. However, there's no hiding how tremendous of a step this is for Carrasco, who has been on the injured list since June 5.
The good news kept rolling on Wednesday, as Francona said he received a positive report from Kluber's second rehab start on Tuesday for Double-A. Kluber allowed one run -- a solo homer -- on two hits with one walk and six strikeouts.
"He threw four innings, 60 pitches," Francona said. "Velocity starting to tick up a bit, and by all accounts, he looked kind of like Kluber."
Kluber's next rehab start will be on Sunday for Triple-A Columbus on the road in Charlotte. With another successful outing, the right-hander could be closing in on his return to the big league rotation.
Puig becomes U.S. citizen
First it was Carlos Santana. Then, three other Indians players followed in his first steps, officially becoming citizens of the United States. Around the same time as Santana went to the Carl B. Stokes Federal Courthouse in downtown Cleveland, Hanley Ramirez, who has since been released from the team, went through his ceremony to become an American.
Reliever Oliver Perez recently took his turn, and now one of the newest Indians players has become one of the United States' newest civilians. Yasiel Puig missed the Tribe's home series against Boston due to a three-game suspension from a July 30 brawl with the Reds, just hours before he was traded to Cleveland. But the Cuba native spent his time away from the game in Miami to officially be sworn in.
Thank you 🙏 God for this great opportunity to be an American citizen 👌🇺🇸🇺🇸🇺🇸 pic.twitter.com/346P6g89LX

— Yasiel Puig (@YasielPuig) August 14, 2019
With his bright red hair, Puig was pictured holding a small American flag at a courthouse, celebrating his new citizenship. The caption read: "Thank you God for this great opportunity to be an American citizen."
Puig will rejoin the Indians on Thursday in New York in time for a four-game series against the Yankees.
Roster move
Prior to Wednesday's contest, the Indians optioned Josh Smith to Columbus and recalled Logan Allen from the Clippers. Allen will put the Indians uniform on for the first time since being acquired from the Padres in the Bauer deal at the Trade Deadline.
With the Padres, the lefty pitched to a 6.75 ERA in eight games (four starts) and posted a 5.15 ERA in 13 starts for Triple-A El Paso. Since making the move to Columbus, Allen has allowed six runs in 6 1/3 innings over two starts.
"Smitty threw 49 pitches last night," Francona said of Smith. "Obviously your first goal for the day is to win the game and then directly after that is to keep your bullpen healthy so they can be productive. We didn't trade for Logan to be a reliever. But if there's a game -- I hope it's not today -- if there's a game where we're behind, he has the ability to finish the game and we can keep our bullpen intact."
Tito on bunting
The Indians lead the American League in sacrifice bunts this season, and Francona weighed in on his strategy behind the bunt Wednesday morning.
"When I was in the National League, when the pitcher came up, you bunted," he said. "I remember thinking to myself, 'Man, I'm not sure I really want to bunt here.' But you're supposed to. And I was young. When I went to Boston, the strategy was really not to let them pitch around Manny [Ramirez] and David [Ortiz]. That was the strategy. You really didn't want to bunt. They're already in scoring position at first. Here, I think you just take your personnel and try to get the most out of it. I know all the numbers that when you bunt you're more often playing for one run than multiple runs, but sometimes one run is what you need.
"Like last night, with [Tyler Naquin], we left it up to him and he struck out. You try to have trust in your players that they know what's supposed to happen and then they can figure out the best way to do it. Sometimes with the first baseman playing in, if you don't have a fast runner at second, you might not get him over anyway. So sometimes letting them swing away is better."
This date in Indians history
2003: Travis Hafner hit for the seventh cycle in Tribe history, going 4-for-5 with two RBIs in an 8-3 win at Minnesota.