Carrasco dominant in Indians' win over Padres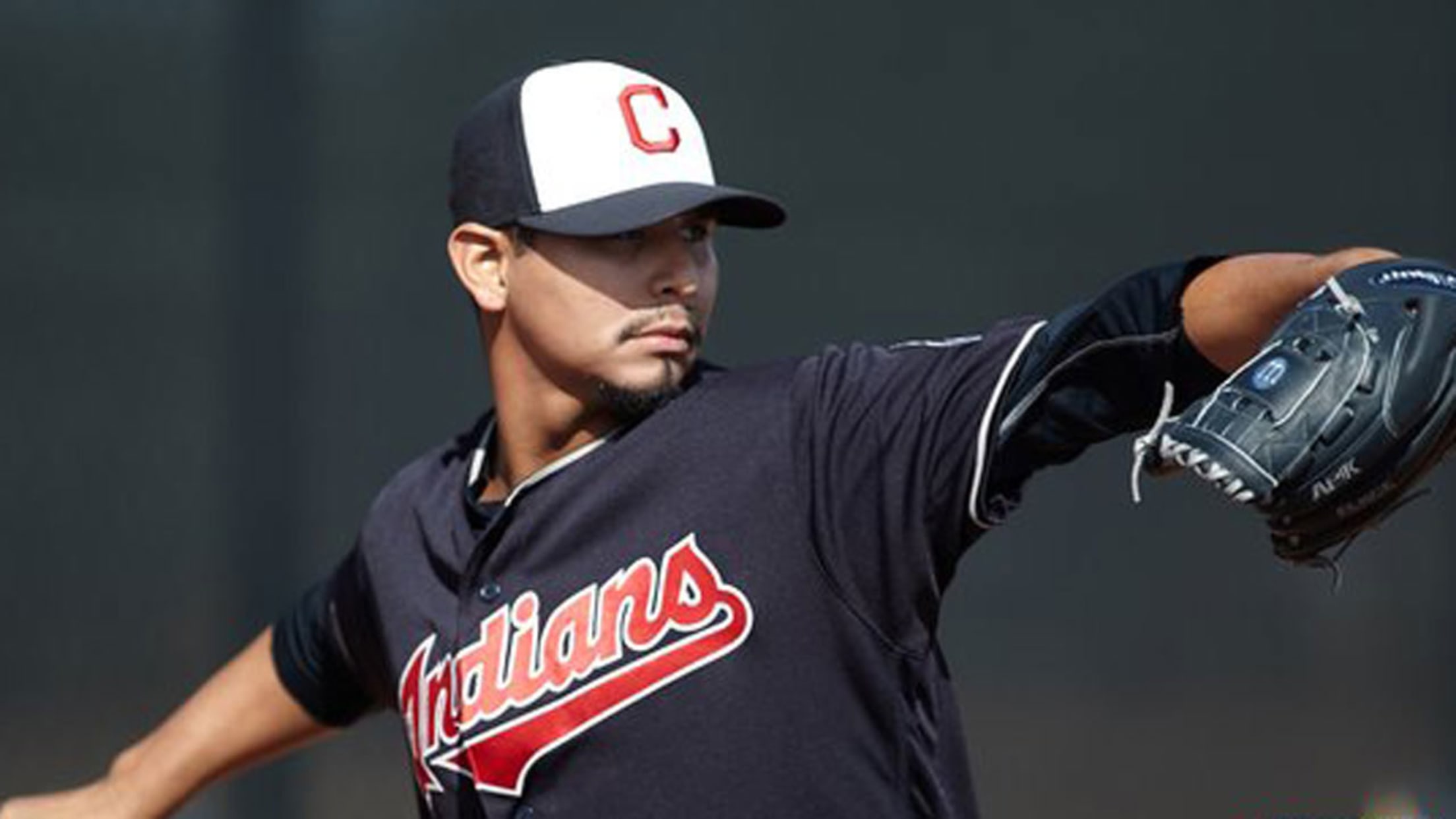 Carlos Carrasco threw three scoreless innings against the Padres, striking out four and allowing just one hit. (AP)
GOODYEAR, Ariz. -- The Indians cruised past the Padres, 9-4, on Thursday at Goodyear Ballpark for their fourth consecutive Cactus League victory.The clubs will meet again at the Peoria Sports Complex on Saturday.Padres right-hander Tyson Ross, the club's Opening Day starter, gave up two runs on four hits in three
GOODYEAR, Ariz. -- The Indians cruised past the Padres, 9-4, on Thursday at Goodyear Ballpark for their fourth consecutive Cactus League victory.
The clubs will meet again at the Peoria Sports Complex on Saturday.
Padres right-hander Tyson Ross, the club's Opening Day starter, gave up two runs on four hits in three innings. He struck out three.
"I felt good, I got up and down four times, threw three innings on the field and finished in the bullpen with a few more pitches to get my arm in shape," said Ross, who threw five changeups after none his first time out. "It's nice to work with [catcher Derek Norris] in a game. We worked the changeup in there, so it was nice to see how hitters react. Overall, I felt good."
For his part, Indians starter Carlos Carrasco gave up one hit in three scoreless innings. He struck out four. The secret to Carrasco's success was really no secret at all. He's feeling confident on the mound. He was also asked which pitch was most effective.
"Everything," Carrasco responded. "I'm working on everything I can during Spring Training. The fastball command and breaking pitch was good."
The Indians right-hander threw 61 pitches in the outing and wrapped up his afternoon with a few more pitches in the bullpen.
"I went to the bullpen because [pitching coach Mickey Callaway] told me he wanted to work more on my legs and getting them tired," Carrasco said. "My next outing is going to be four innings, and that's why. He told me before my first outing that we are going to build up my legs so I can get ready for the season.
Collin Cowgill drove in Cleveland's first two runs with a double in the second inning. The Indians tacked on four runs on doubles by Jason Kipnis and Jose Ramirez along with a single by Mike Napoli in the fifth.
The Padres added four runs in the seventh.
Up next for the Padres: The Padres return to the Peoria Sports Complex on Friday for a 12:10 p.m. PT game against the White Sox. James Shields gets the start for the Padres, his second of the spring. Shields, the No. 2 starter in the team's rotation, tossed two scoreless innings his first time out during a game against the A's. He allowed two hits and had four strikeouts. The game can be seen on MLB.TV.
Up next for the Indians: The Indians will be on the road all weekend starting on Friday against the Rockies at Salt River Fields in Scottsdale. On Saturday, the Indians will travel to Peoria to take on the Padres and on Sunday, the Indians are scheduled for split squad games at the Royals at Surprise Stadium and at the Brewers at Goodyear Ballpark. Cody Anderson is scheduled to start Friday for the Indians. The Rockies will counter with Chad Bettis.