Carrasco to make Double-A rehab start
Tribe wants starter back in rotation ASAP; Brantley resumes swinging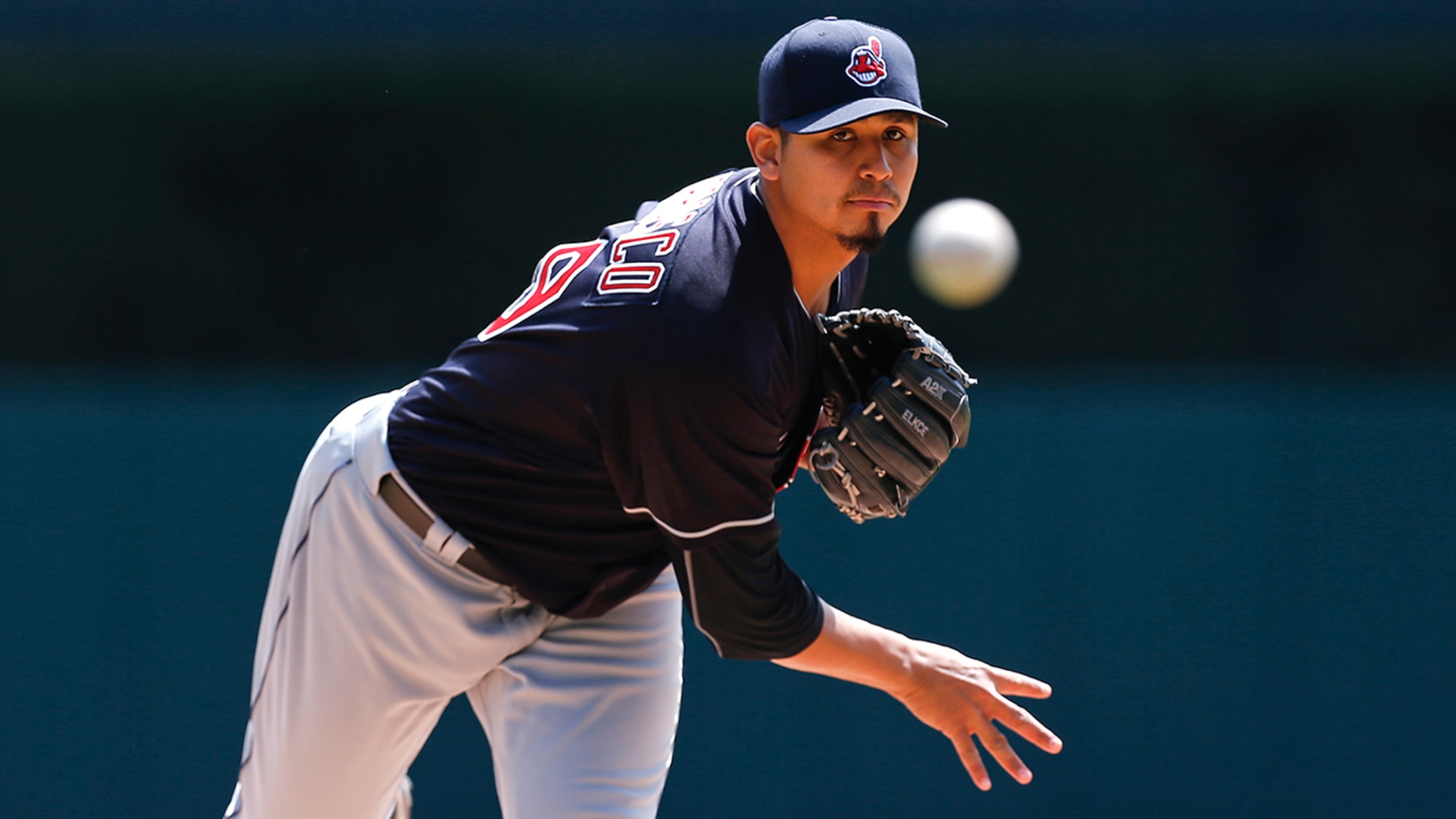 Carlos Carrasco will make a four-inning rehab start for Double-A Akron on Saturday. (AP)
CLEVELAND -- The Indians want Carlos Carrasco back in their rotation as soon as possible, even if the right-hander is not ready to handle a full start's worth of pitches. The pitcher's arm is not the issue, so Cleveland is mapping out how to possibly expedite his return from the
CLEVELAND -- The Indians want Carlos Carrasco back in their rotation as soon as possible, even if the right-hander is not ready to handle a full start's worth of pitches. The pitcher's arm is not the issue, so Cleveland is mapping out how to possibly expedite his return from the disabled list.
On Friday, Indians manager Terry Francona noted that Carrasco -- on the 15-day disabled list due to a left hamstring issue -- is scheduled to work four innings (around 60 pitches) in a Minor League rehab assignment with Double-A Akron on Saturday. Francona added that Carrasco does not necessarily need to be built up to 100 pitches before being activated.
"I don't think we need to do that," Francona said. "I think we just need to make a decision at some point on when it helps us -- even if it's a little short -- just to the point where it's not a burden on the bullpen. We'll think that through."
The biggest hurdle for Carrasco, who strained his left hamstring while covering first base on April 24 in Detroit, continues to be running through fielding drills at a high intesity level. Over the past few weeks, he has gradually increased the volume and effort level in both agility drills and fielding workouts.
"The change of direction, when you don't know where you're going, [is important]," Francona said. "When you're running in one direction, that's one thing. But, when you have to react, that's the thing that we need to make sure that he's able to do. Something will happen, whether it's a ball in the dirt and he has to cover home, or cover first, field a bunt. We just want to make sure he's prepared and able to do all those things."
In four starts before the injury, Carrasco went 2-0 with a 2.45 ERA this season. Over 22 innings, including the 2 2/3 innings he logged on April 24 against the Tigers, the right-hander had 20 strikeouts, five walks and a .200 opponents' batting average.
Francona did not say whether Carrasco would be slotted back into Cleveland's rotation after his upcoming rehab outing.
"He's raring to go," Francona said. "We just need to make sure that he can field his position, cover first, [and] not think about that while he's pitching. By all acounts, he's doing great. So, we're just trying to get him stretched out again. He'll come quick."
Brantley begins swinging
Indians outfielder Michael Brantley was cleared to resume swinging a bat on Friday, according to Francona. The manager noted that the left fielder might also be ready to advance to light hitting off a tee, barring any discomfort in his recovering right shoulder.
"[It's] just depending on how it feels," Francona said. "We've really been pretty not aggressive with this. We wanted to let this [anti-inflammatory] shot really do its work, and now we'll start to ramp him up. Just like we've said all along, we want him to get better and stay better, so we've been a little bit cautious the first nine or 10 days into it. Hopefully when he swings, he'll bounce back and we can start to build him up and get him going."
Brantley, who landed back on the 15-day DL on May 14, received an anti-inflammatory shot in his right shoulder on May 17 by Dr. Craig Morgan. Morgan is the same doctor who performed surgery to repair a labral tear in Brantley's right shoulder on Nov. 9 in Wilmington, Del. In 11 games between DL stints, Brantley hit .231 (9-for-39) with two doubles and seven RBIs.