Mize lights up mound during first spring BP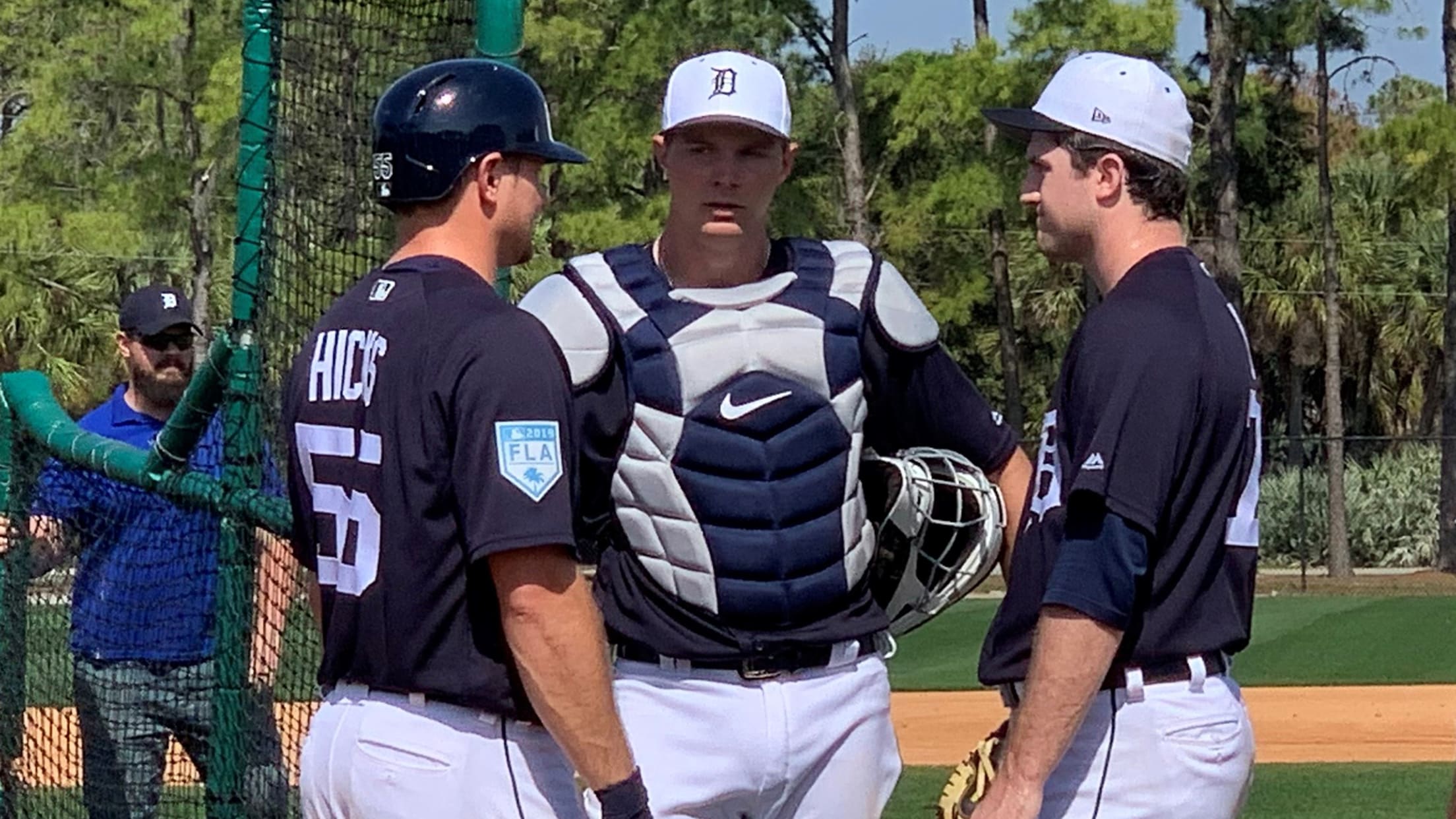 LAKELAND, Fla. -- One of the many cool parts about Tigertown is the old-school background, from the old airplane hangars near Joker Marchant Stadium to the firefighter training center beyond the back fields. So when a fire truck blared its lights over Casey Mize's shoulder as he warmed up in
LAKELAND, Fla. -- One of the many cool parts about Tigertown is the old-school background, from the old airplane hangars near Joker Marchant Stadium to the firefighter training center beyond the back fields. So when a fire truck blared its lights over Casey Mize's shoulder as he warmed up in a back bullpen Tuesday, it wasn't an alert that the Tigers' top prospect per MLB Pipeline and last year's top Draft pick was about to face Major League hitters for the first time. <p. still=""> </p.>
<p. still="">"It's his first live BP, and he had the whole crew behind the turtle waiting to see what he was doing," John Hicks said. </p.>
Even if nobody expects to see Mize pitching in Detroit anytime soon, and even if pitchers are normally ahead of hitters at this point in camp, many people simply wanted to see how big league hitters reacted to his stuff, especially the splitter that devastated collegiate opponents.
:: Spring Training coverage presented by Camping World ::
The late swings, weak contact and smiles from those who faced him, from Hicks to shortstop Jordy Mercer to second baseman Niko Goodrum, suggested Mize fared pretty well.
"For me, the late life on his fastball is what I was really impressed with," Mercer said. "He was trying to impress, obviously. It was his first camp. But he's going to learn a lot of things. But I think what impressed me was the way the ball came out of his hand, and that late life that it got. …
"There's only certain guys who have that. I think he was out there sitting 95-96 [mph] every pitch, but it felt like it had that late rise to it that's tough to hit. It gets on you, basically."
Hicks, the only hitter to make solid contact against him, said the same.
"His fastball, it comes out and then it gains a gear," he said, "so it gets on you really fast. He's got a really live arm, and his stuff definitely plays."
Ask Mize how he handled it, though, and he was more subdued.
"I found some positives out of it," he said. "Obviously first time doing it, it's not going to be perfect, but it started off pretty well. Maybe got a little tired trying to do too much at the end, lost a little bit of command. But I'm going to find the positive in it, and overall, I think it went pretty well."
Hicks and catcher Grayson Greiner emphasized the positive with Mize when they met him midway between the mound and the plate following his session. But they also made sure he knew better than to try to impress everybody in a BP setting.
"His first 20 pitches or so, I'd say he was pretty spot-on," Greiner said. "We just told him his last 15 or so, it looked like he was trying to amp up a little bit. And any pitcher, when they start trying to do too much, the ball's not as precise. We just told him after, 'Hey, man, I know everybody's watching you, but just do your thing and you'll be fine.'"
That said, Greiner noted Mize's focus has made an impression since Spring Training began last week.
"He's got a lot of poise," Greiner said, "and he knows with the name of being the [first overall] Draft pick, he knows a lot of people are watching him. But you wouldn't really know it just watching him. He goes about his business very professional, very mature, and poised and confident in what he does."
That lot of people watching eventually included manager Ron Gardenhire, who did not want to add to the pressure. He missed the first half of the 10-minute session, but saw some of Mize's early pitches from afar.
"The video guys are [saying], 'Wow, he was standing at 95 miles an hour,'" Gardenhire said, shaking his head. "I just want him to get his arm in shape and get people out."