Ramos inspired by wife's strength, 'miracle baby'
Lefty thankful for life's opportunities, both on and off diamond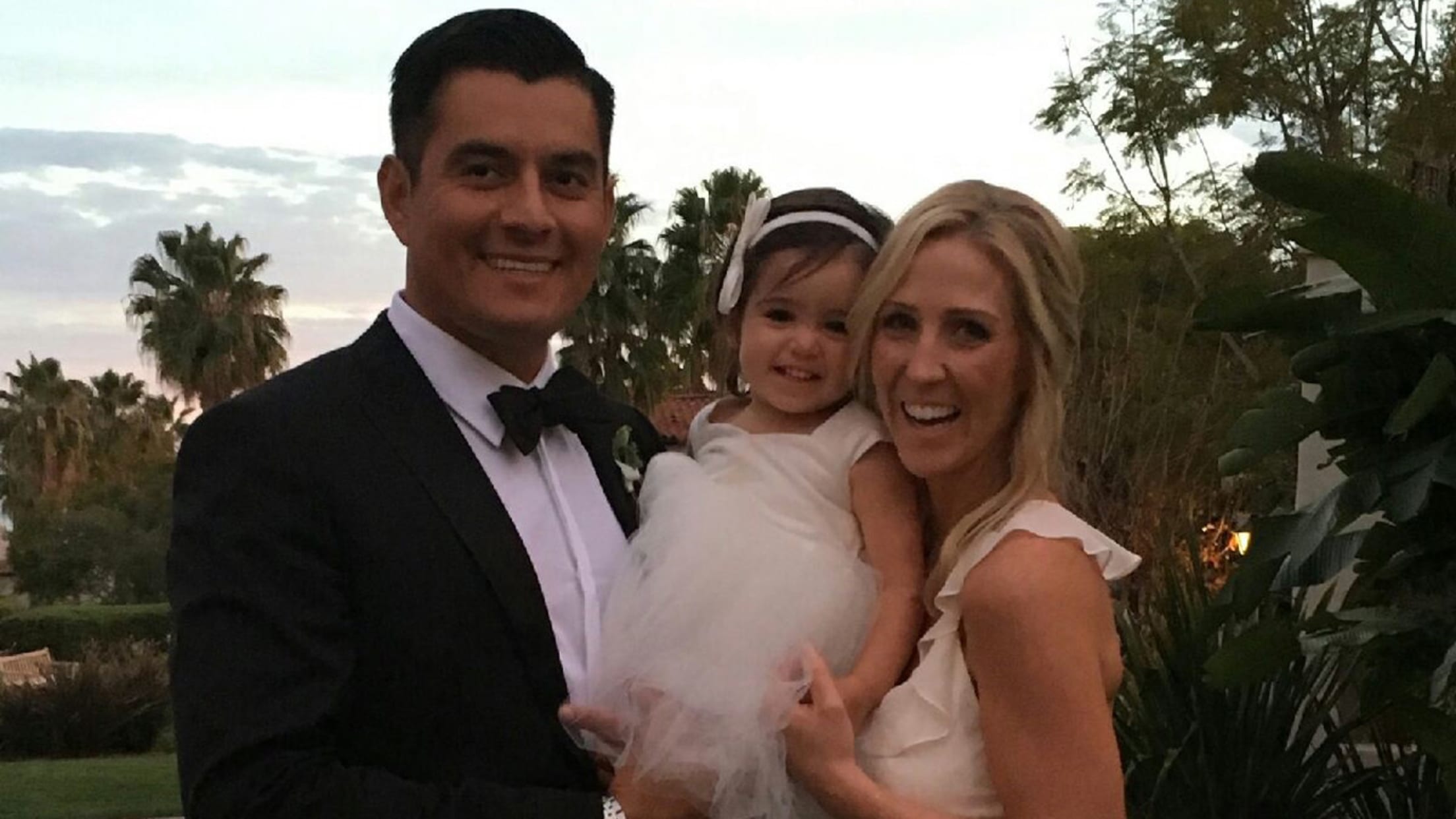 Cesar and Melanie Ramos pose with their daughter, Addison. (Ramos family)
SURPRISE, Ariz. -- Cesar Ramos, 31, a left-hander in Rangers camp on a Minor League contract, pitched two innings on Monday against the Indians, trying to prove he belongs on the Opening Day roster.Up in the stands, Ramos' wife, Melanie, watched intently, applauding each time he threw a strike or
SURPRISE, Ariz. -- Cesar Ramos, 31, a left-hander in Rangers camp on a Minor League contract, pitched two innings on Monday against the Indians, trying to prove he belongs on the Opening Day roster.
Up in the stands, Ramos' wife, Melanie, watched intently, applauding each time he threw a strike or retired a hitter. In the aisle next to her, the Ramos' 20-month-old daughter Addison was playing happily, oblivious to what was going on around her.
Addison doesn't realize what is at stake when her father pitches, or that her mother is cancer-free, or that she has a new brother or sister coming in August.
But Cesar and Melanie know what is sure about Addison.
"She is our miracle baby," said Melanie, who was 28 when she was diagnosed with Hodgkin's lymphoma in October 2012. She has been cancer-free since her chemotherapy and radiation treatment ended in June 2013.
"In a way, I'm blessed because it happened," Melanie said. "It has given me the chance to appreciate things I might now otherwise wouldn't, like Addison. She is a miracle."
Ramos' baseball future is uncertain. He could be with the Rangers on Opening Day, he could be with Triple-A Round Rock or he could be with another organization.
Cesar and Melanie don't agonize over it. After all they went through with Melanie and the miracle birth of Addison, there is only joy and happiness in the Ramos family.
"It has definitely been a blessing," Cesar said. "We're just thankful for everything that has happened. It made us stronger as a family. It's made us appreciate life.
"We both know in this game, you really can't get ahead of yourself. Take it day by day. As certain days get closer, we'll start thinking about it. Right now, with all that we have been through and what [Melanie] has been through, definitely taking it day by day and happy to be here."
Cesar and Melanie Ramos met at Long Beach State in 2003. He was a pitcher on the baseball team, and she played third base on the softball team. They were young, athletic and healthy, and they stayed together as Ramos was drafted by the Padres in 2005, then was traded to the Rays on Dec. 17, 2010.
The plan was to get married and start a family, but their lives changed dramatically in 2012. He was with the Rays, the typical reliever with options, shuttling between Tampa Bay and Triple-A Durham. She was by his side, still as active as ever.
But that summer, Melanie noticed she was experiencing shortness of breath, which she initially attributed to the heavy Florida humidity. Then she felt a lump in her neck, which she thought would go away. She was easily fatigued and her skin started to itch. By August, there were three lumps that weren't going away.
Finally, in October, she was diagnosed with Stage 2 Hodgkin's lymphoma.
"I have always been athletic and loved playing sports," Melanie said. "That was the thing; it was so unexpected being that young and healthy. This was not supposed to happen to me.
"I was terrified, because it is such an unknown. I didn't know how I was going to react. I stayed away from the Internet, because that scared me even more. I trusted my doctor. I was feeling better than I actually was. It's more of the anxiety of the unknown.
"It's terrifying, but my family and friends have been such a great support. Having the support of everybody really helped. So I could talk it out and lean on them if I was having a bad day."
Cesar was with her at the beginning at their home in Southern California. But February came, and it was time to go to Spring Training.
"I can't say, 'Hey boss, can I take a week off?'" Ramos said. "Being in Florida with the Rays, it was definitely tough, but it's something we both battled through. It shows what kind of person she is, how strong, mentally tough."
The chemotherapy -- a harrowing experience that included loss of hair, severe headaches and fatigue -- lasted until May 6, 2013. To Melanie's everlasting delight, the Rays graciously allowed Cesar -- finally in the big leagues for good -- to fly back to California and surprise her by being there for her last chemotherapy treatment.

In June, after four weeks of radiation treatment, tests showed Melanie was cancer-free. But there was the matter of eventually starting a family.
Melanie was told she would have a 50 percent chance to have natural childbirth. She was also told it would be best to wait two or three years so her body could recover. The one alternative was in vitro fertilization.
"So we were like, 'Oh my God, all this stuff hit us at once,'" Melanie said. "At that time, he was my boyfriend and our future was there, but it was just hard to make that decision in 24 hours."
Cesar and Melanie were still determined to do it naturally. Four months later -- a year after being first diagnosed with cancer -- Melanie found out she was pregnant.
"For that to happen four months after the treatment, we were so excited once we learned I was going to be OK and the baby was going to be OK," Melanie said. "We are so lucky, so we look at it like she was a miracle."
The Ramos' were married on Jan. 25, 2014, and Addison was born on July 5 of that year, completely healthy.
"So it was such a long journey," Melanie said. "Now that I look back, from the time I was diagnosed to the time I was done with treatment, it went by really fast. At the time, it was like, 'When am I going to be done with it? I don't want to deal with it. I want my hair back, I want to feel normal.' But now I have her, I have my husband, it's like the best thing in the world. I have my health. I feel really blessed."
After the 2014 season, Cesar was traded to the Angels. He spent one year in the club's bullpen and then was non-tendered in November. He signed with the Rangers as a Minor League free agent.
"You take things as they come," Ramos said. "I am in a great place here. A Minor League contract is what it is. My goal is to make the team. That's it.
"Before, my whole life was baseball. It's unfortunate that things like this have to happen to open your eyes to everything. To me, that's what happened. It's like, 'Whoa, this is life and real.' It's kind of changed the way I see things. Enjoy what comes. If there is a bump in the road, you deal with it and get past it. That's how we have been."
Melanie was fortunate the cancer was detected before it had spread, which is part of the lesson she learned for others.
"I would say be very aware of your body, pay attention to everything and don't ignore something that's just not normal," Melanie said. "Be proactive, don't wait. If you feel funky, go ahead and get checked out. It never hurts to have a professional opinion."
Cancer is an ordeal, but for the Ramos family, having their miracle baby and knowing one more is coming shows there can be a happy ending.