Bettis could be odd man out upon DL return
Rotation has excelled during right-hander's absence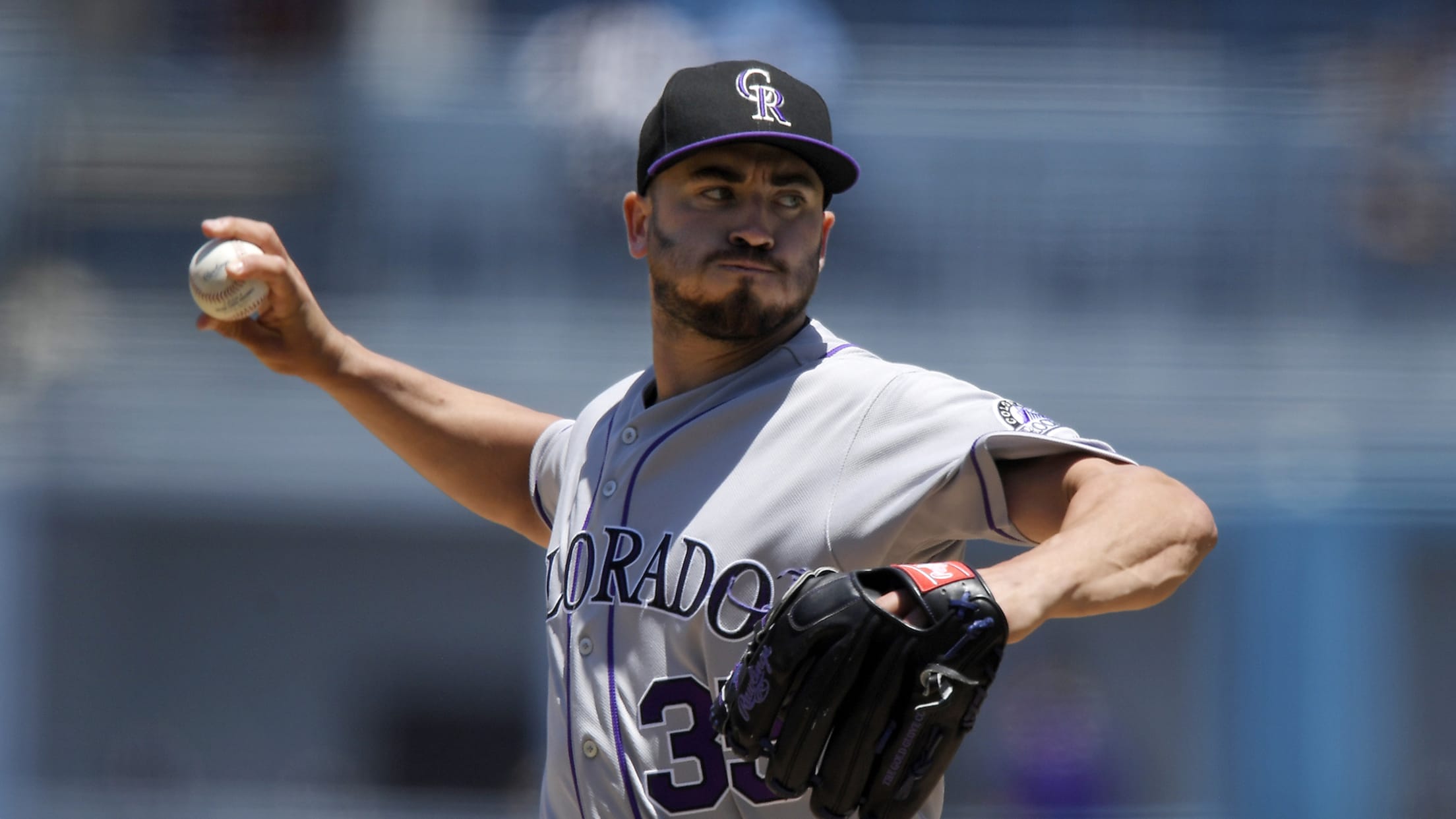 Colorado Rockies starting pitcher Chad Bettis throws to the plate during the first inning of a baseball game against the Los Angeles Dodgers, Sunday, July 1, 2018, in Los Angeles. (AP Photo/Mark J. Terrill) (Mark J. Terrill/AP)
MILWAUKEE-- Chad Bettis is back in the Rockies' clubhouse after his rehab assignment for a right middle finger blister went smoothly.The right-hander is also aware that, thanks to the performance of Colorado's rotation in his absence since early July, there may not be an obvious spot for him to return
MILWAUKEE-- Chad Bettis is back in the Rockies' clubhouse after his rehab assignment for a right middle finger blister went smoothly.
The right-hander is also aware that, thanks to the performance of Colorado's rotation in his absence since early July, there may not be an obvious spot for him to return to it upon activation from the 10-day disabled list in the near future.
The recent success of the Rockies' starters has been well-documented. In July, the Rockies' rotation posted a 1.71 home ERA that was the best single-month split for any group of starters in franchise history. Since June 19, its 3.39 ERA is the second best in the NL.
"It's been lights-out," Bettis said. "They've been on their game. It's been great to watch them help the team win."
Rockies manager Bud Black offered no update on when Bettis would be activated, but the timeframe likely still remains at some point next week. Colorado has already released its probable starters through Wednesday and, given the rotation's success, Bettis may be the odd man out with a 5.10 ERA.
"It's a good problem to have," Bettis said. "It's a bad problem for me, but a good problem for us, so it's nice to see everybody step up and do really well and succeed."
Bettis, who threw on the side before the Rockies played on Saturday at Miller Park, had positive reports to relay from his rehab assignment, which spanned three outings and concluded with four earned runs over six innings at Triple-A Albuquerque.
"I think from a numbers standpoint, it was probably not what I wanted," Bettis said. "But from an execution standpoint, from a process standpoint, it couldn't have gone any better. In my second outing, there was one pitch I was really not happy with, but in the big scheme of things, that's 160-plus pitches. One poorly executed pitch that got hit is pretty small. I felt good."
Dunn eyeing September return
Rockies reliever Mike Dunn threw from 90 feet and is hoping to make a September return to Colorado, which Black later confirmed.
"That's realistic, yes," Black said of the left-hander's goal.
The Rockies initially placed Dunn on the 10-day DL on July 7 before transferring him to the 60-day on July 27 with left shoulder A/C joint inflammation. Before sustaining the injury, he had struggled in his second year with the Rockies, posting a 9.00 ERA and 2.353 WHIP in 17 innings.
Curt Hogg is a contributor to MLB.com based in Milwaukee.