Blackmon finds stroke amidst hit streak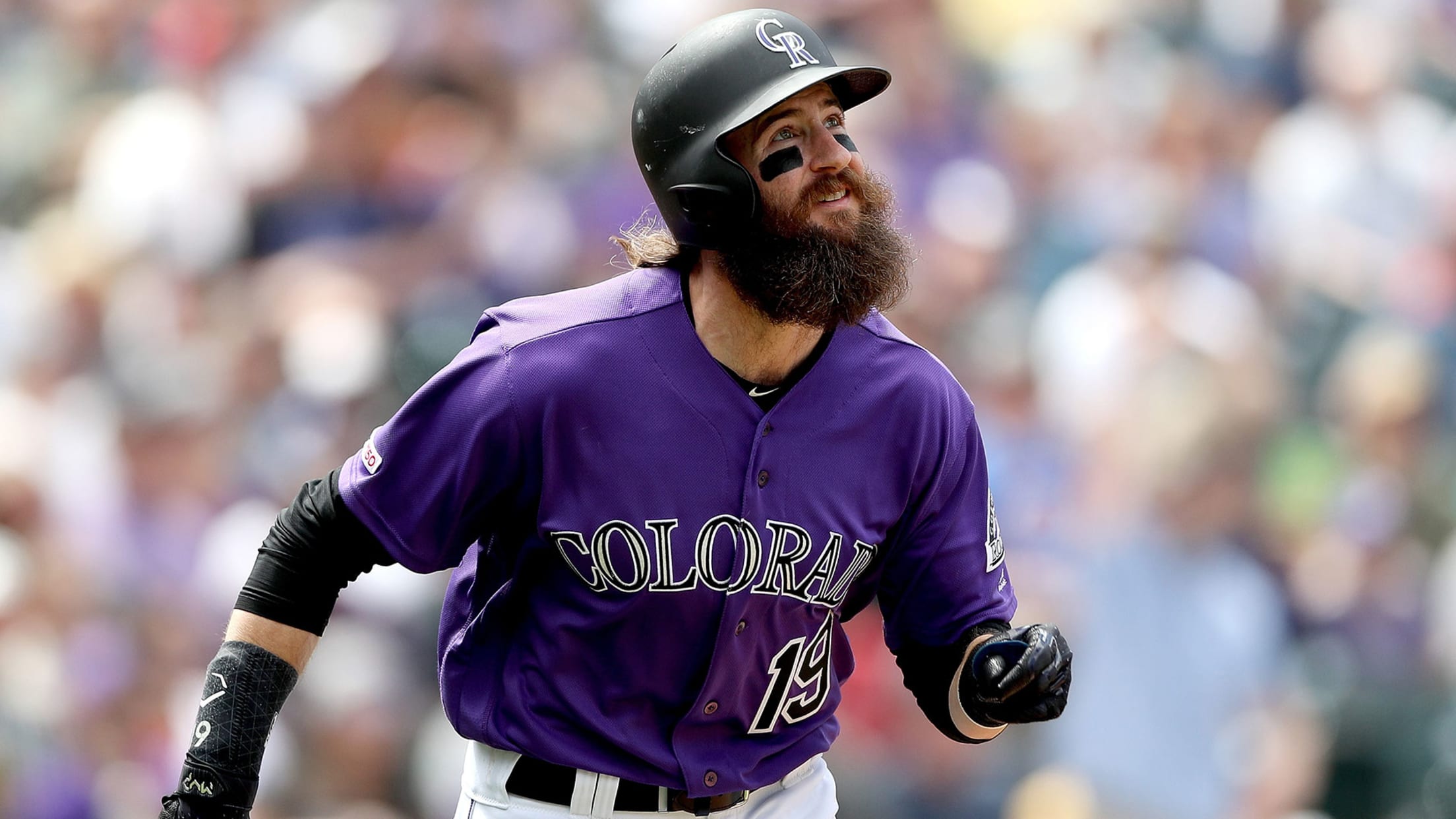 ATLANTA -- Rockies manager Bud Black could have told everyone what Charlie Blackmon was about to do. Actually, he did. Saturday night's score-flipping two-run, ninth-inning double brought Blackmon's hit streak to 10 games. It marks the 14th time that Blackmon has had a streak that long during his career. The
ATLANTA -- Rockies manager Bud Black could have told everyone what Charlie Blackmon was about to do. Actually, he did.
Saturday night's score-flipping two-run, ninth-inning double brought Blackmon's hit streak to 10 games. It marks the 14th time that Blackmon has had a streak that long during his career. The only players in club history with more hit streaks of 10 or more games are Todd Helton (25) and Larry Walker (17).
Blackmon entered the first game of the streak, April 16 at San Diego, hitting .221. He went 1-for-5 that night to see his mark drop to .219. But that game included a drive to right field that may have gone out of a different park on a different night, an opposite-field double on a swing he carried into the game from batting practice, and an infield pop on which he was on time, but just barely missed.
The lesson is that evaluating a hitter is more than just reading a box score.
"There were enough signs with certain swings that told me that Charlie's going to be OK," Black said. "You look at the bat speed. You look at how he was conducting the at-bats -- taking balls, swinging at strikes.
"He wasn't getting a lot of hits, maybe wasn't squaring the ball up like he does. But there were enough positive signs that led us to believe he was eventually going to come out of it and start hitting."
Blackmon went 3-for-4 during Sunday's 8-7 loss to the Braves, raising his average on the year to .288.
Warm thoughts for Atlanta's former skipper
Black never played for Hall of Fame manager Bobby Cox, best remembered as the Braves' manager, but came to respect him as an opponent. Cox is currently at an Atlanta-area rehab facility as he recovers from an April 2 stroke.
During the heat of one of Cox's confrontations with umpires -- and there were many -- Cox showed Black some respect. Black was pitching for the Giants against the Braves at Candlestick Park. A drive off the bat of Braves pitcher Steve Avery, led to a story.
"This is Candlestick, when they had the chain-link fence," Black said. "Avery hits a ball to straight away center field, a well-hit ball. Willie McGee goes back and the ball goes over the fence. The umpires thought that it hit on the [warning] track and bounced over the fence for a ground-rule double. They're going, 'Two bases.'"
Of course, Cox rushed to the second-base umpire to argue, but to no avail. Cox didn't get ejected, and had to make the disappointed, slow walk back to the dugout.
"I'm just off the mound and he's walking back and goes, 'Buddy, was that a homer?'" Black recalled. "I go, 'Bobby, it was.'
"He goes, 'God, I thought it was … Hey, you're pitching a helluva game, though.' That was awesome."