Oh-no: 'Pen falters late to deny Rox sweep
Murphy, Desmond go deep as offense continues mashing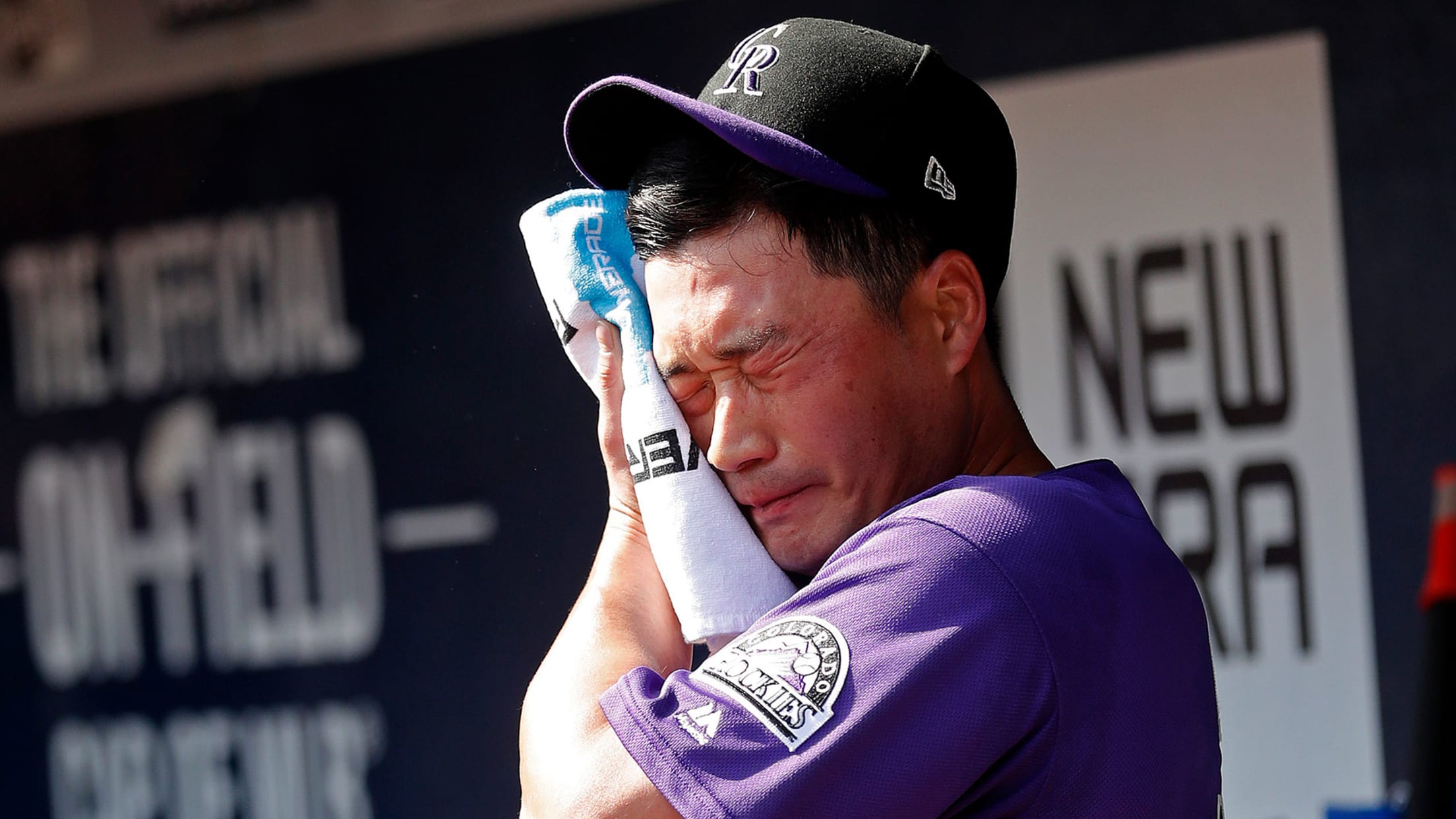 ATLANTA -- The Rockies watched a chance to climb to .500 slip away, as Josh Donaldson's three-run eighth-inning homer off Seunghwan Oh gave the Braves an 8-7 victory on Sunday afternoon. But they left still possessing their offensive mojo. The Rockies, who lost for just the third time in the
ATLANTA -- The Rockies watched a chance to climb to .500 slip away, as Josh Donaldson's three-run eighth-inning homer off Seunghwan Oh gave the Braves an 8-7 victory on Sunday afternoon. But they left still possessing their offensive mojo.
The Rockies, who lost for just the third time in the last 13 games, battled through erratic work from starter Tyler Anderson -- four hits, but three home runs and a triple; nine strikeouts, but four walks, all in 4 2/3 innings.
Daniel Murphy homered for three runs off Kevin Gausman in the third, and Ian Desmond's opposite-field homer off Dan Winkler provided a 6-5 lead in the sixth that grew to two runs in the eighth. The Rockies had five extra-base hits Sunday to lift their series total to 20 (12 doubles, one triple, seven home runs), marking the 12th time in franchise history the club has had that many in a series.
Murphy's return from a fractured left index finger four games ago and hit streaks from Trevor Story (16 games, the longest active run in the Majors) and Charlie Blackmon (11 games) have the offense in a good place. Nolan Arenado went 0-for-5, but before Sunday, had homered in a club-record five straight road games.
"All day long, we pressured Gausman, pressured their bullpen. It was a hard-fought game back and forth," Rockies manager Bud Black said. "In the ninth, two guys on to lead off the inning, you'd think we'd get something out of it. We had a couple good swings. Looks like we had a couple of good pitches to hit, just didn't do it.
"Improving -- it's looking more like we anticipated, so we're happy where we are there."
The Rockies took two of the three games from the Braves, including a ninth-inning comeback in Saturday's 9-5 win, and had a chance at a sweep when Blackmon and Story each singled to open the ninth before A.J. Minter settled down to get Murphy to fly out, and Luke Jackson retired Arenado and David Dahl.
"We're playing well, we're definitely having really good at-bats," said Murphy, whose return has been a boon for the offense. "Back-to-back days, coming in here and winning a series, and putting up the number of runs we did.
"You go on the road against a team that's expecting to win a division, and you win a series, that's a good weekend."
The loss meant that the Rockies, expecting to contend in the National League West, couldn't reach .500 on Sunday, but the focus remains the long haul.
"We talked about it at the beginning of the year, when we went through that skid, that even though we were losing, we were fighting hard," Desmond said. "Over the course of 162 games, that fight pays off. It paid off last night. It almost paid off today."
The lower part of the batting order has helped elevate the run total. Desmond, who also doubled and walked, finished with three runs scored, and Tony Wolters walked and scored, along with delivering a sacrifice fly. But Desmond noted that the top of the order is setting the program.
"It's always nice when your superstars are playing well, and ours are," Desmond said. "Nolan's swinging the bat really well right now. Charlie's swinging the bat really well. Trevor is emerging, in my opinion, as one of the best players in the league, doing something special on a nightly basis.
"Those guys are really exciting. When the top is going, it makes it easy for the rest of us."
Strange stuff
Anderson, who missed time with a left knee injury, saw his ERA reduced from 12.00 to 11.34. It wasn't the improvement that the Rockies needed, and now they have to make sense of the crazy numbers.
Both of Ozzie Albies' homers were pitches low, but over the middle, and he missed his spot on Freddie Freeman's first-inning shot.
"He missed his spots for the three home runs," Black said. "The rest of the game, he showed a great deal of battle. He struck out nine guys. His stuff was fine, but a few too many walks, not commanding the ball like Tyler can do. But he fought hard.
"The lack of command is something that we've got to clean up."
Oh, no
DJ Johnson replaced Anderson and forced a Johan Camargo fly ball to end the fifth with the bases loaded. Bryan Shaw and Carlos Estevez each delivered a scoreless inning. Oh gave up four hits, but Black said Albies' two-out single and Donaldson's homer "were balls -- I would throw those pitches again and take my chances."
It was just the second time since April 8 that the bullpen has given up more than three runs in a game. Oh, who took no solace in the fact that Braves hitters went out of the strike zone to beat him, quipped in Korean through his translator, "Everyone except me, apparently, is pitching well, so I've got to do better."
Oh has a 6.75 ERA but Black said, "I trust this fella -- he's going to help us in the long haul."