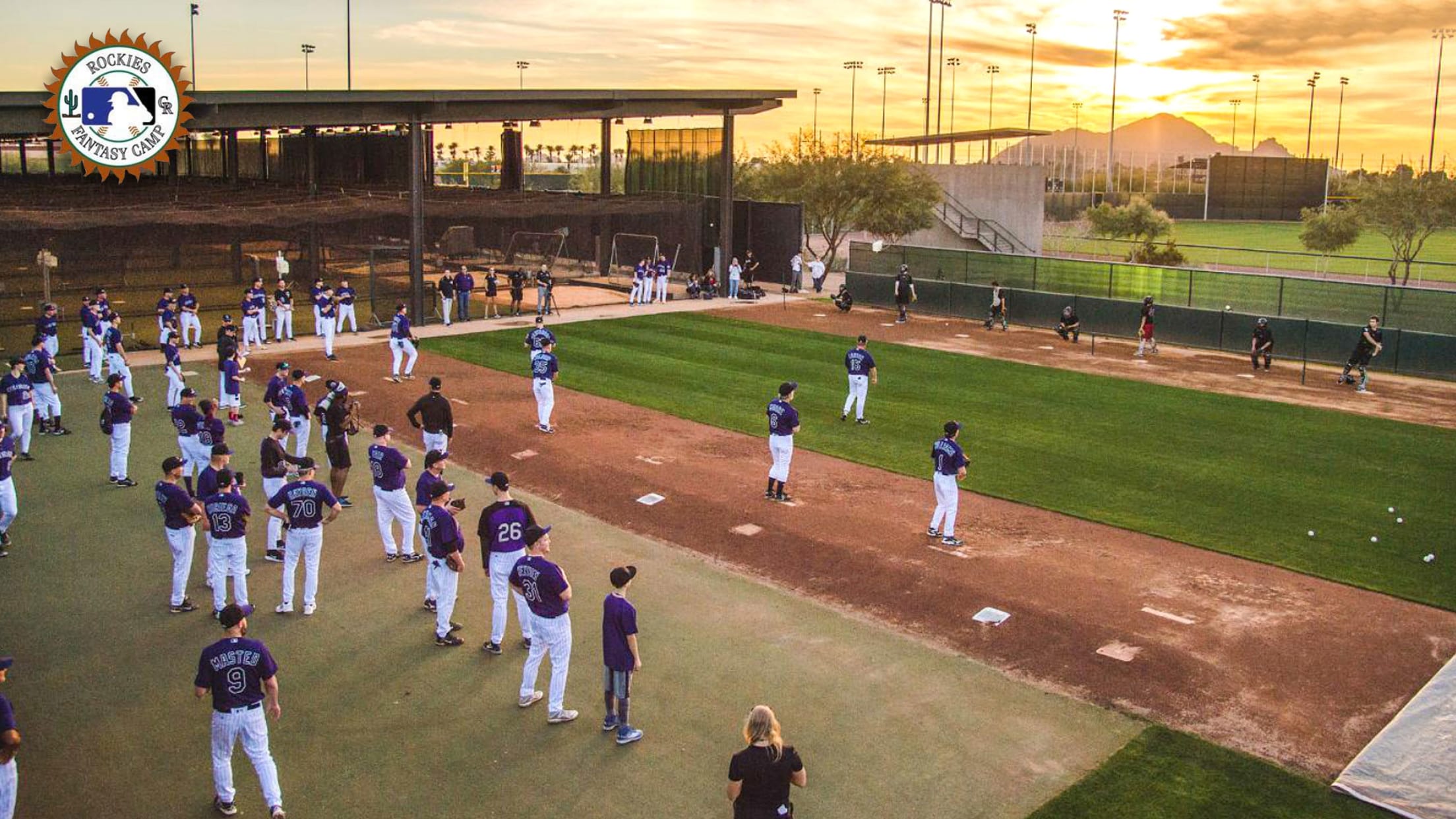 Sunday, November 5 through Friday, November 10, 2023
Hosted at Salt River Fields at Talking Stick
Imagine being signed by the Colorado Rockies. Imagine walking into the clubhouse, seeing your locker, your uniform, your name.
Clinics and practices at the Rockies Spring Training facility at Salt River Fields prepare you for six days of Major League excitement as your team competes for the championship title.
Along the way, exchange coaching strategies with the Fantasy Camp coaching staff.
Cap your stay with a chance to face Major League veterans in the annual Fantasy Camp Coaches vs. Campers game. It is sure to fulfill your baseball fantasy.
Whether a gift to yourself or to another, Rockies Fantasy Camp is a terrific idea for any Major League fan. But don't wait to sign up, there is limited space on the roster!
Package includes:
Six days and five nights in Phoenix
Round trip airfare from Denver on the group flight
Double occupancy hotel accommodations
Personalized Rockies uniforms
Daily camp collectibles & Photography Package
Official clubhouse and training staff
Reunion Event at Coors Field
Fantasy Camp Quick Hits
CAMP COST / DEPOSIT POLICY: The cost of the Colorado Rockies Fantasy Camp is $4,845. Fantasy Campers are required to put down a deposit of $1,000 at the time of registration in order to secure a spot or pay the full registration cost. Those who register and fulfill the deposit are invited to Coors Field for a welcome party which includes: a chance to meet some of our staff along with fellow campers, and an opportunity to try on your uniform to make sure it fits like the pros! Make sure you register today to ensure you don't miss out on this tremendous opportunity!
MEDICAL/PHOTO RELEASE: All applicants will be required to sign a liability waiver/medical release form. In addition, it is understood that, by participating in the camp, applicant authorizes the Rockies to use photographs and video reproductions of the participants of Fantasy Camp for promotional and advertising purposes. Anyone 21 years of age or older is eligible to participate in the Rockies Fantasy Camp. Space is limited and dates subject to change.
Frequently Asked Questions
Q: What is Colorado Rockies Fantasy Camp?
A: The Colorado Rockies Fantasy Camp is a 5-day baseball camp for men and women over 21 years of age. The Fantasy Camp takes place November 5th-10h, 2023, in Scottsdale, Arizona at the Colorado Rockies Spring Training home of Salt River Fields at Talking Stick. Participants will spend the week playing, practicing and talking baseball under the instruction of your Colorado Rockies Alumni and Coaches.
Q: Is the Rockies Camp for Colorado residents only?
A: No. Rockies fans from all over the country and from as far away as England, Poland and Australia have attended. Camp departs and returns to Denver International Airport. (More information on travel is below.)
Q: I am a Camp Rookie, what can I expect for the $4,845 Camp cost?
A: In short, the Rockies take care of most everything: round trip airfare from Denver on the group flight; double occupancy hotel accommodations at the Scottsdale Plaza Resort; ground transportation; meals; complete uniforms; Major League coaching, training & clubhouse staff; still photography & videos; gifts & more.
Q: I am a Camp Alumnus, what can I expect for the $4,845 Camp cost?
A: Everything listed above for Camp Rookies, including new uniforms; an exclusive Camp Alumni gift. Additionally, you are eligible for a Camp Alumni discount. In years 2-5 you will receive a $100 discount and in years 6 and up you will receive a $250 discount.
Q: Can I bring along my family or friends?
A: Yes. Our Camper Guest VIP Companion Fan Experience is also available for guests. This includes a hotel room with the Camper, round trip airfare from Denver on the group flight and access to all Camp hospitality as well as exclusive gifts for your guest. The Camper Guest VIP Fan Experience is available for $1,950 and can only be booked in conjunction with a Fantasy Camp participant.
Q: What is the weather like in Scottsdale, Arizona? How should I pack?
A: Average temperatures in Arizona in early November can range from highs in the 70's to lows in the 40's. Mornings and evenings will be cool. Colorado Rockies Fantasy Camp is a casual week. This is your baseball vacation. You will be tired, and you will want to be comfortable as you travel to Salt River Fields in the morning and in the evening. Your locker will include a Rockies uniform, undershirts, long-sleeved shirts, batting gloves and more. Evening activities are casual as well. Appropriate denim or khakis are more than adequate. The banquet is not overly formal. Slacks or business casual denim and button-down shirts for gentlemen are preferred. Sport coats and ties are optional. Ladies may choose to wear a dress or skirt. Keep in mind this is your baseball vacation. Don't stress over your wardrobe.
Q: Are meals provided?
A: Breakfast and lunch will be provided daily at the Salt River Fields dining room. Dinners or heavy hors d'oeuvres will be provided every evening at either Salt River Fields or the Scottsdale Plaza Resort in conjunction with the scheduled evening social activity.
BASEBALL RELATED QUESTIONS
Q: What is the Camp team format & game schedule / how many games are on the Fantasy Camp schedule?
A: 6 teams of 12-13 players. Teams will play 5 games to determine the Championship Game teams. Scheduled is a short "tryout", 5 league games, abbreviated Consolation Games, Championship Game as well as a separate Campers vs. the Coaches/Staff.
Q: How are teams formed? May I make a request to play with a fellow Camper?
A: During dinner on Opening Day the Camp Coaching Staff will convene a draft based upon scouting of the activities from earlier in the day. Teams will be announced, and league play will begin immediately with a night game on Opening Day in our newly formed teams.
Campers playing with family members may request to be drafted together and every opportunity to accommodate will be made. Other requests of friends traveling together will be considered. All requests should be made ahead of Camp. All decisions regarding draft requests are at the discretion of the Coaching Staff & Commissioner.
Q: What equipment do I need to bring?
A: All you will need is your glove, shoes and personal items. (Please remember personal protective equipment). You may bring your own personal wood bats. This is a Major League experience, and no aluminum bats are permitted. Professional wood bats and composite wood bats are provided. Please be aware of TSA security and airline baggage policies regarding travel with any bats you may bring to your Camp experience.
Team bat bags with donuts, weighted bats, pine tar and more are available in each dugout. Team double ear flap helmet bags including multiple common sizes (S, M, L, XL, and XXL) are available in each dugout. Team catcher's bags including shin guards with knee savers, chest protectors, catchers' gloves (L & R) and hockey style catcher's masks are available in each dugout.
* Please do not remove playing equipment provided by Camp from dugouts at any time. Equipment bags all contain the same equipment assortment and should not be moved from field to field as a comfort to an individual player. Baseball is a team sport. Please help our Operations Staff as they sort and ensure proper equipment supplies before each game begins. Baseballs are available for purchase if you have autograph needs. Please do not remove any baseballs from the equipment bags provided so we have a proper supply in all cages, mound and clinic areas.
Q: Equipment follow-up; can I bring my metal spikes?
A: As stated in Camp materials, Rockies Camp is a no spikes Camp. This is no different than the great majority of MLB Fantasy Camps. Safety is our most important concern. Please consider your own safety and that of your other Campers and leave your metal spikes at home.
GENERAL QUESTIONS
Q: What hotel is Camp using? How are roommates selected, is there a private room option?
A: The Scottsdale Plaza Resort will host Fantasy Camp and is a proud partner of the Colorado Rockies in Scottsdale, Arizona. The commute to the ballpark is approximately :10 minutes.
Fantasy Camp is a double occupancy experience. The Rockies Special Events staff will honor roommate requests but otherwise will assign roommates to the best of our abilities based on Camp experience and other factors. Single room accommodations are available on a limited basis for an additional cost.
Q: Do I need a rental car for other travel?
A: No. During Camp, 49-passenger buses will make ample and multiple scheduled loops during all common transport times. All hospitality is provided through Camp at Salt River Fields, or the Scottsdale Plaza Resort and alternative travel needs to meals and the like should not be necessary. Scottsdale has several travel options including Uber, Lyft, and other taxi services if you would like to get out and see some of the city.
Q: Will I have other expenses during Camp?
A: Yes. Your expenses will likely come from 3 areas:
Retail – there will be opportunity to purchase Rockies and Fantasy Camp merchandise such as polos, tees, sweatshirts, jackets and more. Official Major League Baseball and Cubes will be available as well for autographing requests throughout the week.
Kangaroo Court – this baseball tradition will be held 3 times during the week and is the opportunity for us all to laugh with each other as fines are given for "improper" baseball conduct and more. Proceeds from Kangaroo Court are shared amongst all the Operations Staff as a "gratuity" for their services during the week.
Clubhouse Dues – Coaches will provide envelopes for teams to collect their cash dues for the week. Team/Player envelopes will be split among all Fantasy Camp Operations Staff members. Individual Camper/player recommendations are $20/day approximate per player. Clubhouse dues can be considered a gratuity or as a "resort fee" for traditional services rendered on a daily basis by your Fantasy Camp staff: Training Room Services, Clubhouse and Laundry Services, MLB Camp Videography & Still Photography, Event Operations & Cleaning Services, Daily Diamond Newsletters, Game Equipment & other Baseball Gear. Services Camp participants can look forward to at Salt River Fields are the use of the Salt River Fields facilities and fields, the Salt River Fields dining room and staff, Salt River Fields internet access, locking personal lockers and more.