Colorado Rockies Mobile Entry
Your phone is your ticket
All tickets will be mobile for the 2022 season. This will provide contactless entry into the ballpark.
Please make sure you download and transfer to each member of your party his/her individual ticket via your smartphone, prior to arriving at the ballpark.
Mobile tickets should be downloaded and the barcode should be displayed on your smartphone before proceeding through the security screenings.
Transfer mobile tickets to each member of your party prior to arrival.
MLB Ballpark App
MLB Ballpark app - Easy, fast, secure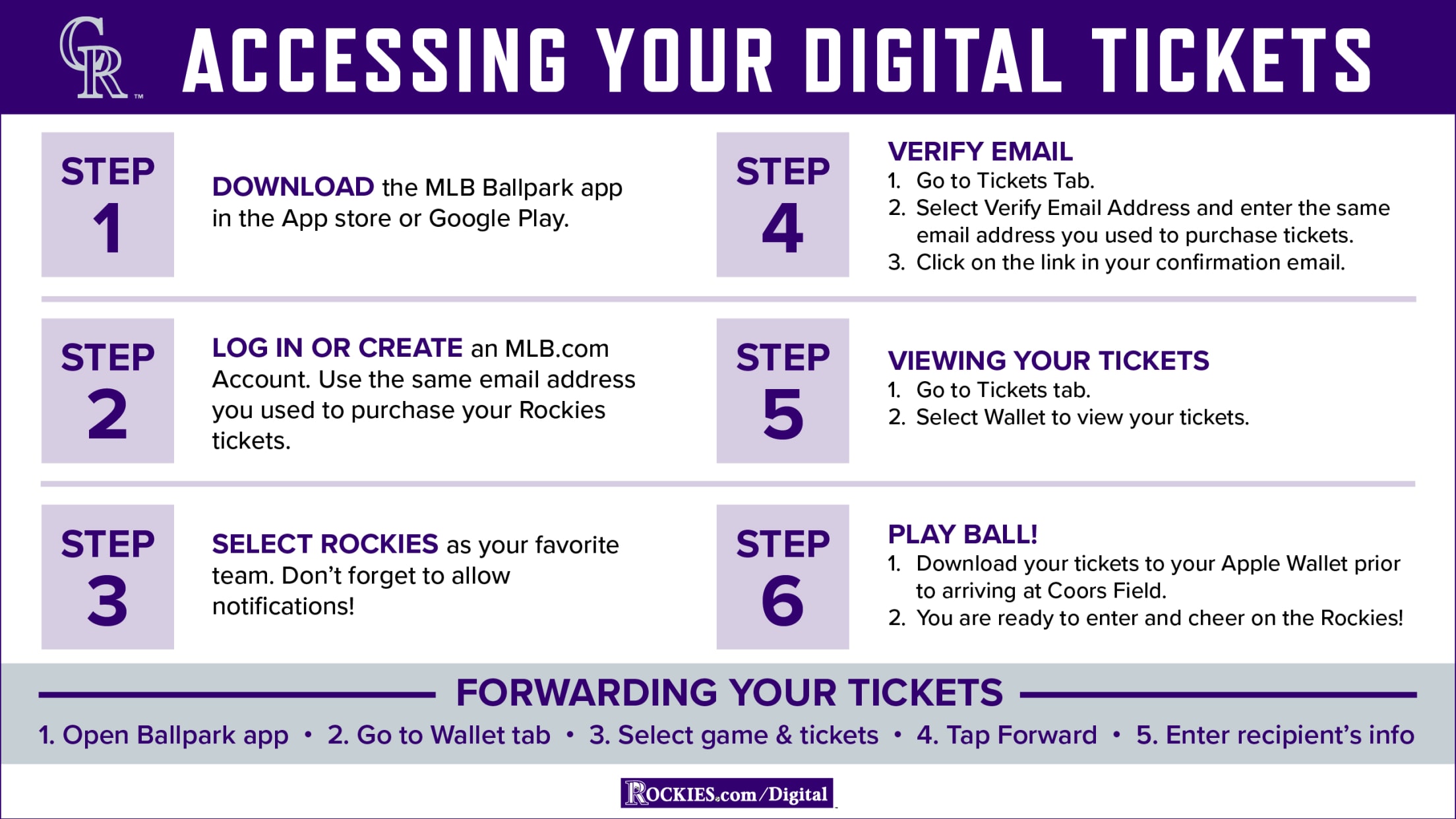 Managing your tickets has never been easier. With the MLB Ballpark app, you can access and forward your seats in seconds. Plus, use the MLB Ballpark App for exclusive check in offers, interactive ballpark maps, and much more!
The below actions must take place on your smartphone.
Download the MLB Ballpark App via the App Store or Google Play
Create an MLB.com Login using same email address used to purchase your Rockies tickets
Set up the app for the Rockies by following the prompts
Link your account:
Select Tickets Tab
Select Go to your MLB Account
Enter the email addressed used to purchase your Rockies tickets
Verify email
You'll receive an email from MLB.com
Select the link to verify and you're ready to play ball!
Already have the app?
On game day, your Home Tab will display your game tickets, providing you with easy access to view and scan for mobile entry.
Account Manager
Alternate method for accessing digital tickets
The below actions must take place on your smartphone.
Log in to your Rockies Account Manager by going to rockies.com/myaccount
Select the game you are attending under "My Events".
Select your ticket to be scanned for entry, or select the checkbox on the ticket(s) you wish to transfer to other members of your party attending the game.
We encourage you to then select "Save to Phone", "Add to Apple Wallet", "Save to Google Pay", "Save to Passbook", etc., to save the ticket in your smartphone's wallet for later use and easy access when you arrive at the ballpark.
StubHub
For tickets purchased on StubHub
You have two options to retrieve your tickets, either way actions must take place on your smartphone.
Option 1:
Rockies tickets purchased at StubHub are delivered right to the StubHub app. If the seller made their tickets available for Instant delivery, they'll be available under 'My tickets' in the StubHub app within minutes of placing your order. Use the app to scan your tickets and get into the game.
Option 2:
Utilize MLB Ballpark app (follow instructions above)