Rodgers has unexpected shoulder surgery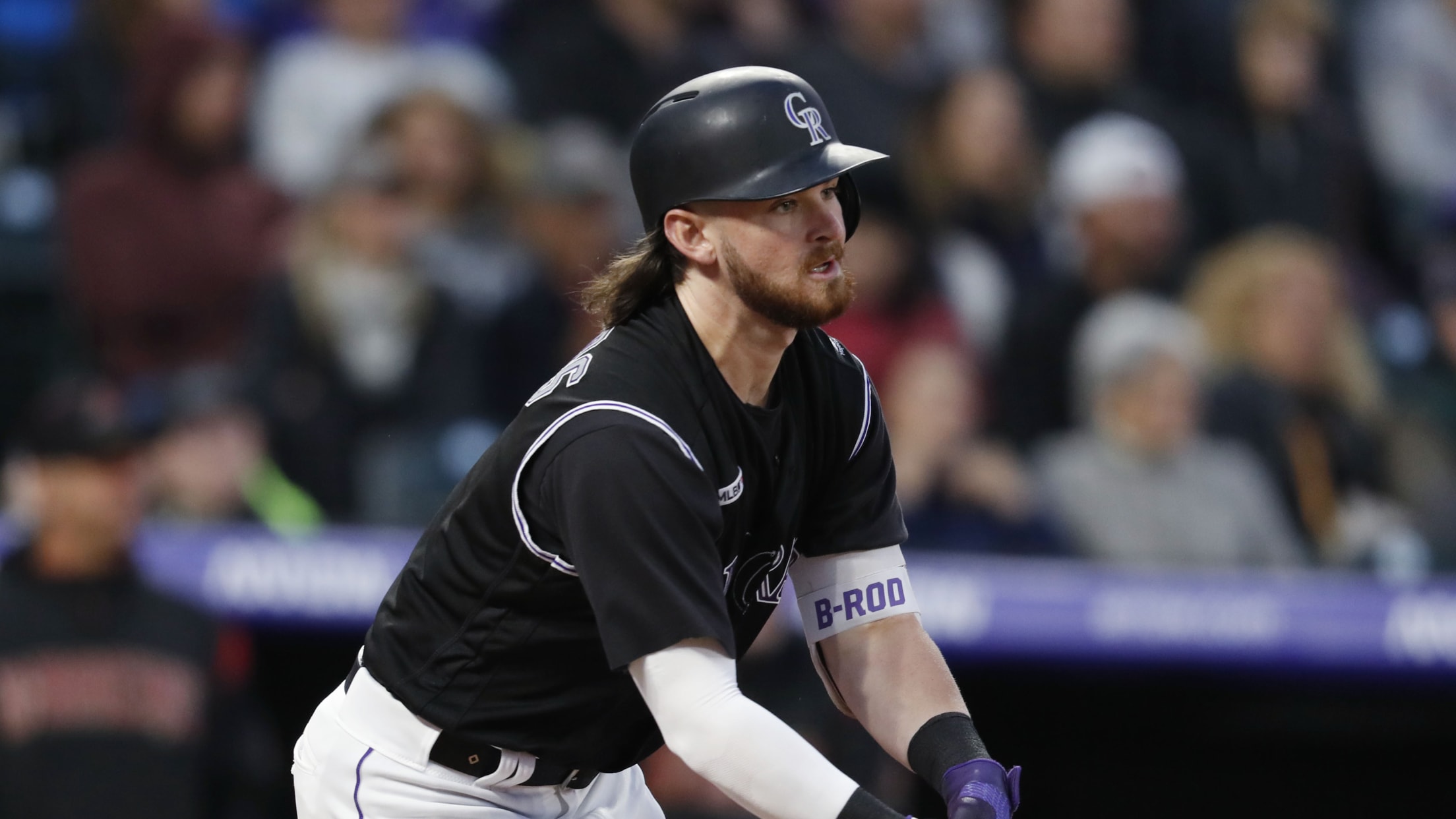 DENVER -- Rockies infielder Brendan Rodgers, the organization's top prospect according to MLB Pipeline, underwent shoulder surgery Tuesday to repair a torn right labrum, the club announced. Rodgers went to the 10-day injured list, retroactive to June 24, with what the club announced was a right shoulder impingement. The surgery,
Wolters' passion nets him Heart & Hustle Award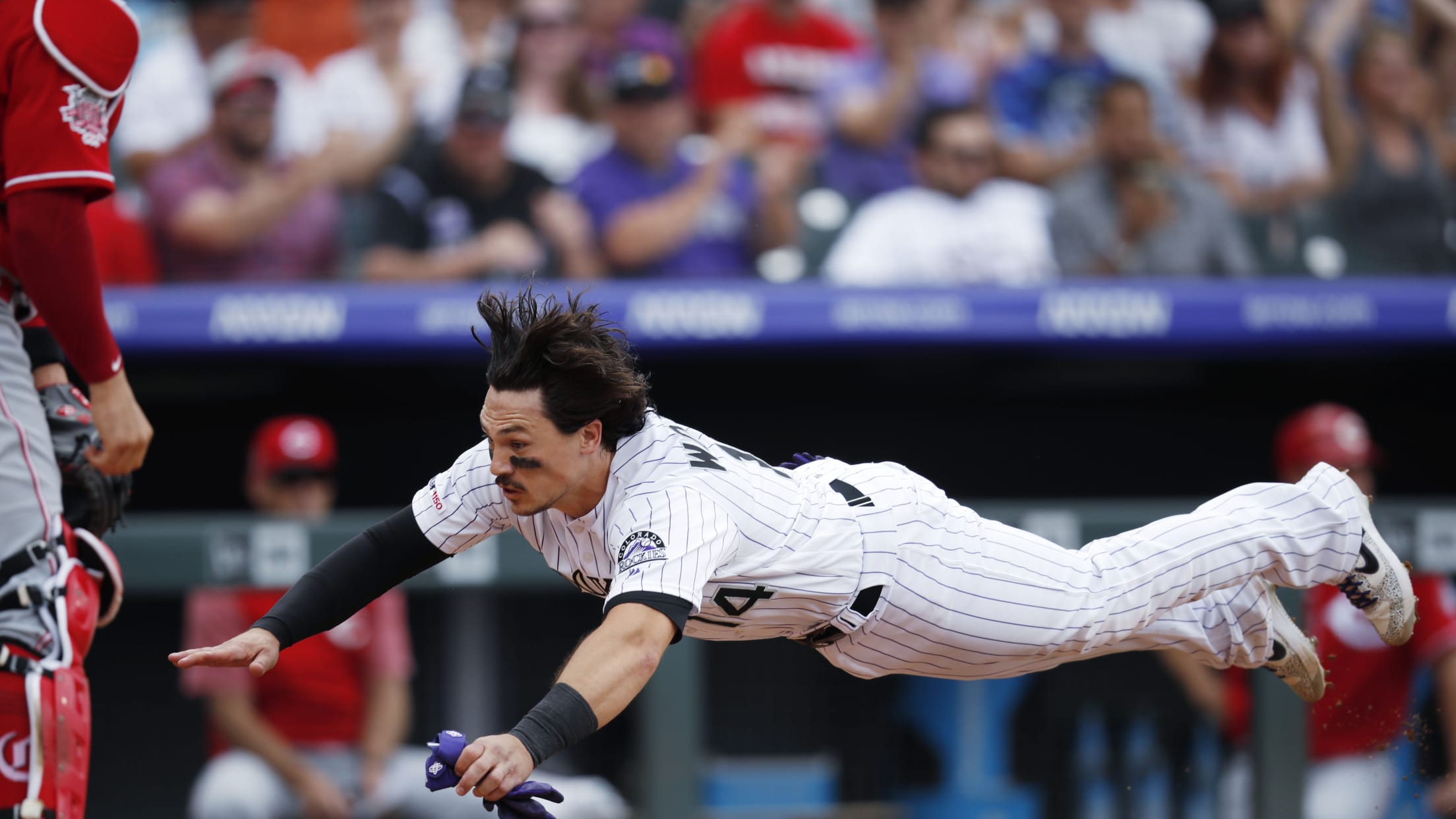 DENVER -- The advice catcher Tony Wolters received from his father carries him to this day, and people noticed -- as evidenced by his being named Tuesday as the Rockies' 2019 recipient of the MLB Players Alumni Association Heart & Hustle Award. "When I was a kid, my dad always
Hampson undaunted by Giants' big plays at 3rd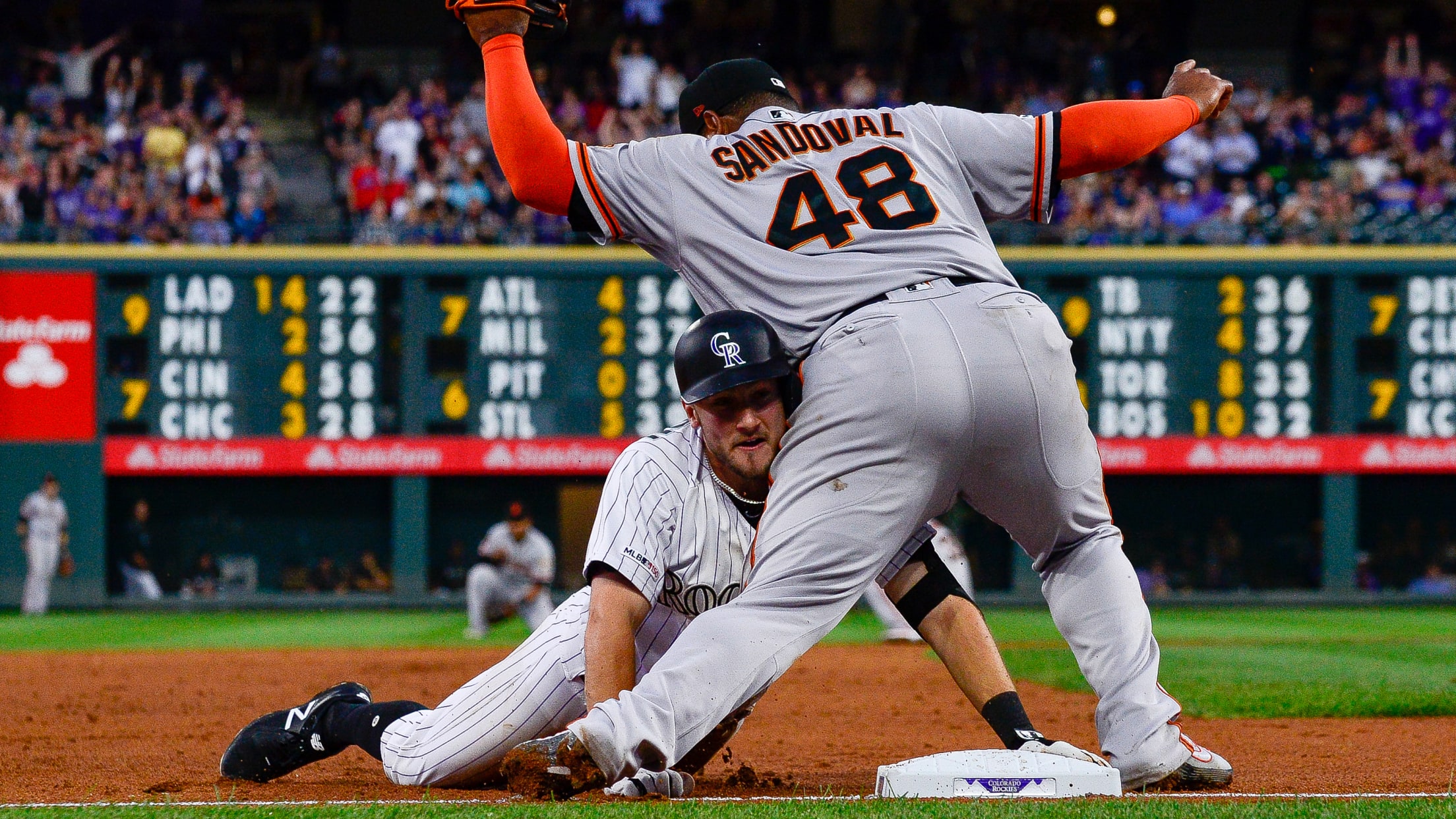 DENVER -- Garrett Hampson pushes each of his sporadic opportunities to impact Rockies games. He did Monday night, although the results were cruel. Hampson tripped and fell rounding third for what likely would have been a run in the third inning. He drove in a run on a double in
Marquez, Rox try to move on after lopsided loss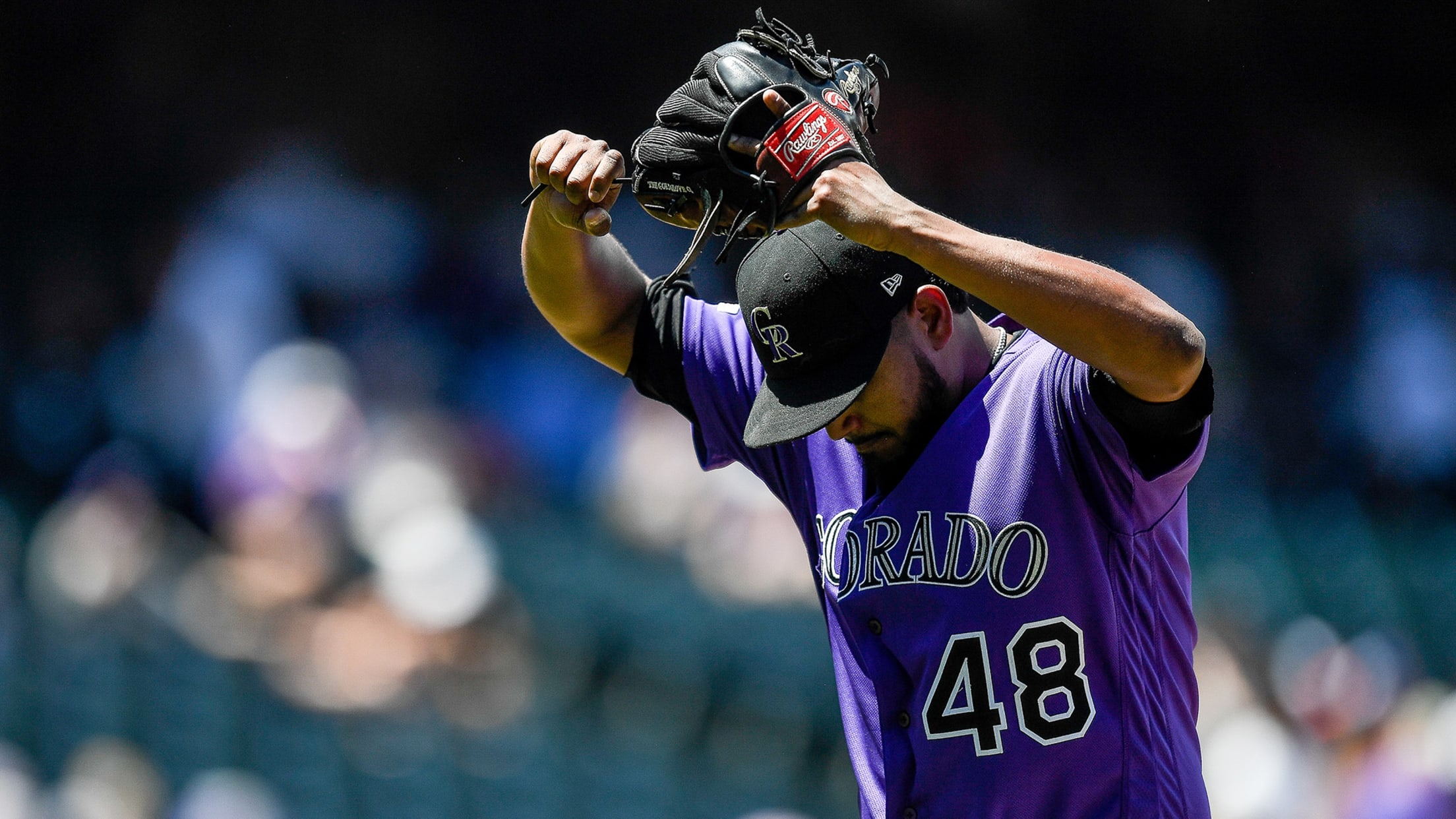 DENVER -- Rockies manager Bud Black jogged to the mound as if the urgency of his body language could somehow counteract the gloom of the third inning. But no amount of pep or advice could help righty German Márquez, who had a hard time maintaining eye contact and had no
Lowe, Murphy awarded for post-break power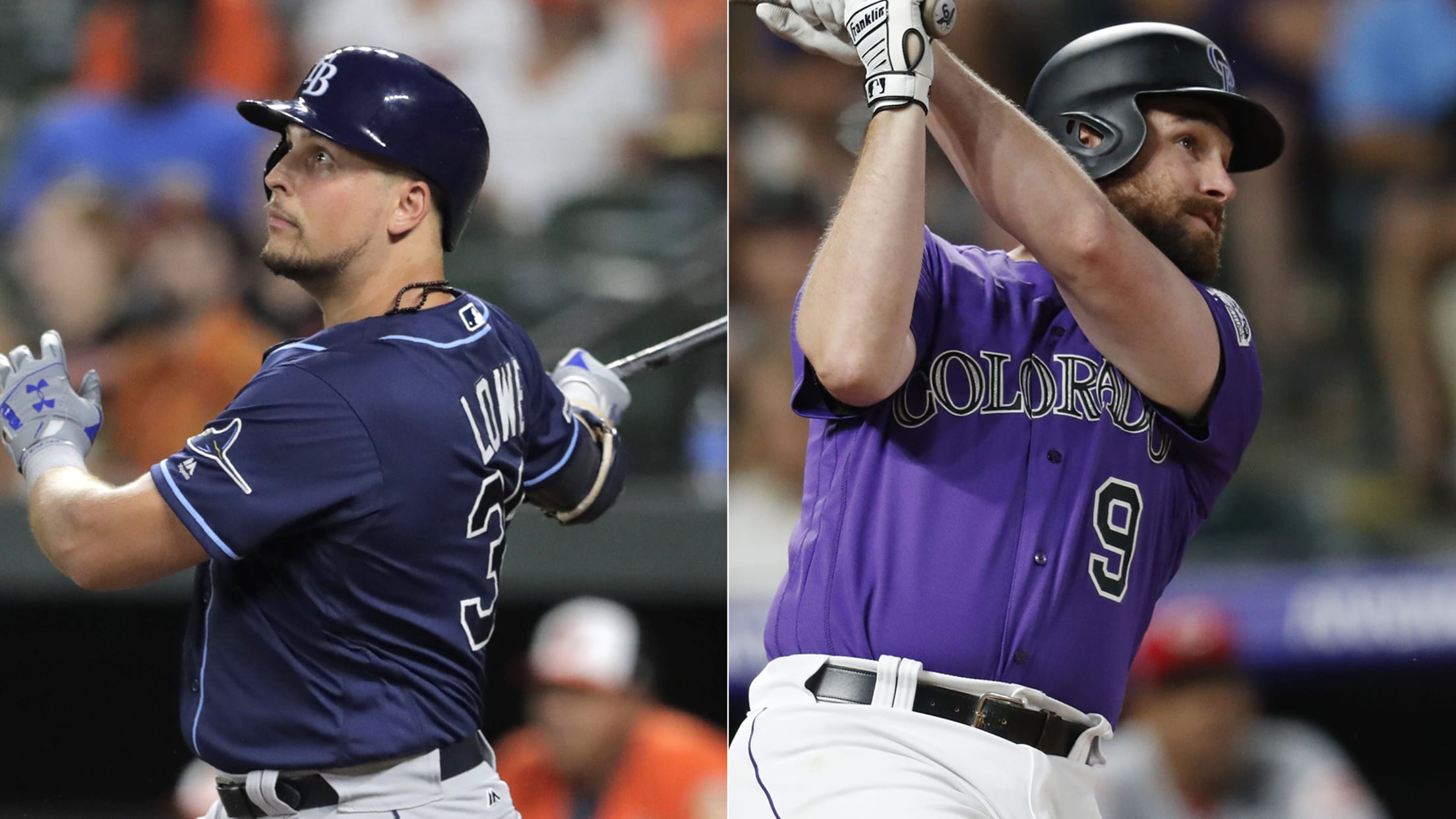 The Rays' Nate Lowe and the Rockies' Daniel Murphy started the second half by earning the American League and National League Player of the Week Awards presented by W.B. Mason for their outstanding performances in the first series coming out of the All-Star break, MLB announced Monday. This is Lowe's
McMahon falls HR shy of cycle in 3-RBI game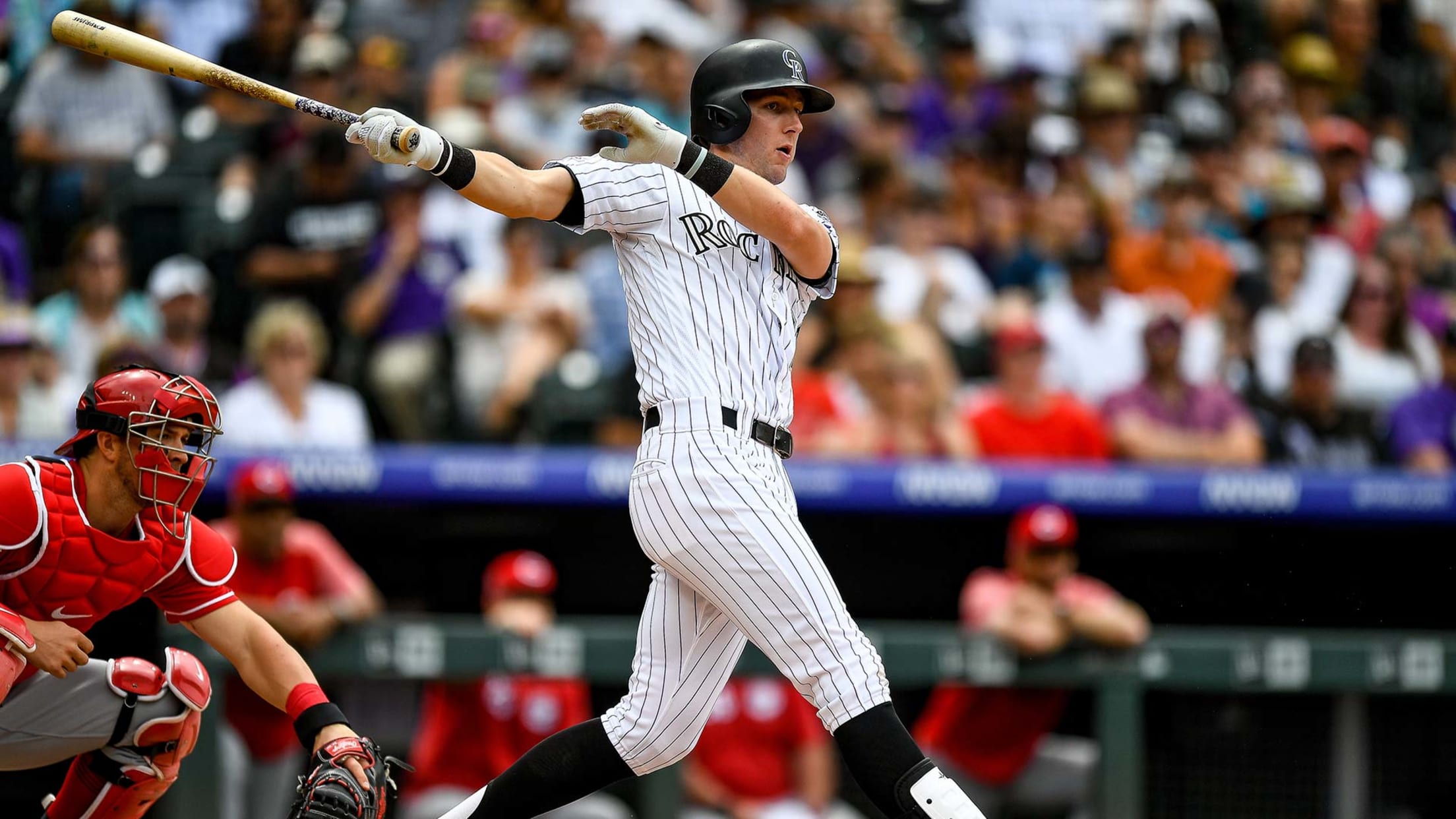 DENVER -- If Ryan McMahon's first season as a regular second baseman is a sink-or-swim proposition, Sunday he helped make sure the Rockies stayed just ahead of sharks. McMahon doubled, singled and tripled, and drove in three runs in a stranger-than-necessary 10-9 victory over the Reds at Coors Field. •
Monday's top prospect performers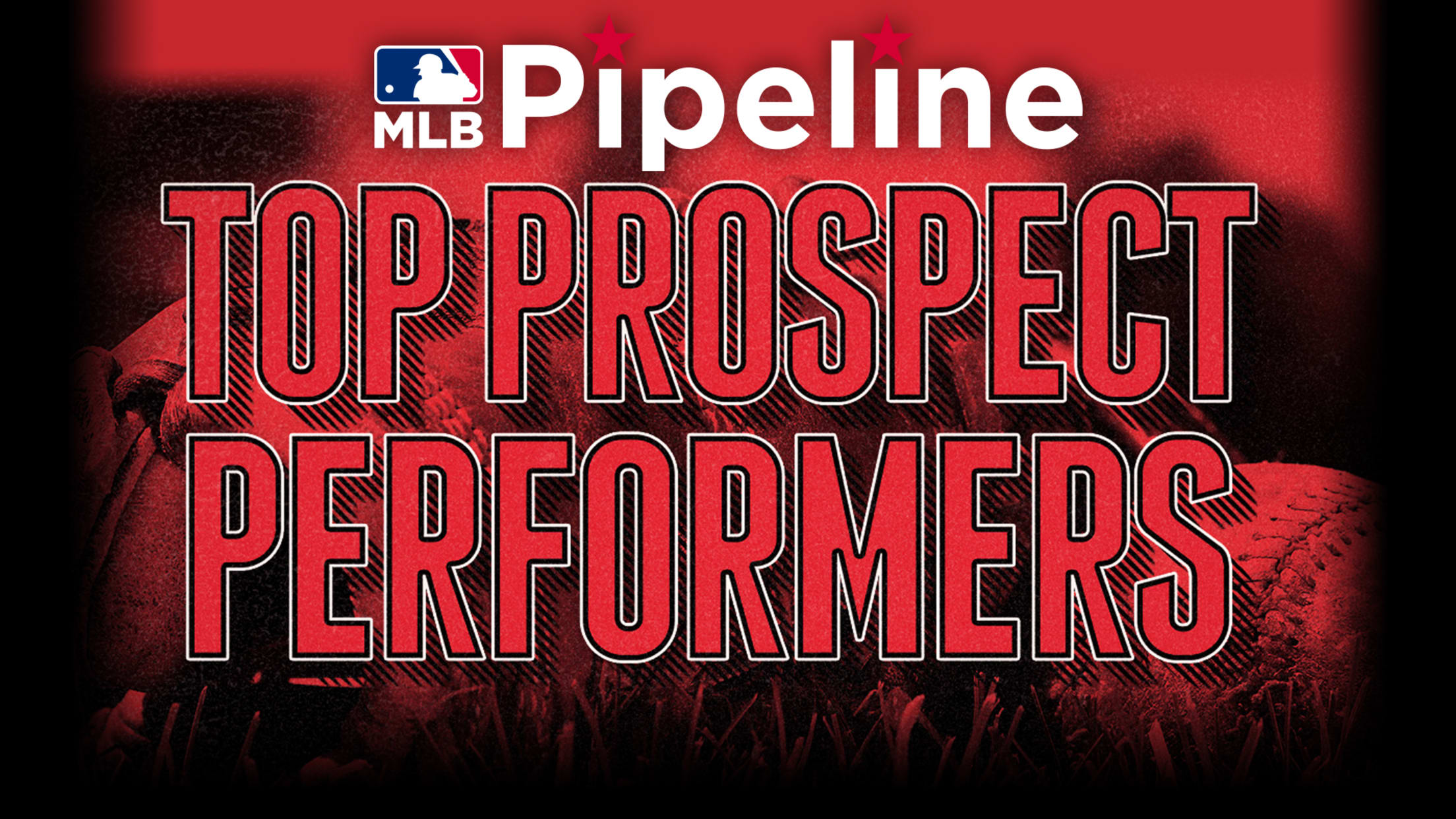 Here's a look at Monday's top Minor League performers from each team's Top 30 Prospects list: AMERICAN LEAGUE EAST Blue Jays: Jonathan Davis, OF (No. 28) -- 3-for-5, HR, 3 RBI (Triple-A Buffalo) Davis had just one hit in four games since returning from a brief stint with the Blue
Arenado denies Reds hope with defensive gem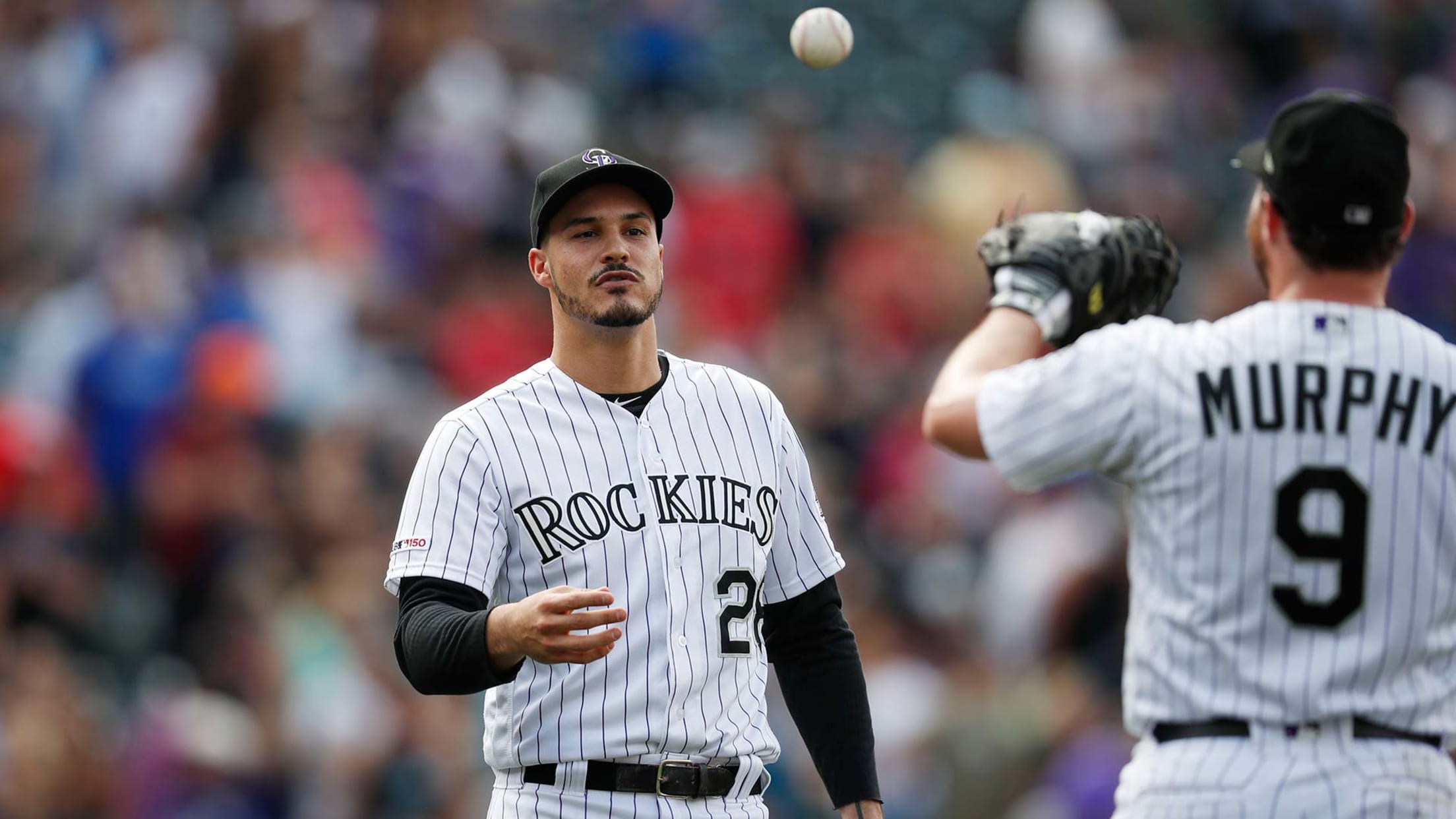 DENVER -- Much like Batman, Spider-Man or any other hero the world looks to, Gold Glove Man -- known in Colorado as Nolan Arenado -- never takes a day off from saving the day. Arenado broke out in his purple-pinstriped costume in the seventh inning Sunday. And his diving, rolling
MLB Pipeline's Prospect Team of the Week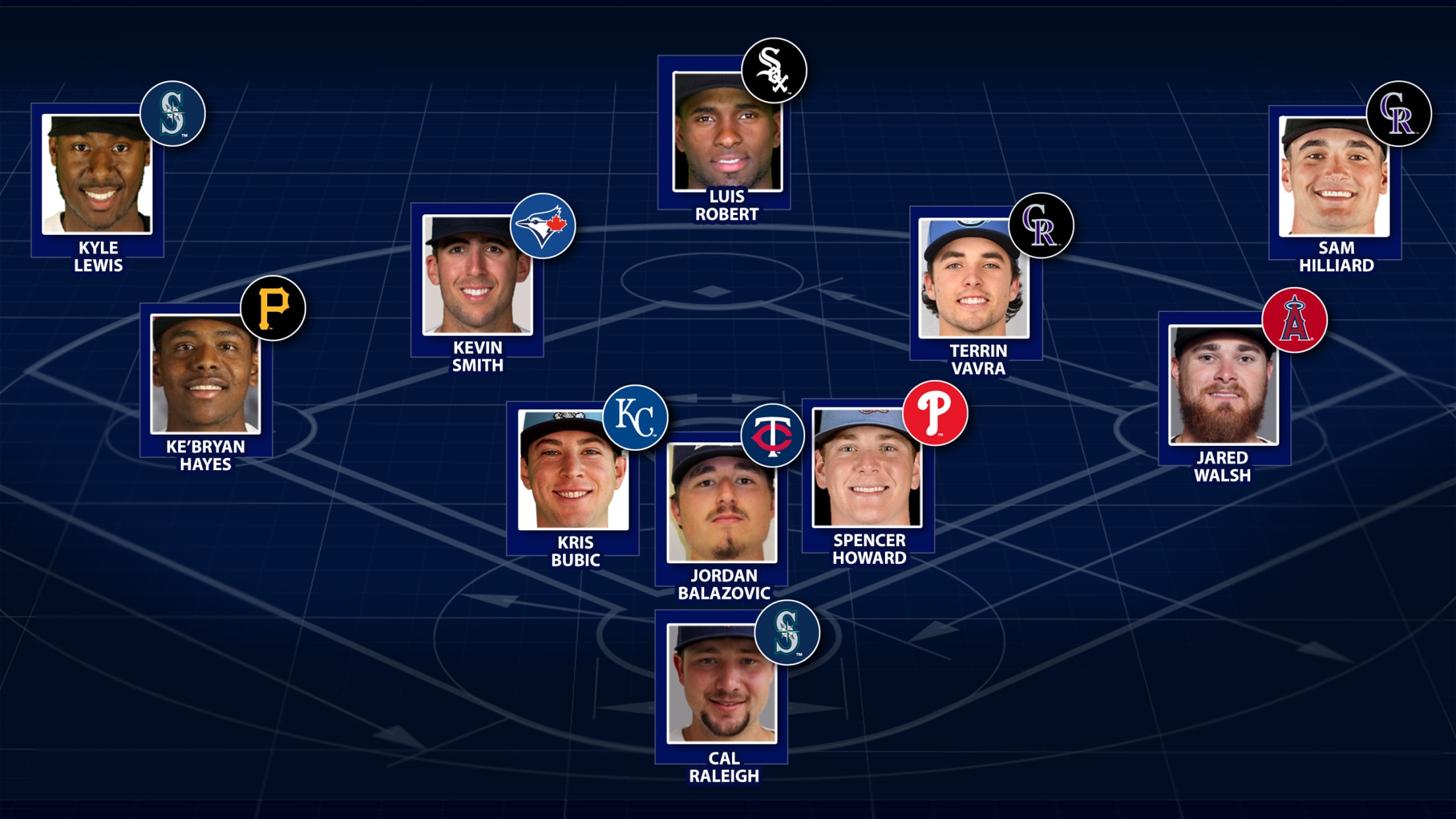 MLB Pipeline's Prospect Team of the Week honors the best performances from the previous seven days. Any Minor Leaguer currently on an organization Top 30 Prospects list on our Prospect Watch is eligible. Since signing with the Mariners for $854,000 as a third-rounder last summer at the deadline, Cal Raleigh
Rockies fall short vs. Reds in another slugfest 
Poor pitching, sloppy defense contribute to loss after lengthy delay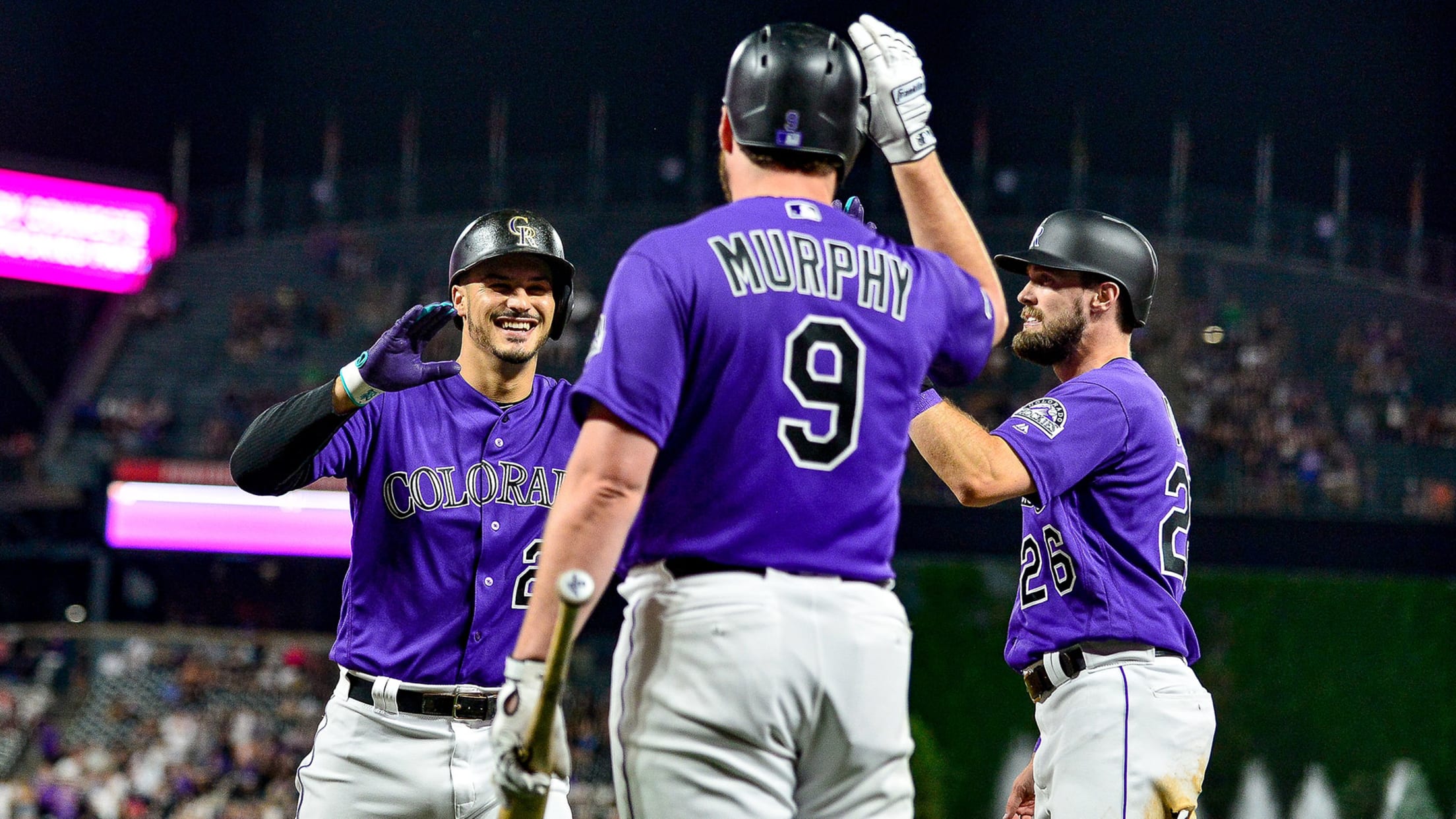 DENVER -- After a 3-hour, 8-minute delay for rain and lightning Saturday night, the Rockeis spent the next 3 hours, 53 minutes playing the type of baseball that isn't sustainable for a team harboring postseason hopes. The 17-9 loss to the Reds saw the Rockies give up 24 hits, including
Arenado's Hit-the-Mitt HR good for $5K donation
First-inning, two-run shot will benefit Leukemia and Lymphoma Society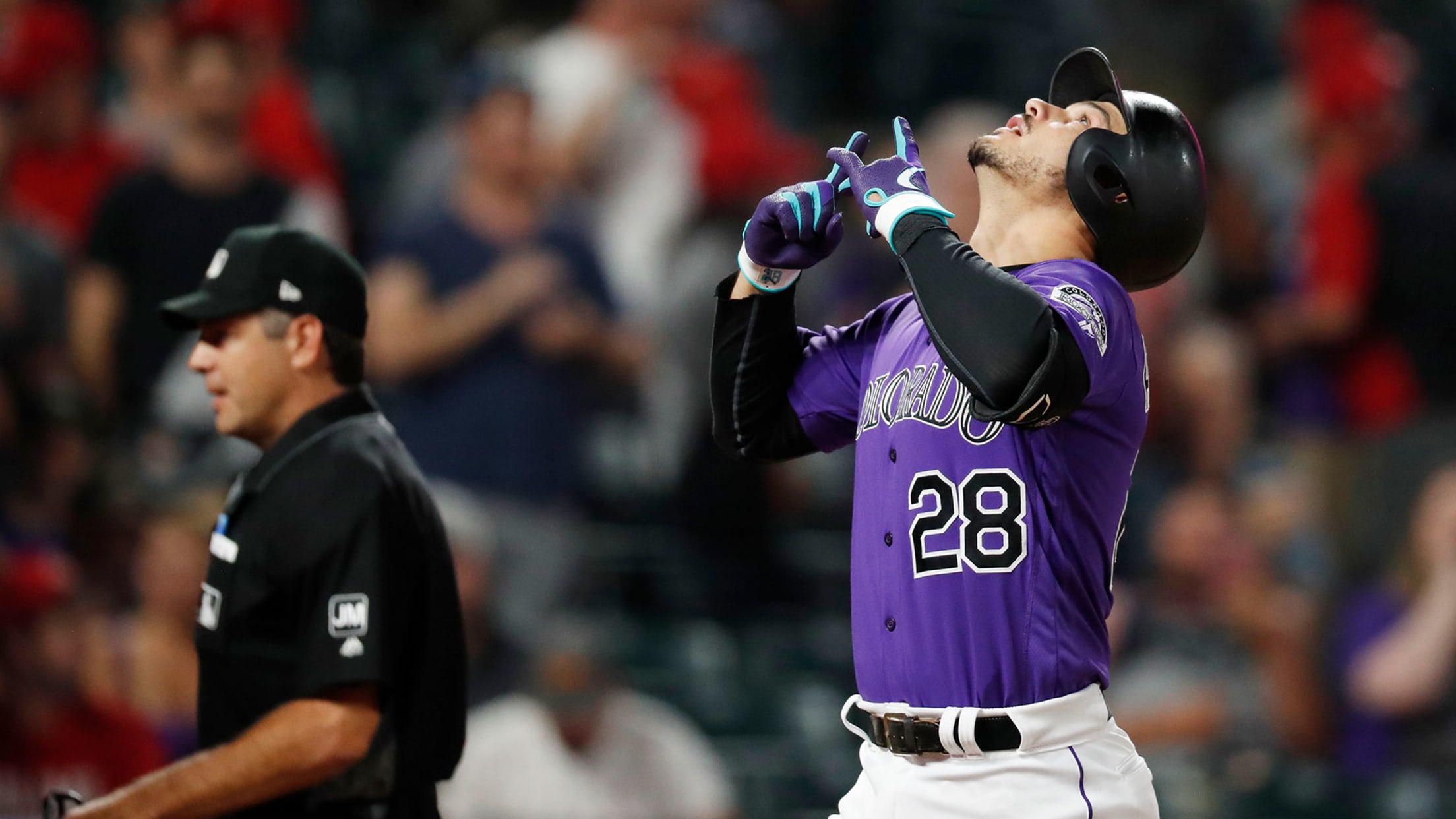 DENVER -- Rockies third baseman Nolan Arenado helped raise money for the fight against cancer with his first-inning home run Saturday night at Coors Field. Arenado's two-run shot into the left-field corner, part of a four-run bottom of the first against Reds starter Tanner Roark, landed on the Hit the
Murphy's 1st home HR caps comeback
Rockies snap 6-game skid to edge back to .500
DENVER -- Make yourself at home, Daniel Murphy. Murphy signed a two-year, $24 million contract with the Rockies last offseason, with hopes of taking advantage not only of Coors Field's big outfield gaps, but also its friendly flight paths. However, he hadn't gone deep at home this season until his
Rockies sign vet Alonso to Minors deal
First baseman 1-for-4 with 2 RBIs in debut for Triple-A Albuquerque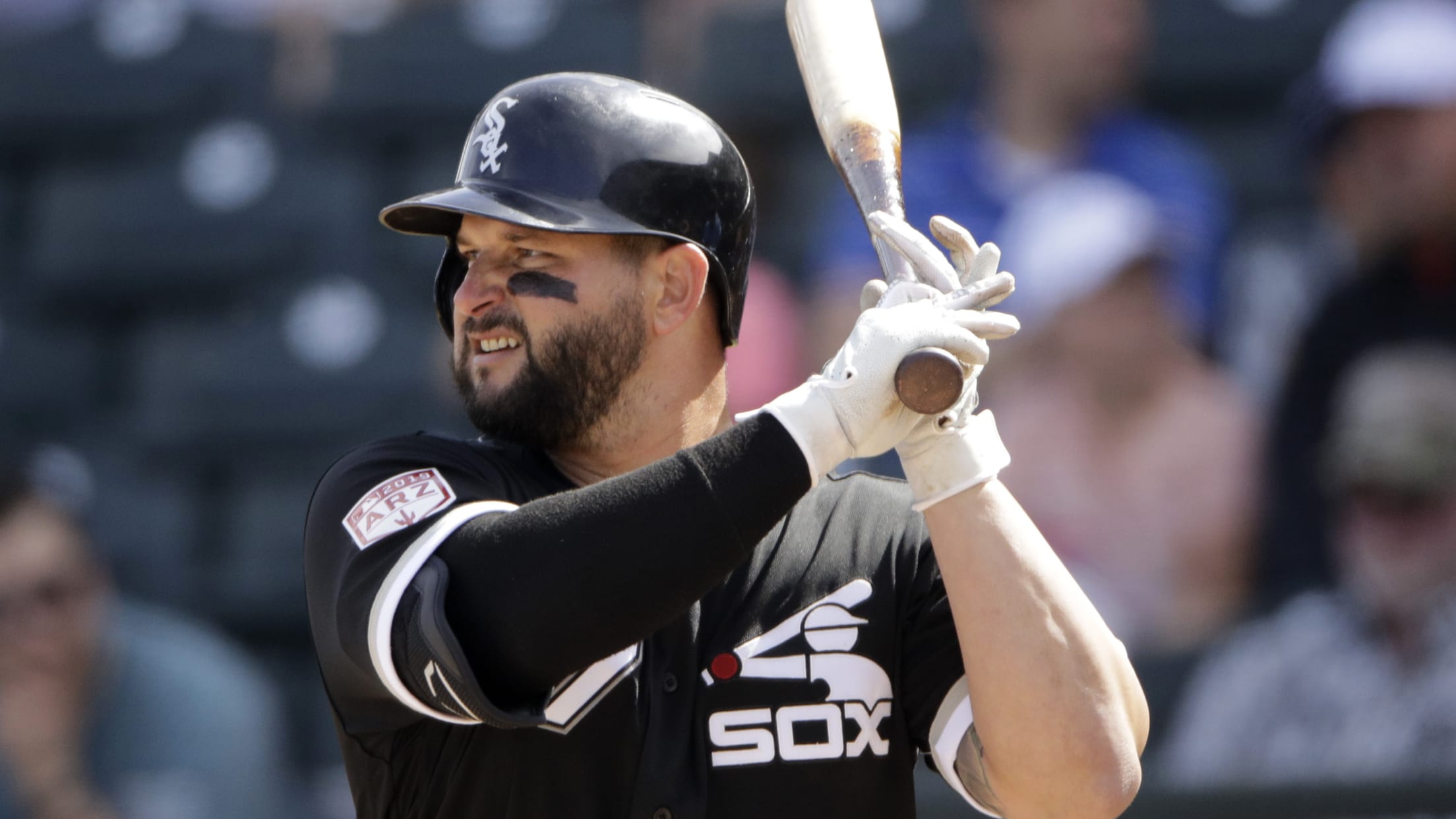 The Rockies have signed veteran first baseman Yonder Alonso to a Minor League contract, Colorado senior player development director Zach Wilson confirmed to MLB.com. Alonso was in the lineup for Triple-A Albuquerque's game against El Paso on Thursday night, and went 1-for-4 with two RBIs, a run scored and a
Here's 1 bold prediction for each team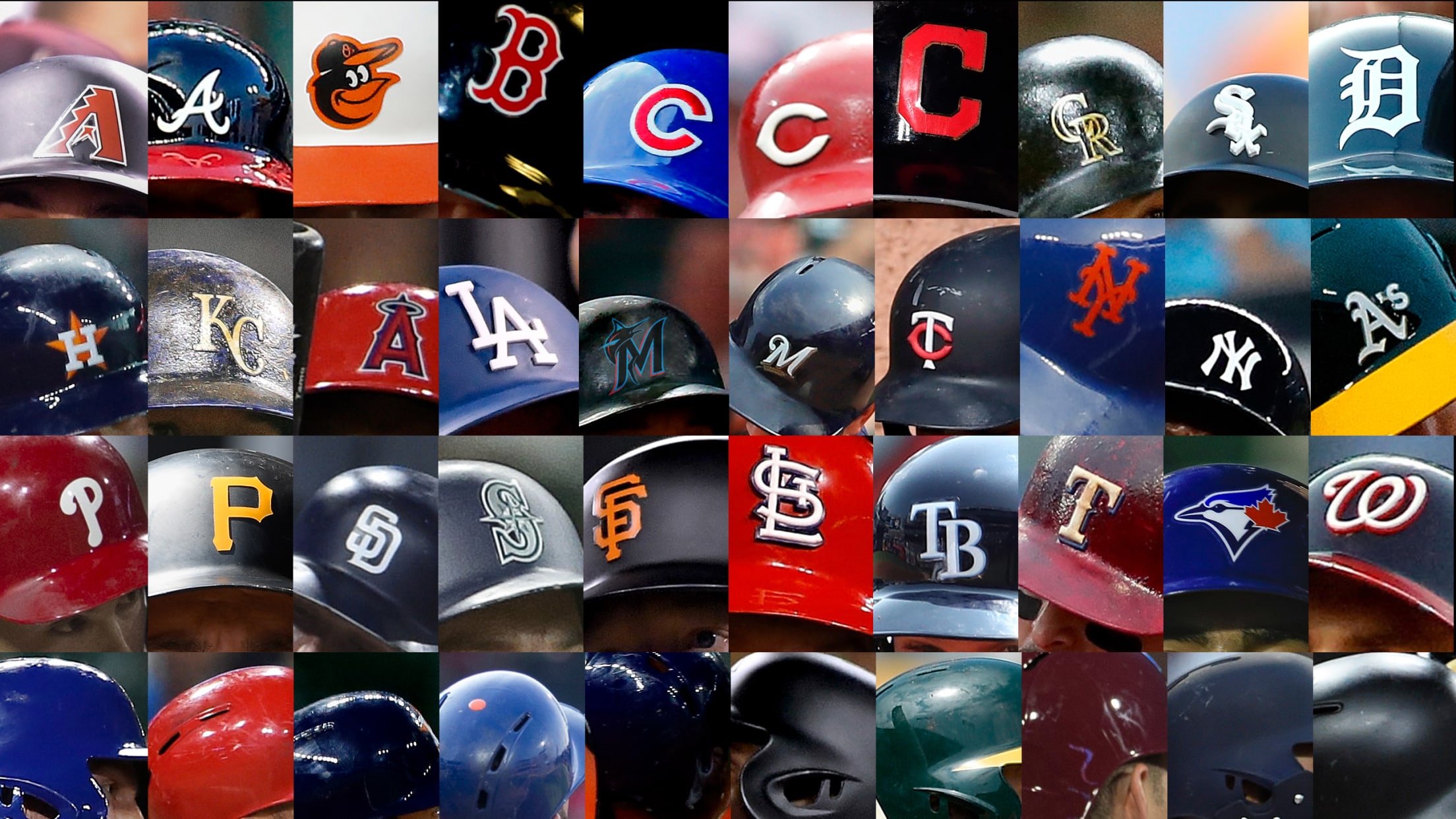 The All-Star break is an opportunity to take a step back from the standings and our individual teams and simply enjoy stress-free, frictionless baseball for a couple of days. We get to catch our breath … before matters start getting crazy. This year in particular, madness is in store: Both
5 NL West players who will dictate the Deadline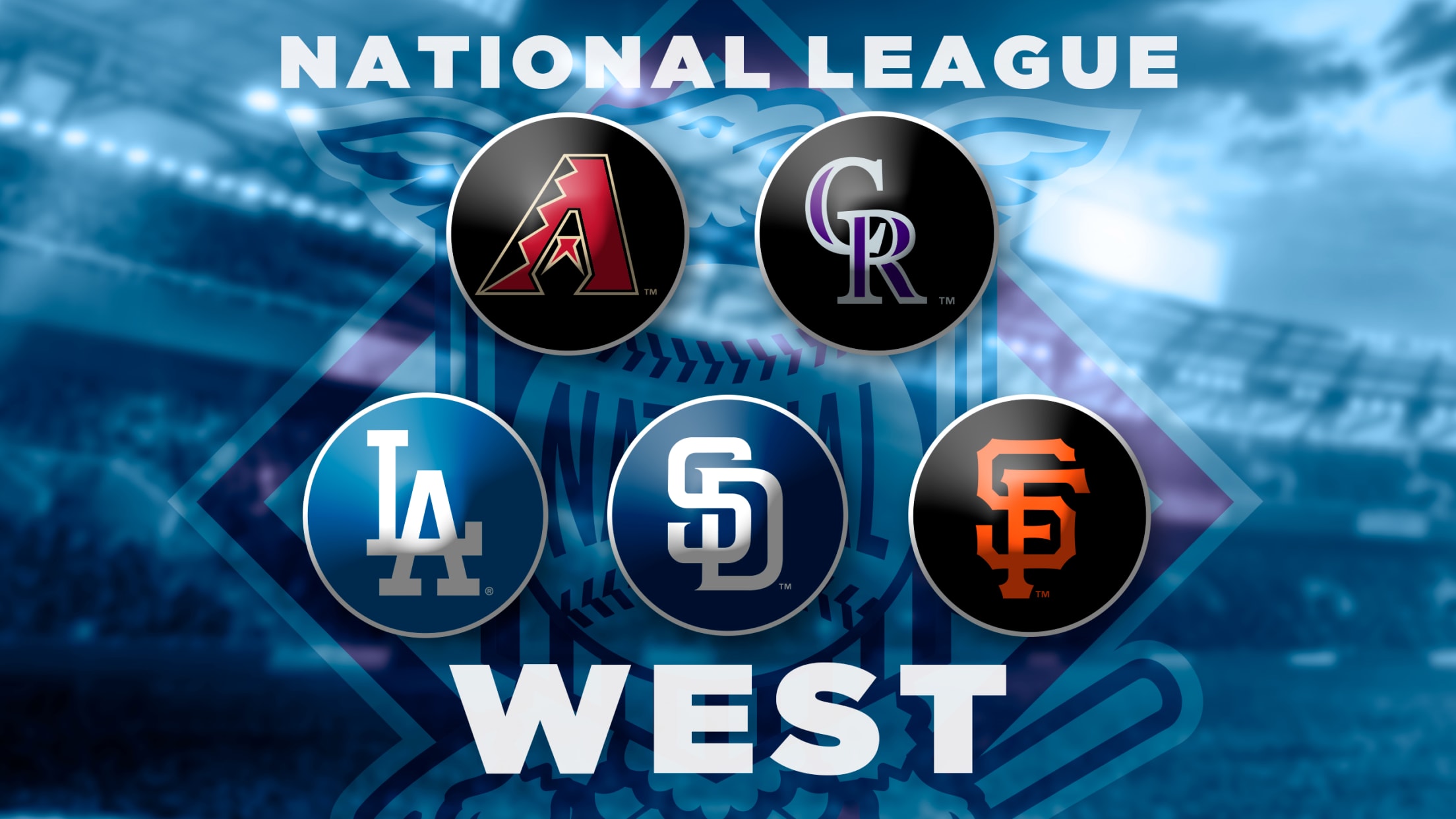 The adjustment to the Trade Deadline means that July 31 approaches with even more uncertainty than usual this year. There will be no waiver trades in August, which adjusts the math, as teams determine what they need and what they're willing to part with. So the next 20 days become
Will Rockies make big splash at Trade Deadline?
Colorado covets rotation help in pursuit of NL Wild Card spot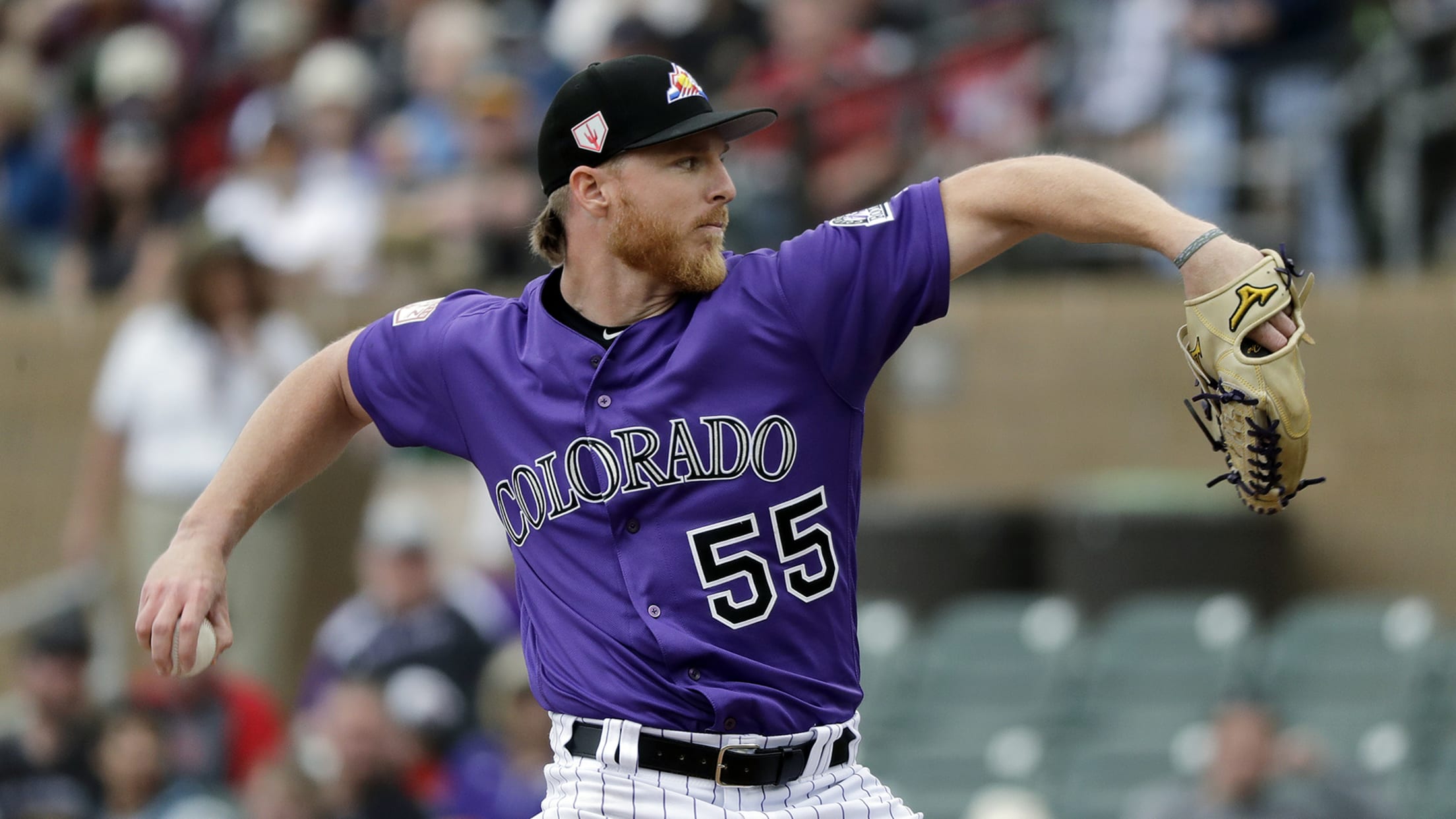 DENVER -- The question is simple to ask, potentially painful to answer, but maybe scarier to not answer: Do the Rockies have the players and the gumption to try to acquire either the Blue Jays' Marcus Stroman or the Giants' Madison Bumgarner. Ten MLB teams are in playoff position now
Prospects we'd like to see in '20 Futures Game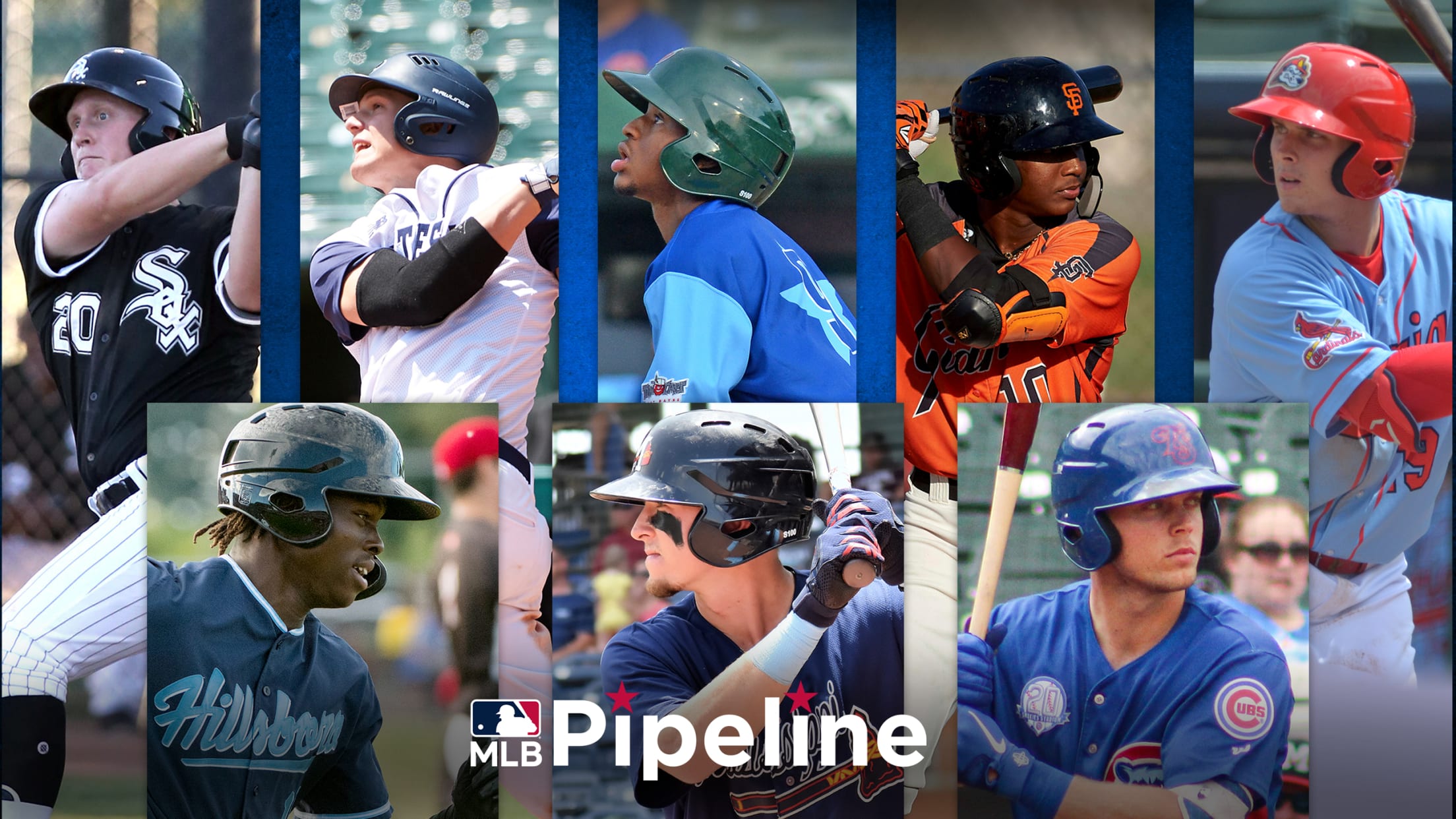 Many of the top prospects in baseball showcased their talent last Sunday in the 21st annual SiriusXM All-Star Futures Game, which saw the American and National League squads play to a 2-2 tie in eight innings. While it proved a pitching-dominated event, those who tuned in were offered a glimpse
HR trot gives Blackmon chance to savor ASG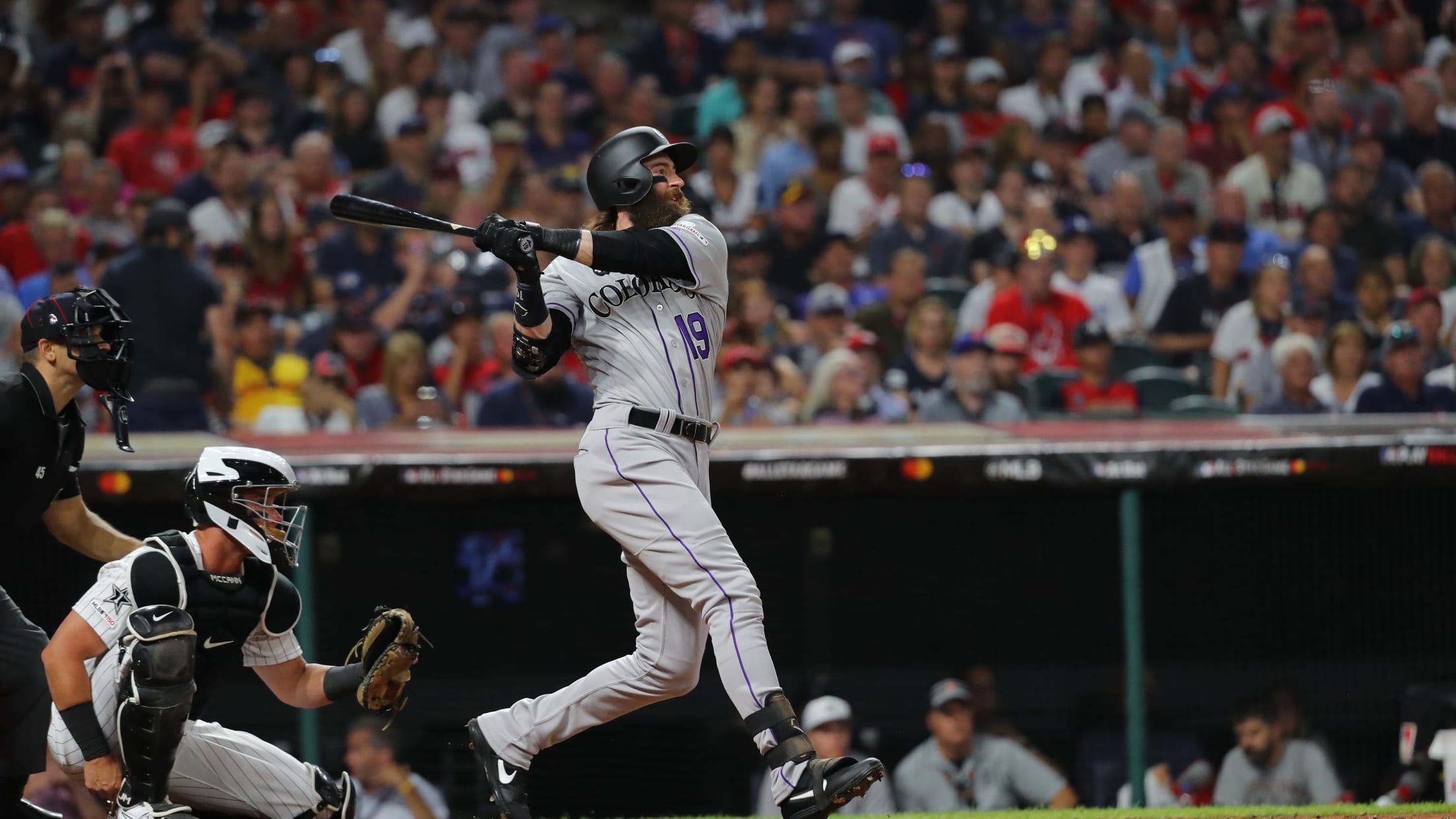 CLEVELAND -- In the National League clubhouse at Progressive Field on Tuesday afternoon, Charlie Blackmon reflected on how fast everything seems to take place at the Midsummer Classic. You set certain expectations for the event, Blackmon said, then you sometimes forget to take time to enjoy the moment. While trotting
Bowden to learn from rough Futures Game jaunt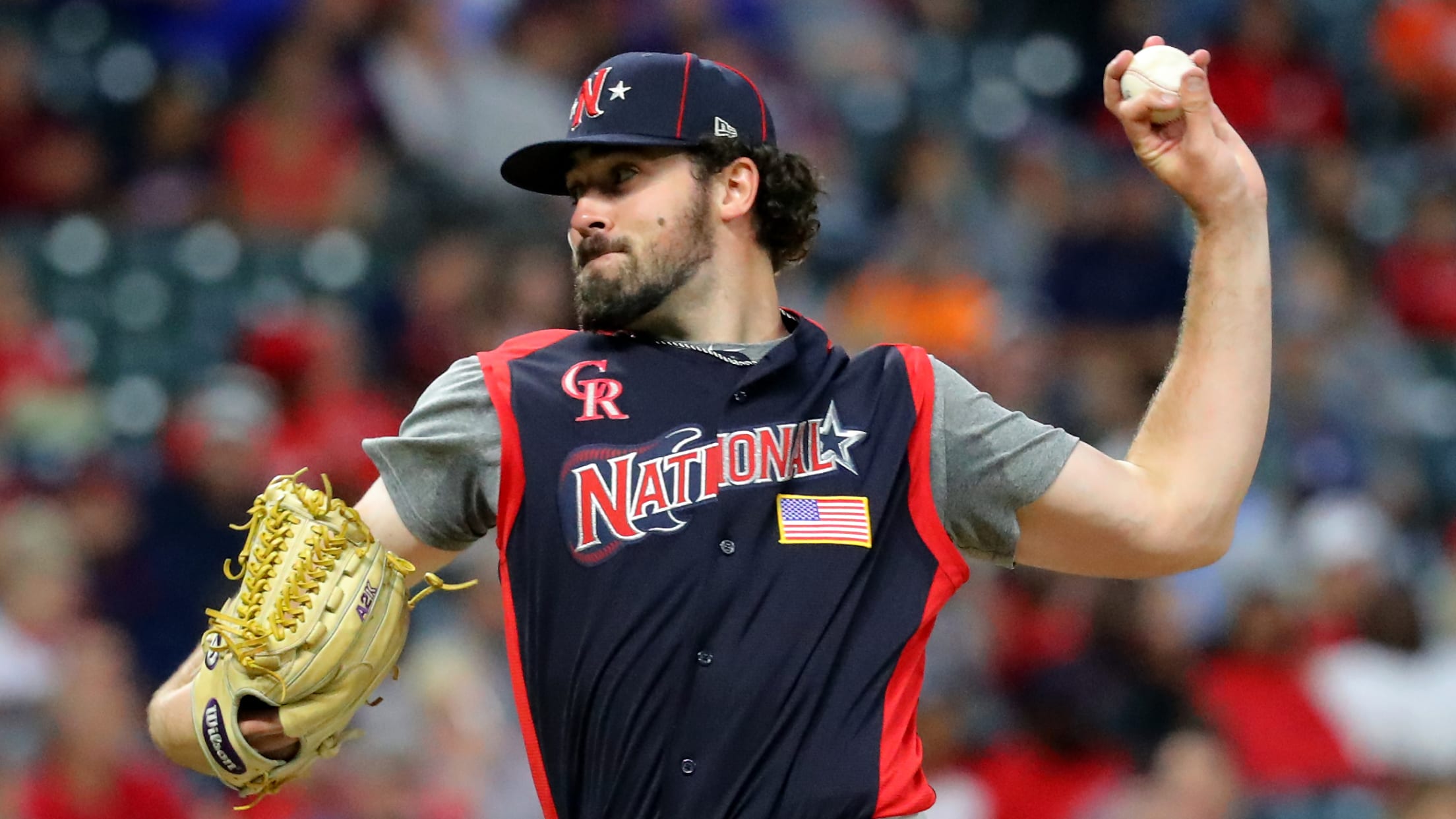 CLEVELAND -- Rockies lefty Ben Bowden, their No. 16 prospect, stood alone in silence in the middle of the National League dugout. He took a deep breath, tugged on his beard and hoped for the best. There was nothing more he could do. Bowden had just given up two runs
MLB Pipeline's Prospect Team of the Week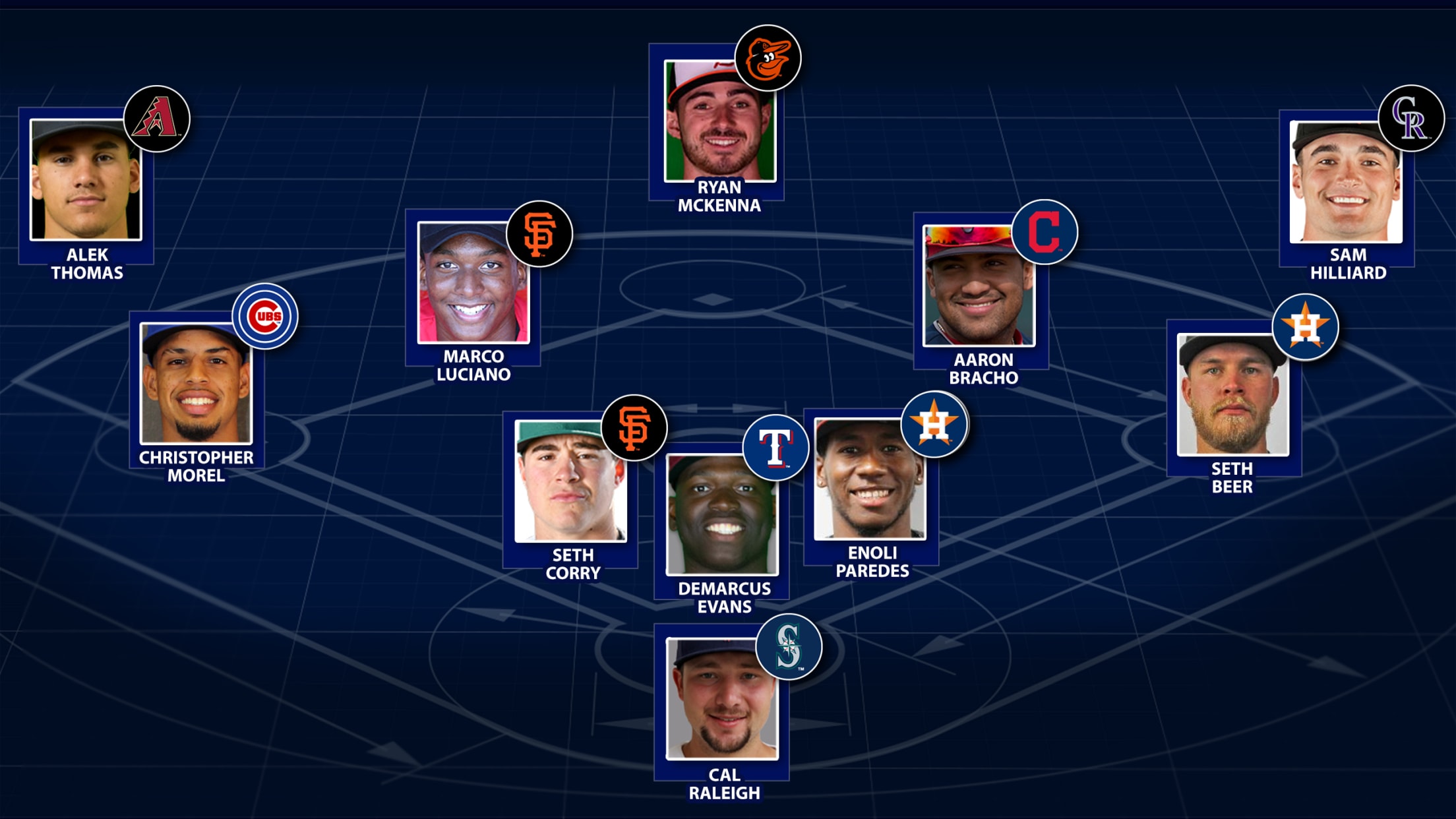 MLB Pipeline's Prospect Team of the Week honors the best performances from the previous seven days. Any Minor Leaguer currently on an organization Top 30 Prospects list on our Prospect Watch is eligible. Sunday's SiriusXM All-Star Futures Game meant it was a shorter week for some top prospects, and as
Rox perk up late, but skid reaches 6 games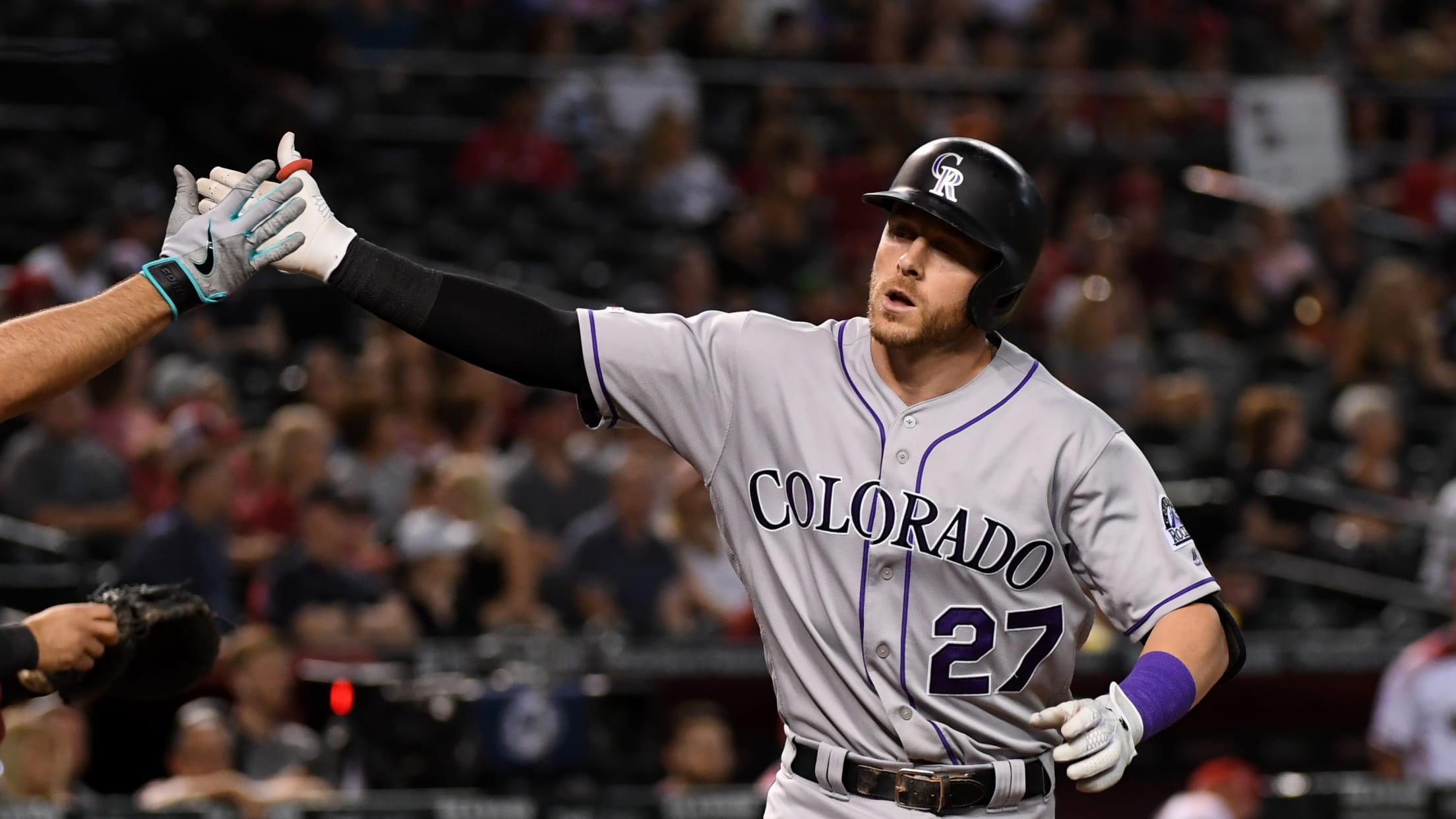 PHOENIX -- Rockies right-hander German Márquez joked that he is going to "hang out with my bed" after the second-heaviest innings load in the National League during the first half, which ended with a helping of frustration Sunday afternoon. Marquez pitched better than his line -- five runs (four earned)
Shift adds wrinkle to Arenado's barehand play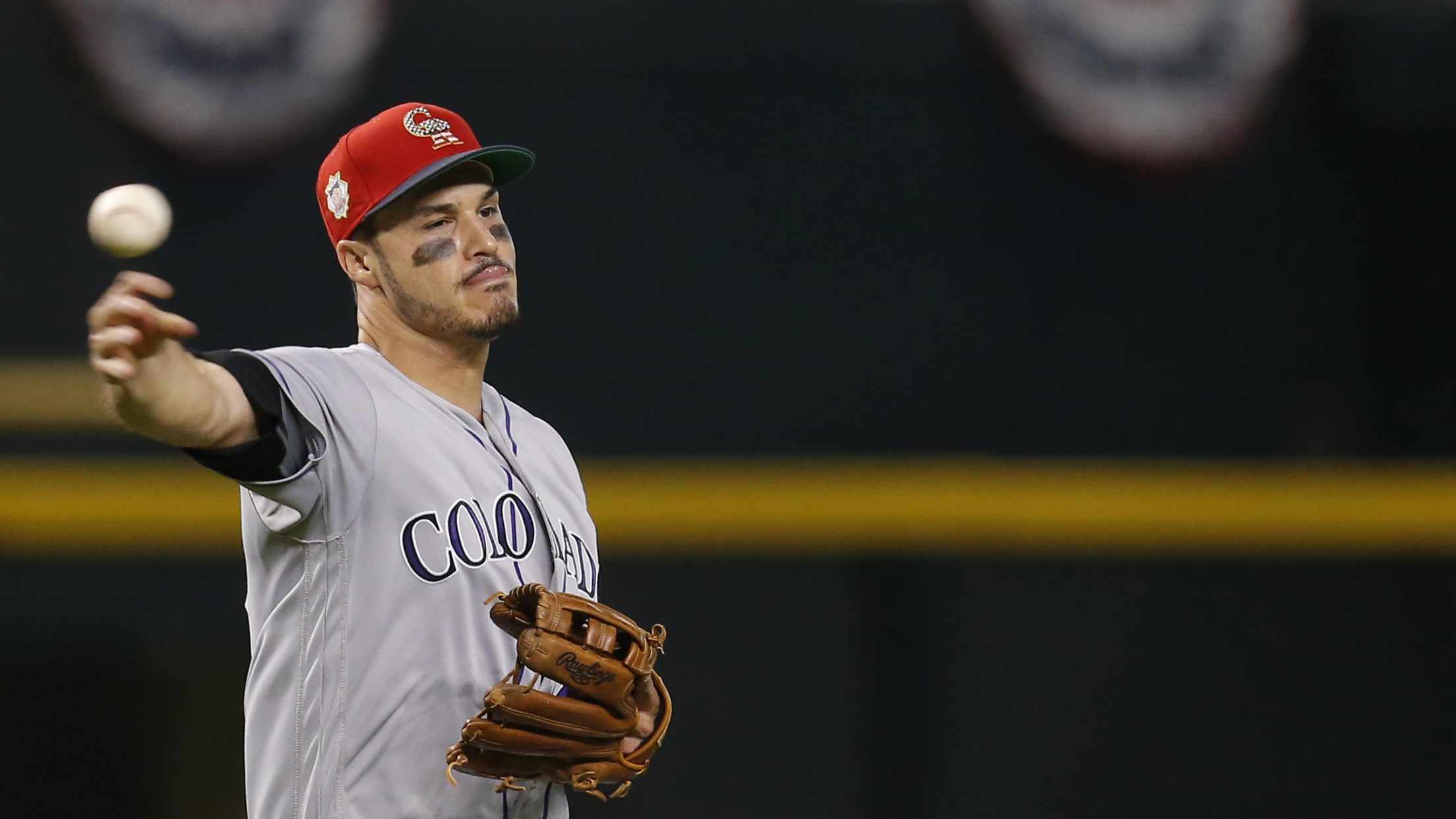 PHOENIX -- Rockies third baseman Nolan Arenado didn't wait until Tuesday night's All-Star Game to shine defensively. In the seventh inning of the Rockies' final game before the break, a 5-3 loss to the D-backs on Sunday afternoon at Chase Field, Arenado flashed his six-time Gold Glove-winning form -- by