Wolters lifts Rox to walk-off win in wild game
Arenado: 'I knew we were going to win that game with Tony up next'
DENVER -- Tony Wolters' offseason project was to simplify his offensive approach. And in case he wants to believe more is better, he has plenty of teammates to remind him through word and deed that less is best. After three hits Sunday afternoon, one simple thought -- fire at a
Arenado's milestone can't bail out Freeland
Rockies 3B hits 200th HR, but lefty starter allows 7 runs in 4 IP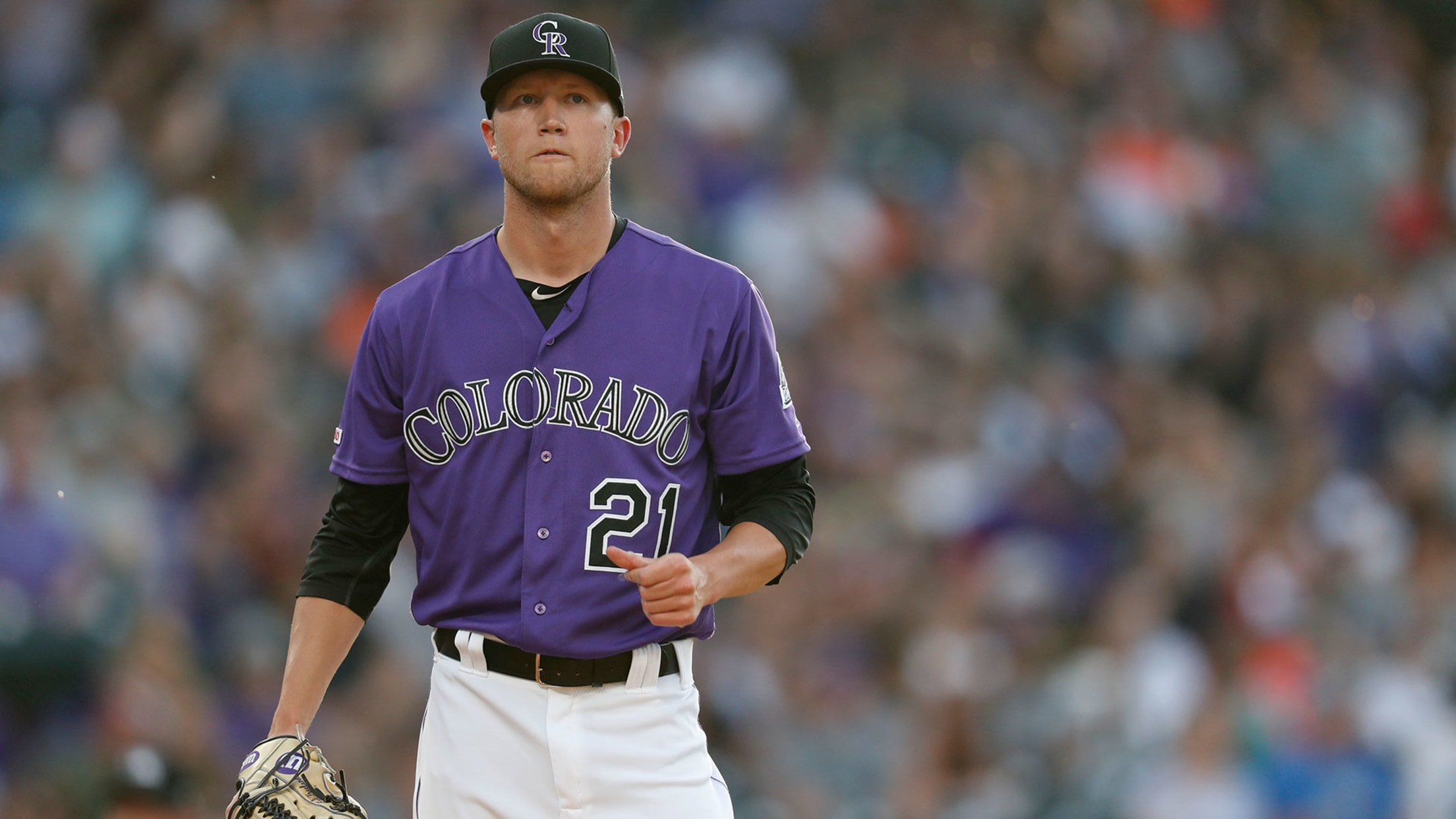 DENVER -- A year later, Kyle Freeland can't stop a negative spin. After going 1 2/3 innings in his previous start, Freeland wasn't much better Saturday night. He gave up seven runs and a season-high 10 hits in just four innings as the Rockies fell to the Orioles, 9-6, at
Sunday's top prospect performers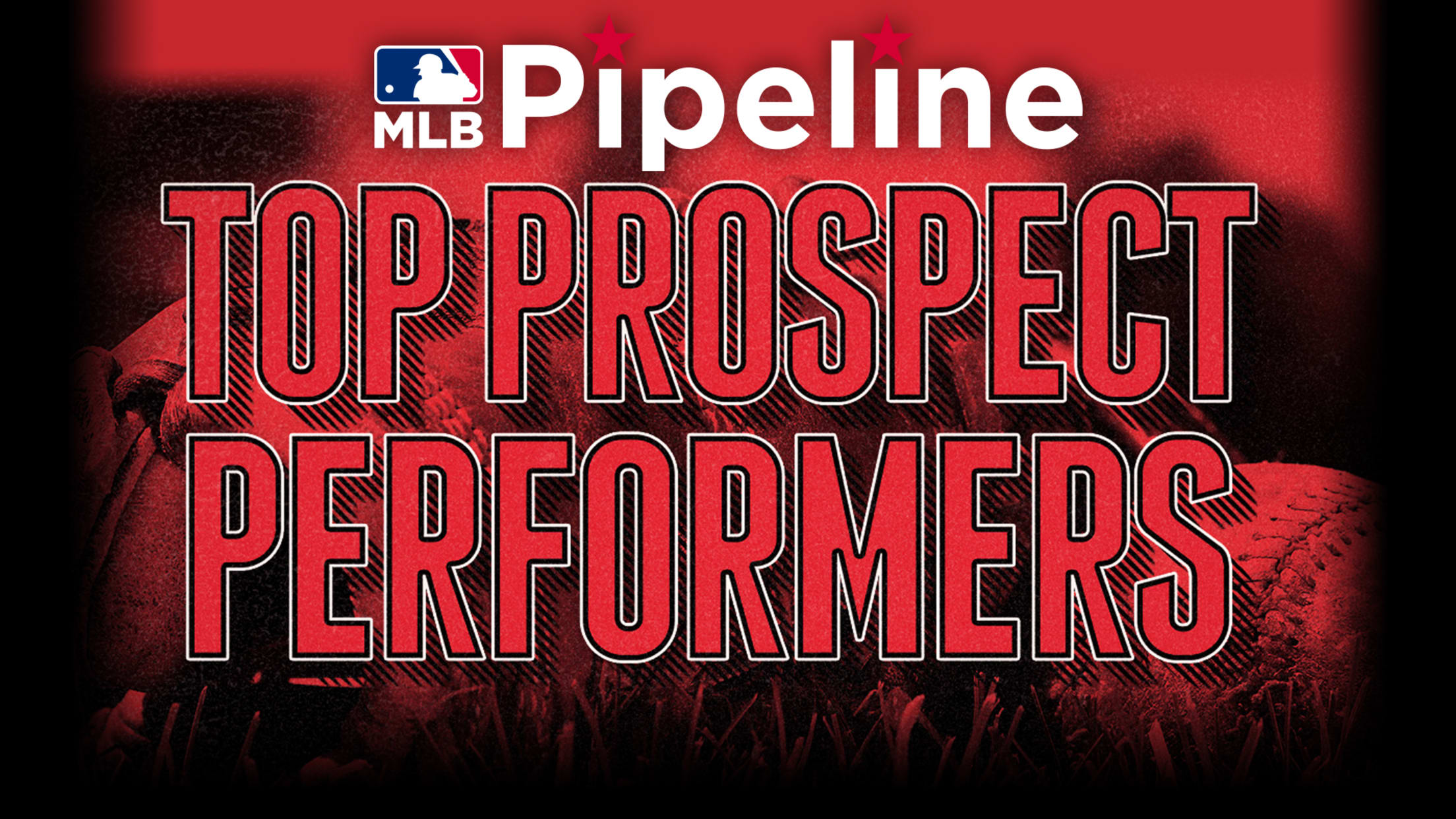 Here's a look at Sunday's top Minor League performers from each team's Top 30 Prospects list: AMERICAN LEAGUE EAST Blue Jays: Riley Adams, C (No. 28) -- 2-for-3, HR (6), 3 RBI, 2 R, BB (Double-A New Hampshire) Adams added to his career-high home run total as he went deep
Arenado launches 200th career homer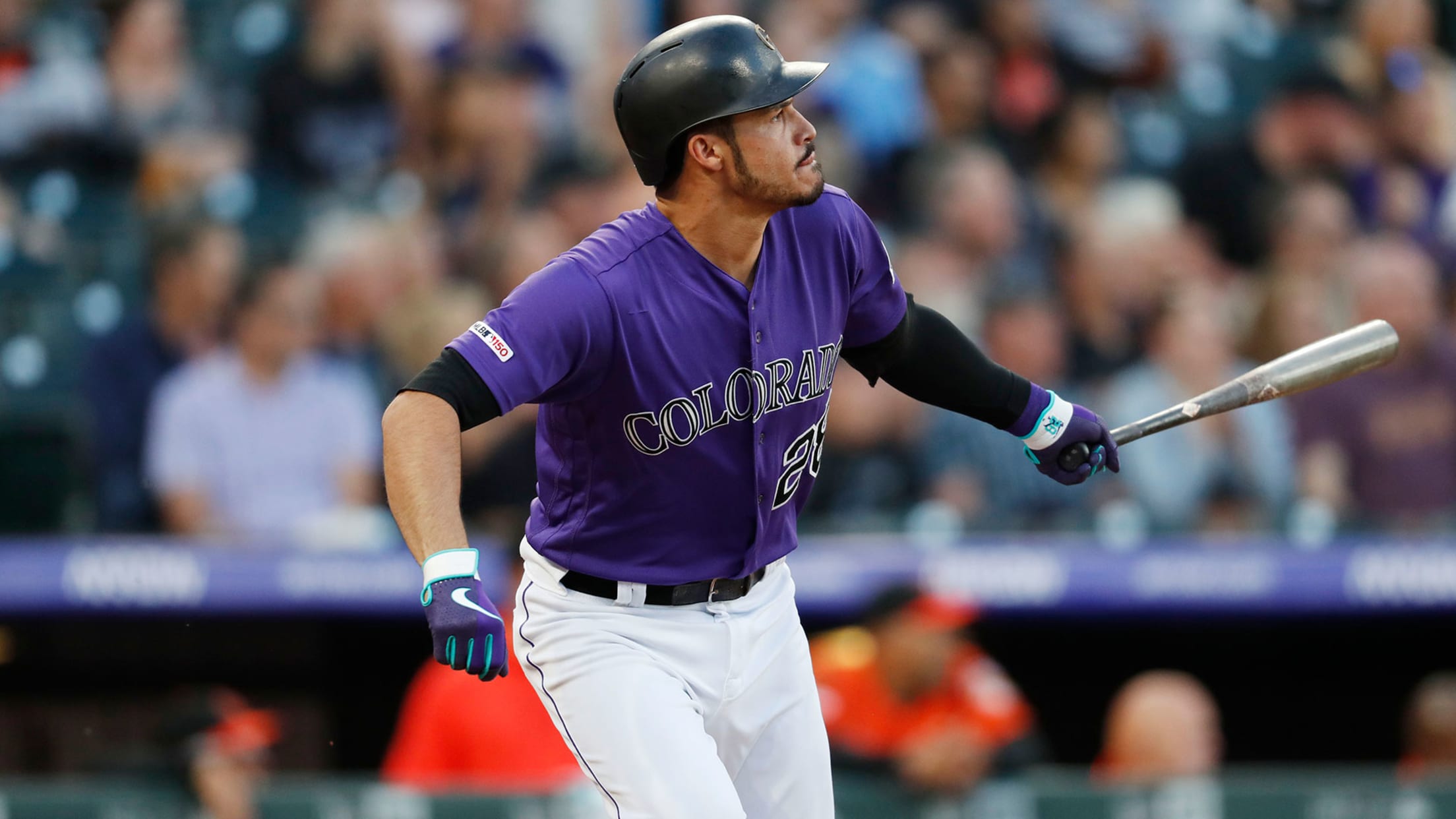 DENVER -- Nolan Arenado decided he needed a milestone homer of his own Saturday night. Arenado swatted his 200th career home run, a three-run shot to give his team a 4-3 lead over the Orioles, against pitcher Andrew Cashner in the bottom of the third inning of a 9-6 loss.
PLAY Campaign event promotes health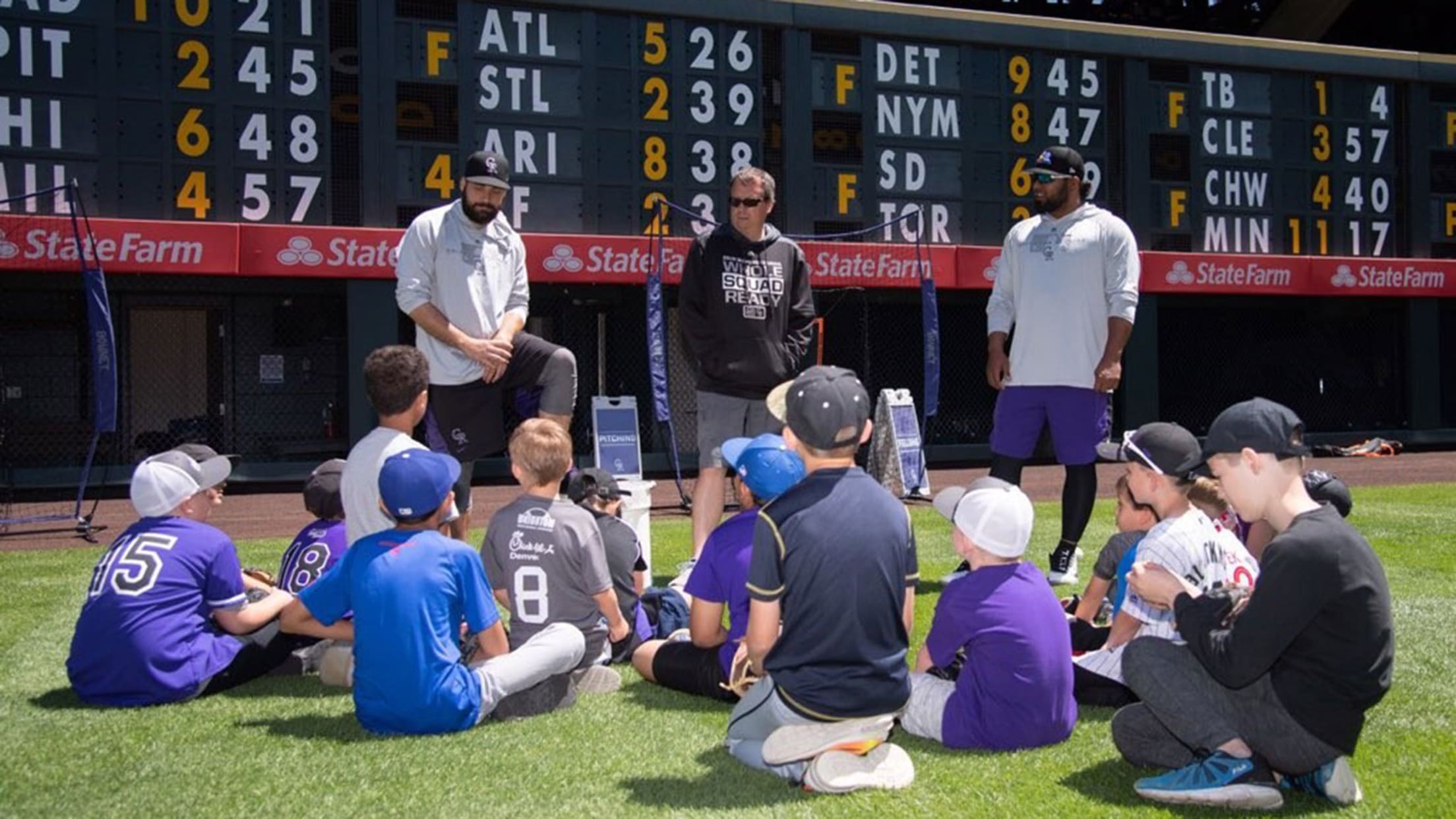 DENVER -- The 2019 National PLAY Campaign made a stop at Coors Field on Saturday, as the Rockies and the Taylor Hooton Foundation promoted the importance of physical activity and avoiding performance-enhancing drugs to 150-160 area children, ages 7-16, and their parents. But it turned out to be educational for
Story breaks an A-Rod mark, then walks off
Home run No. 100 fuels 7th-inning rally; No. 101 delivers walk-off win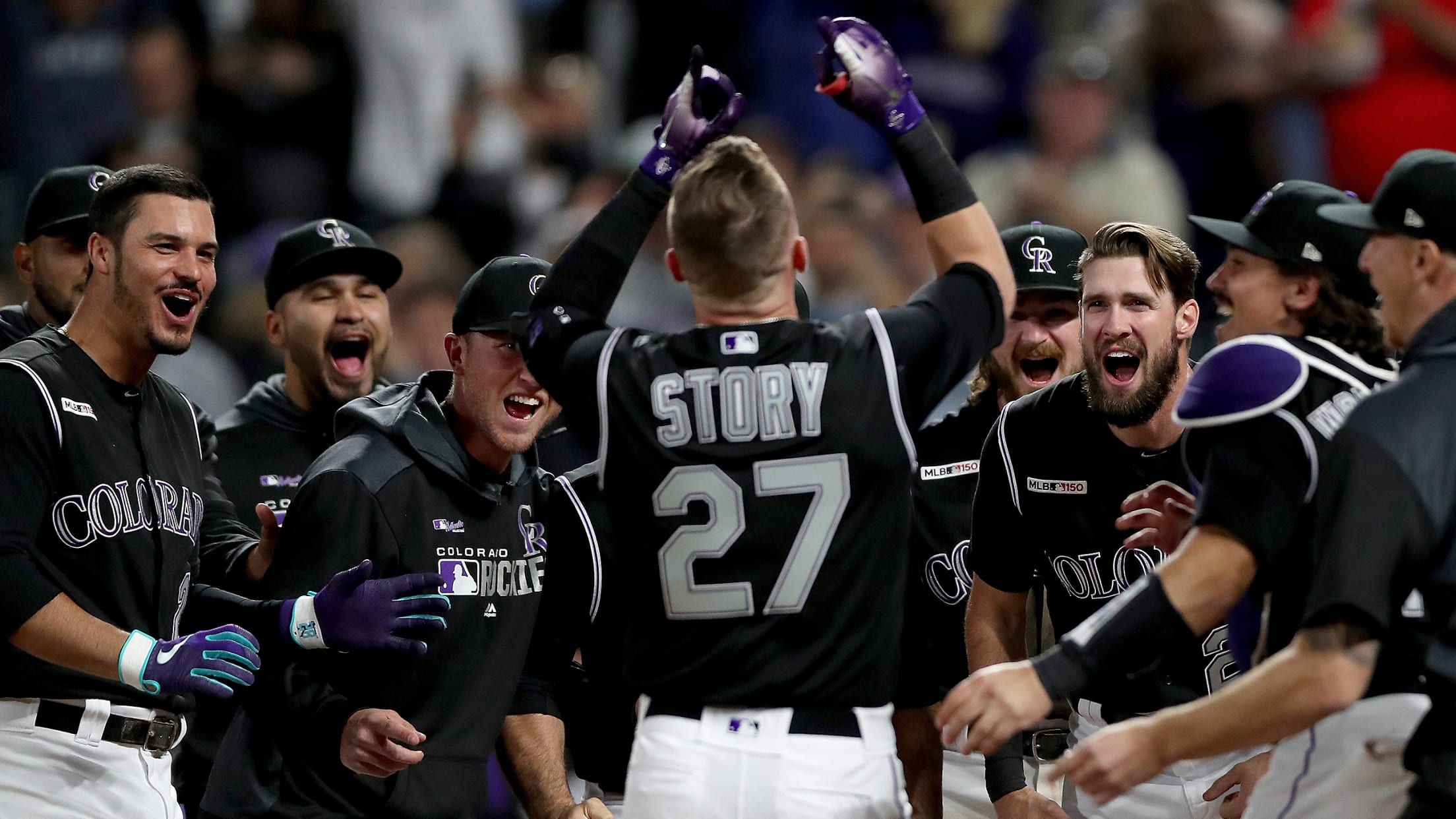 DENVER -- The Rockies' Trevor Story's milestone home run Friday night -- a seventh-inning, two-run shot that made him the fastest shortstop to 100 homers in history -- excited teammate Nolan Arenado so much that he celebrated by hitting his own homer, his second of the game. "I was either
Wolters provides infield skills behind the plate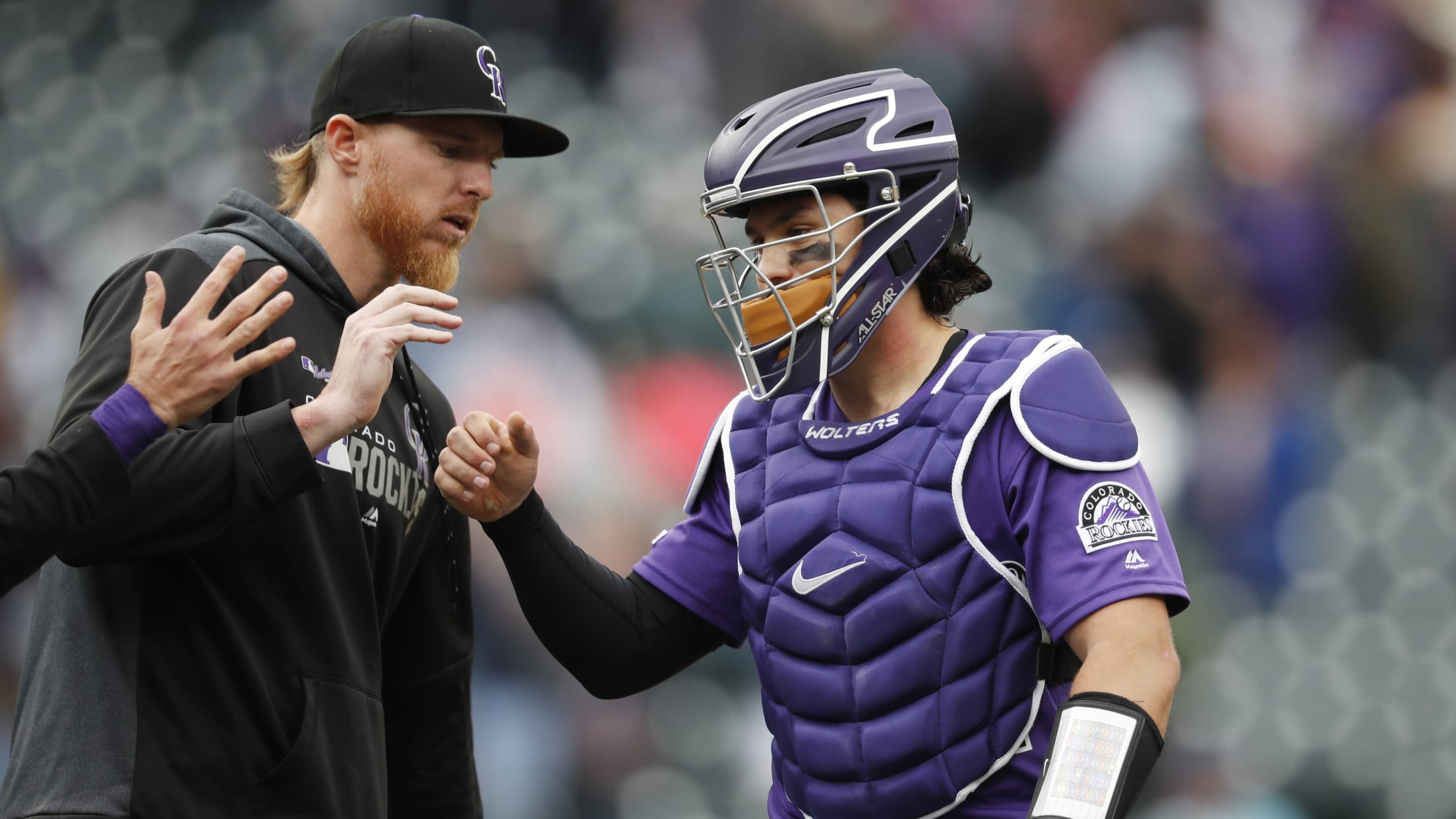 DENVER -- The Rockies' Tony Wolters is all catcher now, but he maintains the feelings of playing in the middle infield -- where he played until his original organization, the Indians, converted him to catcher in 2013. "Whenever \shortstop] [Trevor Story gets those plays that are to his right and
Rockies rally, but staff can't contain Bucs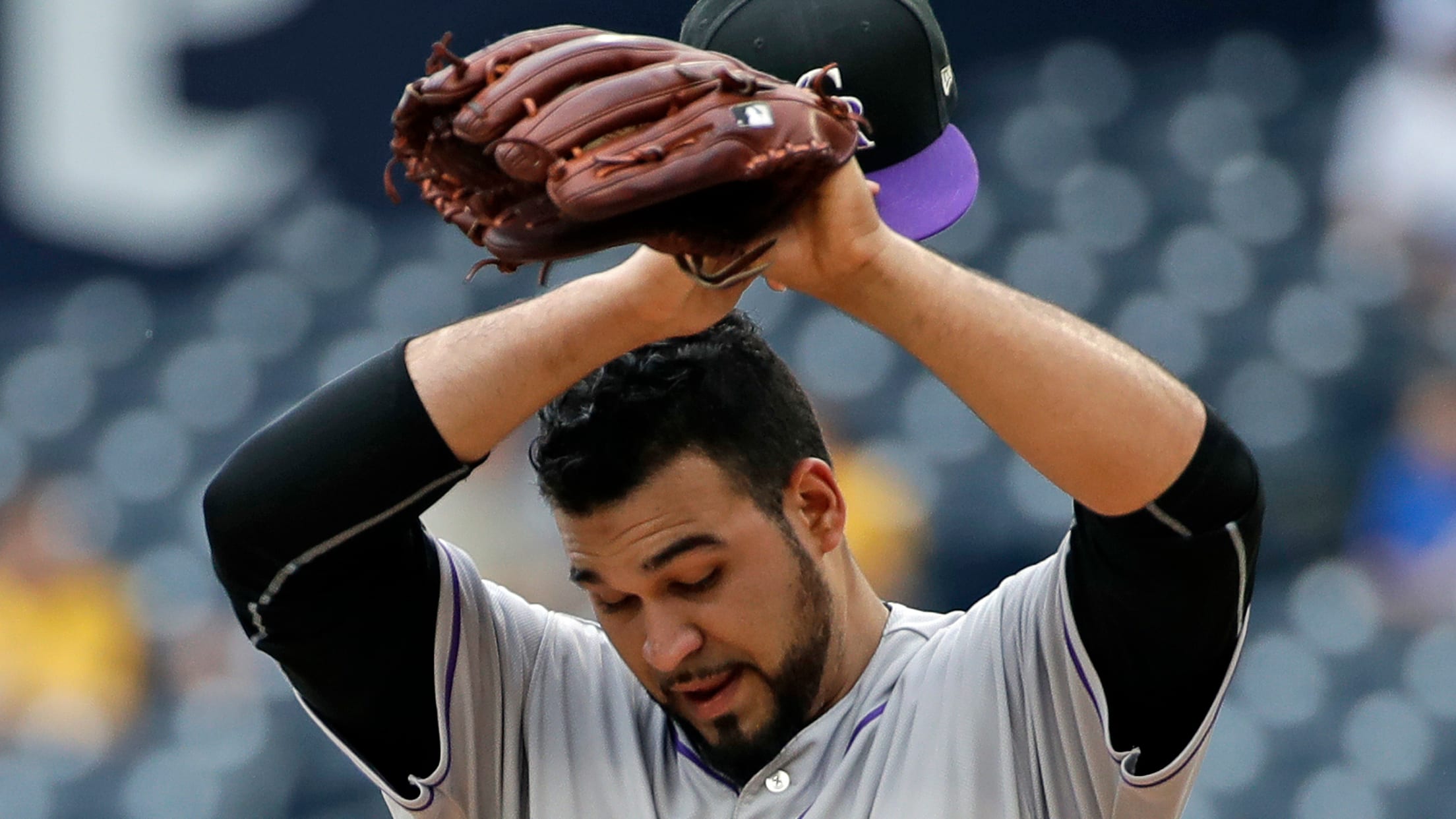 PITTSBURGH -- Thursday afternoon's 14-6 Rockies loss to the Pirates, when Antonio Senzatela yielded eight runs and nine hits in 3 1/3 innings but the team made it close, was a slight aberration from the theme of the eight-game road trip just ended. With a chance to finish at .500
Blackmon exits with right calf injury
Rockies uncertain about outfielder's status for opener vs. Orioles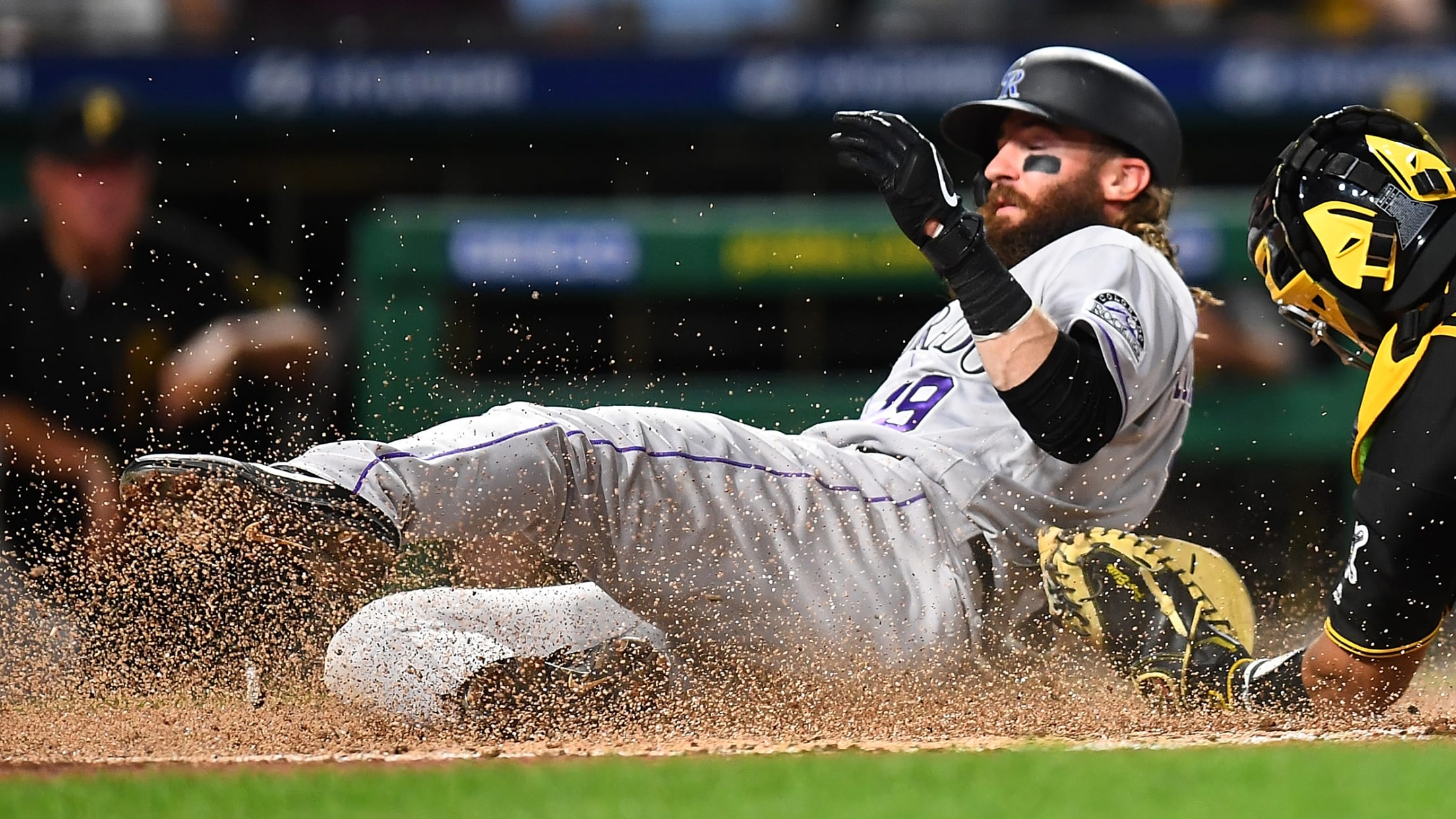 PITTSBURGH -- Right fielder Charlie Blackmon, one of the National League's most consistent hitters this season, left Thursday's 14-6 loss to the Pirates after four innings with a right calf injury. It's not clear if he'll be available for Friday night's game against the Orioles. Blackmon, who has hit safely
Here's the latest mock draft for the full 1st round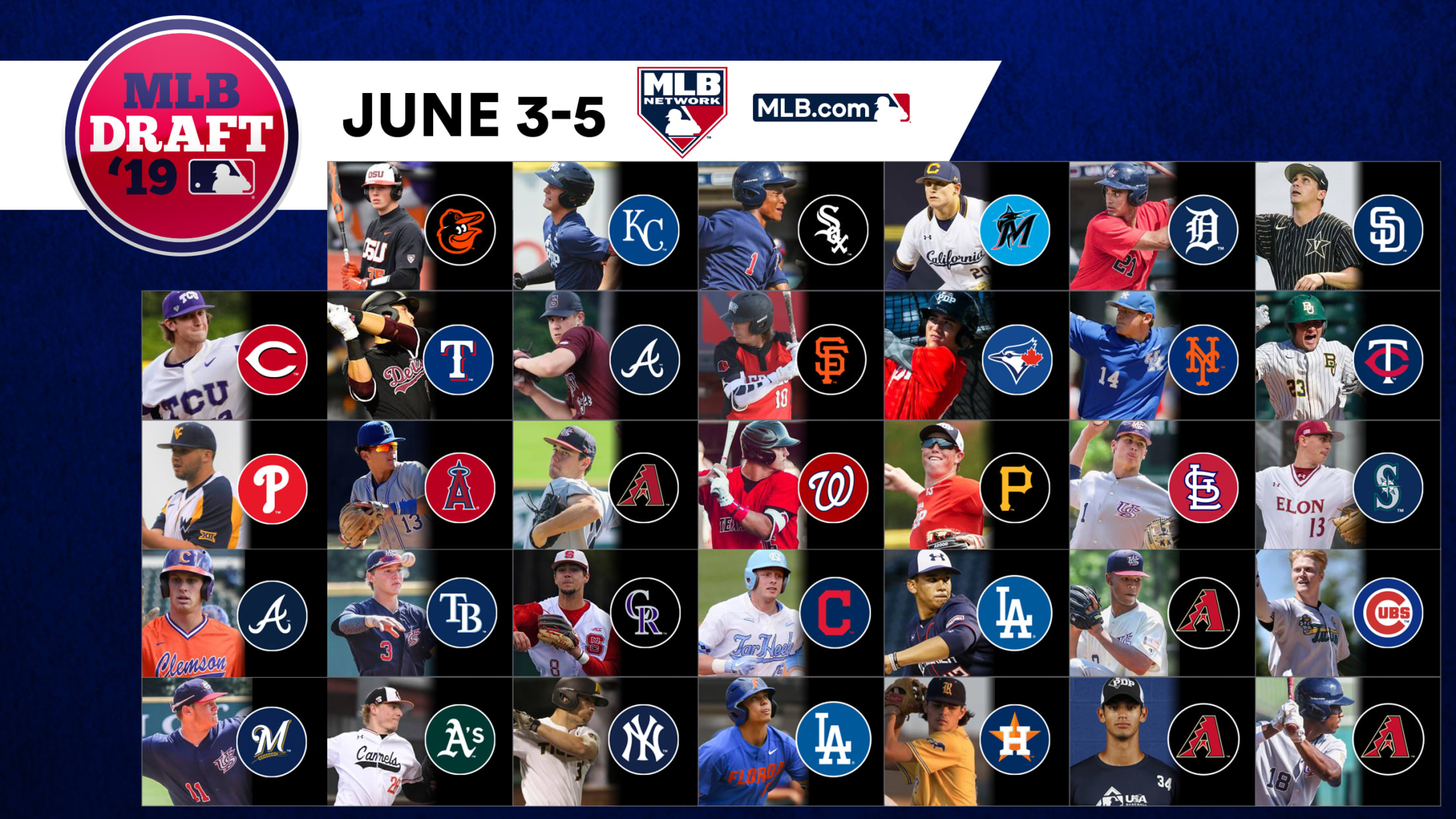 Who will go first in the 2019 MLB Draft? Nearly all scouting directors not picking No. 1 overall believe that Oregon State catcher Adley Rutschman is the obvious best choice for the pick. And most believe he will end up being taken by Baltimore. But there's still an alternative narrative:
Here are all 30 clubs' reps for the 2019 Draft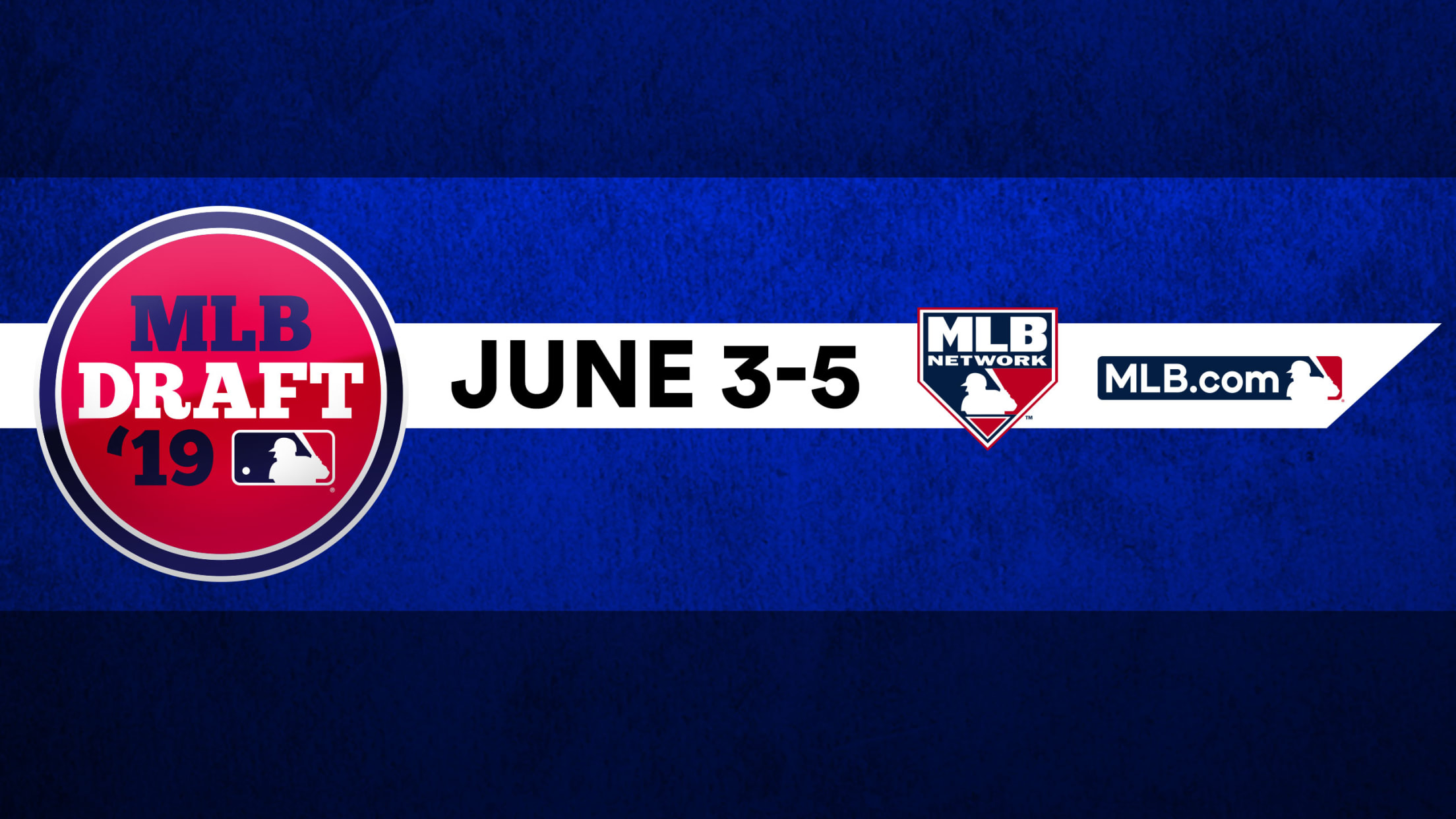 Eighteen former Major League All-Stars — including three Hall of Famers, two Most Valuable Players, two batting champions and two Cy Young Award winners — are among the baseball luminaries scheduled to represent the 30 clubs at Major League Baseball's 2019 Draft, it was announced Thursday. Amateur players who will
One key number for each NL West team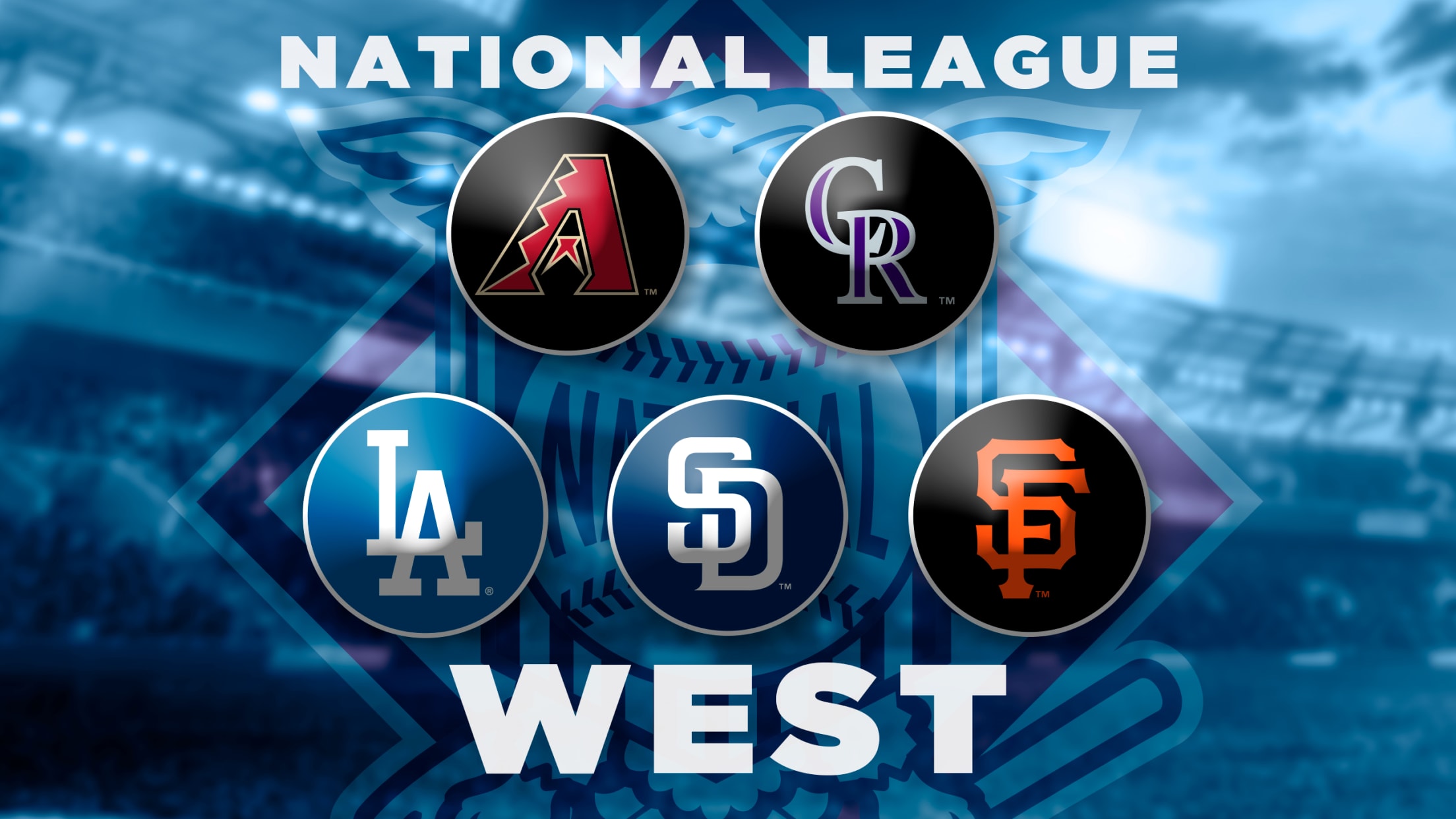 The National League West picture is growing clearer as the Memorial Day milepost approaches. The Dodgers have jumped out to a big lead once again, but the rest of the division is crowded, with potentially as many as four teams that could find themselves in the Wild Card hunt. With
Gray continues to show mental toughness
Righty overcomes early adversity as Rox outslug Bucs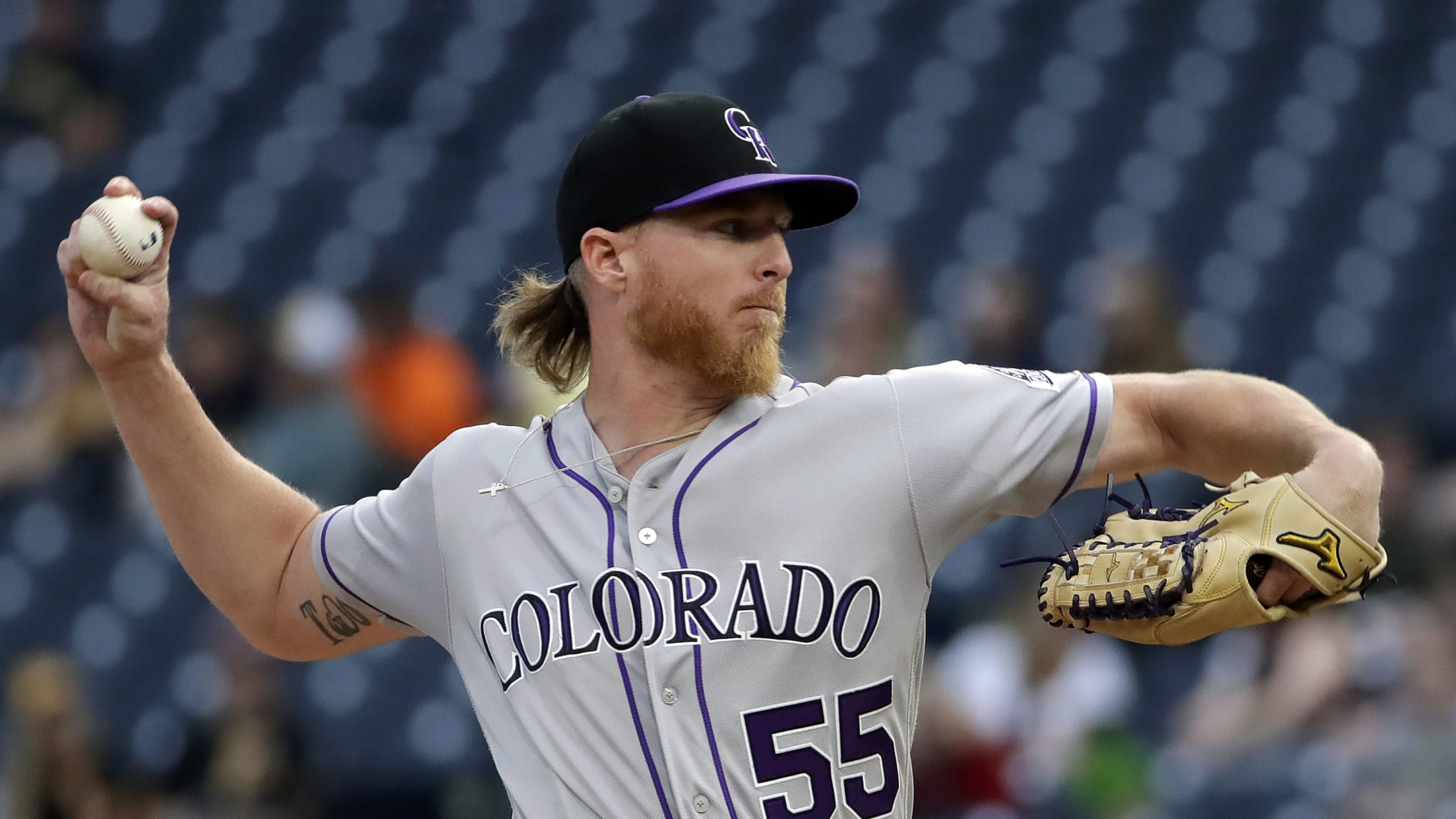 PITTSBURGH -- Most of PNC Park "ooh'ed" and "aah'ed" at the ball floating in the Allegheny River, courtesy of the long ball off the bat of the Pirates' Josh Bell. But Rockies pitcher Jon Gray blocked it all out and briefly peered at the American flag behind the bullpens in
Diaz's emotional road culminates with callup
Righty takes roster spot of closer Davis (left oblique strain)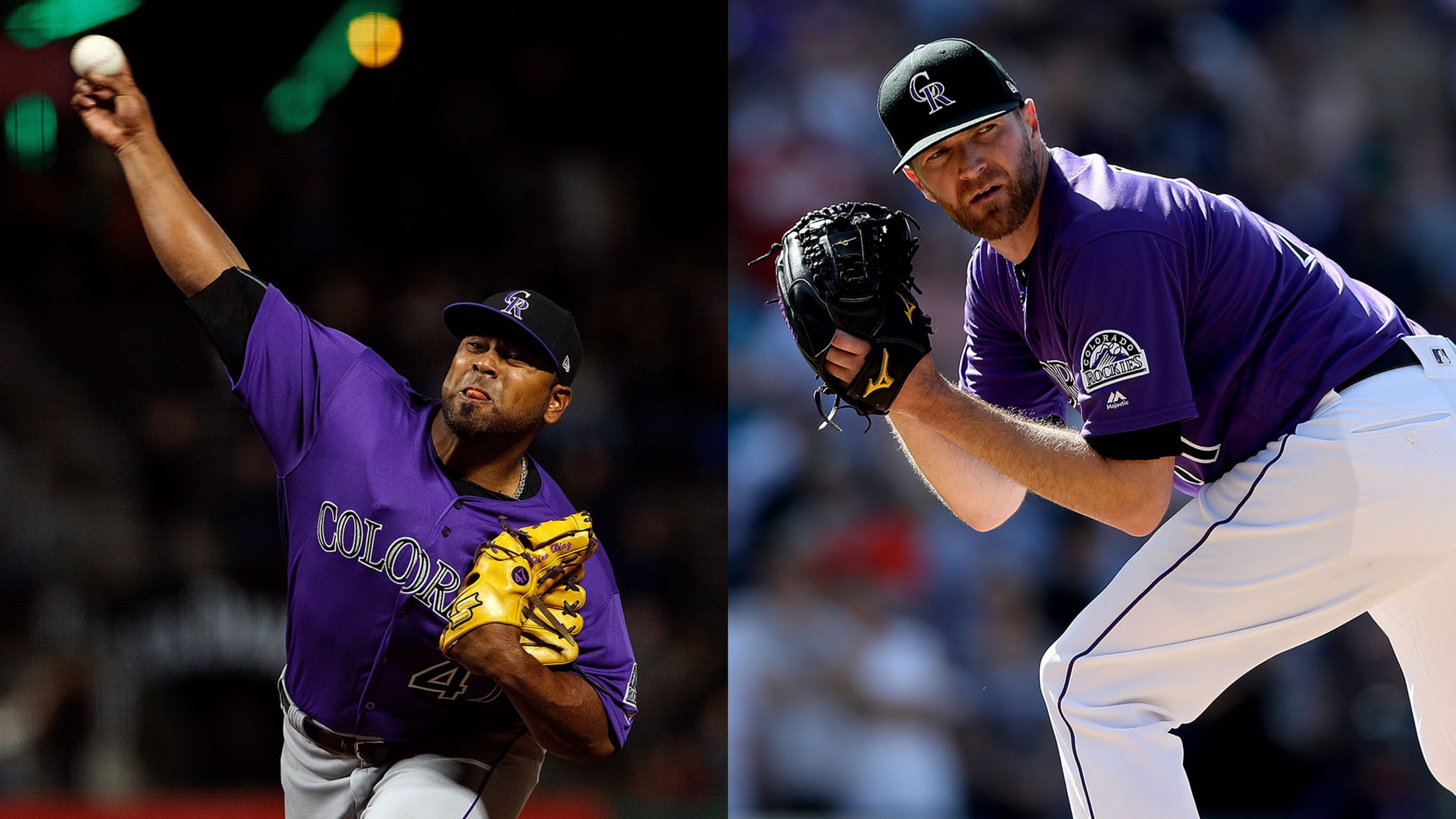 PITTSBURGH -- Returning to the Majors for the first time since 2017 after dealing injury and family tragedy, right-handed relief pitcher Jairo Díaz joined the Rockies on Wednesday, with his arm and his strategy intact. Diaz, who has a 0.45 ERA in 20 innings over 16 games at Triple-A Albuquerque,
Right on the Mar-quez: German thwarts Bucs
Rockies' workhorse throws 8 scoreless, collects RBI knock at dish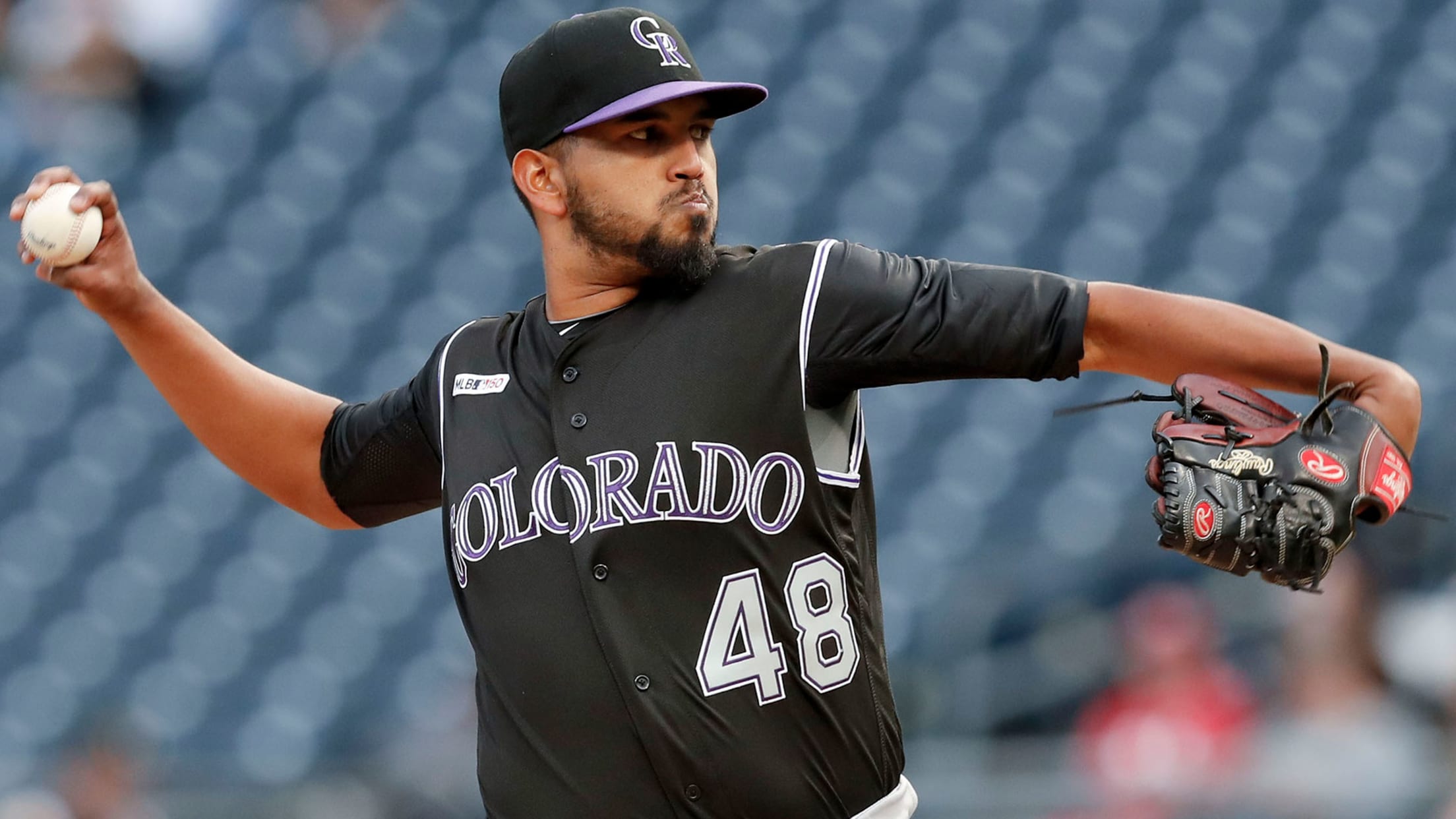 PITTSBURGH -- German Marquez exercised his prerogative as the Rockies' starting pitcher Tuesday night by choosing a black sleeveless jersey that hasn't been seen since April 1. Then he spent eight scoreless innings making sure it looked really good. Marquez struck out seven, yielded just three hits and went eight
Anderson set for knee surgery; return TBD
Righty Hoffman in line to seize vacant rotation spot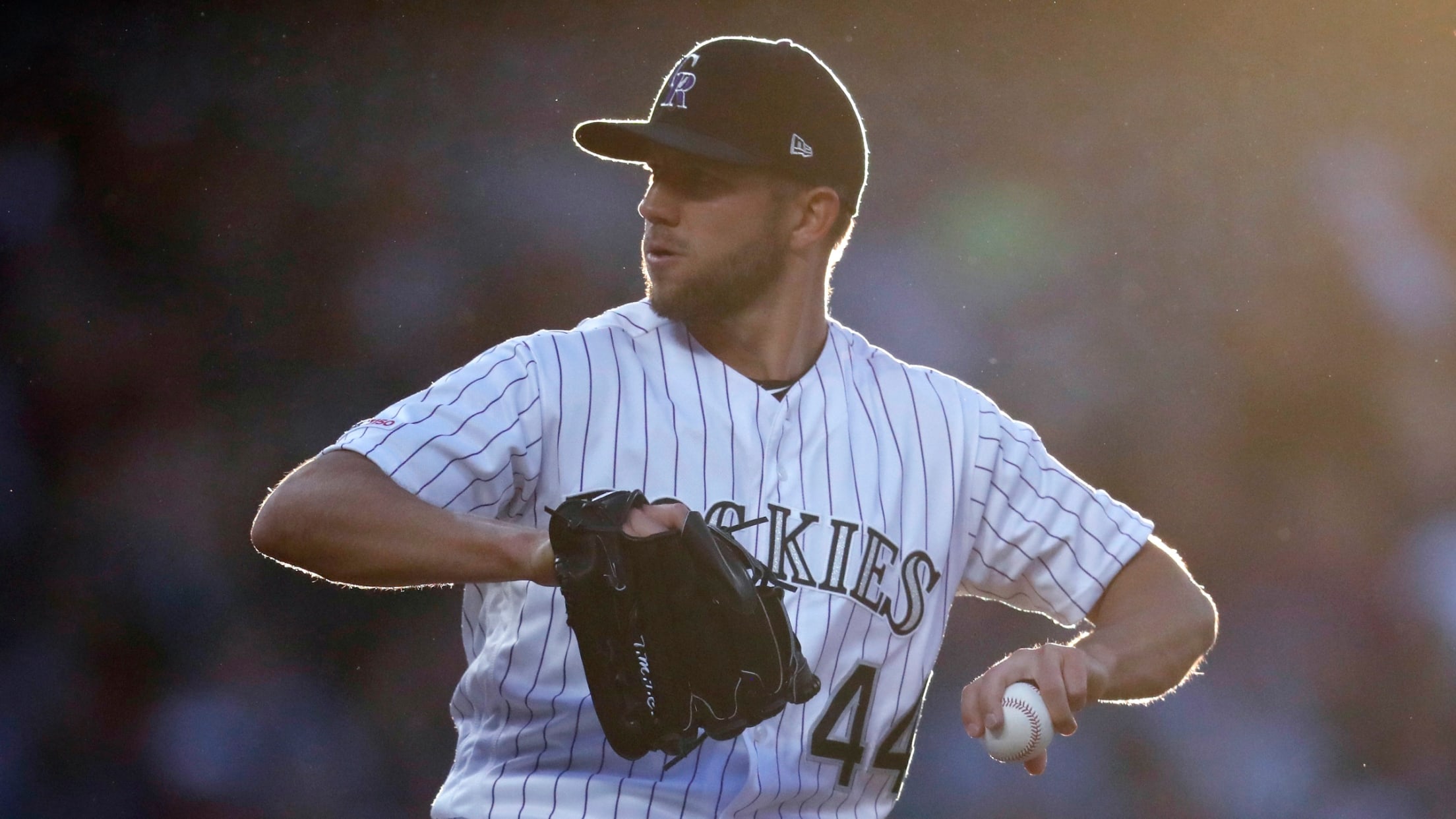 PITTSBURGH -- Rockies left-handed pitcher Tyler Anderson will have surgery on his ailing left knee, and it won't be known until after the operation whether he can return this season, manager Bud Black said Tuesday. At any rate, the Rockies -- going with a four-man rotation until Saturday, when a
Inbox: Is Murphy's finger hurting his swing?
Beat reporter Thomas Harding answers questions from Colorado fans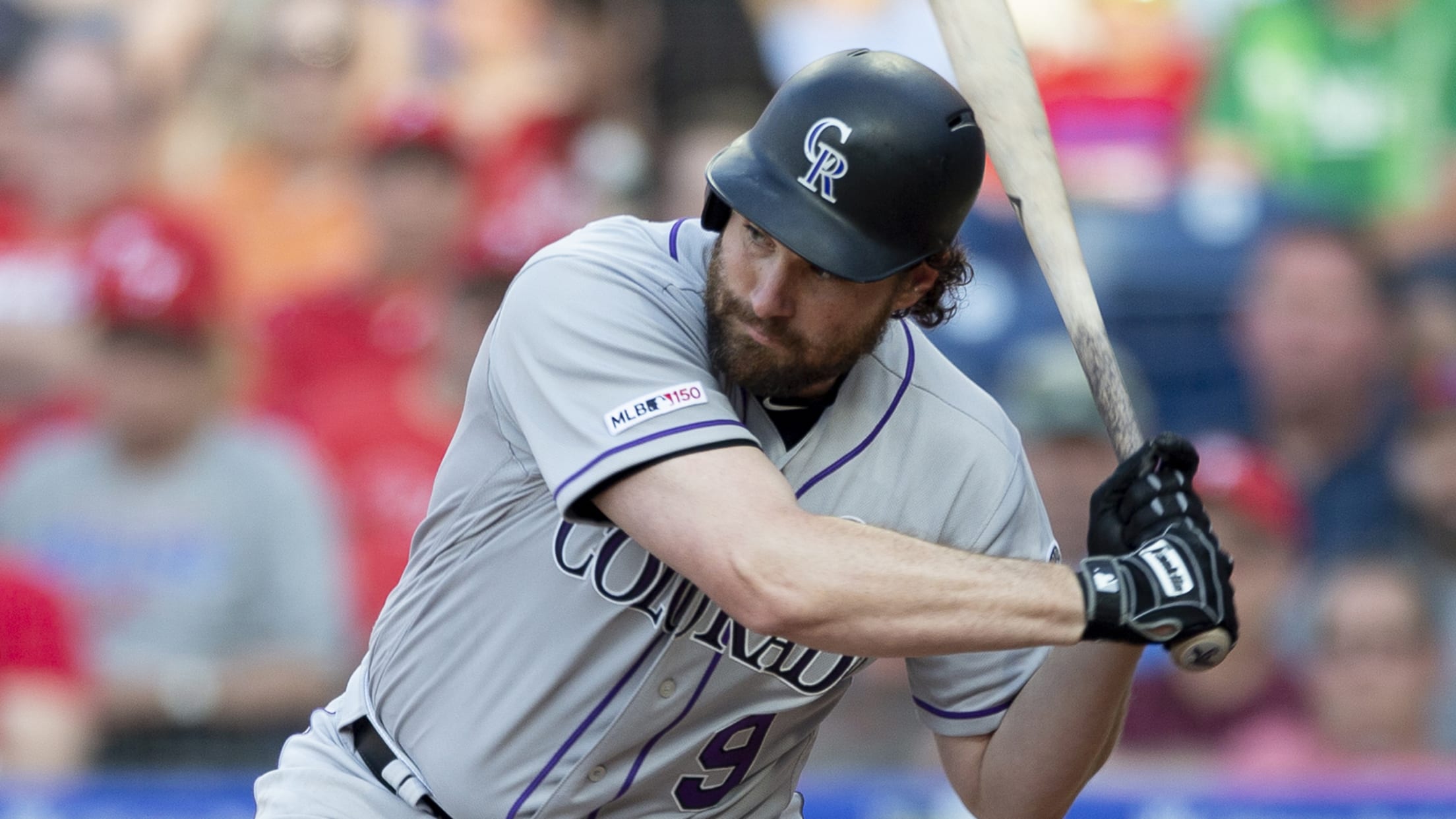 Is Daniel Murphy actually healthy? Is his finger messing with his swing? If so, shouldn't he go on the IL? -- Adam H., Colorado In 20 games since returning from an avulsion fracture of the left index finger, Murphy has hit .183 with two home runs (in his third and
Four home runs not enough vs. Phillies' bats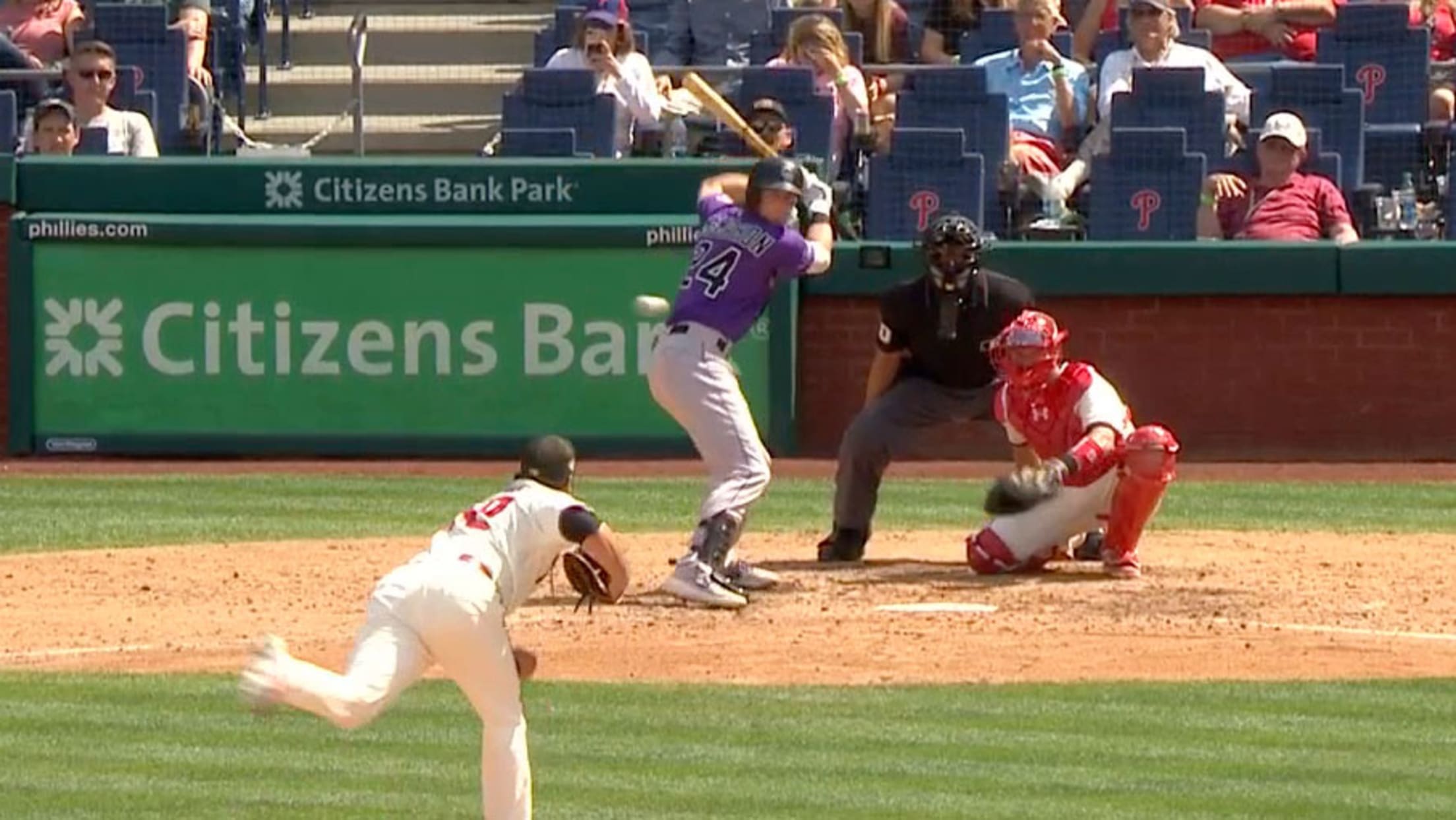 PHILADELPHIA -- The Rockies socked four home runs Sunday, including two by Ryan McMahon as part of his argument for playing time at second base. But, as has been the case in four of the five games on this road trip, they left with no reason to celebrate. Sixth-inning homers
Blackmon advocates to keep game clean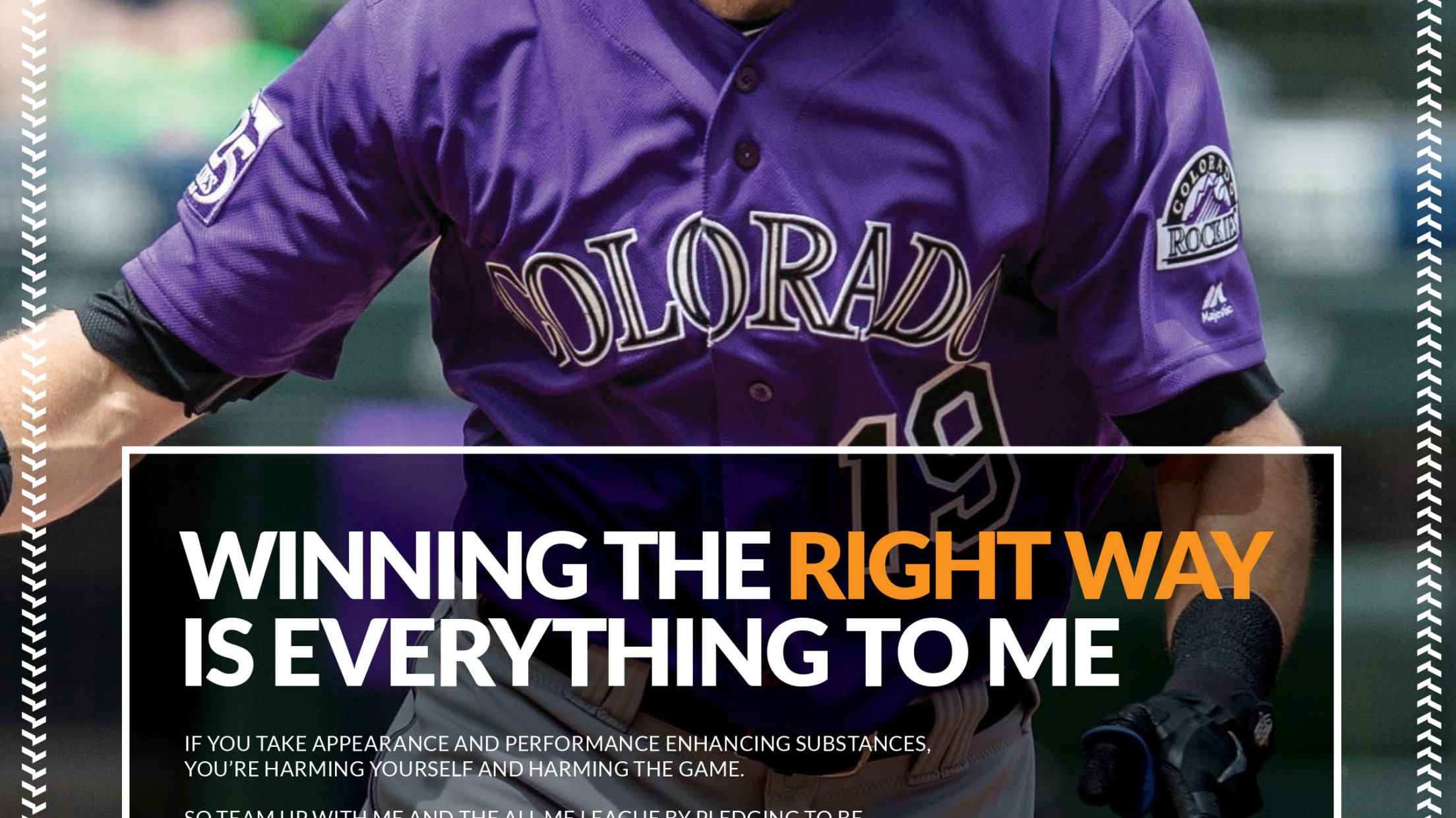 PHILADELPHIA -- Rockies right fielder Charlie Blackmon is passionate about his role on the MLB Advisory Board of the Taylor Hooton Foundation, which advocates against the use of appearance- and performance-enhancing substances among America's youth. "I'm very thankful to play, in my opinion, the greatest game in the world at
MLB Pipeline's Prospect Team of the Week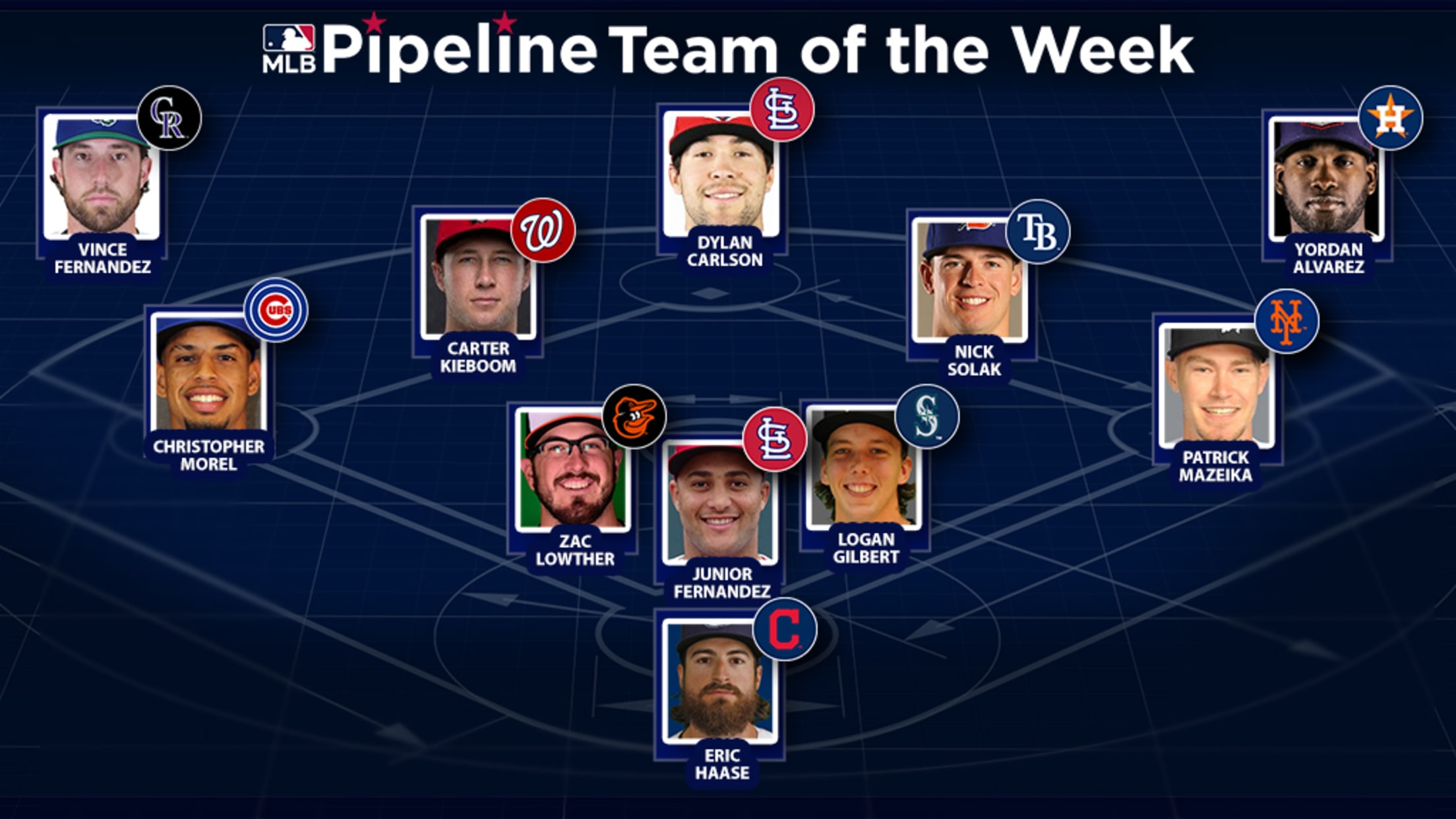 MLB Pipeline's Prospect Team of the Week honors the best performances from the previous seven days. Any Minor Leaguer currently on an organization Top 30 Prospects list on our Prospect Watch is eligible. Featuring two players currently ranked on MLB Pipeline's Top 100 Prospects list and two others who aren't
The toughest guy to strike out on every team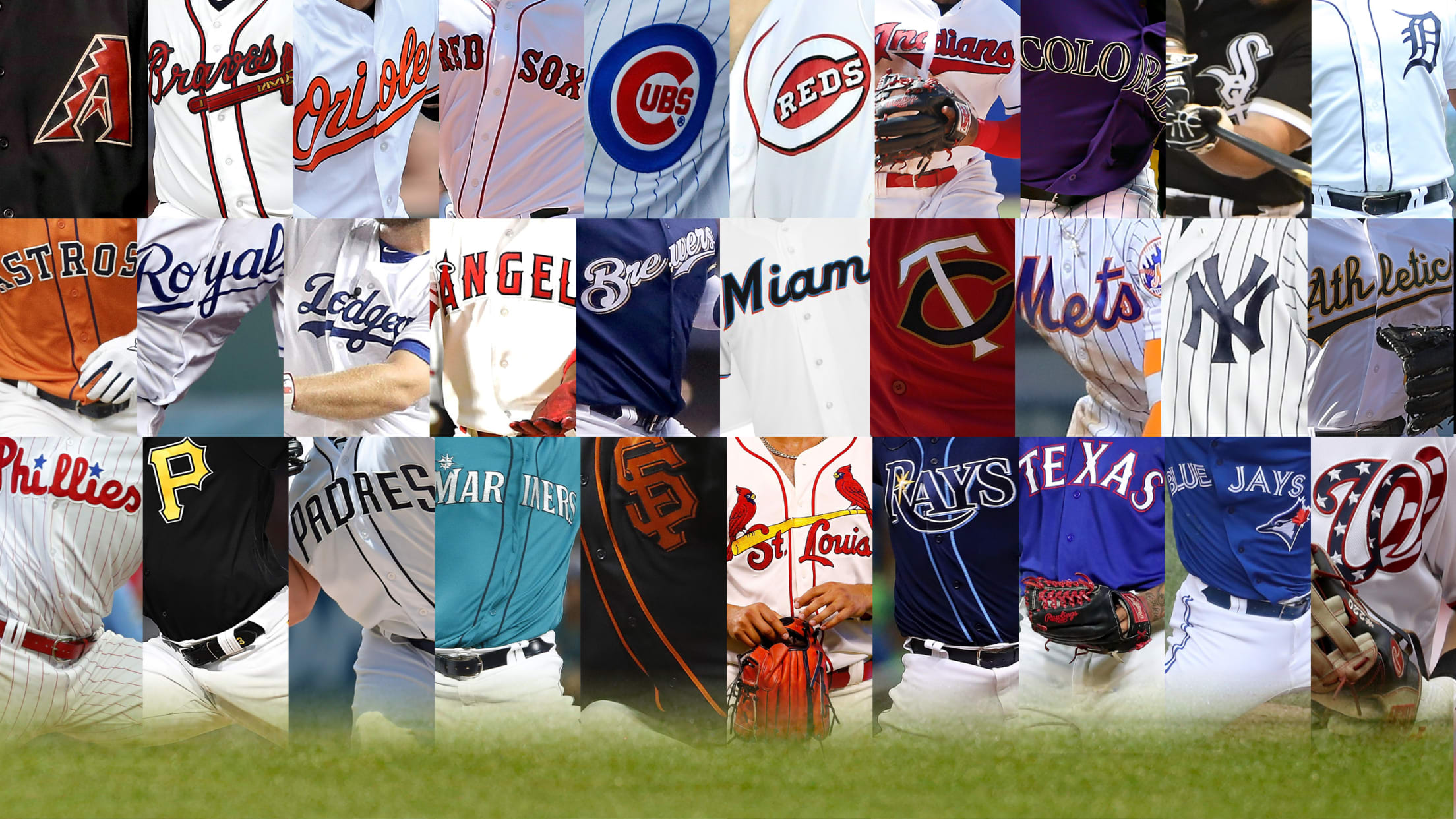 The world of baseball has embraced the strikeout in a way that is sometimes obsessive: For the second consecutive year, we're on pace for more strikeouts than hits. Even the best hitters in baseball don't sweat the strikeouts anymore. It's all part of the game. This ends up making those
Rockies can't break Nola's strikeout barricade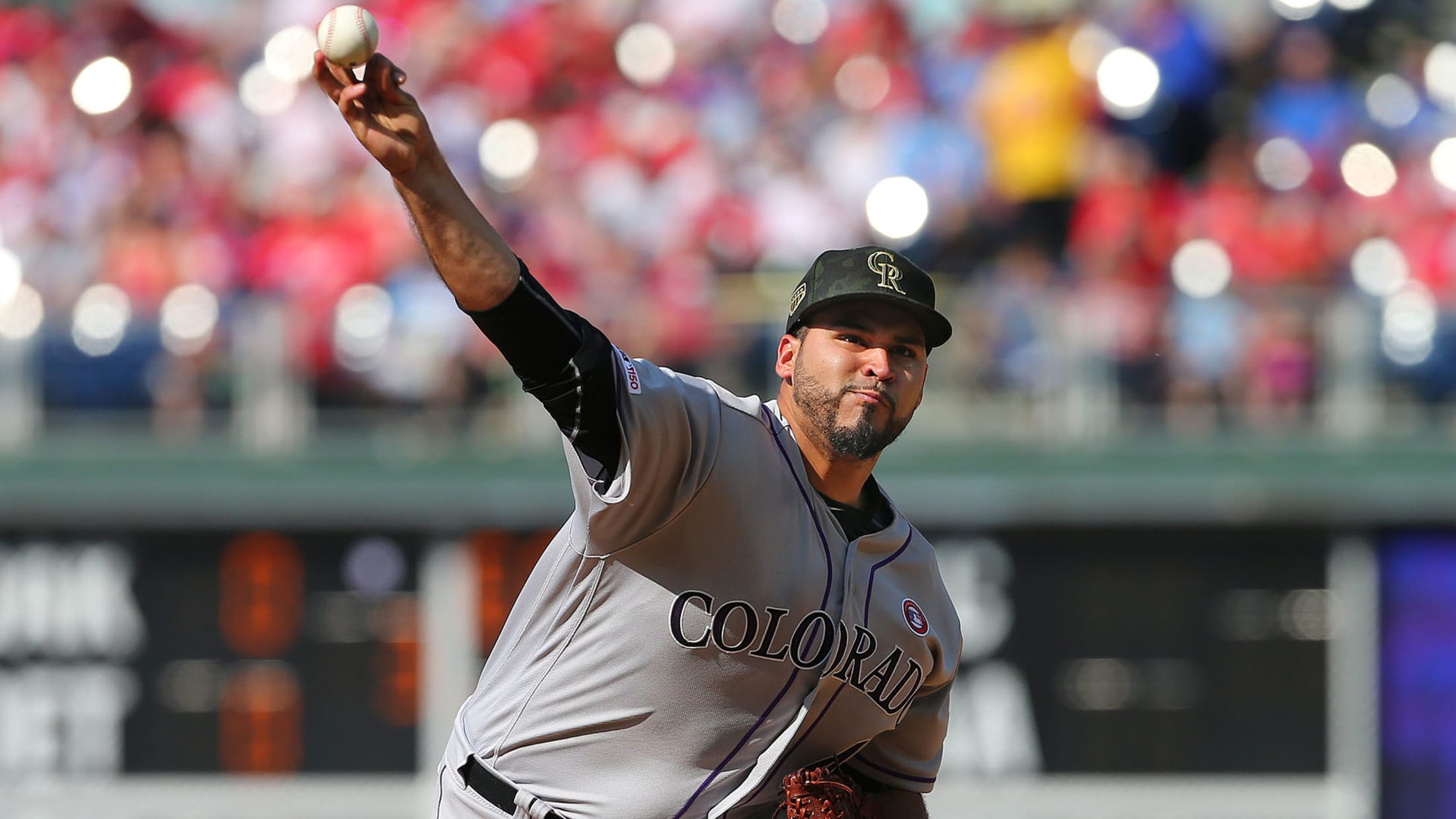 PHILADELPHIA -- The first four games of the Rockies' current road trip have provided loads of strikeout data, far more than Colorado probably wants or needs to see. The Rockies fanned 13 times overall, including 12 times in six innings against Phillies starter Aaron Nola in Saturday's 2-1 loss at