Blackmon, Arenado ready for Rox to get right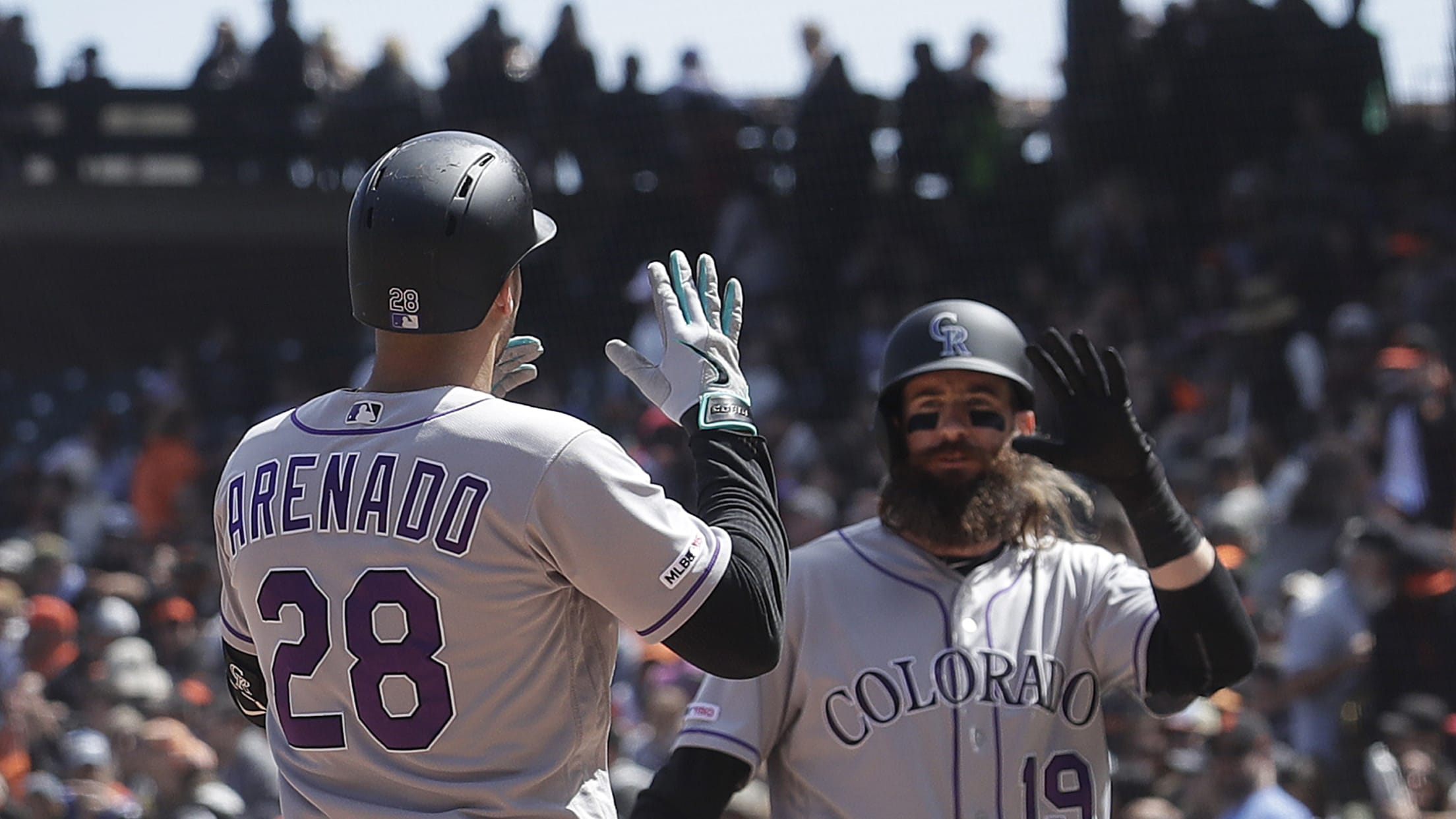 SAN DIEGO -- It's a convenient narrative: a struggling team relaxes and bonds by watching The Masters together before a game one Sunday, and the hits and runs flow. But Charlie Blackmon and Nolan Arenado, whose awakening bats may be the vanguard of coming offensive success for the Rockies, are
SAN DIEGO -- It's a convenient narrative: a struggling team relaxes and bonds by watching The Masters together before a game one Sunday, and the hits and runs flow. But Charlie Blackmon and Nolan Arenado, whose awakening bats may be the vanguard of coming offensive success for the Rockies, are having none of it.
Blackmon entered Tuesday's game against the Padres 3-for-24 on the current road trip, but his three All-Star Game appearances suggest he knows how to find his groove. Arenado, who turned 28 on Tuesday, went 15 games without a home run before going deep in Rockies victories on Sunday and Monday -- and history says his power comes in bunches.
Team bonding exercises like Sunday's Masters viewing certainly can't hurt when it comes to the Rockies getting right. But in the cases of Blackmon and Arenado, cheering on Tiger Woods or harkening back to little league doesn't have much to do with achieving success now.
"This is my life's work," said Blackmon. "I've worked every day to be here. For me to just shrug it off and act like it doesn't matter is very hard to do. I'm not going to say, 'Oh, it's a game and it doesn't really matter.' I'm not going to think that way. I'm gong to treat it with the respect that it deserves."
If you've watched the Rockies this year, you haven't seen Arenado smiling much. After not coming up with a virtually impossible grounder in the eighth inning of Sunday's game, Arenado slammed his mitt on the infield dirt and was still kicking himself after the game. It takes a lot for him to break a grin.
"I like to hit," Arenado said. "If I don't feel right, I'm gonna go hit more. That's how I am. I'm going to try to find a way to get right. There are times when I need to not do that, and I get that. And there are times when I need to work. I wanted to work. That's how some people are. Some people aren't. Some guys don't do anything and they need to get away from the game. I'm like that at times.
"But I don't like being a bad baseball player. I want to find a way to become a good baseball player again. There is a point when you can over-stress it and overdo it. It's a fine line. There are times when I flirted with that. But there are times when me hitting and trying to find a way has helped me get better. To each their own."
Veteran center fielder Ian Desmond, who thought giving the mind a break from baseball on Sunday was a good idea, agreed that each man has an approach that has to be respected. But he espoused the value of connecting.
"We can all learn from each other, on both sides of that spectrum," Desmond said. "There is room for everyone to take a little bit of both."
Updates
• Yonathan Daza, 0-for-11 before being optioned back to Triple-A Albuquerque on Monday, returned Tuesday. He replaced outfielder Noel Cuevas, who suffered a left quadriceps injury in his 2019 debut Monday night.
• Outfielder David Dahl (left core injury) and infielder Ryan McMahon (left elbow sprain) played in an extended Spring Training game on Tuesday, and had five at-bats apiece. McMahon became eligible to return Tuesday and Dahl is eligible to return Thursday.
• Desmond was out of Tuesday's lineup because of what manager Bud Black termed "general leg soreness."