Montoyo has fond memories of Montreal
Blue Jays' skipper collected first MLB hit at Olympic Stadium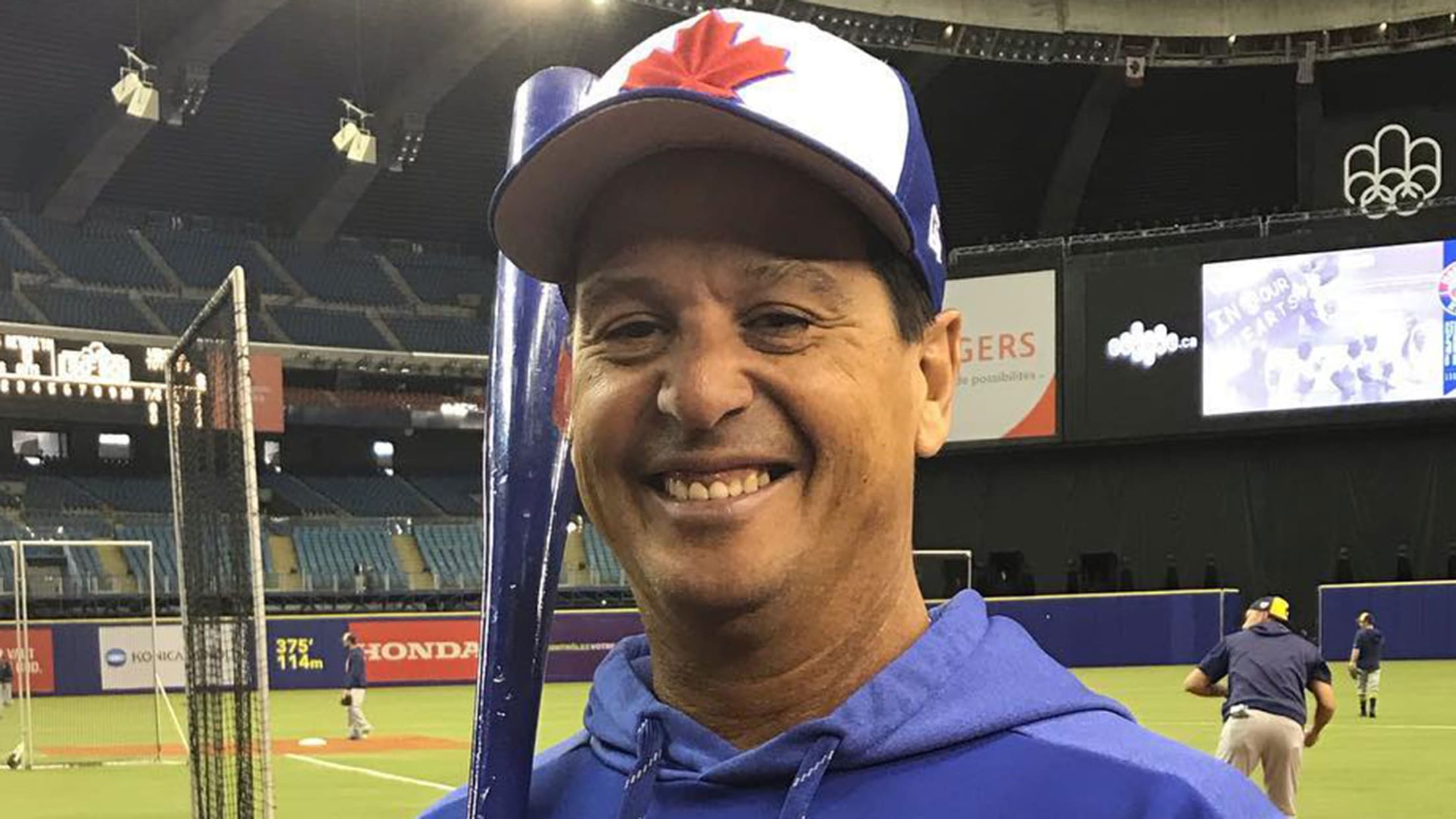 MONTREAL -- As Charlie Montoyo searched for a spot to take a seat in the home dugout at Olympic Stadium, he found familiarity. The Blue Jays' manager conducted his pregame media availability from the same position that he recalled being given his very first opportunity in the big leagues, on
MONTREAL -- As Charlie Montoyo searched for a spot to take a seat in the home dugout at Olympic Stadium, he found familiarity.
The Blue Jays' manager conducted his pregame media availability from the same position that he recalled being given his very first opportunity in the big leagues, on Sept. 7, 1993, with the Montreal Expos.
"I got here late, like seven o'clock for a 7:10 game," Montoyo said. "I said hello to Felipe [Alou, the manager of the Expos], put my uniform on, and came and sat on this bench, until the bottom of the eighth. Then he said, 'If they bring in the lefty, you're going to pinch-hit.' That's what happened. They brought in the lefty and I went in to pinch-hit."
In that plate appearance, the 27-year-old Montoyo notched his first Major League hit, which he recalled fondly -- along with the remainder of that whirlwind day -- ahead of Monday's 10-5 loss to the Brewers.
"I'm never going to forget," Montoyo said. "I had my first hit -- of two -- here, in the big leagues. So that's a memory I'm always going to have. Hopefully they'll do the big highlights in the game. …
"Everything was so quick. There were butterflies when I went to play defence, because I hadn't taken a ground ball or anything, and I hadn't seen the roof or anything. But [John] Wetteland was lights-out [in the ninth] -- one, two, three -- and game over. I was the hero."
"I'm never going to forget that I had my 1st @MLB hit here (in Montréal)" - Charlie Montoyo pic.twitter.com/bJ7DWCz6hK

— Toronto Blue Jays (@BlueJays) March 26, 2019
Away from the Blue Jays' Spring Training home in Dunedin, and playing in a big league ballpark three days ahead of Montoyo's first regular-season game as a manager in the Major Leagues, his start as a player in Montreal was equated to his pseudo-beginning with the Blue Jays on Monday, and he couldn't help but smile.
"This place has been great to me," Montoyo said. "I did well here. It was a fun time for me here, and now it's a fun time to come back as a big league manager, so it's great. Montreal's been great to me."
Norris to throw 'pen
Though the Blue Jays remain hopeful that Bud Norris could start the regular season with the team -- after being scratched from his appearance Thursday because of a sore right arm -- a scheduled bullpen session for Norris on Tuesday should help paint a clearer picture.
"I don't know if he's going to be ready for Opening Day," Montoyo said. "We're hoping so. He's got a bullpen tomorrow, so we'll see how he comes back and we'll go from there."
Even if everything looks and feels good for Norris on Tuesday, the limited look the Blue Jays have gotten at the 34-year-old reliever could also factor into the final decision.
"When you think about it, he's only had three outings the whole time, and he came here late," Montoyo said. "So it's kind of not fair to judge the guy in three outings, but that's what we've got. We're almost close -- two days away -- from starting the season, so we'll see how he feels tomorrow in his bullpen and we'll go from there."
Down to the wire
Battling for roster spots, Jason Adam and Rule 5 Draft pick Elvis Luciano both pitched in Monday's matchup against the Brewers. Montoyo hoped to get both of them chances on the mound before the Brewers took their starters out of the game, in order to get a glimpse of the pitchers against big league hitting.
"That's what's going to happen during the year -- you're going to have pressure when you pitch," Montoyo said. "I think that's great. It's good competition. Competition gets people better."
Luciano came on in the third inning and recorded two outs -- one via strikeout -- and hit a batter before being taken out of the game. Adam came into the game in the fourth and finished one inning, allowing three runs -- a three-run homer to Travis Shaw -- on four hits with one strikeout.
Though Montoyo thought he might get some clarity from Monday's outing, and he was impressed by his 19-year-old right-hander, the battle will continue for at least one more day before Toronto's roster is set.
"They're taking it all the way to the end," the manager said. "It's amazing how this works. Again, it was good to see Luciano. He comes in, he wanted to pitch inside to the first batter he saw, hit him, and then he comes back and strikes out the [National League] MVP from last year [Christian Yelich]. So, that was good to see. And he wasn't nervous when he came out, so I was impressed by that."
Hudson joins team
The Blue Jays made the signing of Daniel Hudson official Monday, as Montoyo announced that, "He's with us now, and he'll be with us for Opening Day."
OFFICIAL: We've signed RHP Daniel Hudson to a 1-year contract. Hudson holds a 3.99 ERA over 9 @MLB seasons.

To make room on the 40-man roster, 2B Devon Travis has been placed on the 60-day IL. pic.twitter.com/W8P4M4P5eD

— Toronto Blue Jays (@BlueJays) March 25, 2019
The right-hander was signed to a one-year contract worth $1.5 million. Hudson, 32, has a 3.99 ERA over 310 Major League appearances and has been a full-time reliever since 2015. Last season with the Dodgers, he posted a 4.11 ERA over 46 innings with 44 strikeouts. He was released by the Angels earlier this week.
Up next
Toronto plays its final exhibition game Tuesday against the Brewers, with first pitch scheduled for 7:05 p.m. ET. Left-hander Thomas Pannone will take the mound at Olympic Stadium in Montreal against Brewers righty Corbin Burnes.