Braves evaluating options for bench roles
d'Arnaud, Peterson among choices to fill 'super utility' role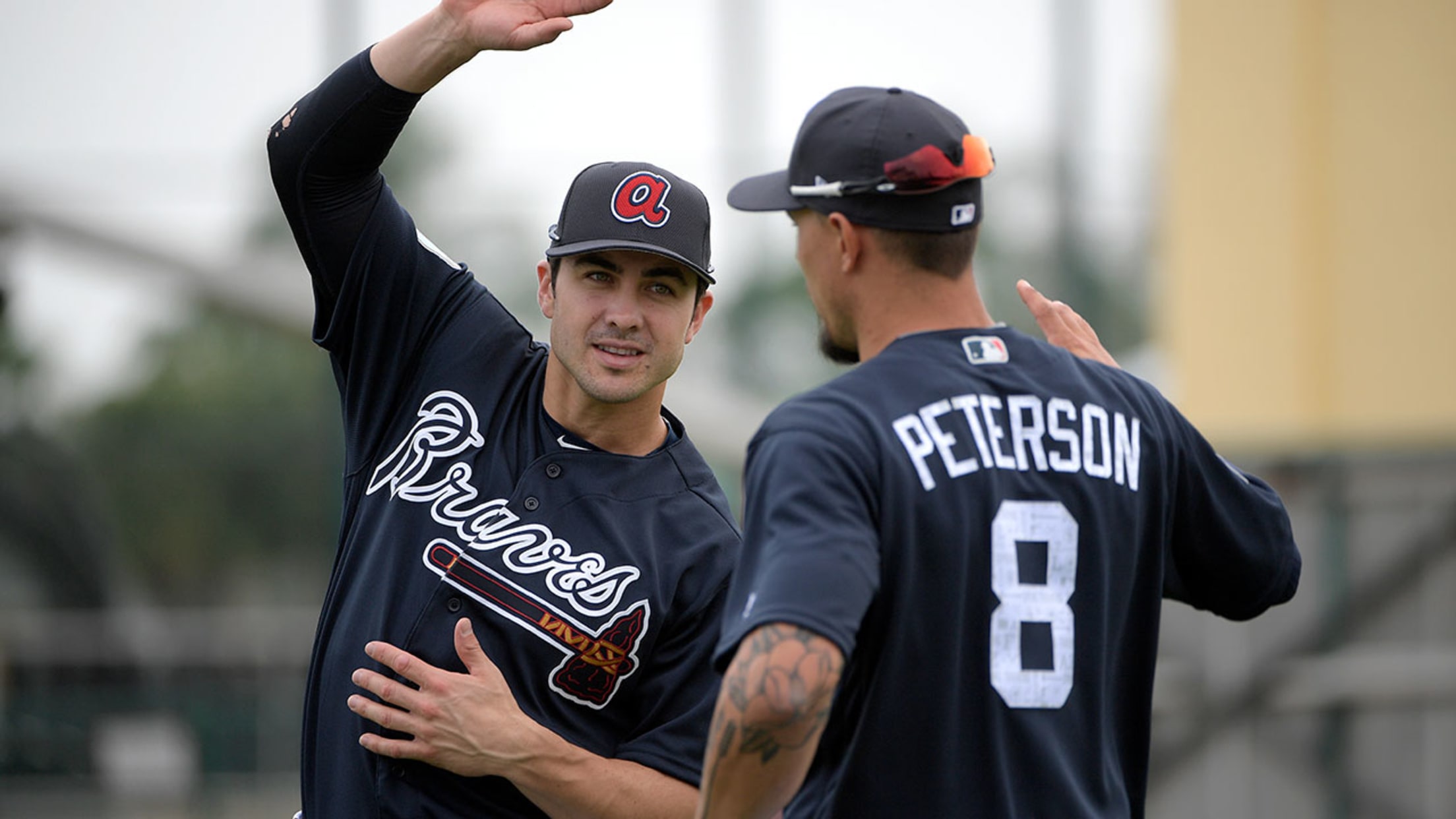 Chase d'Arnaud and Jace Peterson will be competing for the "super-utility role" on Atlanta's bench. (AP)
LAKE BUENA VISTA, Fla. -- "Super utility" is the term increasingly used to describe hitters who can field several positions, and whose bats managers want to keep in the lineup. They are baseball's Swiss army knife.In previous seasons with the Pirates, this term applied to Sean Rodriguez, who recently underwent
LAKE BUENA VISTA, Fla. -- "Super utility" is the term increasingly used to describe hitters who can field several positions, and whose bats managers want to keep in the lineup. They are baseball's Swiss army knife.
In previous seasons with the Pirates, this term applied to Sean Rodriguez, who recently underwent shoulder surgery and could miss the entire 2017 season.
• Spring Training: Info | Schedule | Tickets | Gear
Thus, the Braves will want one or both of Jace Peterson and Chase d'Arnaud to break camp as their "jack-of-all trade(s)".
"I think it's going to be more [a question of] need, and we kind of know what they all can do and what they're capable of," manager Brian Snitker said. "We know we need guys with versatility, and we have that. It's just how the team shapes up when we look at the numbers, going with 12 or 13 pitchers."
Peterson has mostly played second base, with 245 appearances in his three-year Major League career, and in 2015 he played second base in every game in which he took the field, when he served as the Braves' primary second baseman. He also has played 11 games at third base and added 16 appearances in the outfield last season. Like many infielders, he started as a shortstop but has not played there in the Majors; he most recently made 28 appearances as shortstop for Triple-A El Paso in 2014. Whether he adds shortstop, first base or right field to his repertoire remains to be seen, but he does see shortstop and right field repetitions in his future.
"Whatever I need to do, wherever I need to get in, that's what I'm going to do so I can take the talent to play the different positions," Peterson said. "I don't mind playing anywhere in the infield or anywhere in the outfield, so for me it's just a matter of getting reps."
d'Arnaud, who, like Peterson split last season between Atlanta and Triple-A Gwinnett, logged more than 200 Major League at-bats for the first time in his career in 2016. Unlike Peterson, whose home has often been second base, d'Arnaud played every position except for pitcher, catcher and first base last season, and his 21 appearances at shortstop were the most he played at any position for the year.
"I've already gotten my first baseman's glove," d'Arnaud said. "I've been taking ground balls there the last three days, so I'm excited to see some playing time there. I've had experience starting, playing different positions sporadically and also playing multiple positions in a game, so whatever's thrown my way, I'll be ready for it."
D'Arnaud said versatility and super utility positions have become crucial for the National League in particular, because of shorter benches. Working with Ron Washington has helped him to iron out kinks and add some dimensions to his game, he said.
"He's got quite a strong hand defensively; he's extraordinary, very charismatic and energetic," d'Arnaud said. "He knows the game. He takes all the worry out of your head and says, 'Let me worry about that; I'll get you right.' He's got all of us out there early in the morning doing drills, and it's paying off."
Versatility and experience have helped d'Arnaud and Peterson to gain the inside track for Atlanta's bench spots. But equally versatile Micah Johnson was acquired last month as depth, and prospect Rio Ruiz, who has played exclusively at third base -- making his Major League debut late last September -- could get a long look after slashing .271/.355/.400 for Gwinnett in 2016. Also, journeyman and non-roster invitee Emilio Bonifacio has played all three outfield spots in two stints with Atlanta, as well as second base and third base for the White Sox in 2015 and second base for Gwinnett in 2016.
For Snitker, the decision as to which diversely talented fielder he should place on his bench might have to boil down to their performances at the plate this spring.
Zak Kerr is a contributor to MLB.com.