Vine Line: In the swing of things
The 2016 Cubs are one of MLB's deepest teams, and nowhere is that more evident than in the bullpen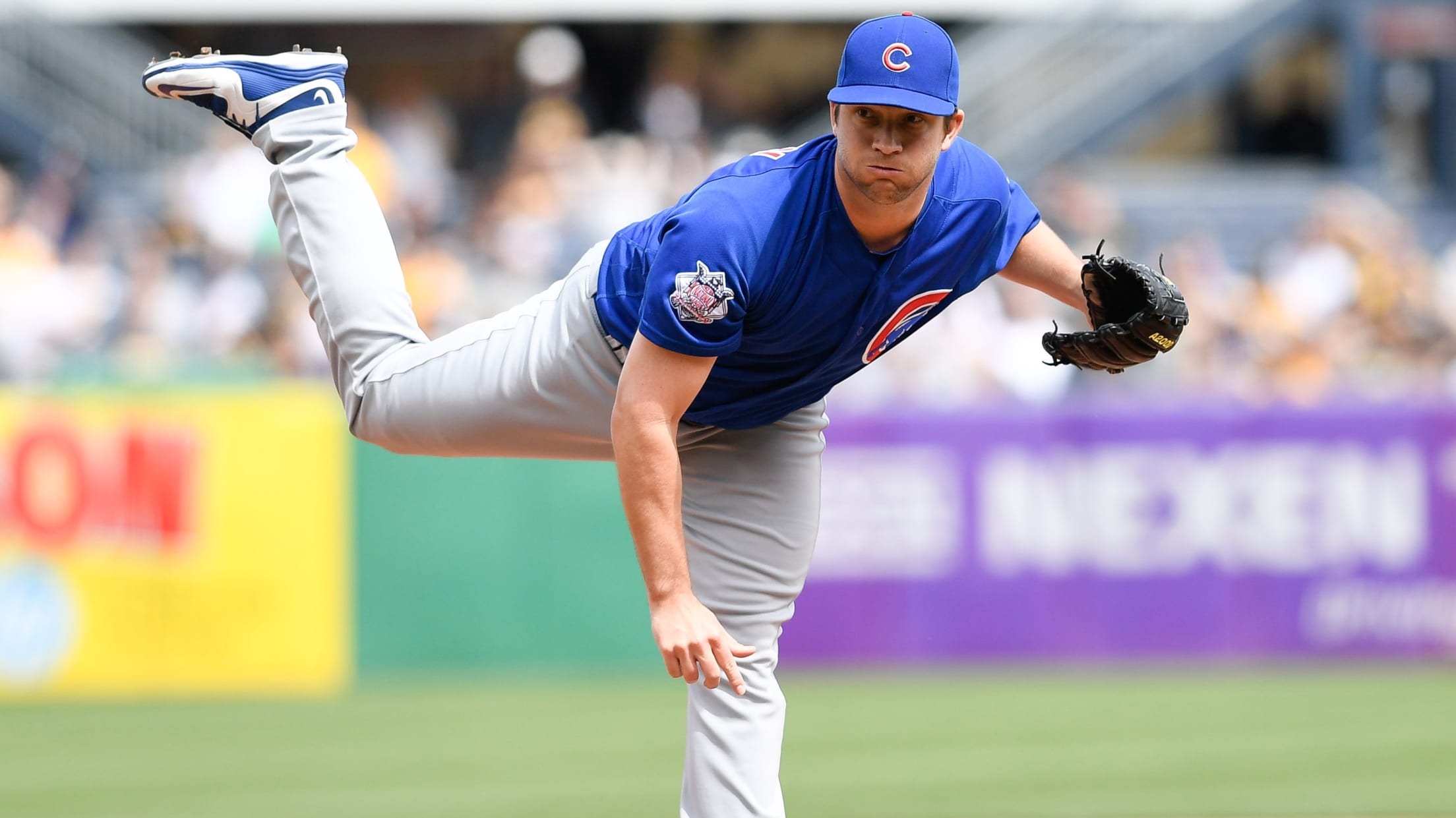 Adam Warren is one of many Cubs relievers who is comfortable in multiple roles. (Justin Berl/Getty Images) (Justin Berl/Getty Images)
Since the expansion of bullpen specialization in the 1950s and '60s, most Major League relief corps have been constructed in a similar fashion. Teams tend to carry six or seven relievers, including a closer, an eighth-inning specialist, a seventh-inning specialist, a few set-up men and at least one long man.
Since the expansion of bullpen specialization in the 1950s and '60s, most Major League relief corps have been constructed in a similar fashion. Teams tend to carry six or seven relievers, including a closer, an eighth-inning specialist, a seventh-inning specialist, a few set-up men and at least one long man. Often, that long man is a former starter no longer making the grade -- the kind of arm teams feel most comfortable running out to the mound with a five-run lead or a five-run deficit.
But as Cubs fans discovered throughout last season and the first half of 2016, the way Manager Joe Maddon's teams are put together is far from conventional.
As the 2016 campaign has progressed, the Cubs have proven that they are one of the deepest and most formidable teams in baseball, with a unique mix of young stars at key positions and battle-tested veterans leading the way. But the thing that has made this group truly dangerous is its versatility up and down the roster -- and that includes exceptional bullpen depth.


The Cubs do have an established closer in Hector Rondon and several talented set-up men with electric stuff, including Pedro Strop and Justin Grimm. But behind them, the club has a quartet of talented arms -- Trevor Cahill, Clayton Richard, Adam Warren and Travis Wood -- who can all start, relieve or do just about anything in between. All four pitchers came into professional baseball as starters, and they all have experienced success in that role. But each ended last season in the bullpen, and their versatility gives the Cubs a big weapon as the season wears on.
"It's an unusual group in the most positive way possible in the bullpen, with the variety of multiple-inning guys that are also capable of closing games if you wanted them to and could also start games if you wanted them to," Maddon said. "I think any manager would love to have those four guys to choose from, whether it be to fill the latter part of the rotation or to have at your disposal on a nightly basis. It's all good stuff."
Going Deep
Interest in versatility has been trending upward in baseball for years on the positional side. New Cubs acquisition Ben Zobrist became a legitimate Major League star by playing multiple positions and helped usher in the age of the super-utilityman. But until recently, there has still been a stigma associated with being a bullpen swingman. The typical narrative was that these pitchers couldn't cut it as starters and didn't have the stuff to be back-end relievers.
In recent years, Big League front offices have begun to see the value of versatility in the 'pen as well. Cubs President of Baseball Operations Theo Epstein and Executive Vice President and General Manager Jed Hoyer have repeatedly spoken of needing eight or nine viable starters to feel comfortable heading into a season. Injuries and underperformance are almost inevitable, and teams need to protect themselves for those eventualities.
Now, in addition to an imposing starting five that includes 2015 Cy Young winner Jake Arrieta, World Series champions Jon Lester and John Lackey, Jason Hammel and Kyle Hendricks, the Cubs have four pitchers who can easily slot into a starting role if necessary.
"If you look at this position just a couple of years ago, it had a totally different feel," Richard said. "What people are starting to understand is that there's value in the versatility. You see we signed Ben Zobrist, and people place so much value because he's capable of doing so many things. That holds weight as a pitcher too -- if you're needed for a start, for multiple innings out of the bullpen or for a situational lefty with me or Woody. There's value in that, and it's neat to be a part of it."
Plus, if the starter is shaky in a particular outing -- and even Arrieta had an off day or two last season -- the Cubs have several pitchers who can step in and provide long relief, without overtaxing the bullpen for the next day's game.
The best example of this might have been the 2015 postseason. Going into the playoffs, both Hammel and Hendricks were struggling. The two pitchers made four combined starts between the NLDS and NLCS and didn't last through five frames in any of them. Cahill, Richard and Wood all stepped up to log valuable innings and keep the Cubs' hopes alive -- and they were almost never used in the same situation twice.
"A team might be stacked and have the best rotation, and there's always something that comes up, whether it's a little nagging injury or a big injury," Cahill said. "Depth helps out a lot. I think they figured out that starters can pitch out of the 'pen effectively. Me, Woody, Clayton, we're all throwing harder out of the 'pen. It's nice to have that versatility. I think we got more comfortable throwing in those later roles instead of just being a long guy when we first went to the bullpen. But if one of us is going well, you can just keep running us out there -- one inning, two innings, three innings."
Another major benefit of having so much versatility is that it offers Maddon more flexibility in how he can use his pitchers, which should reduce wear and tear on the starting rotation. The veteran skipper has always been cautious about overusing his arms, but with depth an issue last year and the team in position to make a deep postseason run, Maddon leaned more heavily on some of his guys than he might have liked.
Going forward, the Cubs should be able to dip into the 'pen earlier if needed to preserve their starters and reduce the workload on some of their key high-leverage relievers. As Maddon will be the first to tell you, he's quite comfortable with any of his swing quartet closing a game or two in certain situations. Richard was the first to do so, against Milwaukee in mid-May.
"We have a lot of talent, and that gives Joe a lot of flexibility with how he wants to use the bullpen," Warren said. "He can say, 'All right, I want to let this guy eat up three innings tonight,' and we still have a long man the next night. You don't have to make a move. It allows for that flexibility. You can throw just a matchup guy and then still have a long guy."
Making Adjustments
Pitching from the rotation and in relief are very different jobs that require different preparation. Just because someone has been a solid Major League starter doesn't mean he'll make an effective reliever, and a reliever who excels in one-inning bursts won't necessarily remain effective in a second turn through an opposing lineup. To be able to do both well is an acquired, and impressive, skill.
"There are four days as a starter that you know you're not going to pitch," Warren said. "So you're like, 'OK, I got this. I've got running and lifting today. The next day I've got a bullpen.' You have a set routine, whereas coming in from the bullpen, it's 'OK, I might have to pitch today, so I have to get up and have the same routine.' You have to prepare yourself to pitch every day."
You also can't discount Major League egos. Most pitchers would rather start or throw in high-leverage, late-inning situations. That's where the glamour -- and, let's be honest, the money -- is. All four of the Cubs' swingmen have spent most of their careers in starting roles.
In 2010, Cahill went 18-8 with a 2.97 ERA in 30 starts with the Athletics, earning a spot on the AL All-Star team. He's logged six seasons as primarily a starter. Richard has two 14-win seasons under his belt in six years as a starter with the White Sox and Padres. Wood logged five seasons in the rotation with the Reds and Cubs and made the 2013 NL All-Star team before being moved to the 'pen in 2015.
Warren's background is a bit different. He was a starter at the University of North Carolina and in the Yankees' Minor League system, but pitched mainly in relief after getting his first real Big League shot in 2013. Injuries in New York forced Warren back into the rotation for parts of the 2015 campaign, and he made 17 starts, going 6-6 with a 3.66 ERA.
When pressed, all of the Cubs' swingmen say they prefer starting. But what makes them -- and many of their teammates -- special is that their first priority is winning, and they're willing to do whatever is asked of them in pursuit of the ultimate goal. Each took the move to the bullpen well, worked hard to master the new routine and came out firing.
"[Being willing to move around] goes with the background, the makeup of the individual," said Cubs pitching coach Chris Bosio. "That has a lot to do with the people we're looking to pick up."
Each pitcher also admitted to struggling a bit at first without a defined role, but that all comes down to personal preference. Cahill said transitioning from a reliever to a starter is more difficult, while Warren said the exact opposite. Ultimately, it's about mastering the different mentality needed for each job and making your pitches.
"Initially [going back and forth] can be difficult," Richard said. "But you can't think about it too much because when you do that, you put undue pressure on yourself. At the end of the day, it's still executing pitches. If you're going to be successful either as a starter or as a guy out of the bullpen, you have to execute pitches."
Or, as Wood said: "It's still 60 feet, 6 inches."
Mixing It Up
One thing that does -- or can -- change coming out of the bullpen is pitch mix. While most starters use three or four pitches to keep hitters off balance, top relievers really need only two plus pitches. One of the best closers in Major League history, Mariano Rivera, threw his cutter almost 90 percent of the time by the end of his career. Some relievers work with a larger repertoire, but most are fastball-slider guys.
This is one of the characteristics that differentiates the Cubs' talented foursome.
"I think the advantage for us as a staff is that most of the guys who have been starters are three- or four-pitch guys," Bosio said. "We're bringing another pitch in there that normally a lot of hitters wouldn't see -- a third pitch or possibly even a fourth."
Richard continued to use all of his pitches out of the 'pen, but in a much different ratio. Last season, throwing in relief for the first time, he used his fastball at an 81.3 percent rate, according to Fangraphs. That's nearly a 20 percent increase over the previous season when he was a starter. He also gained a little velocity on his heater, as most pitchers do going from throwing multiple innings to a single frame.
"You're a little more fresh," Richard said. "The workload isn't as heavy as a reliever, so naturally your intensity is able to kick up because you're not throwing the sheer quantity of pitches. I think that's where the velocity comes from is just having a rested arm.
"I've always leaned on my fastball pretty heavily. It may have been a little bit more this past year making that transition into the bullpen, making sure they're seeing my best pitch, feeling out: 'Well, I don't want to get beat with my third- or fourth-best pitch when I'm only facing one hitter.'"
Warren throws a fastball, slider, curveball and change-up, and he'll use them all in about the same ratio whether he's starting or relieving. For him, it's more a matter of strategy. As a starter, he might hold a pitch back the first turn or two through the order, so he has something new to go to later in the game. As a reliever, he's using all four pitches immediately because he likely won't see batters a second time.
"I've always had a good feel for all my pitches," Warren said. "I feel like that builds my strength because most hitters are used to seeing a reliever with two or maybe three pitches, but never really four. Most relievers usually have a really good fastball, slider or breaking ball. I don't have a put-away pitch, but I can use all my pitches to keep hitters off balance. I feel like it gives me an advantage if I can throw them all.
"Now, there might be one day where maybe I'm casting my curveball or something, so for one inning, I might get rid of my curveball and stick with fastball, slider, change-up. That happens, but the hitters don't know that."
The other thing pitchers moving from the rotation to the bullpen need to prepare for is the hike in adrenaline. Starters get a chance to ease into games and aren't necessarily pitching in high-leverage situations all the time. Coming out of the bullpen, anything can happen. You might be called on to start a clean inning, but you also have to be ready to come in with the bases loaded and the game on the line.
In Game 3 of last season's NLDS versus the Cardinals, the Cubs took a 5-2 lead into the sixth inning with the series knotted at 1-1. Arrieta quickly gave up two runs on a Jason Heyward homer and then struck out two Cardinals hitters before plunking Brandon Moss. Maddon called to the bullpen for Richard, who quickly induced a Kolton Wong groundout on a 93 mph fastball to end the threat and maintain the Cubs' lead.
Richard was followed by Cahill and Wood, who combined for a scoreless seventh inning before turning the game over to Strop and Rondon.
"I kind of like not knowing because you're always on your toes," Cahill said. "You're always into the game because you just don't know."
Of course, there are some drawbacks to coming out of the bullpen, especially for a well-rounded player like Wood.
"I do miss hitting quite a bit," said Wood, who hit .215 with seven home runs and 22 RBI in his first three Cubs seasons as a starter. "I don't get the same opportunities to come in and pinch-hit. I don't get the at-bats on starting days, so that was a big thing. I do miss it. I still enjoy it, so I work on it. I don't want to let it slip away. I keep it toned in case it's needed."
If the Royals proved anything with their World Series title run in 2015, it was that the postseason is all about powerful bullpen arms. Last year, they had the ability to shorten games with their dominant back-end pitching. While the Cubs 'pen is constructed differently, it could be similarly effective. One thing is certain: Few teams, if any, can match the depth and versatility the North Siders have in their relief corps. And for a manager who loves to get creative with the way he utilizes his players, it could be a perfect match.
"It's got to be great for Joe having those tools to be able to use in different situations," Richard said. "When you're only able to do one thing, it really makes decisions a little bit more difficult for your manager. If you look through the pitchers, we have so many guys who are talented on so many levels and that can be used in different situations, it's got to help."
Gary Cohen is the editor-in-chief of the Cubs' official publication, Vine Line magazine, and has covered the team since 2011. You can follow him on Twitter @GaryCohen10. This article appears in Vine Line magazine. Follow Vine Line @cubsvineline, and get this article and more delivered to your doorstep by purchasing a subscription at cubs.com/vineline.