Archer plans to appeal 5-game suspension
Taillon passes latest tests; Polanco plays nine innings in rehab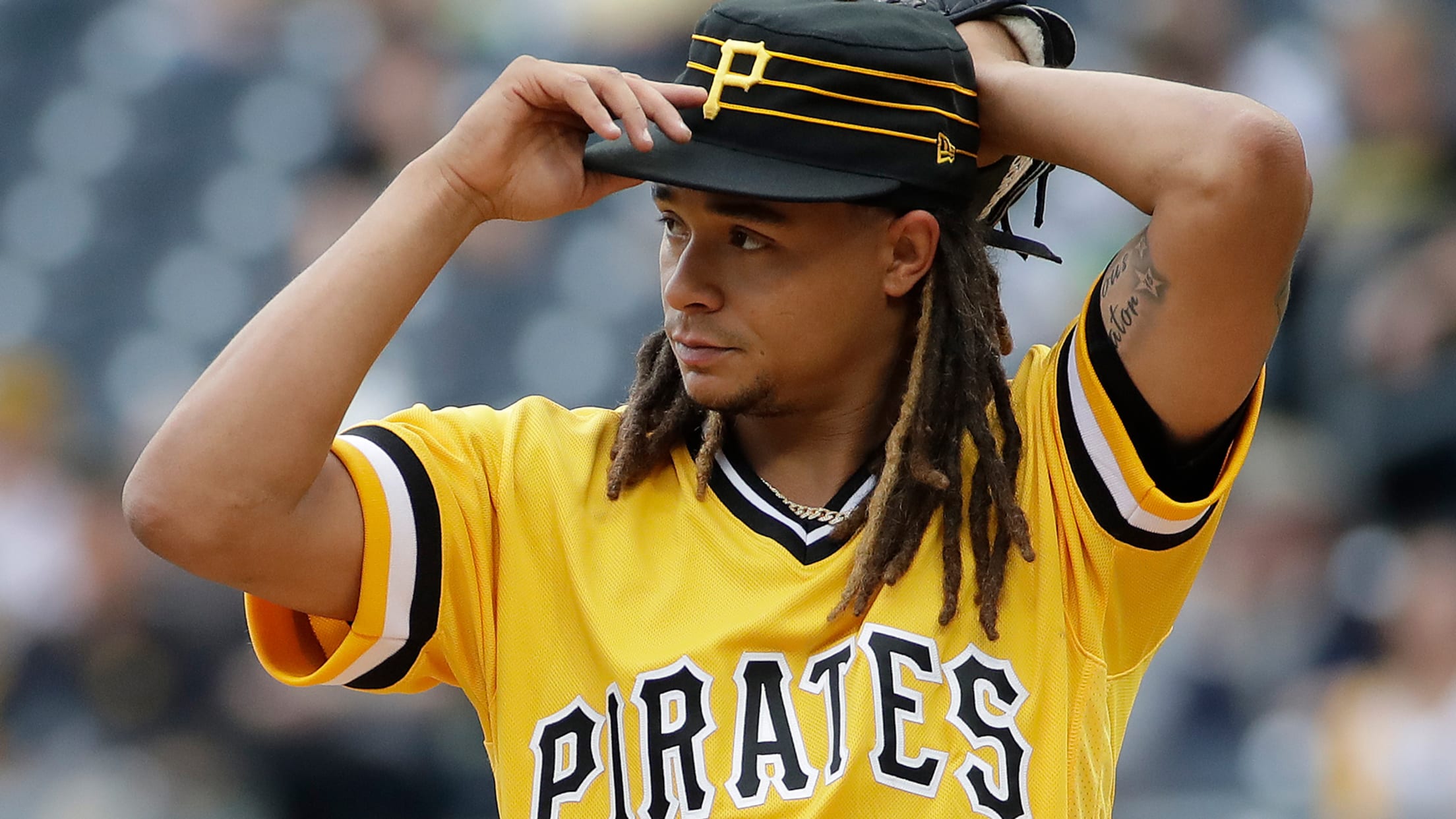 CHICAGO -- Pirates starter Chris Archer will appeal the five-game suspension handed down by Major League Baseball on Tuesday for his involvement in Sunday's benches-clearing incident against the Reds at PNC Park. Archer was suspended for "intentionally throwing" at Cincinnati's Derek Dietrich, whom he threw a pitch behind in the
CHICAGO -- Pirates starter Chris Archer will appeal the five-game suspension handed down by Major League Baseball on Tuesday for his involvement in Sunday's benches-clearing incident against the Reds at PNC Park.
Archer was suspended for "intentionally throwing" at Cincinnati's Derek Dietrich, whom he threw a pitch behind in the fourth inning. Reds manager David Bell ran onto the field to argue with home-plate umpire Jeff Kellogg, and outfielder Yasiel Puig followed almost immediately and made his way toward Archer and had to be restrained.
"I just want to let [the process] play itself out," Archer said after the Pirates' 5-2 win over the Cubs on Wednesday night at Wrigley Field. "I don't want to get mixed up, because if I do have to present my case, I don't want [MLB] to pull anything, any records or anything. I said what I said [Sunday], and I'm still sticking to that."
Before the game, Pirates manager Clint Hurdle said he had talked with Archer about his intentions regarding the suspension and that the plan was for the right-hander to make his scheduled start on Saturday against the Nationals.
Asked if he felt like the suspension was fair, Hurdle replied, "It doesn't matter. It is what it is."
Puig and Bell were also suspended and fined for "aggressive actions during the incident." Bell was suspended one game and served it on Tuesday while Puig began serving his two-game suspension immediately.
Taillon passes medical exam
Pirates starter Jameson Taillon came out of a medical exam with doctors fine on Tuesday, a day after being hit on the head by an Anthony Rizzo line drive on Monday. Taillon said after the 10-0 loss to the Cubs that he was fine and that he was unlucky to get hit, but lucky to be OK after being struck by the liner, which had an exit velocity of 102 mph. Taillon faced three more hitters after being hit and was removed from the game after the second inning, which saw the Cubs scored six unearned runs.
Taillon, who played catch on flat ground on Wednesday, passed through concussion protocol on the field after being hit and has not been clinically diagnosed with a concussion, Pirates trainer Todd Tomczyk said on Wednesday. Hurdle, who was hit twice in the head during his playing career, said seeing another player struck like Taillon was is difficult to watch.
"I can't stand it -- it's an Achilles' heel for me," Hurdle said. "I don't like it, I don't like any part of it. It's hard. … The last person I'm concerned about is me or my feelings. My concern is out there [on the field] and my concern is for the people attached to the man out there."
Injury updates
Outfielder Gregory Polanco, who underwent shoulder surgery in September, played in a rehab game on Wednesday with Class A Advanced Bradenton and played nine innings with the Marauders. Polanco went 0-for-3 with a walk and is scheduled to DH on Thursday. Tomczyk said Polanco continues to meet the demands of rehab and make the necessary throws from the outfield.
Catcher Elias Diaz continues to play with Triple-A Indianapolis, while first baseman Jose Ozuna (neck) has resumed baseball activities in Florida and continues to move toward simulated game activities next week.
Outfielder Lonnie Chisenhall (fractured finger) intended to take batting practice on the field Wednesday but was unable to due to inclement weather. Chisenhall instead went through a full routine in the batting cage. Outfielder Corey Dickerson (shoulder strain) is hitting without any issue but has not yet been cleared to throw, although Tomczyk said he is making progress.