Sale to throw simulated game ahead of debut
Lefty slated to pitch 3 innings vs. Sox Minor Leaguers on Monday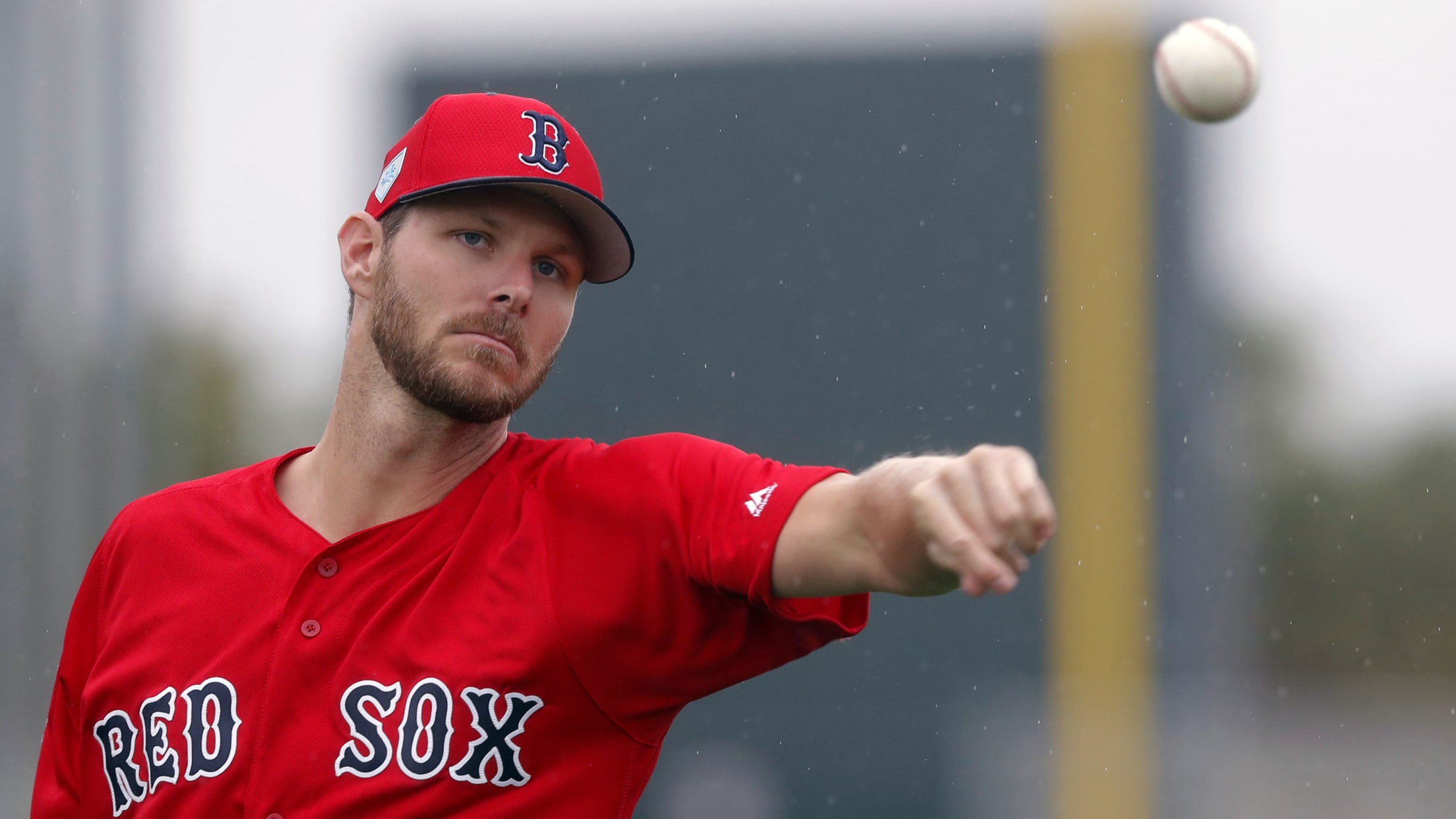 PORT CHARLOTTE, Fla. – Chris Sale won't make his official Grapefruit League debut until at least next weekend, but the Red Sox ace will be on the mound Monday for a simulated game against a collection of the team's Minor League players. Manager Alex Cora said Sale will throw three
PORT CHARLOTTE, Fla. – Chris Sale won't make his official Grapefruit League debut until at least next weekend, but the Red Sox ace will be on the mound Monday for a simulated game against a collection of the team's Minor League players.
Manager Alex Cora said Sale will throw three simulated innings of 15 pitches apiece as the Red Sox ease the left-hander into action. Rick Porcello made his spring debut Sunday, while David Price is slated to do so Tuesday and Nathan Eovaldi will make his first start Wednesday.
"The two guys that we are really paying attention to are Chris and David," Cora said. "I think Nate can throw 95 pitches right now. Rick and Nate are a little bit ahead; we'll take care of Chris and David and we'll go from there."
Sale's simulated game will allow him to get his work in as he builds up his pitch count, but he won't be subjected to any lengthy innings or unfamiliar conditions.
"The effort level and all the other stuff that comes into play makes a difference in a controlled environment," Cora said. "It's a little bit different because we can control it. It's 15 pitches an inning regardless of what's going on, and the intensity is not the same. That's why we like them to go up there and pitch."
Step by step
Dustin Pedroia reported no issues with his left knee following Saturday's game, his second of the spring. Pedroia was off on Sunday and the Red Sox have an off-day Monday, but Cora said the second baseman will be in the lineup Tuesday against the Tigers at JetBlue Park.
Depending on how Pedroia feels when he gets to the ballpark Tuesday, Cora said he could increase his activity from two innings to four. Pedroia played two innings in each of his first two games after making his long-awaited return on Thursday.
"There's a pretty good chance that we'll ramp up the innings from two to four," Cora said. "If it's three, it's three. Speaking to [head athletic trainer Brad Pearson] yesterday, he mentioned there's a possibility he can go four on Tuesday. That would be good."
Tired act?
Brandon Workman gave up two home runs in his inning against the Rays on Sunday as he continues to deal with some diminished velocity issues.
"Fastballs over the plate," Cora said. "The breaking ball was OK, not great. There was some hard contact. The cutter was decent, but the four-seamer, velocity-wise, was below the way he started camp. We have to pay attention to that."
After throwing in the 93-94 mph range in the early part of the spring schedule, Workman's fastball has been sitting in the 88-89 range of late.
"When he's there, it's tough for him to make outs," Cora said. The manager hopes it's nothing more than a mid-spring dead-arm issue, so he's looking for Workman to bounce back soon. "We need that. When he's throwing the way he threw early, 92-93, the separation is huge and there's a lot of swings and misses."
Worth noting
Brock Holt was scratched from Sunday's game with back spasms, but Cora didn't seem concerned. "He was just a little bit tight," the manager said. "We have an off-day tomorrow, so hopefully he'll be back on Tuesday."
Ryan Brasier (infected toe) threw a bullpen on Saturday and is slated to throw live batting practice on Wednesday. Cora said the team will determine the next step after the live BP session, but the manager believes "he's close to going out there." Brasier could make his spring debut either Saturday or Sunday.
Heath Hembree, who has been away for several days on paternity leave, will throw a simulated game on Monday.
The Red Sox plan to make their first cuts of the spring on Tuesday.
Up next
The Red Sox have an off-day Monday, returning to action Tuesday afternoon at JetBlue Park as they host the Tigers at 1:05 ET. LHP David Price will make his spring debut for Boston, while LHP Daniel Norris is slated to start for Detroit. Among those also scheduled to pitch for the Red Sox are LHP Darwinzon Hernandez and RHP Matt Barnes.
Mark Feinsand, an executive reporter, originally joined MLB.com as a reporter in 2001.