College Baseball Hall of Fame celebrates newest class
Eight new members were inducted into the College Baseball Hall of Fame during the Night of Champions event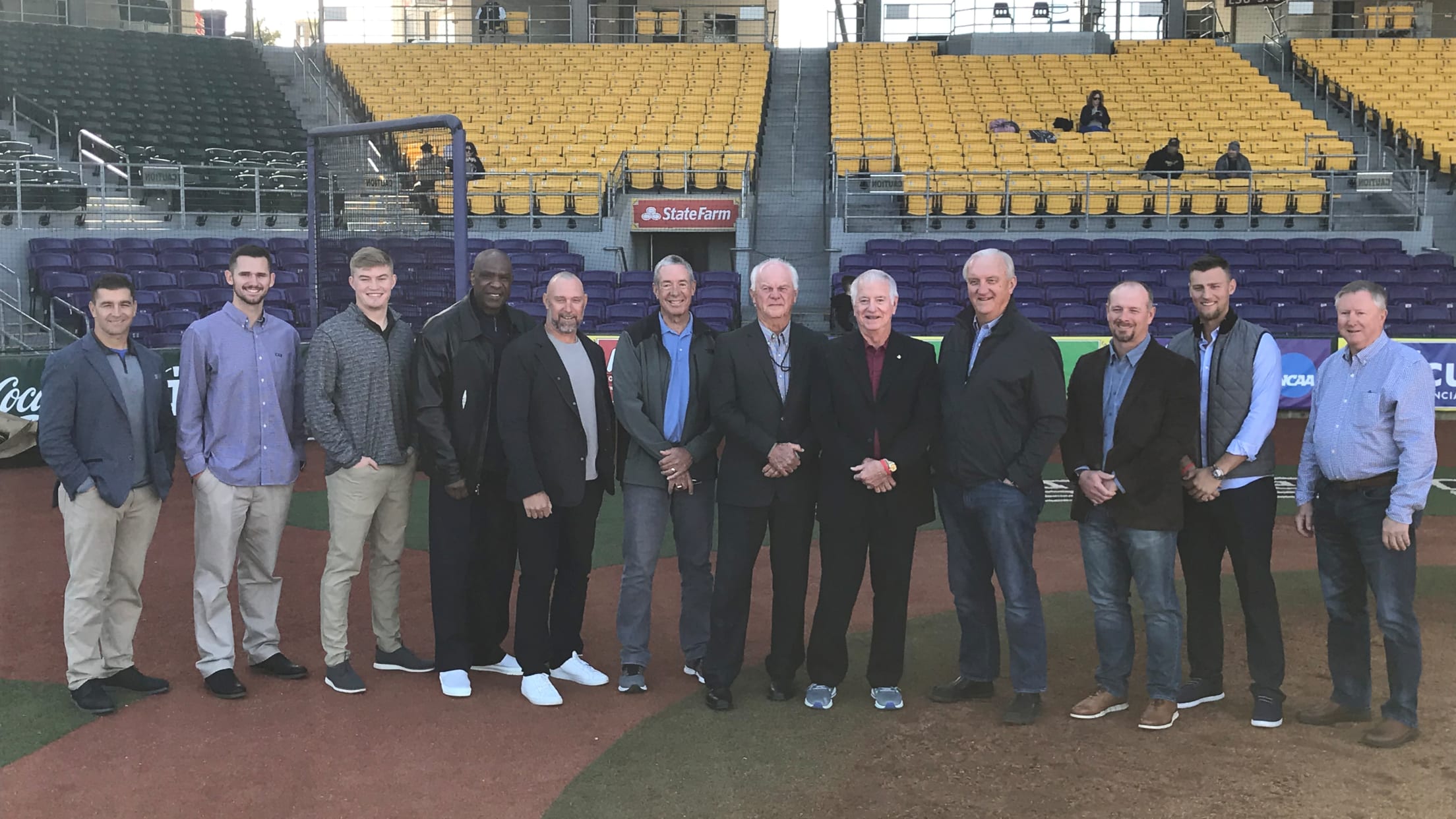 BATON ROUGE, Louisiana – College baseball greats came together Saturday night to celebrate and honor the eight new inductees into the National College Baseball Hall of Fame and the 2019 College Baseball Foundation award winners. The 2019 Hall of Fame class consists of two former coaches in Florida State skipper
BATON ROUGE, Louisiana – College baseball greats came together Saturday night to celebrate and honor the eight new inductees into the National College Baseball Hall of Fame and the 2019 College Baseball Foundation award winners.
The 2019 Hall of Fame class consists of two former coaches in Florida State skipper Mike Martin and Seminole State coach Lloyd Simmons. Five former players also were inducted, including the University of Texas' Dave Chalk, Florida A&M's Andre Dawson, Southern California's Wally Hood, Cal State Fullerton's Mark Kotsay and Ferrum's Billy Wagner. Dennis Poppe, former NCAA director of championships, rounded out the class from the new contributors section.
Chalk compiled a career batting average of .362 at Texas, a program record at the time, with a career-best .405 in 1971. Selected to the All-Southwest Conference four times, he led the Longhorns to four conference championships and three College World Series berths. He was named to the All-CWS team in 1972 and was a first-team All American in 1971 and 1972.
"I'm very humbled and honored with this," Chalk said. "To be with the group of guys that are inducted this weekend, to see those that have been inducted previously, I'm truly honored."
Dawson led his team in hits, doubles, home runs and RBIs in 1974 and 1975, as well as stolen bases in 1974 and runs scored in 1973 and 1974. As a sophomore, he finished third in NCAA Division II in doubles per game and 10th in slugging percentage. He also led the Florida A&M squad to highlight wins over ranked University of Miami teams three times.
"I think about my career and everything as a result of dreaming as a child," Dawson said. "Making the (Major League Baseball) Hall of Fame was one thing, but it all got started earlier than that. I owe a great deal to a lot of people, especially to those that I was under their tutelage in high school and college. Collegiate baseball is what really prepared me for later success."
Hood compiled a 21-2 record on the way to leading USC to the 1948 national championship. In the opening game of the 1948 College World Series in Kalamazoo, Michigan, he threw a four-hitter to beat Yale, 3-1. He posted an 8-2 record in 1947 and was named to the All-California Intercollegiate Baseball Association team after going 4-0 in conference games. In 1948, he was named a first-team All-American and was a unanimous choice for the All-CIBA team after finishing with a league-best 1.54 ERA.
Kotsay was the star of the 1995 College World Series with a .563 batting average and led the Titans to a national championship. The same season, he won the Golden Spikes Award; the Smith Award, which is given to the Division I National Player of the Year; and shared National Player of the Year honors from Collegiate Baseball magazine. He finished his career with a .404 batting average, 259 hits, 60 doubles, 11 triples, 45 home runs, 216 RBIs and 40 stolen bases. Kotsay owns the records for the all-time CWS batting average and slugging percentage. He was named the College Player of the Decade for the 1990s by Baseball America magazine and added to the College World Series Legends Team in 2010.
"I'm overwhelmed. It's a tremendous honor to be in a class like this that is very special. Playing for Augie Garrido (at Cal State Fullerton) is hard to summarize," Kotsay said of 2016 inductee Augie Garrido who died in 2018. "He affects me to this day in terms of the way I try to create relationships and trust with the players I coach."
Martin finished his coaching career in 2019 as the only coach in college baseball history with 2,000 or more wins. In each of his 40 seasons as head coach, his teams won at least 40 games and never failed to make the NCAA tournament. His teams advanced to the College World Series 17 times and, in 2005, the field at Dick Howser Stadium was named after him. As a player, he starred in centerfield for the 1965 Seminoles College World Series team and was an NJCAA All-American player at Wingate (North Carolina).
"It's certainly something I'll always remember," Martin said of his induction and the Night of Champions event. "I'm so pleased to be around people that are strictly baseball. It's fun to talk to guys like Andre Dawson. It's just fun to be a part of a fraternity, and you could say family because that's what we are as baseball people."
Poppe ran the College World Series as NCAA vice president of championships from 1987 to 2013, during which time the tournament saw tremendous growth. He served as the primary liaison to the NCAA Division I Baseball Committee, NCAA Baseball Rules Committee, the American Baseball Coaches Association and USA Baseball and was the tournament director for the College World Series.
"I'm very honored to be among such great fellow classmates who have really either earned it on the field either as a player or as a coach," Poppe said. "I did none of those, so to be included in this group is especially honoring, and I'm very appreciative of the award they've given me as a contributor to college baseball."
Simmons is the winningest coach in junior college baseball history with 1,804 wins. He led 13 teams to the NJCAA World Series and won 16 NJCAA Region II titles. He also helped 43 players make it to the major leagues. Simmons was the Oklahoma Baseball Coaches Association Coach of the Year eight times during his career and was inducted into the NJCAA Hall of Fame in 1997.
"It's a great honor to be here and to be recognized with all the other great guys that are here to get this reward," Simmons said. "I'm really just thankful for all my players in the past that worked hard and were able to get me this honor."
Wagner holds the NCAA single-season records for strikeouts per nine innings with 19.1 and fewest hits allowed per game with 1.58, both of which came in the 1992 season. He also holds Division III career records for strikeouts with 327 and fewest hits allowed per nine innings with 2.22. In his three seasons at Ferrum, he posted a record of 17-3 and a 1.63 ERA.
"I had never thought about this sort of honor while I was playing," Wagner said. "But for it to be happening now is a humbling honor, and it's about my great coaches and teammates."
Those also recognized during Night of Champions included Aaron Schunk of Georgia, winner of the John Olerud Two-Way Player of the Year Award; Grae Kessinger of Ole Miss, winner of the Brooks Wallace Award, which honors the nation's top shortstop; Ethan Small of Mississippi State, winner of the National Pitcher of the Year Award; Erik Bakich of Michigan, winner of the Skip Bertman Coach of the Year Award; and Jon Bible, winner of the National Collegiate Umpire Award.