Florida squares off against LSU in College World Series championship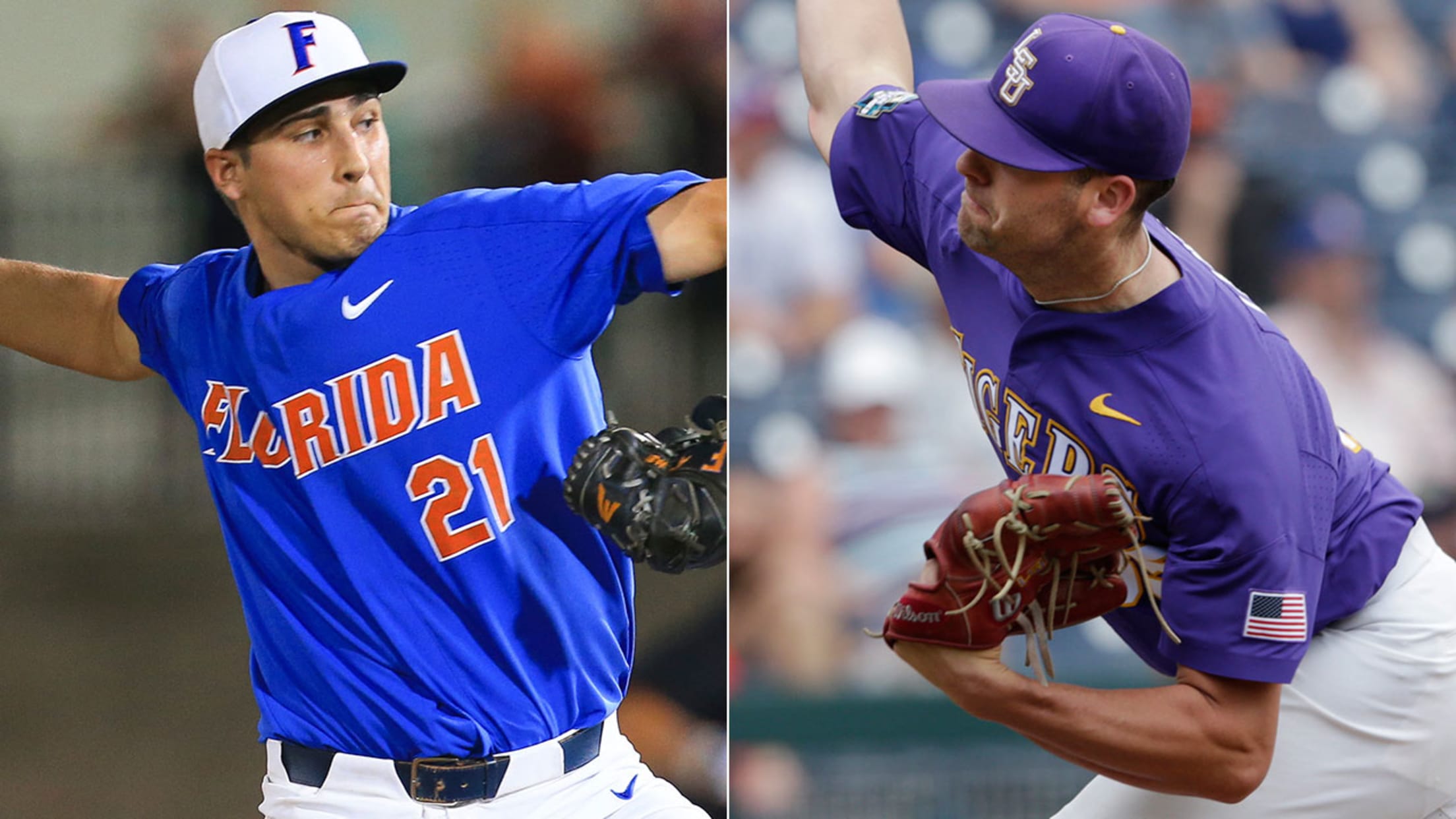 Alex Faedo (left) and Alex Lange have been huge parts of Florida and LSU's success on the way to the College World Series championship. (AP)
OMAHA, Neb. -- The top team of the last three decades will meet the best program that has never won a national title in the College World Series finals.The best-of-three series, which begins Monday, pits No. 3 national seed Florida (50-19) against No. 4 national seed Louisiana State (52-18). The
OMAHA, Neb. -- The top team of the last three decades will meet the best program that has never won a national title in the College World Series finals.
The best-of-three series, which begins Monday, pits No. 3 national seed Florida (50-19) against No. 4 national seed Louisiana State (52-18). The Gators have reached the CWS five times (including each of the last three years) and have reached 50 victories four times in 10 seasons under coach Kevin O'Sullivan, but never have finished better than second in Omaha. The Tigers have captured six national championships in 1991, 1993, 1996, 1997, 2000 and 2009 -- while no other school has more than two during that span.
As Southeastern Conference foes, the two teams know each other well. They shared the SEC regular-season championship this spring, with Florida taking two of three games between the clubs in Gainesville, Fla, in late March. They'll stage the first championship series featuring conference rivals since South Carolina swept the Gators in 2011.
"It's just like an SEC weekend with more at stake," said LSU senior shortstop Kramer Robertson, who broke out of a 1-for-18 Omaha slump with three hits and a walk in Saturday's 6-1 semifinal defeat of No. 1 national seed Oregon State. "Both teams have great players, great pitchers, play really, really good defense. So both teams are here for a reason. And it's going to be who goes out there and gets the job done."
As Robertson noted, both teams are loaded with talent, starting with No. 1 starters who were first-round picks two weeks ago. Florida right-hander Alex Faedo (No. 18 overall, Tigers) has beaten Texas Christian twice in the CWS, striking out 22 in 14 1/3 innings to take over the NCAA Division I lead with 157, though he might not be available to pitch again after vanquishing the Horned Frogs on Saturday night. LSU righty Alex Lange (No. 30 overall, Cubs), who ranks second to Faedo with 150 strikeouts could pitch in the third game Wednesday after two-hitting Oregon State for 7 1/3 innings on Friday.
The Tigers had five other players selected in the first 10 rounds: right fielder Greg Deichmann (second round, Athletics), Robertson (fourth, Cardinals), second baseman Cole Freeman (fourth, Nationals), left-hander Jared Poche (ninth, Athletics) and catcher Mike Papierski (ninth, Astros). The Gators had three -- shortstop Daulton Guthrie (sixth, Phillies), catcher Mike Rivera (sixth, Indians), catcher Mark Kolozsvary (seventh, Reds) -- and second baseman Deacon Liput (29th, Dodgers) and first baseman/catcher J.J. Schwarz (38th, Rays) likely would have joined them if not for signability concerns.
Florida sophomore right-handers Brady Singer and Jackson Kowar project as early first-round choices in the 2018 Draft, with Singer an early front-runner to go No. 1 overall. LSU center fielder Zach Watson and righty Zack Hess are two of the best freshmen in the country and look like first-rounders for 2019. Interestingly, the Tigers finished second in the recruiting race for Kowar, while the Gators finished runner-up for Hess.
"I think our league gets the best players in the country," O'Sullivan said. "And I think that's why we're both probably sitting here, quite simply."
Both teams have played to their strengths in Omaha. Though Florida's lineup isn't as potent as in years past, it has a rotation comprised of three present or future first-rounders and a quality defense. The Gators have allowed just 10 runs in four CWS games while striking out 52 in 36 innings, and they've committed just two errors.
Poche is LSU's all-time leader in wins (39), Lange is on the verge of setting the school record for strikeouts (he's three shy at 406) and Hess has been unhittable while recording three saves in Omaha. Nevertheless, the Tigers' greatest strength is the depth of their lineup. They have the second-highest OPS (.715) and the most home runs (seven) among the eight CWS teams, with Papierski leading all hitters with three homers and Watson posting the highest batting average at .421.
Much has changed since the teams met three months ago in Gainesville, when Faedo and Singer combined to allow one run in the first two games before LSU routed Florida's bullpen in the finale. The Gators were riddled by injuries at the time and had yet to establish sophomore right-hander Michael Byrne as their closer. For the Tigers, Watson had only recently become a regular, Papierski was hitting .200 and Hess was scuffling as a starter.
Both clubs now are playing at their best. LSU coach Paul Mainieri admitted that after the Tigers secured their berth in the finals, he hoped the Gators would do so as well.
"I wanted them to be in the finals," said Mainieri, who coached the Tigers to their last CWS championship. "They're familiar with us. We're familiar with them. It feels like an SEC weekend, except there's a little bit more at stake than a series in March . . .
"There's no hiding the fact what we're playing for. Both of us want to take that trophy home with us. I've gotten to experience that one time in my life, and it's an amazing feeling. I know Sully's challenged for it many times, and eventually he's going to get it. I just hope it's not this year."
Monday's game
Florida at Louisiana State, 7 p.m. ET
Tuesday's game
Louisiana State at Florida, 8 p.m. ET
Wednesday's game
Florida at Louisiana State, 8 p.m. ET (if necessary)