Moncada or Devers: Who ya got?
With shared roots in Boston, this pair looks ready to rule hot corner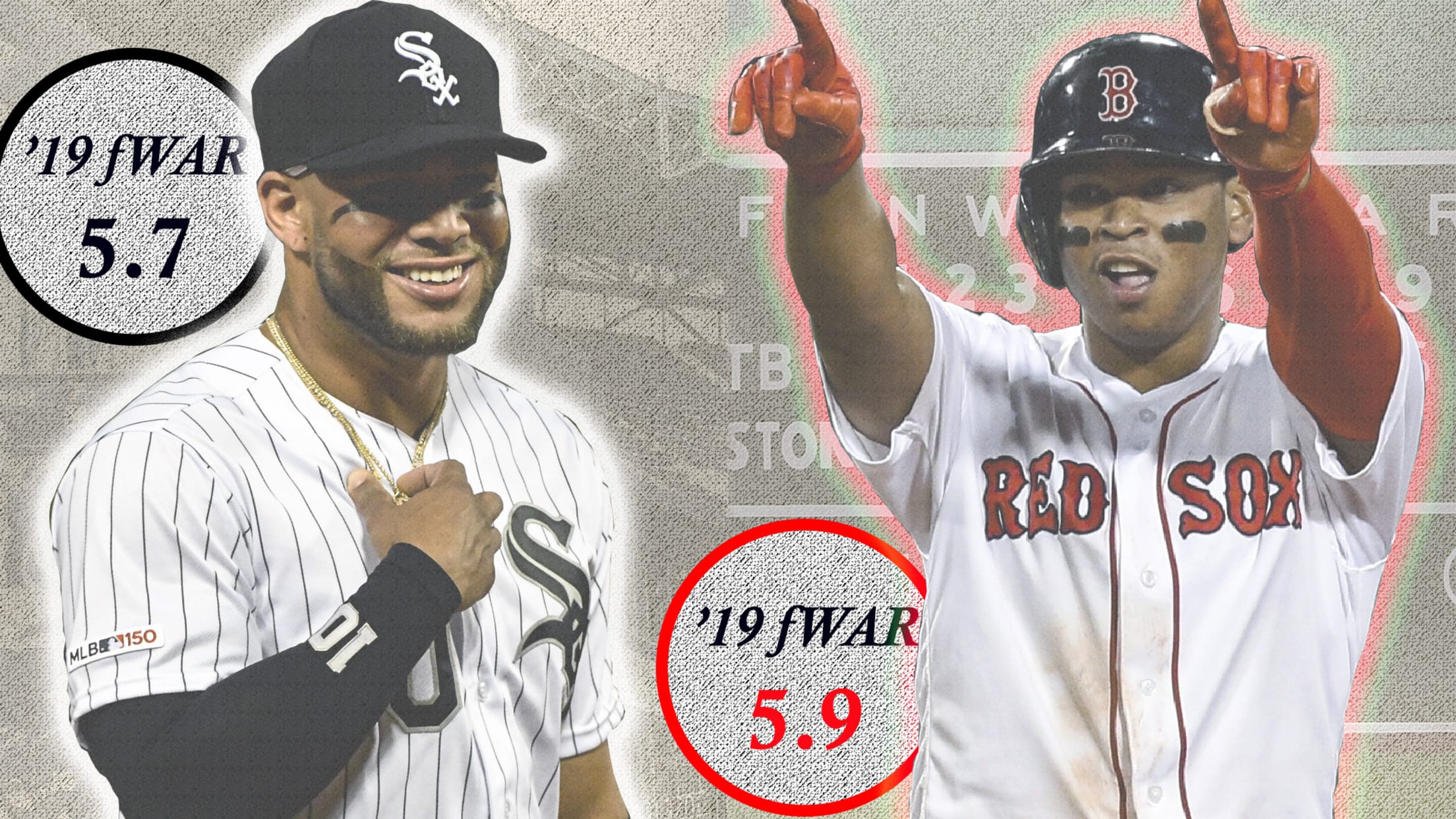 Who would you rather have for the next five years: The Red Sox's former star of the future or their current star of the future? Boston fans are certainly thrilled with what they saw from Rafael Devers, the Red Sox's precocious third baseman who, at age 22, hit .311, led
Who would you rather have for the next five years: The Red Sox's former star of the future or their current star of the future?
Boston fans are certainly thrilled with what they saw from Rafael Devers, the Red Sox's precocious third baseman who, at age 22, hit .311, led the American League with 54 doubles and paced the entire Major Leagues with 359 total bases in 2019. But Devers' ascendance coincided with that of Boston's former top prospect, Yoán Moncada, who delivered on the promise scouts saw years ago as he hit .315, homered 25 times and slugged .548 while manning third base for the White Sox.
Almost every member of Red Sox Nation would look back at the December 2016 trade that sent Moncada (along with Michael Kopech, Luis Alexander Basabe and Victor Diaz) to the South Side of Chicago in exchange for Chris Sale and say they would do it again. Sale continued to rank among baseball's most dominant starters in 2017-18, and he closed out Boston's magical '18 World Series championship season on the mound at Dodger Stadium.
But with an eye toward the future -- especially now that Sale, who just underwent Tommy John surgery, could be moving into a different phase of his career -- it's Devers' and Moncada's time to shine. The two are separated in age by about a year and a half (Moncada's the elder), and last year they were indistinguishable from each other in value.
MLB's most valuable primary infielders in 2019, by FanGraphs WAR
1) Alex Bregman, HOU: 8.5
2) Marcus Semien, OAK: 7.6
3) Anthony Rendon, WSH: 7.0
4) Xander Bogaerts, BOS: 6.8
5) Matt Chapman, OAK: 6.1
6-T) Rafael Devers, BOS: 5.9
6-T) Nolan Arenado, COL: 5.9
8) Trevor Story, COL: 5.8
9-T) Yoan Moncada, CWS: 5.7
9-T) J.T. Realmuto, PHI: 5.7
It's impossible to tell who will grow into a bigger star from here. But that doesn't mean we can't try to peer into the crystal ball just a little bit. Let's take a look at the tale of the tape.
Back on track
Boston shattered the record signing bonus given to an amateur player when it inked Moncada in March 2015 for $31.5 million (and actually doubled that figure after paying the penalty for exceeding its bonus pool), and many had him as baseball's top prospect when he was traded.
MLB Pipeline believed Moncada's outstanding bat speed could make him "Robinson Canó with more speed," while Baseball America gushed about his "tantalizing blend of physicality, power, speed and athleticism" after awarding him its Minor League Player of the Year Award.
But things changed quickly beginning in September 2016, when Moncada came up to the big leagues and looked overmatched as he struck out in 12 of his 20 plate appearances. Three months later, former Red Sox general manager Dave Dombrowski knew he would have to part with some serious talent to acquire Sale -- the ace of aces -- and Moncada plus the flamethrowing Kopech was that price. In 2017-18, Moncada was a league-average hitter (99 OPS+), leading the Majors with 217 strikeouts in '18, and Dombrowski and the Red Sox looked as if they might have gotten a bargain price for Sale.
But a more aggressive Moncada turned it around last year and began pounding the ball the way scouting reports dictated he should. Back in Boston, Devers -- who had jumped into the spotlight by hitting an opposite-field homer off a 102.8 mph Aroldis Chapman fastball in 2017, but looked pedestrian at the plate in '18 -- was also busting out. By season's end, their batter profiles, courtesy of Baseball Savant's Statcast percentile sliders, looked eerily similar.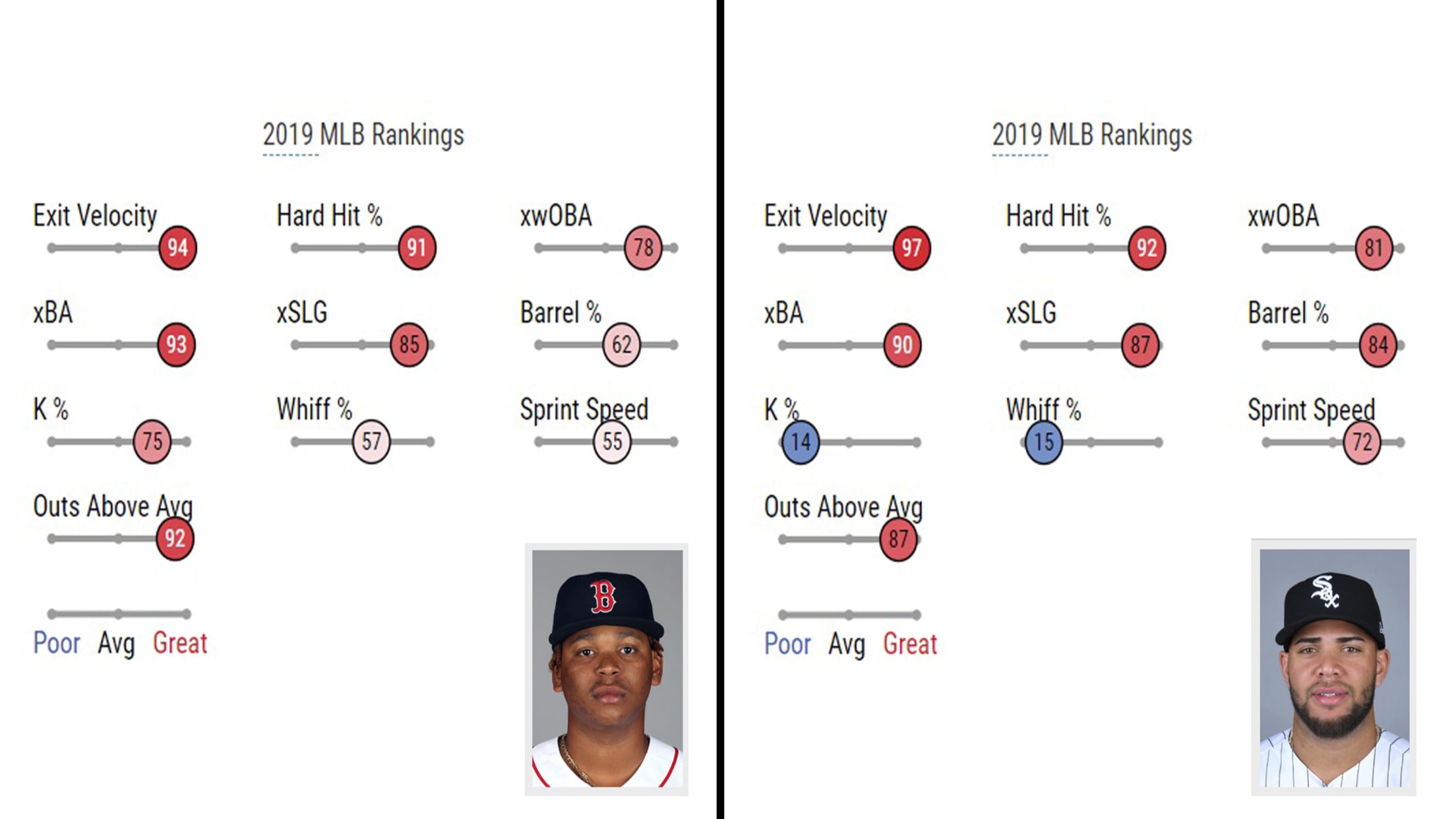 Moncada tied for the Majors' 14th-highest hard-hit rate at 47.9%, with Devers right behind him at 47.7%. Moncada put up an expected slugging mark -- calculated by looking at a hitter's rolling exit velocities and launch angles -- of .524, with Devers at .519. Both guys mashed, and there wasn't much difference between the two. But the most interesting similarity lies with the leather. Both youngsters ranked among last year's most improved defenders according to Statcast's Outs Above Average metric, with Moncada tapping into his athleticism to shed struggles at second base and become an above-average gloveman at the hot corner, and Devers expanding his range to put a dubious defensive reputation behind him.
Everyone knew Rafael Devers was going to hit. His defense was a different story.

But in 2019, Devers made big gains with his glove, too. Nolan Arenado was the only 3B better on plays to the left. #RedSox pic.twitter.com/Fu87nJKMm0

— Matt Kelly (@mattkellyMLB) January 24, 2020
Moncada and Devers entered 2019 as former jewels of the Red Sox's farm system who had fallen shy of expectations. They emerged as multidimensional infielders, with their star potential firmly reinstated.
Who will age better?
Looking ahead to the next three seasons (note: 2020 hasn't been adjusted for a shortened season due to the coronavirus pandemic), Dan Szymborski's ZiPS projection system gives Devers the slight edge.
Devers' next three seasons: .292/.347/.544, 134 HR, 12.7 fWAR
Moncada's next three seasons: .273/.342/.493, 81 HR, 12.0 fWAR
Last year, Devers topped all big leaguers by putting 253 hard-hit balls in play, which is obviously one of the best skills a hitter can possess. However, if Moncada was able to suit up in as many games as Devers (a hamstring strain placed him on the injured list at the start of August), he would have likely been right alongside him at the top of the list.
Instead, Devers' biggest advantage could be his superior contact ability. He made major improvements in his whiff and strikeout rates from age 21 to 22. While Moncada cut down that league-leading strikeout total from 2018 to '19, he still ranked in MLB's bottom 20% in both whiff and K-rates. Better bat-to-ball skills could help Devers be less prone to slumps and hit for a little more average, as Szymborski's projections suggest.
Meanwhile, Moncada has the upper hand when it comes to elevating the ball. Last year, Moncada hit a barrel -- or a ball struck with the type of exit velocity and launch angle that usually yields an extra-base hit -- with roughly 12% of his contact as opposed to Devers' 9% rate (which equaled Devers' career average to this point). Moncada also hit about 40% of his balls within Statcast's "sweet-spot" zone -- aka balls within the most productive line-drive/fly-ball range of 8-32 degrees -- compared to Devers at approximately 33%. It's not a dramatic difference, but Moncada does look slightly more aligned with MLB's current boom-or-bust hitting climate. And those extra air balls could keep Moncada at least on pace with Devers' slash lines, even as Devers enjoys a hitter's paradise at Fenway Park (Moncada's park-adjusted OPS+ last year was 141, compared to 133 for Devers).
Moncada could make up the most ground with his legs. His speed was perhaps his most lauded tool when he was signed out of Cuba -- and even more so after he stole 45-plus bases in back-to-back years in the Minors. But that advantage hasn't revealed itself yet in the big leagues. Moncada topped out at 12 steals in 2018 and, perhaps due to those hamstring troubles, his average sprint speed fell off by a full foot per second last year to render him closer to average. If Moncada can ever evolve back into a 30-30 type player, certainly that would give him a value edge over Devers.
In truth, we're splitting hairs here; Devers and Moncada look like two of the AL's biggest emerging stars. Seeing just who turns into the more dominant player is something to look forward to for years to come.