NL reset: Cubs rotation, Arenado, Dietrich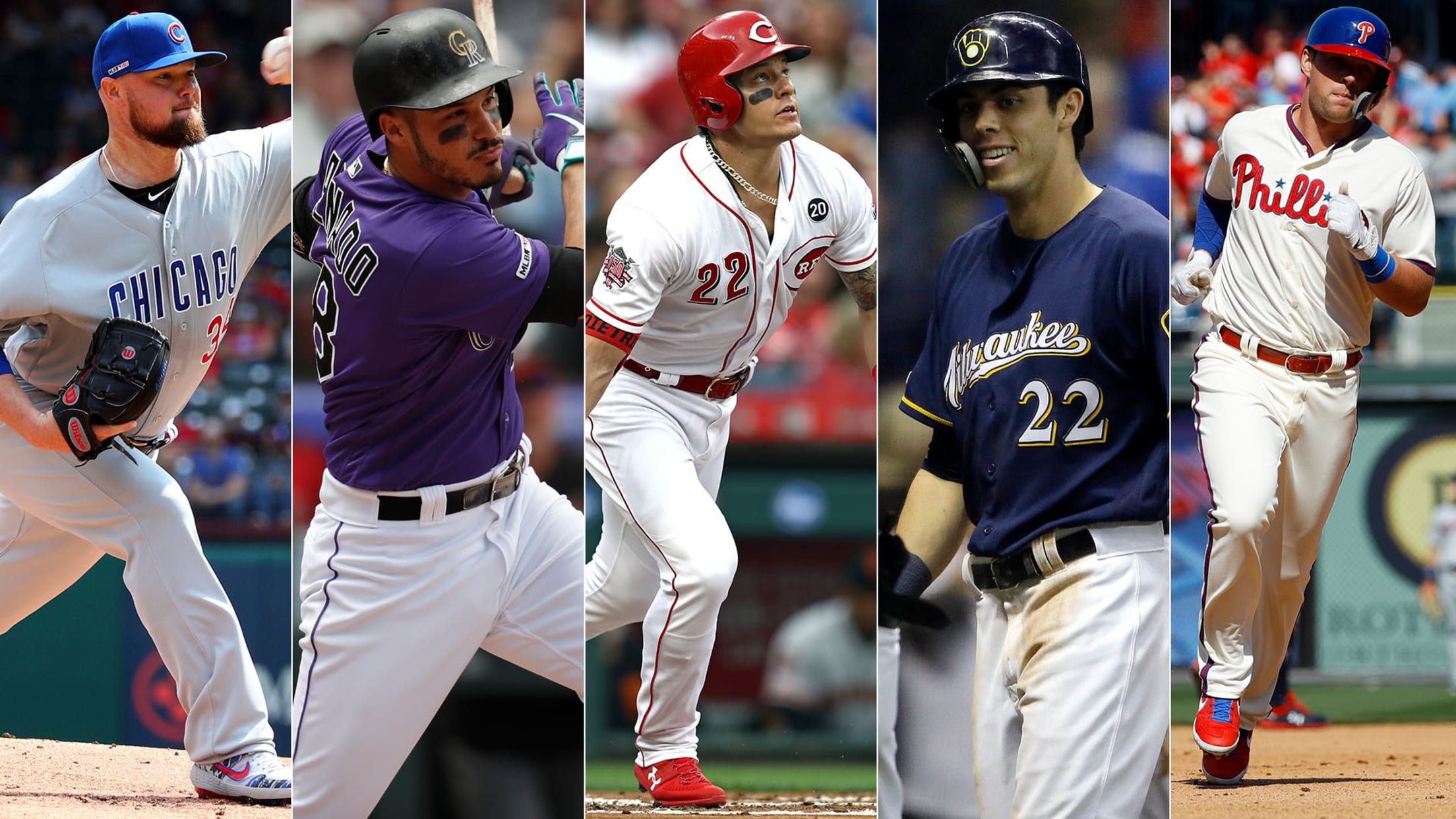 Welcome to the National League notebook, a weekly look at stats, trends, and stories around the Senior Circuit. This week we check in on the Cubs rotation, Nolan Arenado's unusual start, Derek Dietrich's new home, and a big interdivision series. Remember when people were burying the Cubs? Remember when people
Welcome to the National League notebook, a weekly look at stats, trends, and stories around the Senior Circuit. This week we check in on the Cubs rotation, Nolan Arenado's unusual start, Derek Dietrich's new home, and a big interdivision series.
Remember when people were burying the Cubs? Remember when people were panicking about the Cubs pitching? It was just about four weeks ago. And it's a good reminder that there's a reason we play six months in this sport.
On the morning of April 8, Chicago was 2-7. Its starters had a ghastly composite ERA of 6.80 and they had averaged 4 1/2 innings per start. Only Jon Lester had been even competent, and on that day, the 8th, he exited his start after two innings due to a hamstring injury that landed him on the injured list. Meanwhile, the Brewers and Cardinals were threatening to run away with the division.
Fast forward a month. The Cubs are in first place, and they're doing it with starting pitching. Lester returned and he has been absolutely brilliant. Kyle Hendricks recovered from a shaky start and he has three excellent starts in his last four. José Quintana is pitching like the front of rotation starter they thought they were getting when they parted with Eloy Jiménez.
From April 8 through Thursday, Cubs starters combined for a 2.45 ERA. That's .8 better than any other team in the NL in that time. And it starts with the most fundamental thing of all: throwing strikes. Chicago starters have issued 46 walks in that span, the league's fourth-lowest total. That's allowed them to average 5.94 innings per start, the league's highest average over that time.
And what do you know? The Cubs are winning. They're 20-6 since that 2-7 start, winning with starting pitching just like they expected to before the season started.
Stat of the week
Arenado is having a typically great season. Except that in at least one way, it's not typical at all.
He is well on his way to another campaign pushing 40 home runs and topping 100 RBIs. He's hitting over .300 again. He is of course one of the game's best and most entertaining defenders. But there's one big difference: he's slashed his strikeout rate.
Arenado has 15 strikeouts, the lowest total of any player with at least 10 homers in either league. His strikeout rate, of 9.3 percent, is the fourth-lowest among qualified hitters in the Majors, and he's the only player in either league with at least 10 homers and a strikeout rate lower than 14 percent.
Player of the week
Derek Dietrich was never exactly a superstar in Miami, but he was an effective hitter. He posted four straight seasons with an OPS+ of 106 or better, and hit 16 home runs in 2018. But the Marlins designated him for assignment in November and he became a free agent a few days later. Then he had to wait till camp had opened to sign a Minor League deal with the Reds.
It has worked out. Dietrich's home run on Thursday was his fifth in a week and his 10th on the season. He's slugging .675. And it's not just the power. His strikeout rate would be the lowest of his career. His walk rate is back up to career-norm levels after dipping last season. He's even played a decent second base after barely appearing there the past two seasons.
Dietrich is one of the year's best stories, and one of the key figures on a Reds team that has righted the ship after an extremely tough start to the 2019 season.
Looking ahead: Series of the week
The Phillies and Brewers have extremely potent offenses, though they've both been much more effective at home than on the road. They'll get together for four games next week, Monday through Thursday, at Citizens Bank Park, and if there's a road ballpark that might be a good place for the Crew's bats to get going, Philly seems like a good choice.
The Phils have gotten a little more out of their rotation, while the Brewers' bullpen has been more stout, but both teams have some questions on the pitching side of things. And they can both mash. Yelich, Moustakas, Harper, Hoskins, this one should be a lot of fun. Oh, and of course, plenty of pennant race implications as well.
And if all that isn't enough? The Phillies will be busting out the powder blue throwbacks for Thursday's matinee. It doesn't get much better than that.