Cubs host young fans from Chicago hospital
Nine children and their families treated with VIP trip to spring camp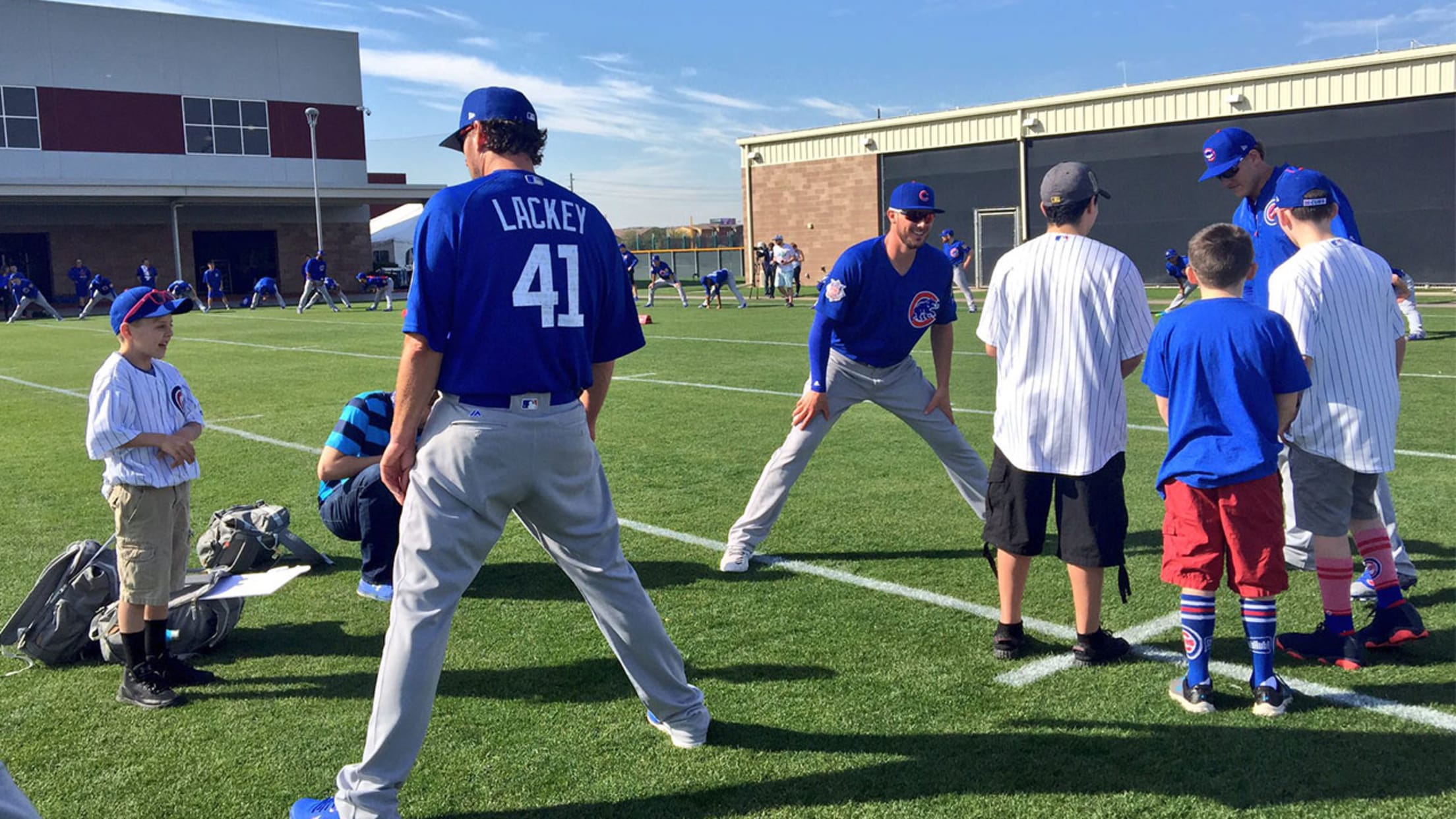 The nine patients from Advocate Children's Hospital attended as part of the "Kids, Cubs and Cactus Road Trip." (Cubs)
MESA, Ariz. -- Nine patients from Advocate Children's Hospital in Chicago were treated to a day with the Cubs on Wednesday. The kids ranged in age from 7 to 14, and included a spina bifida patient, another dealing with heart defects, another battling Crohn's disease, and a girl who was
MESA, Ariz. -- Nine patients from Advocate Children's Hospital in Chicago were treated to a day with the Cubs on Wednesday. The kids ranged in age from 7 to 14, and included a spina bifida patient, another dealing with heart defects, another battling Crohn's disease, and a girl who was in hospice care. Despite their difficult situations, there were lots of smiles.
"It's a chance of a lifetime," said Adrienne Balow of Des Plaines, Ill., whose 11-year-old son, Aidan, was a guest on the trip.
The kids and their families were flown to Arizona courtesy of American Airlines, and had a chance to shake hands with the players before Wednesday's morning stretch. The children were positioned inside a circle of players as they did their exercises. Some of the kids joined in, especially when it came time to do jumping jacks.
"It's beautiful," Cubs manager Joe Maddon said of the experience. "It made their day, it made their families' day also. I love the way the players reacted. I think it adds to balance and perspective. The kids are awesome. It's terrible that they have to be there under those circumstances, but it's wonderful [they were here] and it went over well."
Sometimes, you just need a day at the ballpark.

A heartwarming moment with youth patients today thanks to @AdvocateKids and @AmericanAir. pic.twitter.com/57ToR7E0gO

— Chicago Cubs (@Cubs) February 22, 2017
Pitcher Kyle Hendricks also spent time with the group, part of the "Kids, Cubs and Cactus Road Trip."
One of the kids was a boy whom catcher Willson Contreras met during a visit to the Chicago hospital in January before the Cubs Convention.
"He's my new best friend," Contreras said of the boy. "He's so special and sweet. I love him.
"Their lives are way too difficult compared to our lives. That keeps us thinking about where we are, and where we came from. It keeps us humble."