Arrieta recharged after much-needed break
Cubs' ace enjoys time with family, fellow All-Stars without 'picking up a ball'; confident after 'pen session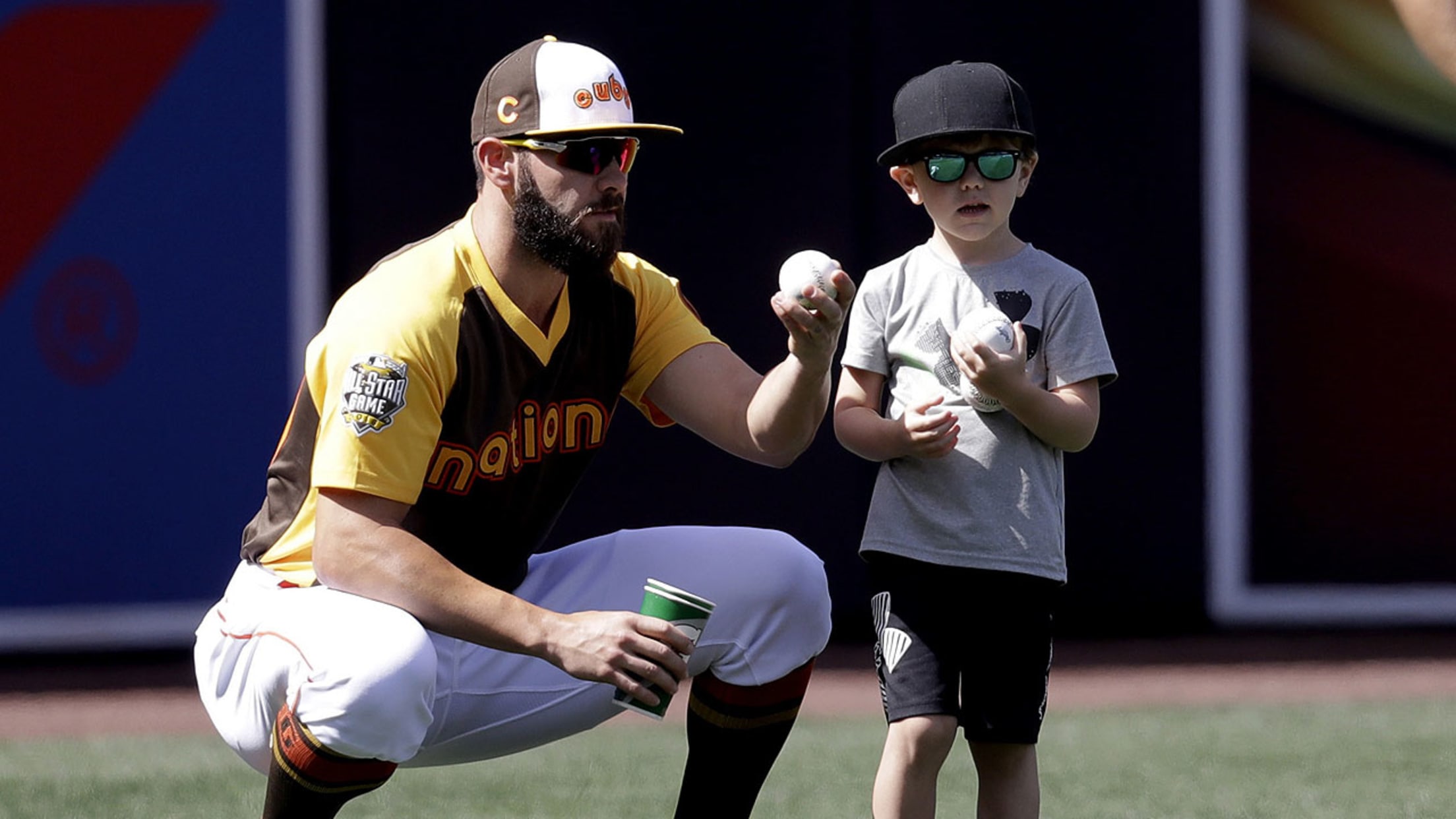 Jake Arrieta: "Sometimes you need that mental down time. Spending time with Cooper and my family was tremendous." (AP)
CHICAGO -- Jake Arrieta's phone is filled with photos of his son, Cooper, near the batting cage with Giancarlo Stanton and being held by David Ortiz and cheering on homers during the festivities at last week's All-Star Game. It's a week the Cubs' pitcher won't forget, and which should benefit
CHICAGO -- Jake Arrieta's phone is filled with photos of his son, Cooper, near the batting cage with Giancarlo Stanton and being held by David Ortiz and cheering on homers during the festivities at last week's All-Star Game. It's a week the Cubs' pitcher won't forget, and which should benefit him in the second half.
"Not picking up a ball for four days was exactly what I needed," Arrieta said Sunday. "Sometimes you need that mental down time. Spending time with Cooper and my family was tremendous. I picked up a ball for the first time in four, five days [on Thursday] and threw the best 'pen I've thrown all year.
"It's not that there's any reason to panic, but to have that down time and experience the All-Star week like I could with my friends and family was a great experience."
Arrieta, who was named to the All-Star team for the first time in his career, will make his first start of the second half on Tuesday, when the Cubs play host to the Mets at Wrigley Field. He is looking forward to showing the rough stretch he had prior to the break is over.
"Last year, the run I went on was great," Arrieta said. "Would everybody like to pitch that way all the time? Yes. But if you're being realistic, relative to how good you are and how you've pitched in the past, you'll have times when you don't pitch your best. The guys on the other side are good, and you're going to get beat.
"I wasn't happy with it. The results are what they are. From my perspective, I want to continue to do what I have been doing in between starts and find the rhythm and find the timing."
A week to remember for the family forever!Thanks for the all of the fan appreciation and… https://t.co/jtnZWYclmH

— Jake Arrieta (@JArrieta34) July 15, 2016
The right-hander is 1-3 with a 6.75 ERA in his last four outings, giving up 16 earned runs over 21 1/3 innings on 25 hits and 12 walks. It's the high number of walks that bothers Arrieta, and it's something he feels can be fixed.
In 14 starts before that stretch, Arrieta was 11-1 with a 1.74 ERA, giving up 18 earned runs over 93 innings, and he was averaging three walks per nine innings.
The reigning National League Cy Young Award winner, Arrieta was encouraged by the feedback he received from the other All-Stars.
"Pretty much every one of them expressed how they loved watching me throw and how much appreciation they have for what I was able to do last year, and even this year," Arrieta said of his conversations with the NL pitchers. "The outreach was pretty cool, and it was reciprocated from me.
"Obviously, [Clayton] Kershaw, [Madison] Bumgarner, guys like [Mark] Melancon, José Fernández, guys you play against a lot and really like to watch, to be able to experience that week with them was cool. I talked to Jose about the outings he's had and how impressive he is to watch pitch, and vice versa.
"Getting to pick guys' minds and talk to Bumgarner about his delivery and certain pitches he throws, and the same thing with Kershaw, was something that was pretty cool to do."