Bridge from starter-closer critical for Cubs-Nats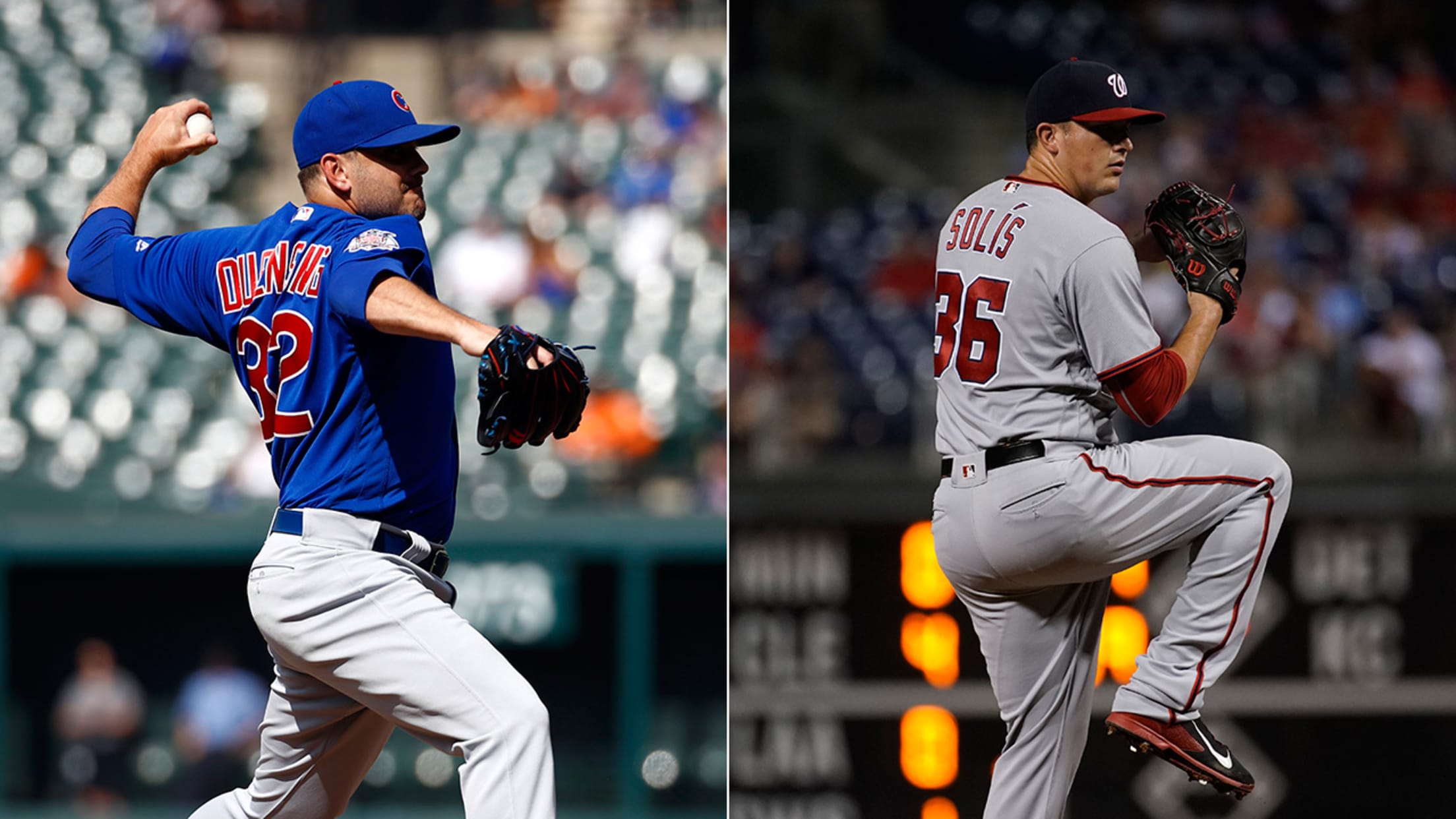 Brian Duensing and Sammy Solis will play an important role for their respective bullpens. (AP)
WASHINGTON -- Even with former Cy Young Award winners Jacob Arrieta and Max Scherzer nursing hamstring injuries, there's no doubt the Cubs and Nationals have two of the Majors' most dominant rotations. In Wade Davis and Sean Doolittle, they have outstanding closers as well.But it is what's between those endpoints
WASHINGTON -- Even with former Cy Young Award winners Jacob Arrieta and Max Scherzer nursing hamstring injuries, there's no doubt the Cubs and Nationals have two of the Majors' most dominant rotations. In Wade Davis and Sean Doolittle, they have outstanding closers as well.
But it is what's between those endpoints that might determine the victor in Chicago and Washington's National League Division Series presented by T-Mobile, beginning tonight at Nationals Park.
The Cubs' bullpen ended the regular season with a 3.80 ERA, the sixth lowest in the big leagues, but its 4.64 ERA since Aug. 1 was the ninth highest.
:: NLDS schedule and coverage ::
Washington ranked 23rd overall with a 4.41 mark, but since July 16, when the club acquired Doolittle and right-hander Ryan Madson from the A's, the Nationals' 3.36 relief ERA leads the NL. Two weeks later, the team traded for Twins closer Brandon Kintzler, further deepening the bullpen.
Veteran right-hander Matt Albers has become a reliable late-inning option with a 1.62 ERA in 2017. Since returning from the Minor Leagues in late July, lefty Sammy Solis has a 2.41 ERA and carries an 11-game scoreless streak into the postseason. Before a rough outing in the regular-season finale, left-hander Oliver Perez had a 3.14 second-half ERA. The impact of the trades is felt even among the pitchers who were there all along.
"I think when we were able to get those three guys at the back end, it filtered everybody else back where they pitched best," Washington catcher Matt Wieters said. "Albers has been great for us all year, and then we have numerous lefties that can come in for us. Hopefully, you get your starters to go six, seven innings each time, but now with all those other guys, if we have to fill in a game, we feel like we can."
Despite scuffling at times during the season's final two months, Chicago relievers ended well, posting a 2.39 ERA in the last 20 games as the Cubs went 15-5.
"We always feed off each other a little bit," left-hander Brian Duensing said. "We finished strong, so I think there's really no need for any other thought than taking care of business."
Cubs manager Joe Maddon called Duensing, who had a career-best 159 ERA+, the bullpen's "unsung hero." He also noted the growth of C.J. Edwards, who posted a 12.8 K/9 thanks to a fastball measured by Statcast™ to have the Majors' highest spin rate. If needed, Maddon also said he would consider turning to Davis for more than three outs.
After the Wild Card matchups saw no starters make it through the fourth, relievers on both sides of this NLDS recognize the possibility they could be in games earlier than expected.
Even if the gap from starter to closer proves wide, both bullpens appear prepared.
"I mean, why not? I'm here to win the damn games," Kintzler said with a laugh. "I think we got traded for these situations. Obviously, seven-eight-nine would be great, but worst case, we have a lot of guys that can bridge that gap if we can't do it the way we would like to. But we'll see what happens."
Said Duensing: "Going into these games, we all know that it's all hands on deck at all times. We'll prepare that way and be ready to pitch whenever needed. Whether it's three-four-five-six or eight-nine, I think we're all going to be ready to go."
Nathan Ruiz is a reporter for MLB.com based in Washington.