Cubs look back on Piersall fondly
'I enjoyed listening to him and learned a lot,' Martinez says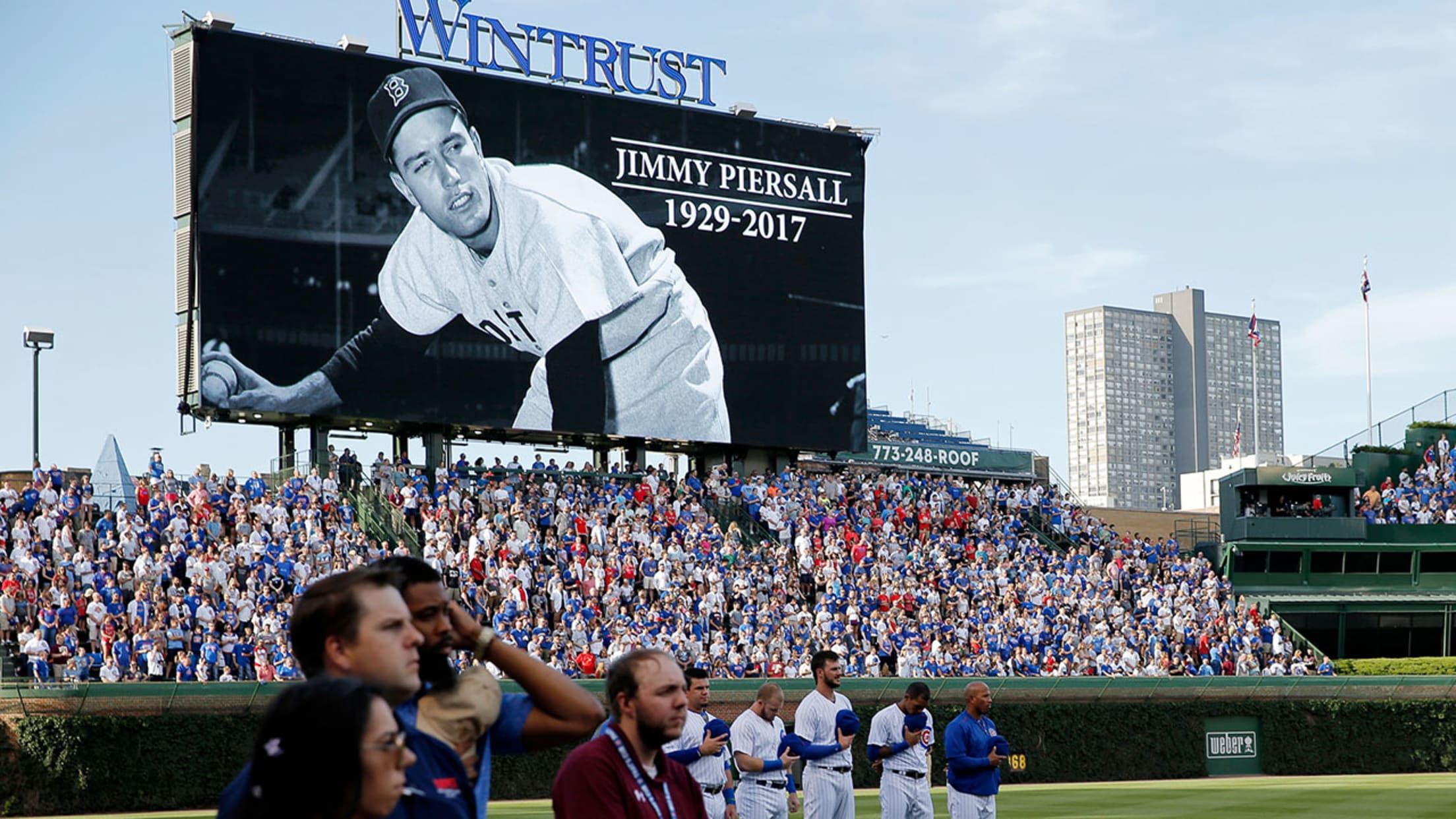 The Cubs hold a moment of silence for Jimmy Piersall before Sunday night's game at Wrigley Field. (Getty)
CHICAGO -- Less than two weeks ago, Hall of Famer Billy Williams spent some time with Jimmy Piersall talking baseball."We had a lot of fun," Williams said Sunday of their conversation. "We were just talking baseball, bringing back old stories, and that kind of livened him up."Piersall's wife called Williams
CHICAGO -- Less than two weeks ago, Hall of Famer Billy Williams spent some time with Jimmy Piersall talking baseball.
"We had a lot of fun," Williams said Sunday of their conversation. "We were just talking baseball, bringing back old stories, and that kind of livened him up."
Piersall's wife called Williams the next day to say how much she appreciated that. On Sunday, Piersall passed away. He was 87.
Williams and Piersall were hired by then Cubs general manager Dallas Green in February 1986 as a hitting coach and Minor League outfield coach, respectively. At the time, Piersall issued a warning to the Cubs outfielders: "Tell them not to bring their golf clubs. We plan to do a lot of work."
The Cubs had a moment of silence before Sunday night's game to honor Piersall.
One of the young players Piersall tutored was current Cubs bench coach Dave Martinez.
"He really did know the outfield," Martinez said Sunday. "He taught me well. He was really good. He said, 'You need to learn how to dive for balls.' For 20 minutes, I was out there diving for balls. He was really into it.
"He taught me little things, what to look for, always anticipating the ball being hit to you," Martinez said. "As a young kid, I enjoyed listening to him and learned a lot."
Martinez also remembered that he took care of Piersall's Shar Pei dog during Spring Training.
"This morning, I was bringing up some of his stuff on the computer to show my daughter," Williams said. "[Piersall] was a good banquet speaker because he kept the people laughing. He said, 'I've got a certificate to be crazy.' He was a lot of fun. He was a good baseball player and hit about .270 and won three or four Gold Gloves. He was a great outfielder."
Manager Joe Maddon remembered meeting Piersall at the Cubs' former Spring Training complex, Fitch Park, in Mesa, Ariz.
"My dad always talked about what a great player he was, how entertaining he was," Maddon said. "My only exchange was watching him coach and talk and having a boisterous time at Fitch Park."
Worth noting
• Rookie Ian Happ's regular playing time has meant Albert Almora Jr. is spending more time on the bench than in the Cubs' lineup. Maddon said he's trying to find games to give Almora a start.
"When we designed this at the beginning of the year, it was not with the intent that Ian would be here this soon or that Ian would play center field as well as he has," Maddon said.
In his first eight games in the big leagues, Happ batted .357 with two home runs, four doubles, one triple and five RBIs. Since then, Happ was batting .114 in 11 games with one double. Maddon said the outfielder is a streaky hitter.
"I saw it in Spring Training," Maddon said. "I saw he was swinging and missing a lot ... and then he hit a line drive to right field [against the Angels], and he took off again.
"He's going to get hot again," Maddon said. "That's who he is, it's his DNA. If you're concerned about him, don't be. It's just a birth certificate situation.
"The guy's got tools, and he's got a good baseball mind. Yeah, he's going to strike out and look bad sometimes, but when it all comes together, look out."