Cubs take rare loss with Lackey off his game
Chicago entered Saturday's contest 44-3 when scoring at least 4 runs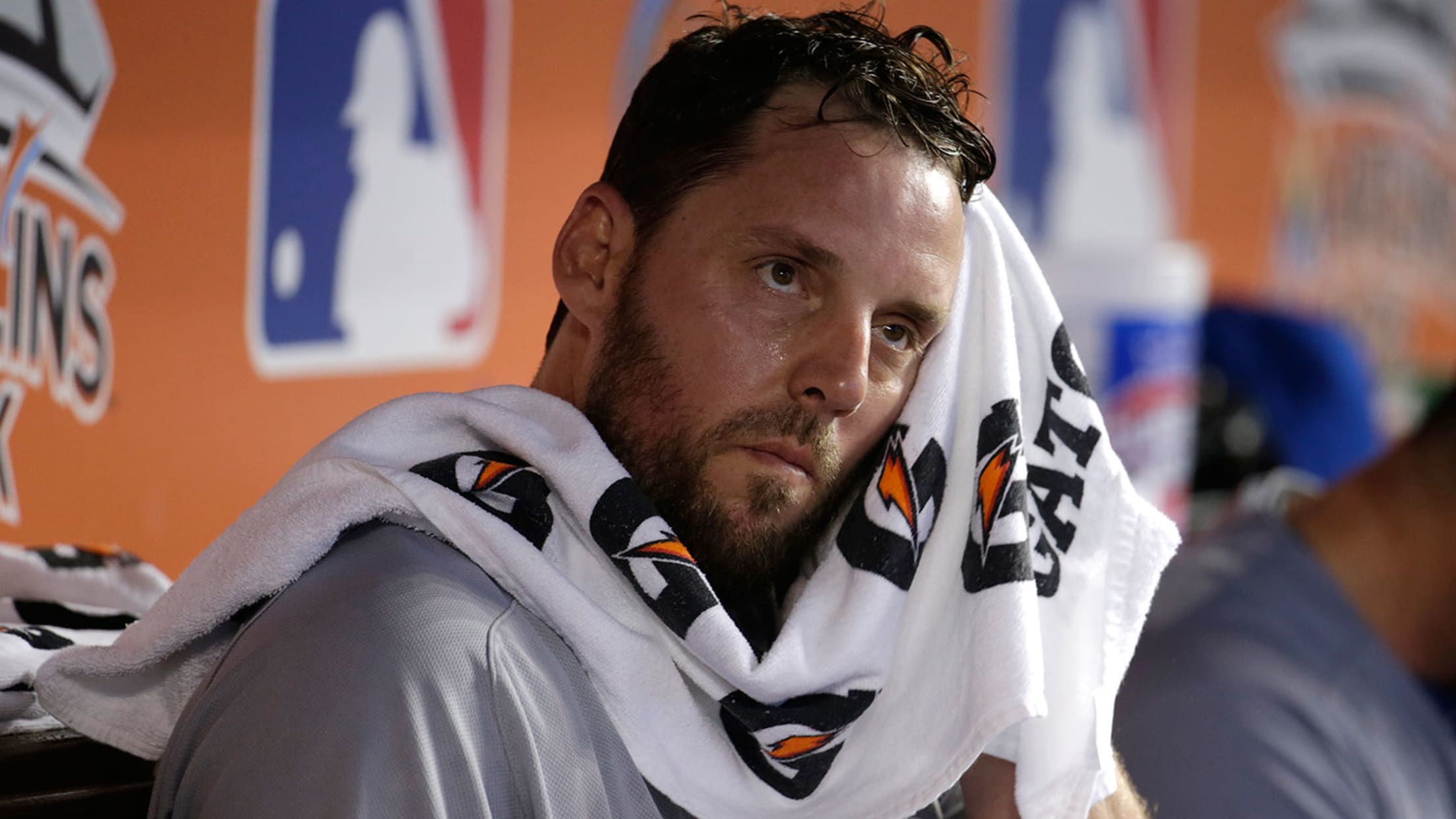 "I've got to do better than that," John Lackey said after giving up seven runs in 4 1/3 innings on Saturday. (AP)
MIAMI -- Usually all the Cubs need are four runs. That's been enough for the pitchers, who have been incredibly effective. Chicago began play on Saturday with a record of 44-3 when scoring at least four runs.It's now 44-4. The Marlins rallied from a 4-1 deficit to post a 9-6
MIAMI -- Usually all the Cubs need are four runs. That's been enough for the pitchers, who have been incredibly effective. Chicago began play on Saturday with a record of 44-3 when scoring at least four runs.
It's now 44-4. The Marlins rallied from a 4-1 deficit to post a 9-6 victory on Saturday over the Cubs, who lost for the fifth time in the last six games.
"We did some really good things early, and John [Lackey] just did not have his best day -- that's all it came down to," Cubs manager Joe Maddon said of Saturday's starter. "We scored plenty of runs. That's a good offensive day for us. When we normally score that many runs, we're going to win the game."
But things aren't normal for the Cubs lately as they try to maintain their lead in the National League Central, despite injuries to several key players.
Miguel Montero made his first start since Wednesday and hit a solo home run. He had been sidelined with a sore right knee. Anthony Rizzo returned after missing two games because of lower back tightness, and he hit two doubles. Ben Zobrist was available to pinch-hit, but he was questionable after taking a pitch off his left ankle.
Chicago did lead, 4-1, after Montero's homer and Addison Russell's three-run blast. But Justin Bour hit a two-run homer in the fourth, and the Marlins scored four runs in the fifth, chasing Lackey, who had his shortest outing of the season.
"I've got to do better than that," Lackey said. "We got four runs, and where we're at right now as a team, four runs needs to be enough to win that game.
"The Bour pitch was just location," Lackey said. "Really, honestly, before that, I can't walk [Giancarlo] Stanton right there and put him on [before Bour's homer]. That was something I don't need to do right now. [Stanton's] not exactly dialed in right now. I need to go after him."
Lackey now has given up 10 earned runs in his last two starts combined. He had served up 10 in his eight previous starts combined.
Ichiro Suzuki took advantage of a throwing error by Russell to get on base in the fifth and get things started.
"I have to do a better job cutting down on the errors," Russell said. "A team like that, they're going to capitalize."
The Cubs are hoping the young players they've added can contribute enough to maintain their cushion. There was no panic in the clubhouse postgame.
"If we were playing at full strength with everybody out there and things were normal, you'd possibly have a little more concern," Maddon said. "We're not our normal group right now. In the meantime, if we split the series, I'll take it."