d'Arnaud ready to make up for lost time
Utility player has been hampered by flu, bronchitis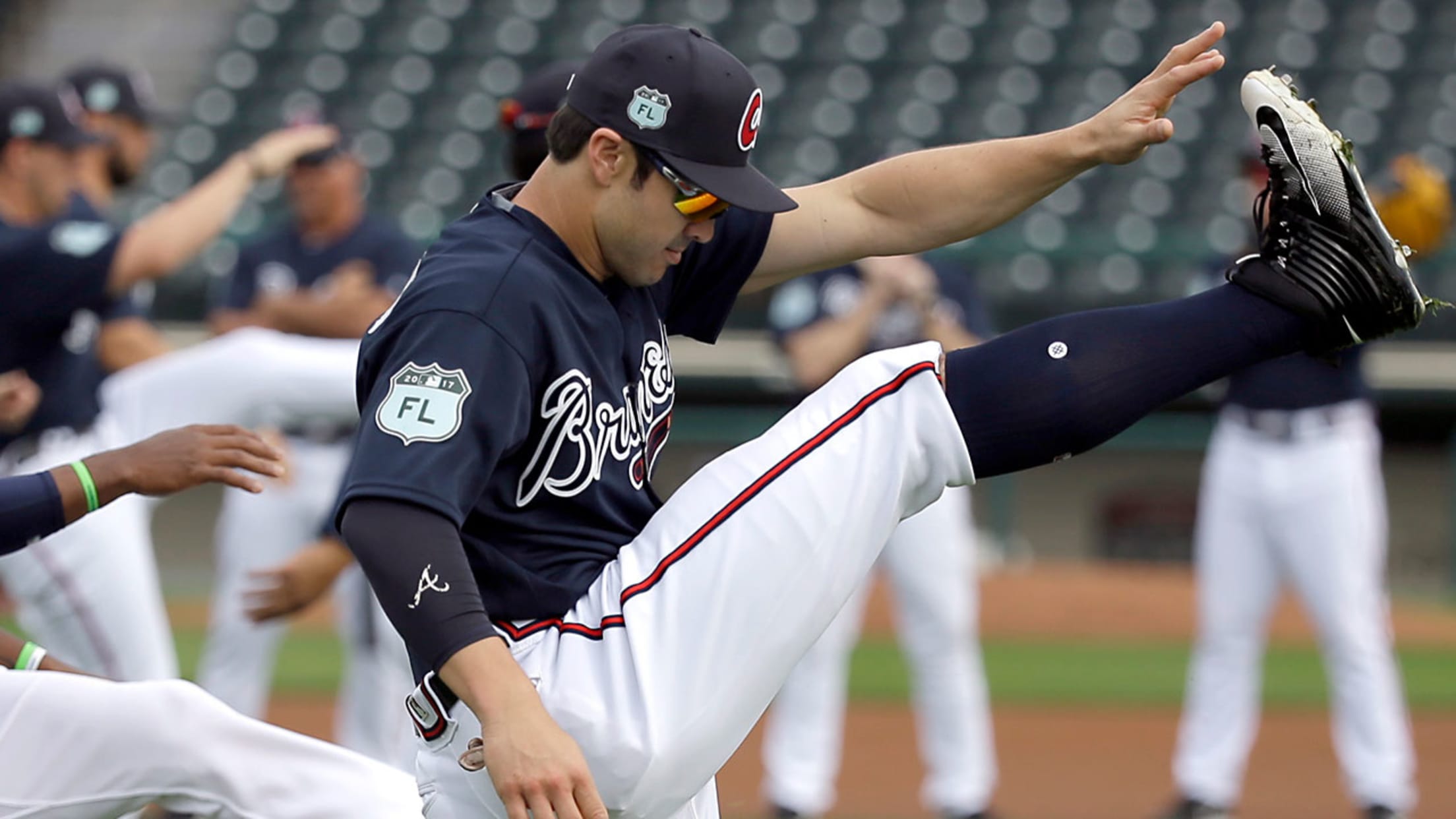 Chase d'Arnaud is expected to play Tuesday for the first time since Feb. 26. (AP)
LAKE BUENA VISTA, Fla. -- After missing nearly two full weeks while dealing with the flu and bronchitis, Chase d'Arnaud returned to Braves camp on Sunday, hoping to prove he has enough time to make up for what he lost and also win one of the available spots on Atlanta's
LAKE BUENA VISTA, Fla. -- After missing nearly two full weeks while dealing with the flu and bronchitis, Chase d'Arnaud returned to Braves camp on Sunday, hoping to prove he has enough time to make up for what he lost and also win one of the available spots on Atlanta's bench.
d'Arnaud shook off some of the rust as he took live batting practice and completed his other normal exercises on Sunday and Monday without any problems. He is scheduled to travel to Clearwater on Tuesday to play in his first Grapefruit League game since Feb. 26.
"It helped a lot, because at first, with two weeks without at-bats, the ball seems like it's coming, but after I saw some pitches go by, it felt fine," d'Arnaud said. "I'm excited to get back out there after being stuck inside. The worst thing was being sick at first, but then when you're feeling better and you just can't go outside and you have to stay indoors, you appreciate going back outside again."
d'Arnaud began battling a sinus infection and a 102-degree fever that he carried through the first few days of this month. He returned to Braves' camp on March 5, but learned the next day that he still had bronchitis and would have to stay away from the ballpark for at least three more days because he was contagious.
When d'Arnaud called Braves manager Brian Snitker last week to express concern about the time he'd missed, he was comforted to hear his skipper say, "Spring Training is long, and you'll have plenty of time left."
As long as he stays healthy, d'Arnaud remains a favorite to grab one of the last available bench spots. Johan Camargo has made himself a candidate, but at this point of his development, the Braves want Camargo to play on an everyday basis until he's needed at the big league level.
ODDS and ENDS
The Braves claimed left-handed pitcher Kevin Chapman off waivers from the Astros on Monday. Chapman, 29, posted a 1.77 ERA in 25 appearances for Houston during his 2013 rookie season, but he produced a 4.64 ERA in 21 appearances the following year. He has totaled just 12 big league appearances over the past two seasons.
Dansby Swanson took some soft toss swings again on Monday and didn't experience any of the back discomfort that has sidelined him since March 5. The Braves are taking a cautious approach with their rookie shortstop, but Snitker once again indicated Swanson could be cleared for games at some point this week.
Mark Bowman has covered the Braves for MLB.com since 2001.