Chafin lays down law as 'the only real Sheriff'
D-backs reliever claims West-themed nickname for Players Weekend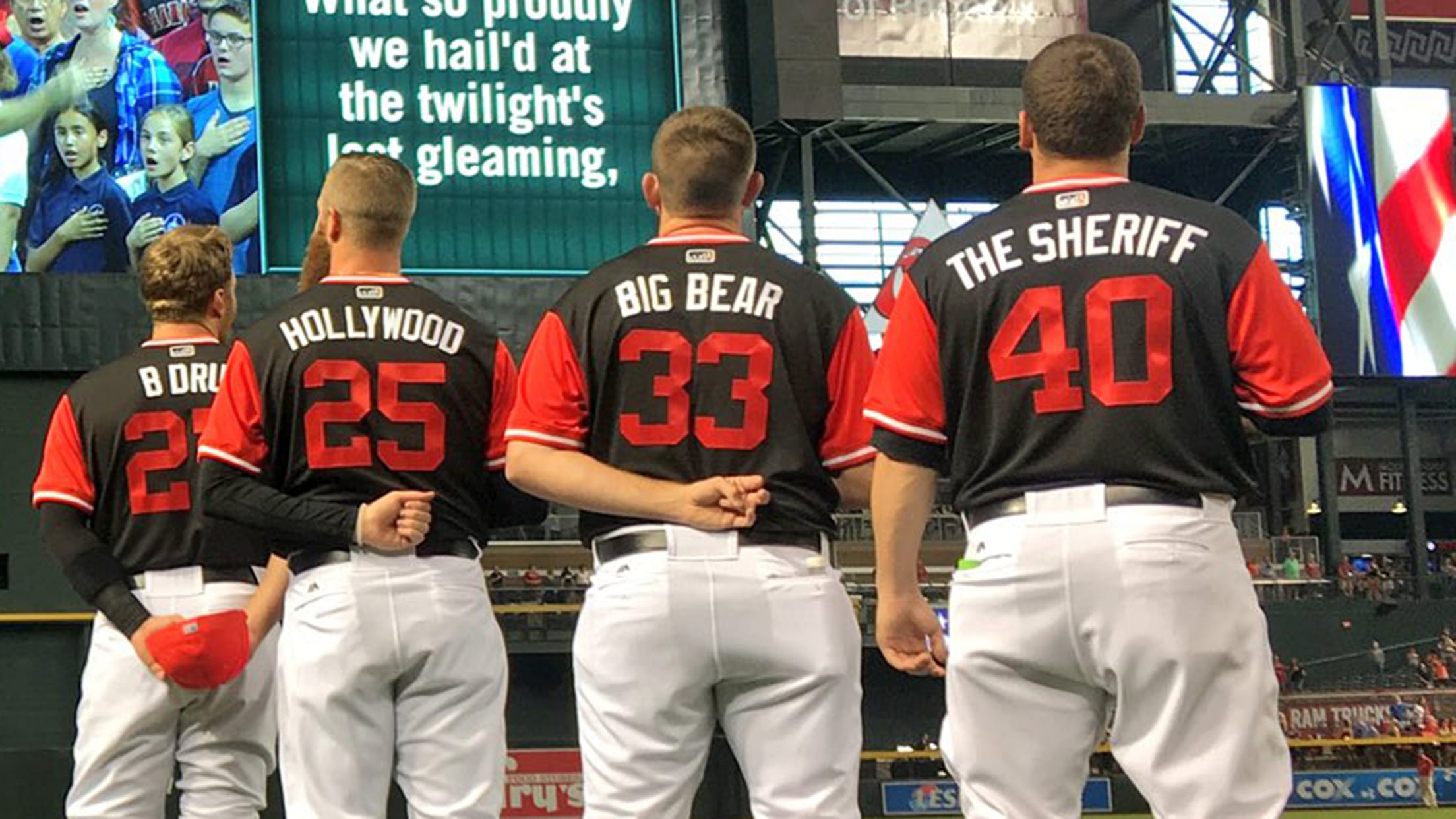 Andrew Chafin chose "The Sheriff" for his Players Weekend jersey. (@Dbacks)
PHOENIX -- While Andrew Chafin, aka "The Sheriff," and the D-backs were locking up a 4-3 win against the Giants at Chase Field on Friday, another Sherriff took the mound in the Midwest.Cardinals reliever Ryan Sherriff -- who conveniently sported his own last name on the back of his jersey
PHOENIX -- While Andrew Chafin, aka "The Sheriff," and the D-backs were locking up a 4-3 win against the Giants at Chase Field on Friday, another Sherriff took the mound in the Midwest.
Cardinals reliever Ryan Sherriff -- who conveniently sported his own last name on the back of his jersey for Players Weekend -- squared off with Kevin Kiermaier, aka "Outlaw," and retired the Rays outfielder twice in a 7-3 Tampa Bay win.
• D-backs Players Weekend gear available at MLBShop.com
When he was informed of the Wild West-themed matchup that took place a time zone away, Chafin didn't budge.
"Doesn't matter," Chafin said. "I'm the only real Sheriff."
Wondering how @BigCountry1739, Ketel Marte, @RobbieRay, and @JDMartinez14 got their nicknames for #PlayersWeekend? pic.twitter.com/hq7jEDsXcN

— Arizona Diamondbacks (@Dbacks) August 26, 2017
Chafin wasn't the only D-backs player who learned during the week that another player in the Majors chose a similar or identical nickname.
"I learned this a few days ago -- actually he shouted me out on Twitter -- but Cole Hamels and I have the same nickname," Archie Bradley ("Hollywood") said. "He's Hollywood as well. I think he's been called Hollywood a lot longer than I have. It was cool to get a little shoutout on Twitter. He's had a great career, so it's pretty cool."
@ArchieBradley7 got the head start on #playersweekend now it's my turn to enter the fray! pic.twitter.com/9Wg9lNOOqf

— Cole Hamels (@ColeHamels) August 26, 2017
Bradley and many of the Arizona relievers had a hard time seeing all of the Giants' nicknames when they were down in the bullpen, but he and Chafin both agree that Hunter Pence's "Wawindaji" moniker, which translates to "Lion Hunter" in Swahili, was among the best.
To find his favorite nickname during Players Weekend, though, Bradley only had to look one locker away.
"Honestly, the guy next to me, The Sheriff," Bradley said. "I think that just fits him so well. The way it looks on the back of his jersey just kind of fits. I really enjoy seeing The Sheriff on the back of that No. 40 over there."
Jarrid Denney is a reporter for MLB.com based in Phoenix.