Hudson named Cardinals' fifth starter
Club's No. 4 prospect had a 1.72 ERA in Grapefruit League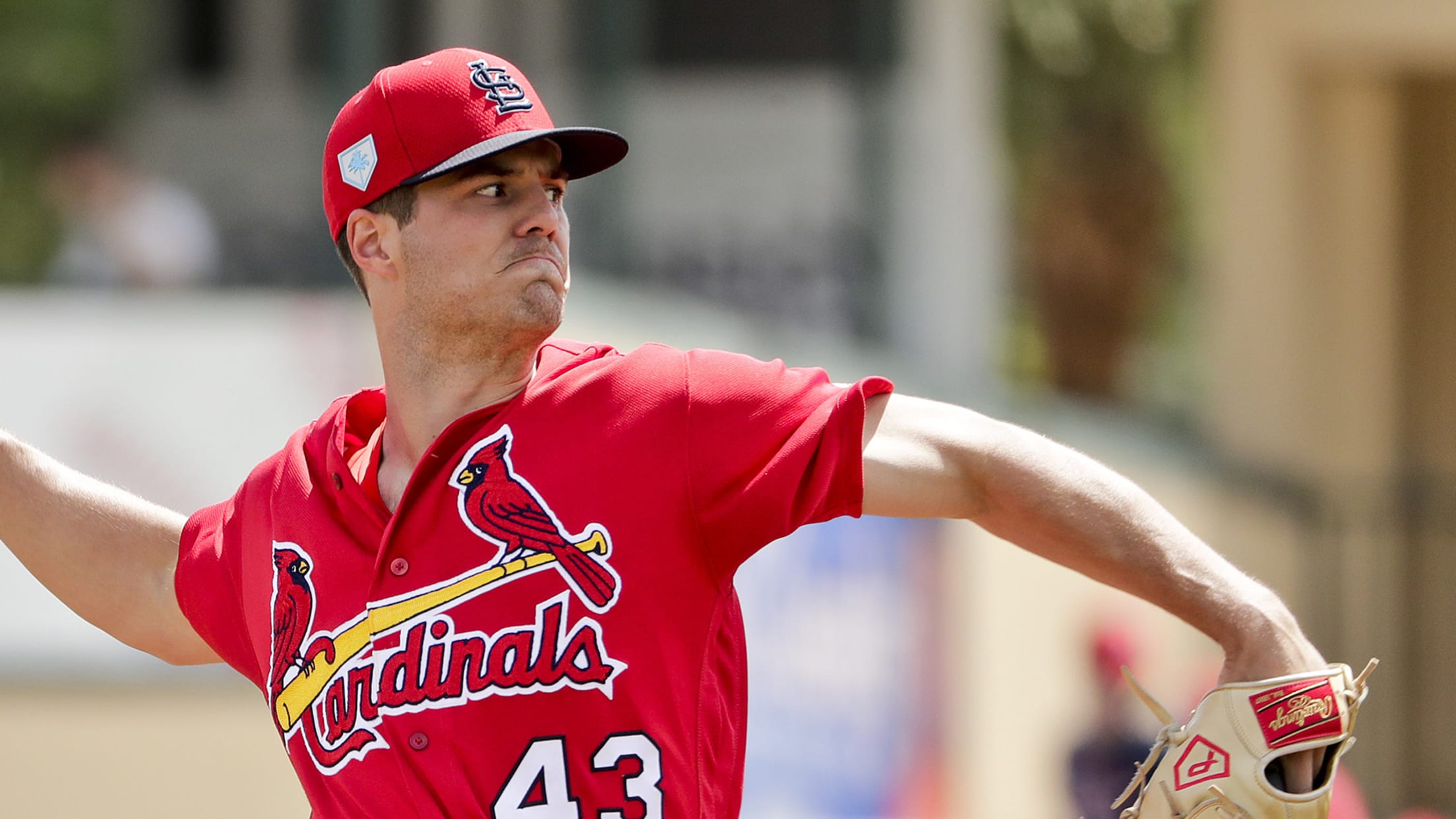 JUPITER, Fla. -- A competition that was once five pitchers deep has ended with Dakota Hudson as the last one standing. Manager Mike Shildt announced after Thursday's 11-3 win over the Yankees that the team will open the season with Hudson as its fifth starter. Hudson shined all spring and
JUPITER, Fla. -- A competition that was once five pitchers deep has ended with Dakota Hudson as the last one standing.
Manager Mike Shildt announced after Thursday's 11-3 win over the Yankees that the team will open the season with Hudson as its fifth starter. Hudson shined all spring and ultimately outlasted Alex Reyes, Austin Gomber, Daniel Ponce de Leon and John Gant to win a spot that became vacant when Carlos Martínez had to be shut down due to shoulder fatigue.
Reyes and Gant will be members of the Cardinals' Opening Day bullpen.
Hudson, who appeared in 26 games as a reliever for the Cardinals last season, is poised to make his first Major League start during the club's opening road trip.
"He separated himself," Shildt said of the reigning Pacific Coast League Pitcher of the Year. "It wasn't anything John Gant didn't do. John Gant had a nice spring, too. … But Dakota, he earned his spot. He deserves it."
Hudson, the Cardinals' No. 4-ranked prospect according to MLB Pipeline, capped his spring with five scoreless innings in a start on Monday. In total, he allowed three earned runs on 12 hits and four walks while striking out 17 in 15 2/3 Grapefruit League innings.
Hudson showcased the sinker that was so effective for him out of the bullpen, but he also flashed an improved slider and curveball, pitches that will be more prominent in his repertoire as a starter.
"I feel like I've pitched well," Hudson said before learning that he had earned a rotation spot. "I don't feel like I've missed out on anything. Definitely executed my process. I felt like I've gotten better this spring."
Hudson was a valuable reliever for the Cardinals over the second half of last season. He allowed nine runs (eight earned) over 27 1/3 innings and posted the fifth-highest ground-ball rate (63.3 percent) among Major League relievers. He was one of five pitchers to face at least 118 batters and not surrender a home run.
His biggest hiccup was in the walk total. Hudson issued 18.
While Gomber and Ponce de Leon were optioned to Triple-A earlier in the week, Gant remains with the big league club and will start Friday's Grapefruit League game against the Mets. That will allow the Cardinals to keep the right-hander stretched out for the hybrid role he'll fill in their bullpen.
What the Cardinals don't intend to do is let Gant get stale by holding him only for long-relief opportunities.
"I was explaining the role to him and I said, 'John, the reality is you can do anything,'" Shildt said. "You can pitch long. You can pitch short. You can pitch multiple innings. You can come back [to pitch the next day]. What a valuable commodity."
Jenifer Langosch is a senior content manager at MLB.com. She previously covered the Pirates (2007-11) and Cardinals (2012-19). Follow her on Twitter.