Keuchel throwing in SoCal as Opening Day looms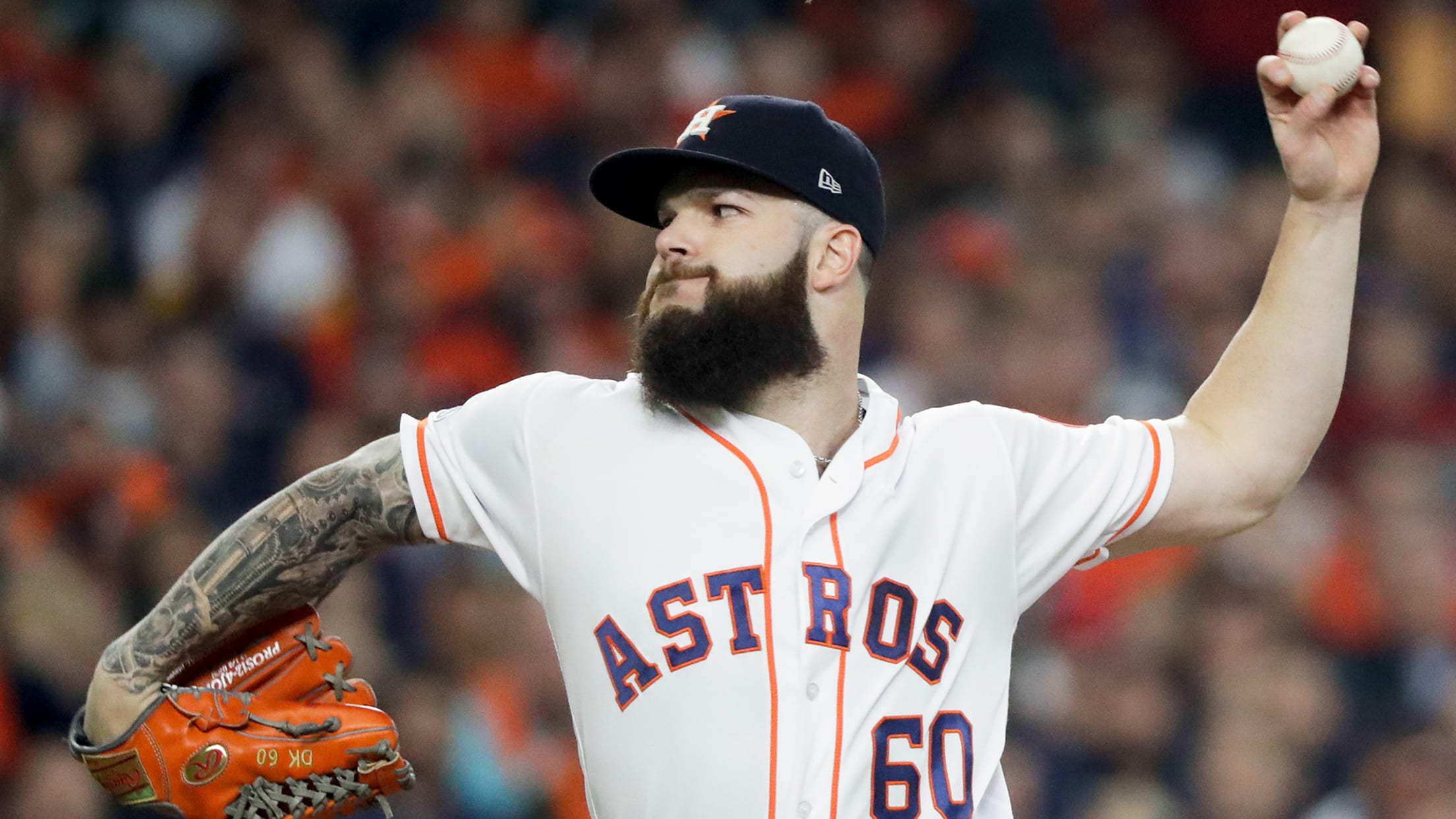 After a seven-season tenure with the Astros that included a trio of 200-inning seasons, an American League Cy Young Award in 2015 and an overall 3.66 ERA, Dallas Keuchel is now a free agent. Below, you will find a list of the latest news and rumors surrounding the left-hander. Boras
After a seven-season tenure with the Astros that included a trio of 200-inning seasons, an American League Cy Young Award in 2015 and an overall 3.66 ERA, Dallas Keuchel is now a free agent.
Below, you will find a list of the latest news and rumors surrounding the left-hander.
Boras provides update on Keuchel
March 14: Dallas Keuchel isn't currently attached to any Major League franchise, but that doesn't mean he's sitting around at home waiting for a call.
The left-hander is preparing for the upcoming season at the Boras Sports Training Institute in California, his agent, Scott Boras, told MLB.com's Jon Paul Morosi on Thursday.
"He's going through a full Spring Training, just like [Kyle] Lohse did," Boras said, referring to Lohse's program before signing a three-year, $33 million contract with the Brewers on March 25, 2013.
Despite signing so close to Opening Day, Lohse was pitching for Milwaukee less than two weeks later, and the right-hander went on to post a 3.35 ERA over 32 starts as a 34-year-old.
Keuchel faced hitters and threw 80 pitches Wednesday, according to Boras, who noted that a couple teams have sent representatives to California to meet with the southpaw and watch him pitch.
"He's receiving offers," Boras said.
Report: Astros have made offers to Keuchel
March 7: Is it possible that, after a long-lasting free-agent odyssey, Dallas Keuchel could end up back where he started? When the Astros signed Wade Miley in February, it seemingly signaled the end of Keuchel's tenure in Houston. But the club has reportedly re-entered the mix for the left-hander.
According to MLB Network insider Ken Rosenthal, the Astros have made both one- and two-year offers to Keuchel. The offers weren't in the range Keuchel is seeking, however, and it's unclear if Houston is willing to go longer. Per Rosenthal, Keuchel's desired terms aren't known at this time.
#Astros have made both one- and two-year offers to free-agent left-hander Dallas Keuchel, sources tell The Athletic. Offers not in range Keuchel is seeking. Desired terms not known.

— Ken Rosenthal (@Ken_Rosenthal) March 7, 2019
ESPN's Buster Olney initially reported Thursday that the Astros have had recent dialogue with Keuchel about a deal, though no agreement was close as of Wednesday night.
Astros have had recent dialogue with Dallas Keuchel about a possible deal, but as of last night, not close to a deal

— Buster Olney (@Buster_ESPN) March 7, 2019
Re-signing Keuchel would give Houston a rotation of Justin Verlander, Gerrit Cole, Keuchel, Miley and Collin McHugh, allowing the club to keep Brad Peacock in the bullpen and let top prospect Forrest Whitley continue to develop in the Minors. Peacock, who is currently competing with Framber Valdez for the No. 5 rotation spot, recorded a 3.46 ERA with a 13.3 K/9 rate over 61 appearances (one start) in 2018.
Josh James was also considered a candidate for a rotation spot, but he is now expected to begin 2019 as a reliever after being set back by a right quad strain.
Attention has turned to Keuchel after his agent, Scott Boras, landed a record-breaking $330 million, 13-year contract with the Phillies for Bryce Harper earlier this month.
According to MLB Network insider Jon Heyman, Keuchel received three calls when Harper's deal was completed. The Phillies are in touch with the lefty as well, per Heyman, though Philadelphia prefers a short-term deal.
Astros understandably like their team but they're said still in touch with Dallas Keuchel, who received 3 calls the day Harper got done. Phillies are also in and could solidify their favorite status by importing star lefty, tho with prospects coming they're preferring short term.

— Jon Heyman (@JonHeyman) March 6, 2019
Boras commented on Keuchel's situation Wednesday in an appearance on MLB Network Radio, comparing him to Jake Arrieta and J.D. Martinez -- two Boras clients who signed after Spring Training began in 2018 -- and indicating that the southpaw's market is starting to pick up.
"You really have to let the market come to you," Boras said. "It's amazing that it hasn't in an earlier timeframe. It is now, because we're in discussion with a number of teams about Dallas.
"The best that we can do is that the need for the player and the demand for the players is something where the best pitchers and the best players, in this system -- as it was with Arrieta last year or J.D. Martinez, who was a near-MVP -- these guys are not signing until March. It's not because they're not valuable."
Arrieta and Keuchel make for a strong comparison. Both won a Cy Young Award in 2015, faded a bit in the ensuing seasons, rejected qualifying offers and remained free agents into March. The Phils ultimately signed Arrieta on March 12, 2018, to a three-year, $75 million contract with team options in 2021 and '22.
With ace Luis Severino sidelined for the next two weeks by right rotator cuff inflammation, Keuchel may also be an option for the Yankees, but general manager Brian Cashman downplayed the chances of New York looking to the free-agent market now, saying that the Yanks are focused on in-house options Domingo Germán and Jonathan Loaisiga.
Cashman said that the Yankees remain open to options that present themselves, but reading between the lines, it sure doesn't sound like Dallas Keuchel is walking through that door. https://t.co/UPVxEK8Kqs

— Bryan Hoch (@BryanHoch) March 6, 2019
Could Yankees consider Keuchel after Severino's injury?
March 5: Although Dallas Keuchel certainly would prefer not to still be on the open market with Spring Training games fully underway and Opening Day coming later this month, exhibition contests do bring into play one element that could help the veteran left-hander find a team -- injuries.
Yankees ace righty Luis Severino was scratched from his spring debut start Tuesday, and an MRI revealed right rotator cuff inflammation, which will sideline him at least two weeks and puts his chances to open the season on time in jeopardy.
Could New York, which put such a focus on the rotation all offseason, turn its attention to the remaining free agents. Like, say, Keuchel?
It's a possibility, but the Yanks may first look at internal options -- like righties Luis Cessa, Domingo German and Jonathan Loaisiga -- or secondary free agents (i.e., Gio Gonzalez, Edwin Jackson), according to MLB.com's Bryan Hoch.
I doubt it, unless Severino's injury is deemed to be serious. More likely to be connected to a depth option like Gio Gonzalez, or just roll with Cessa/German/Loaisiga. https://t.co/ero3J8Y62o

— Bryan Hoch (@BryanHoch) March 5, 2019
Boone said he thinks the Yankees have enough pitching to weather the Severino injury. Domingo German and Jonathan Loaisiga are the most likely candidates to fill in.

— Bryan Hoch (@BryanHoch) March 5, 2019
Keuchel "will cost a lot more than Gonzalez or Jackson for 2019 and is still seeking a multi-year deal," MLB.com's Mark Feinsand writes in looking at the club's options for addressing Severino's injury. "Given that the club is already exceeding the Competitive Balance Threshold for 2019, another significant free agent signing (like Keuchel) will only increase New York's luxury tax bill, as well as putting the Yankees in jeopardy of exceeding the CBT again in 2020 if they sign another elite free agent. In other words, he's an unlikely fit for the Yanks."
Add in the fact that Keuchel is tied to Draft-pick compensation, and it might be even more unlikely to see the Yankees go in this direction.
That said, going from Severino -- the Yankees' best starter the past two seasons -- to a back-of-the-rotation arm like Gonzalez or Jackson or an unproven young pitcher within the organization would be a significant downgrade, especially considering New York is facing pressure to dethrone the Red Sox.
Keuchel owns a strong resume that includes three 200-inning campaigns the past five years and an American League Cy Young Award (2015). He would provide a mid- to front-of-the-rotation option. Not to mention, the 31-year-old has been quite good at Yankee Stadium, with a 2.45 ERA, a 1.00 WHIP and 35 strikeouts over 33 innings across five regular-season starts in the Bronx in his career. He also shut down the Yankees over six innings to help the Astros win the 2015 AL Wild Card Game in New York.